Amazon may have all-but stumbled onto its hit Echo speaker and the smart Alexa assistant that powers it, but the new $49.99 Echo Dot proves the retailer has no intention of letting that momentum slip. Resembling a hockey puck rather than the column of its sibling Echo, the smaller, cheaper Echo Dot actually has two goals: be the new entry-level device for those just getting started with Alexa, as well as making it affordable for existing users to spread her skills around the home.
Confusingly, this is actually the second-generation Echo Dot – Amazon refers to it as the "All New" model – though I wouldn't be surprised if you've never seen the original. That was given a limited release earlier this year, only available for purchase by voice command through the regular Echo, and discontinued once the initial stocks were sold.
Most importantly, it was $89.99, almost twice the price of this Echo Dot 2nd-gen.
The concept is the same across both generations, mind. Take the seven-microphone array of the original Echo, with it's always-on listening, but do away with the integrated speaker and make the whole thing cheaper and more compact.
There've been some styling changes along the way. The first Echo Dot looked like the top section of an Echo, complete with its rotating volume ring. Amazon has replaced that ring with volume buttons – joining the manual Action button and microphone mute on the top panel – and made the new Echo Dot a little shorter as a result.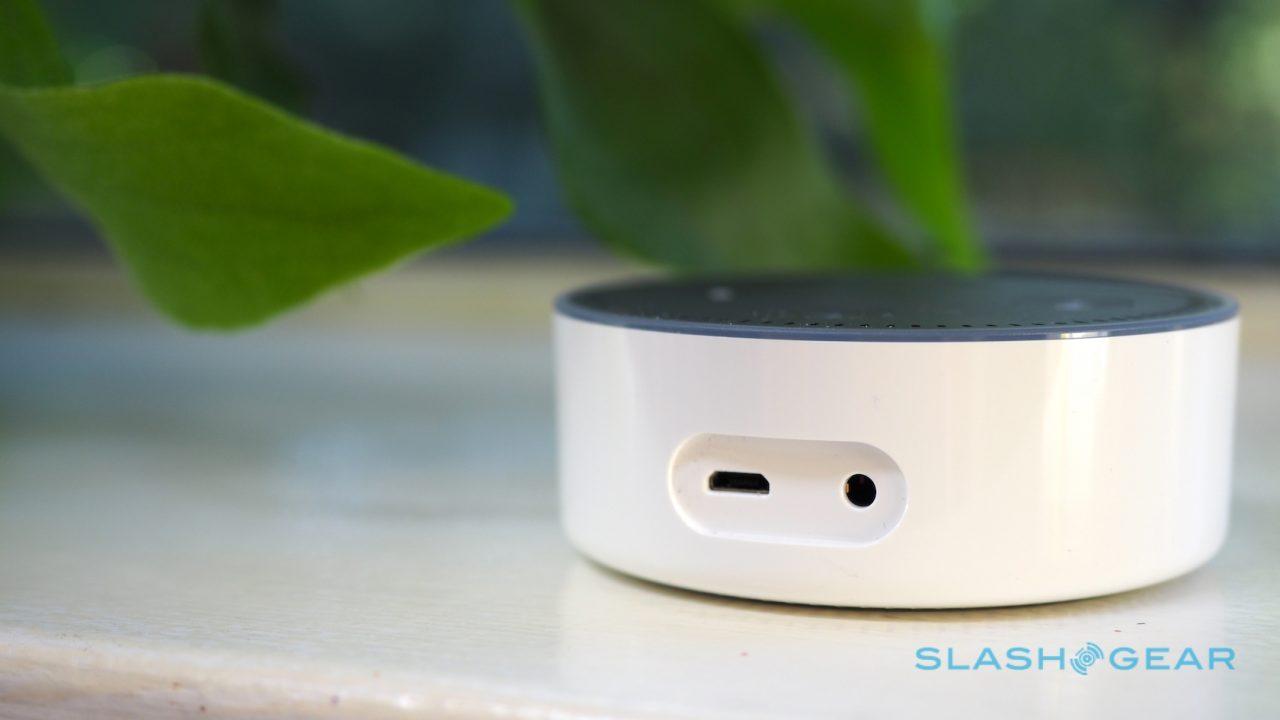 It's a short, squat cylinder, 3.3-inches in diameter and 1.3-inches tall, making it unobtrusive to place in a living room, kitchen, or on a bedroom nightstand. On the back there's a microUSB port for the included power adapter and a 3.5mm aux-out for audio; unlike before, you'll need to supply your own audio cable. Audiophiles will be disappointed to find that there's still no digital output support, something the $35 Chromecast Audio has.
Neither do you get the remote that comes with the original Echo, though it's not really needed. If you really must, you can buy one separately and pair it, but at $30 it's more than half the cost of another Echo Dot.
Echo's talent in both original and Dot forms is how good a listener it is. Alexa won't replace your therapist, but there's a good chance she will hear you from across the room or even another room over, regardless of reasonable levels of background noise.
Seven microphones and some clever DSP do that, humanized by the ring of blue LEDs that "point" in your direction to show Alexa is paying attention to you. Those same lights churn as the cloud-based system is processing, as well as glowing other colors to indicate network faults.
It's the cloud aspect which has been Amazon's master stroke with Echo and Alexa this past 12-18 months. The first Echo launched with a handful of skills, but in the intervening months Amazon and third-party developers have been relentless in increasing that number. From third-party apps that play trivia and choose-your-own-adventure games, to summoning an Uber or a pizza by voice, through to controlling the connected lights, HVAC, and other components of your smart home, hardly a week goes by without an extra talent silently arriving on the speaker.
You manage those skills through the companion app for iOS and Android, which is also where you initially teach Echo Dot your WiFi credentials and tell it where you live for localized services like weather reports. The app keeps a log of recent voice requests and commands, what Echo Dot heard, and what Alexa's response was; there are buttons to give feedback about how successful the whole session was.
The app is also where you can pair up a Bluetooth device. That was possible with the original Echo, but it's more important on Echo Dot since its integrated speaker is fine for Alexa's replies but lackluster for music playback.
Multiple Bluetooth speakers can be paired, but only one can be active at any one time; you switch in the app, not by voice command, and if you plug in a 3.5mm cable that takes priority over the wireless. All audio – music, whether streamed from Amazon's own Prime Music, or Pandora, Spotify, iHeartRadio, or any other source Echo supports, and Alexa's voice prompts – is piped through those speakers, which means they'll need to support automatically powering on when a signal is detected unless you want to leave them turned on 24/7.
Though I have the original Echo, I rarely use it for music playback because I also have several Sonos speakers set up around the house, and frankly they sound much better than Amazon's speaker. Of course, if you have a Sonos unit with an aux-in port, you can connect Echo Dot and route its streaming music through all the connected Sonos speakers in your home.
Eventually, thanks to a deal between Amazon and Sonos, there'll be far cleaner integration, though that's not supported today.
Due sooner, meanwhile, is Amazon's new ESP or Echo Spatial Perception. An update for all Echo and Echo Dot units, it's designed for homes where multiple units are present, with the idea that only the closest Echo will respond to the wake-word.
Unfortunately that firmware wasn't available for my testing, but it should help avoid one of the problems I ran into on several occasions, where both the Echo Dot and the original Echo heard me and chanted Alexa's response from two rooms. It's worth noting that this new ESP isn't full multi-room support: you still won't be able to ask Alexa for music playback in a specific zone by name, for instance.
NOW READ: Amazon Tap Review
Nonetheless it's another sign that Amazon won't be satisfied with having just one Echo in your home, but is instead hoping to spread Alexa through every room. Previously, that was fairly prohibitive in cost – each original Echo is $180 after all – but fifty bucks for an All-New Echo Dot makes it a lot more reasonable.
There is competition on the horizon, mind. Google Home is expected to wrap the all-knowing Google Assistant into a domesticated smart speaker similar to Echo, and with the search giant's knowledge graph arguably the most capable in mass market rotation today, Alexa has to be looking over her shoulder with some wariness.
Apple, meanwhile, may not have given Siri a standalone hub of her own yet, but the rumors suggest that's only a matter of time.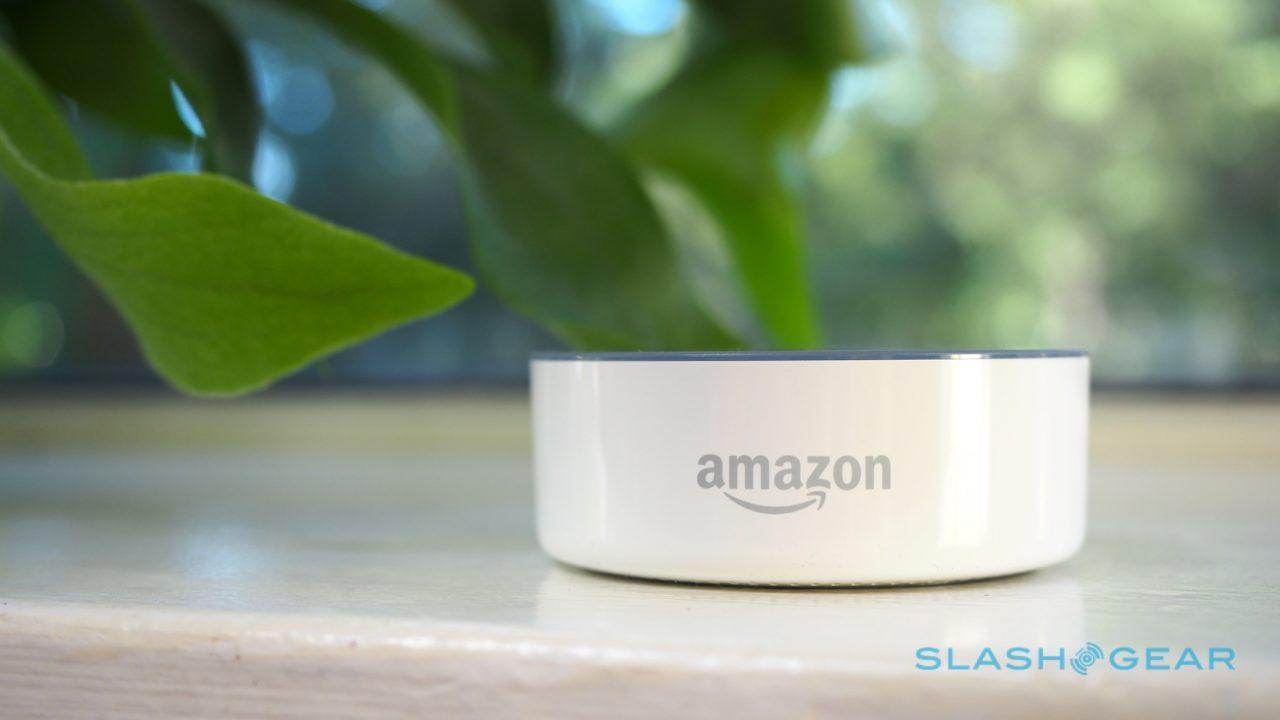 Is it too early to commit to Alexa as a platform, then? Amazon had a head-start with Echo, and has made excellent use of the intervening time: big names have signed up to provide Alexa with the skills that make her so responsive and flexible. That includes some of the talents we're expecting from Google Home, too, like being able to read out what's on your calendar for the day, or give traffic updates for your route to work.
Alexa isn't perfect, but the core technology has proved its worth and the skills list keeps racking up wins. With Google nipping at its heels, Amazon is unlikely to let up on its pace of development, and the competition is only going to mean more reasons to invite Alexa into your home. Previously, it was the relatively high cost of entry that was the primary barrier to trying out Echo's abilities, but the sub-$50 Echo Dot second-generation squashes such concerns.