Amazon Tap Review - Alexa's not listening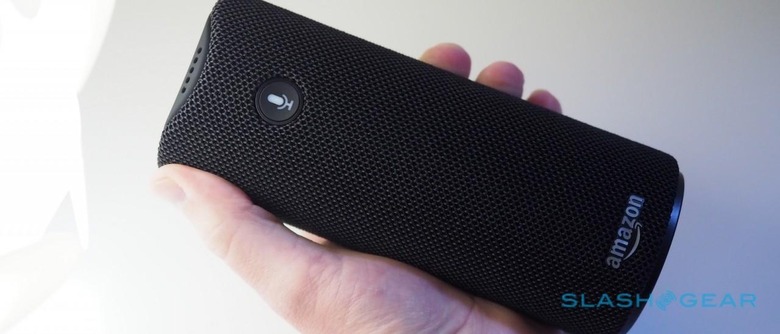 Amazon landed with a splash in the smart home space, the Echo smart speaker opening our eyes to the potential of voice control, and Alexa hasn't stopped accelerating since. Now Echo has a baby sibling, Amazon Tap, a Bluetooth speaker that allows you to take Alexa on the move with you. At $129.99 it's fifty bucks cheaper than Echo, not to mention untethered from an outlet, though there have been some compromises made along the way.
It's not hard to see the family resemblance, both Echo and Tap being sober black columns. In the case of Tap that means a nondescript black cylinder just over six inches tall and weighing just over a pound. The barrel is covered in a tough-feeling fabric, while the top and bottom are rubber; unfortunately, Tap isn't waterproof.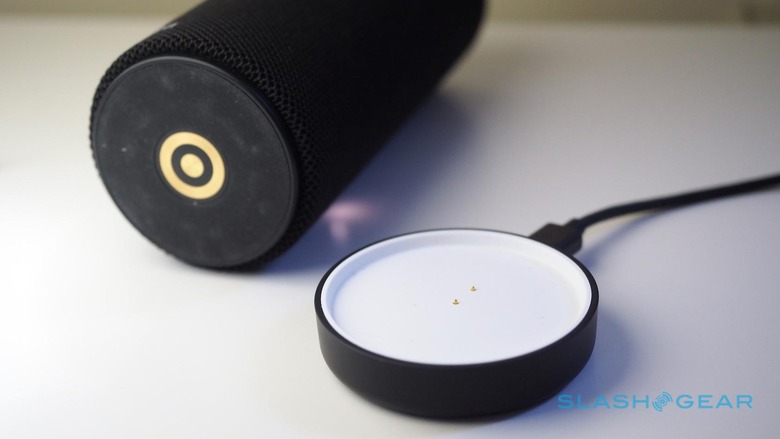 The charging cradle is neat, a low-profile disc on which Tap sits, but it uses old-school pins to connect rather than wireless charging. Alternatively you can plug a microUSB cable in direct. Amazon says a full charge is good for up to nine hours of music playback, though that pales next to the fifteen you'll get from the UE BOOM 2.
Whereas Echo eschews physical controls bar a few key buttons, Tap is positively bristling with them. On the front is the microphone button that triggers Alexa, while on the top there are music controls for play/pause and track skipping, along with volume buttons. A power button and Bluetooth/WiFi pairing button are on the back, next to the microUSB port and a 3.5mm aux-in jack.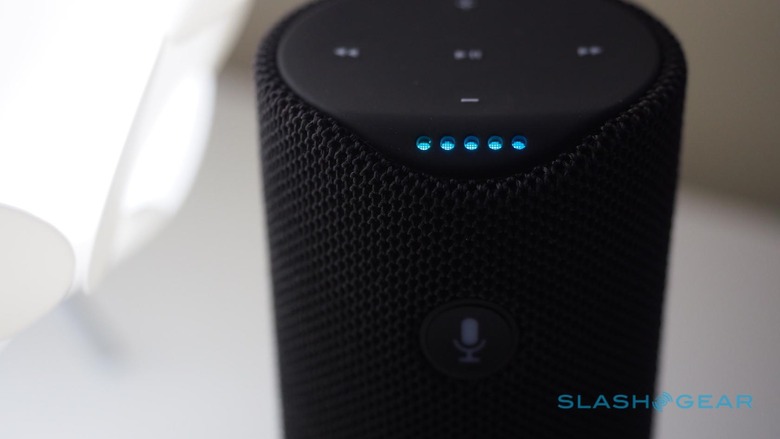 A row of LEDs inset into the front edge flicker to show when Alexa is listening and when she's processing.
That only happens when you press the microphone button. You hear a double-beep and the LEDs go teal, at which point you can ask any of the commands you might be familiar with from Echo.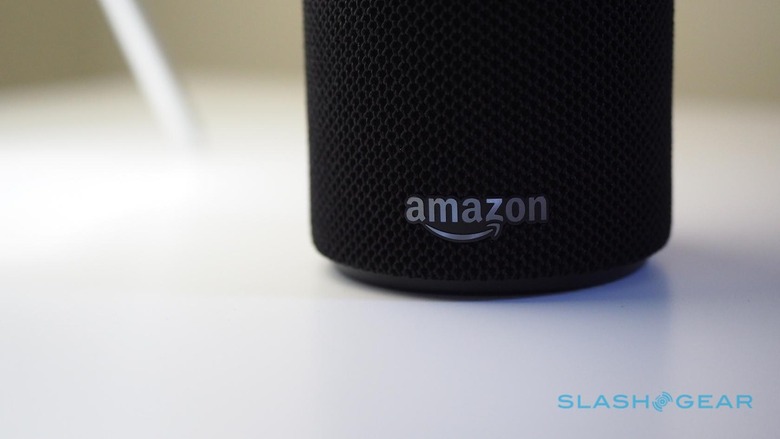 Alexa keeps getting smarter, too: you can request music from Spotify, order an Uber or a Domino's pizza, ask for answers from Wikipedia, re-order previously bought products from Amazon, get traffic reports to your preconfigured place of work, and control a host of smart home kit like Philips' hue, Nest's thermostat, and Samsung's SmartThings.
Alexa is all about getting things done quickly. After using the Tap, though, I ended up with more questions than answers.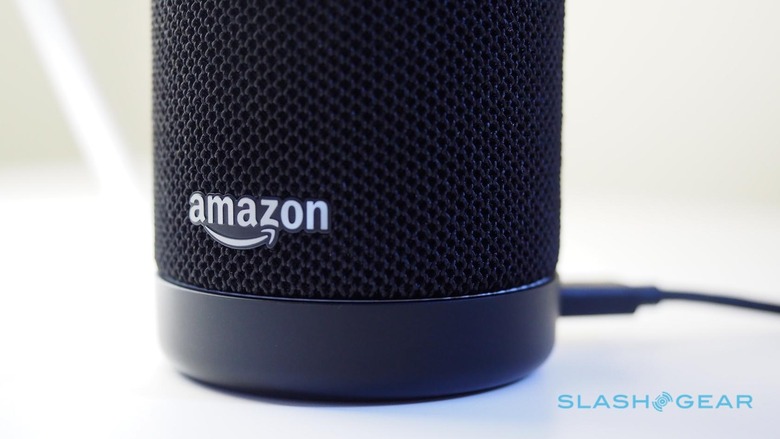 Why, when Tap is charging, doesn't Amazon do away with the need to press the microphone button? Who decided that, when the optional Tap Sling – a rubbery mankini that for $20 makes your Tap look like Borat – is fitted, it's okay that the speaker won't fit on its charger pad?
Wasn't someone tempted to buy some of the portable Bluetooth speakers from Amazon's own best-seller list and compare the Tap's audio quality and battery life with them?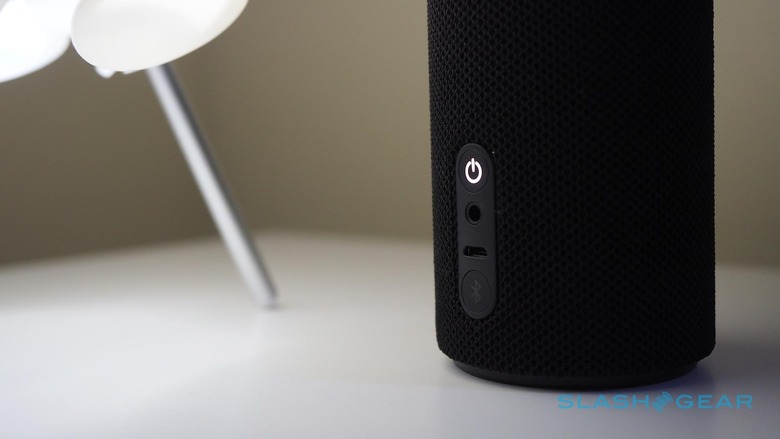 It's frustrating, because Amazon clearly put a vast amount of effort and consideration into Echo. The seven microphone array with beam-forming makes for one of the best long-distance audio systems I've tried, Alexa honing in on you accurately from across the room. Echo's volume control – twisting the whole top ring – is intuitive and simple, and doesn't require you to look at the speaker or think about which angle you're reaching to it from.
With Tap, though, it feels a lot like Amazon took a basic Bluetooth speaker and grafted Alexa on. The Bluetooth side is almost entirely divorced from the Alexa side; if you have a Bluetooth link with your phone, but no WiFi data connection, none of the Alexa features operate. Amazon's advice is to turn on your mobile hotspot and pair over WiFi that way.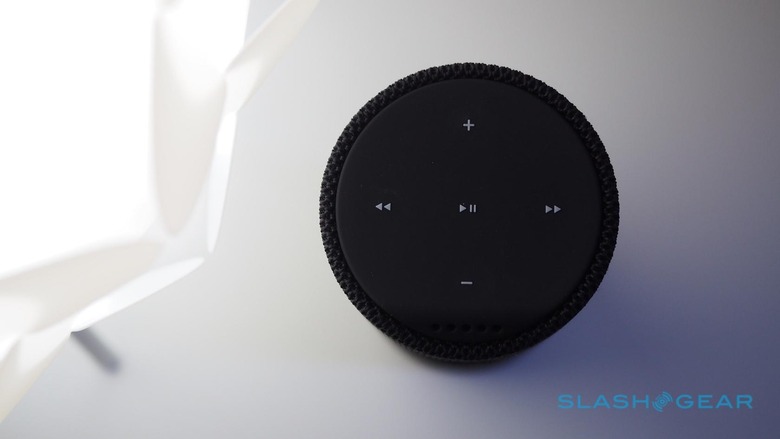 The hardware is pretty defensive of its personal assistant territory, too. Even if the phone you're linked to has Siri, Cortana, or Google Now, there's no way to interact with them over Bluetooth – no matter whether Alexa is available or not.
Whether you're streaming over Bluetooth or WiFi, audio quality isn't anything special. Amazon says Tap uses dual 1.5-inch drivers and dual passive radiators for extra bass, and is talking up the Dolby involvement and 360-degree playback, but I was fairly unimpressed overall. UE's BOOM 2 (which can be had for $150 and is waterproof) delivers more bass and lacks the hiss that can begin to intrude in Tap playback at the upper reaches of its volume, not to mention supporting the ability to pair two speakers together.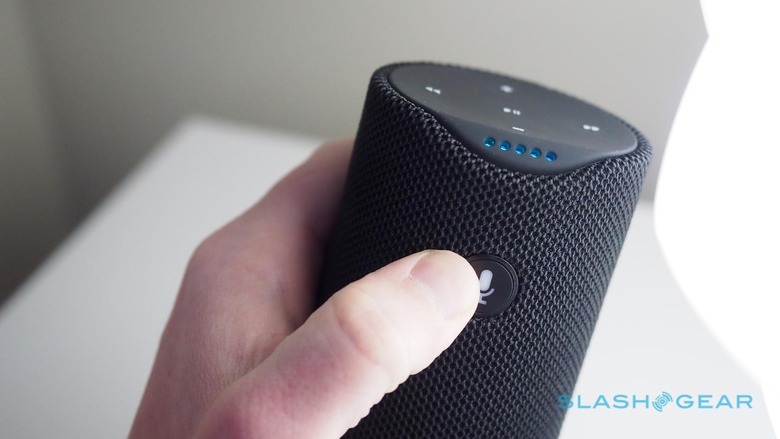 Tap shows no awareness of any other Alexa-enabled devices you might have. If you own Tap, an Echo, and Echo Dot, for instance, you can't set up a multi-room system with simultaneous playback, or indeed hand over playback from speaker to speaker. Had Amazon used proper wireless charging in its base station, meanwhile, it wouldn't matter whether the Tap Sling was fitted or not.
I can't help but think that Tap is emblematic of the potential problems that Amazon faces with the Alexa Voice Service, as third-party manufacturers consider ways to shoehorn the personal assistant into their products. A huge amount of Echo's charm is the way it streamlines voice into your everyday life: no remembering to press a button, just calling out a question or request and Alexa hears you.
Expecting her to co-exist in a product where that same thought and consideration hasn't been baked in from the outset could easily lead to a subpar experience.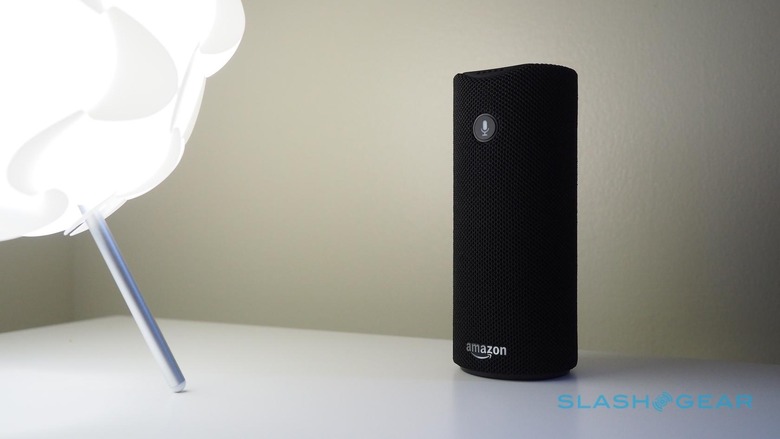 If you've not lived with Echo, Tap's abilities may well prove sufficient to convince you that Alexa is the right digital companion for you. I can definitely appreciate the convenience and value Amazon's service brings, and the idea of being able to take that around with you clearly has appeal.
Problem is, when my phone judges the battery hit involved from having always-on keyword-listening active is worth it for the flexibility, I'm not sure why Amazon's speaker – where Alexa is really the reason d'être – disagrees. Amazon Tap has promise, but those really interested in mobile music could find better Bluetooth speakers for their money, while anyone wanting a digital assistant should go the whole hog and buy an Echo instead.