Sonos Amazon Alexa team-up official: Beta this year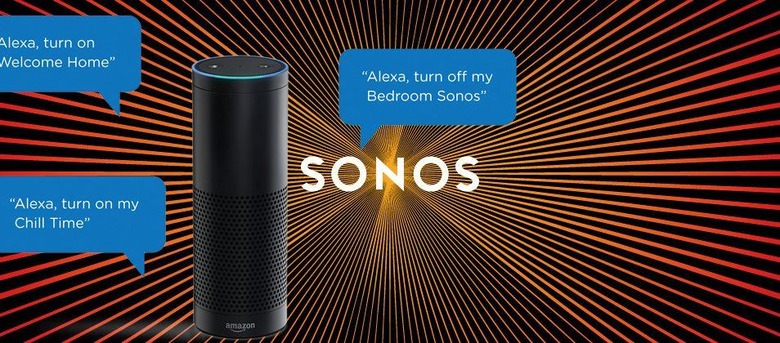 This morning the folks at Sonos and Amazon have announced a team-up which will bring "a joyful life" to consumers everywhere. This announcement was made in part several months ago by Sonos – without naming names. Now at an event in New York City, Sonos has made clear how this connection is going to work.
Sonos products will be able to connect with voice commands by way of several Amazon devices. Users of the Amazon Echo, Echo Tab, or Echo Dot will be able to connect with voice commands to their Sonos products. This connection will begin in 2017 – we're waiting for a more specific date, so for now we're guessing within the first quarter of the year.
For those users that want to get in on the fun early, there'll be a "Private Beta" of the connectivity working with Amazon Echo later this year, in 2016.
As you might well know, no current Sonos device has a microphone built-in. As such, users will need to speak within microphone range of the Amazon Echo device they've got on hand.
This announcement comes not long after Sonos announced a team-up with Spotify to bring Spotify streaming music to their speaker system. Users will be able to update their Spotify app to work with Sonos speakers within the next few weeks.
"Alexa/Echo is the first product to really showcase the power of voice control in the home," Sonos CEO John MacFarlane wrote earlier this year. "Its popularity with consumers will accelerate innovation across the entire industry. What is novel today will become standard tomorrow."
Above is a video showing how the Sonos speaker system will work with Alexa voice assistant services through Amazon Echo devices.