Samsung Series 5 Hybrid and Series 7 Hybrid live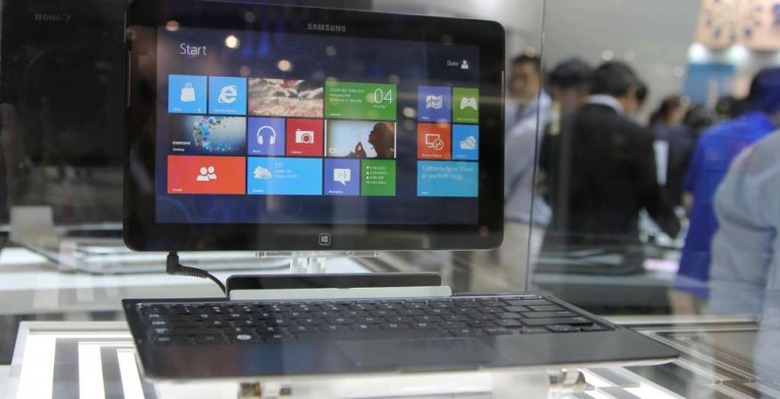 Samsung may have opened its Computex showing with a range of touchscreen models, but the company also had a pair of hybrid tablet/notebooks to demonstrate too. Hot on the heels of the Series 5 Ultra Convertible, Series 5 Ultra Touch and Series 7 Slate PC come the Samsung Series 5 Hybrid and Series 7 Hybrid, a pair of Windows 8 slates running Intel chips and using a clever magnetic dock to cut down on hinge bulk.
Both models have 11.6-inch capacitive touchscreen displays, front and back cameras (2- and 8-megapixels respectively) and an active digitizer stylus that docks into a special silo-slot on the side. The Series 7 – which Samsung tells us is codenamed "Jones" – runs an Intel Core i5 processor, and has a few discrete punctures on the back for letting out the heat.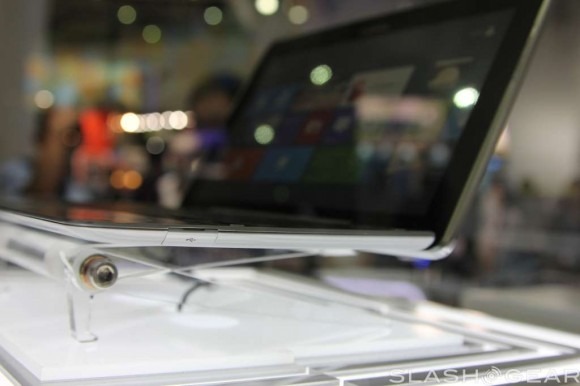 The Series 5 Hybrid, however – codenamed "William" apparently – hasn't had its processor detailed, though given it has less obvious cooling our guess would be a more humble processor than that of the Series 7. Both have HDMI outputs, among other things.
Although these certainly aren't the first hybrids of the week – Acer, Compal, ASUS, Acer and more have all used the design – they're some of the slickest thanks to Samsung's minimal hinge. The flip-side to that is a shortfall in space for connectivity, though you do at least get a few USB ports. No word on pricing or availability so far.