AMD Trinity Windows 8 hybrid hands-on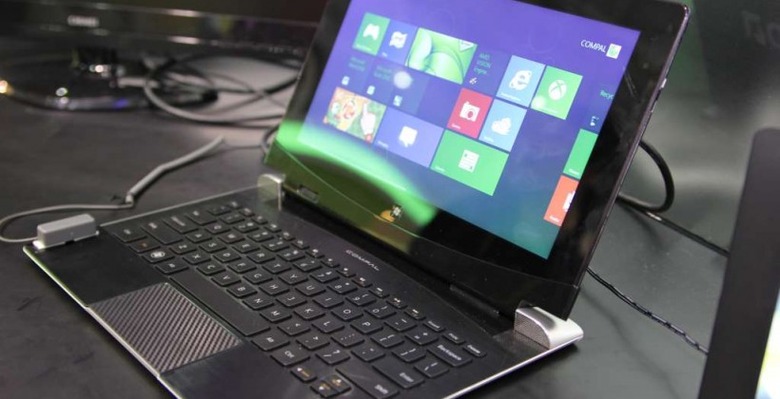 AMD brought along its latest 2nd-gen Trinity reference design along to Computex 2012 today, and we grabbed some hands-on time with the Compal-made tablet/notebook hybrid after the keynote. An 11.6-inch slate which docks into a well-spaced keyboard with trackpad and extra ports, the unnamed prototype is unlikely to reach the market in its current form, but AMD hopes will provide some inspiration to its OEM partners considering APUs.
The hardware itself is reasonably solid, though there's some flex in the slate section. It docks with a reassuring click – the cradle itself has two latches and a cup-design that hugs the lower edges – while the speaker on the bottom of the tablet is replaced by integrated stereo speakers built into the hinges of the dock.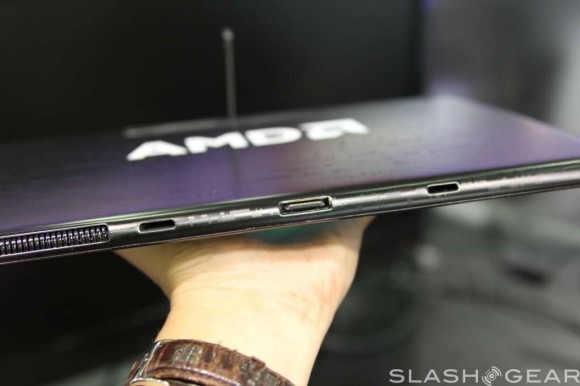 The keyboard section isn't just a peripheral, but adds new functionality to the package as a whole: AMD says it has a large capacity hard-drive inside, along with automatic sync between it and the slate's storage. Together, closed, they're 20mm thick, which brings the whole package into ultrabook territory.
A couple of cameras, several USB ports spread out between the tablet and the dock, a wired ethernet port on the back of the keyboard and HDMI connectivity round out the main specs. It's certainly not the first hybrid we've seen, but if AMD can deliver its Trinity APU performance claims in the real-world, it's one we might consider opting for.