Samsung's final trick for Computex is the return of the classic slate tablet. In this case it's the Series 7 Slate PC, a revamped version of the slate of old, this time running Windows 8. It makes use of Intel's Sandy Bridge Core i3, i5, and i7 processors, which means you'll be getting the full Windows 8 experience and not just Windows RT. As you'd imagine, there's full touch screen support, and you can mix things up with a digitizer pen or Bluetooth keyboard.
The Slate will house either a 64 or 128GB SSD, which will help Samsung achieve boot times of 15 seconds from a cold start. The company is saying that the display is best in class too, achieving a brightness of 400 nits.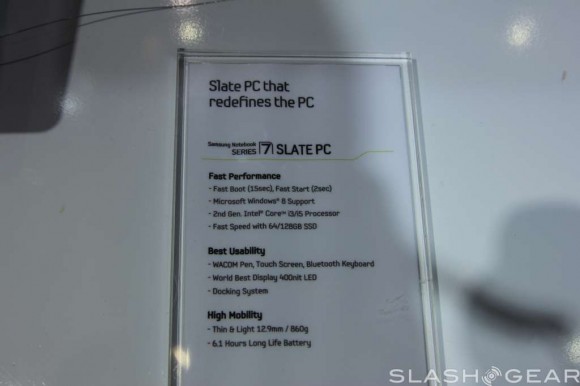 Otherwise this is very similar to the previous Series 7 Slate, with a micro HDMI port, USB 2.0, microSD card slot, and proprietary docking connector at the bottom. Weight is down slightly at 860g, and thickness is 12.9mm. No word on when we can expect to see this ship, or for how much, but the last Series 7 Slate wasn't exactly cheap.