Acer's Trinity-Powered ICONIA Tab Hands-On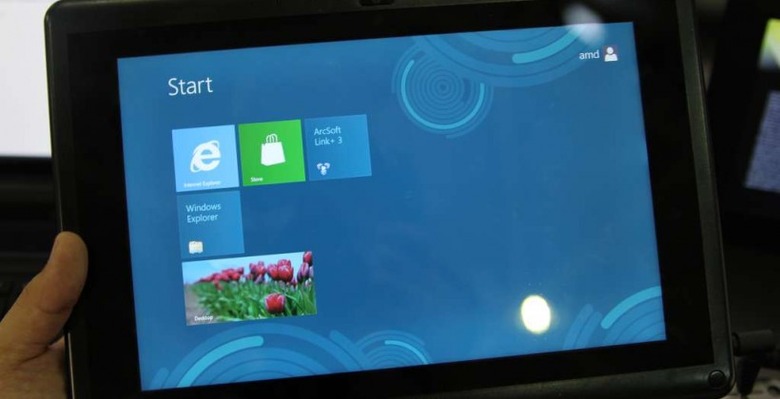 Acer granted AMD its wish: a hybrid docking tablet running the chip company's new 2nd-gen Trinity APU that borrows the form-factor of the company's previous ICONIA Tab Android and Windows 7 models. The new Acer ICONIA Tab Windows 8 version doesn't have an official name yet – its predecessor, which ran the old OS on an AMD C-Series processor, was the W500 – but functionally doesn't leave many gaps.
The keyboard section is the same as we saw on the W500, which is to say that it's more a peripheral than a true dock. You get a QWERTY keyboard with reasonable key-feel, along with a trackpoint stick, but no extra battery life or storage.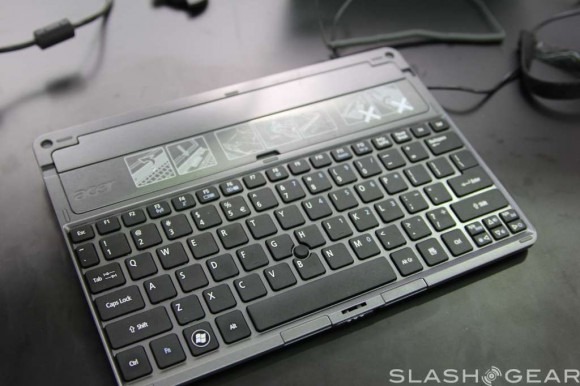 AMD had already shown off a hybrid design of its own during its Computex keynote, which includes a larger hard-drive in the base as well as ethernet connectivity, HDMI and USB ports. We're yet to hear if any OEM has signed up to use the Compal-made reference design.
Acer isn't talking availability at this stage, but with Windows 8 not expected until sometime in the middle of 2H 2012 we shouldn't expect to see it any time soon. The deciding factor between it and Android tablets or ARM-based Windows RT models may well end up being battery life, something else Acer is coy on.