Samsung Mobile Unpacked 2011 Google Episode announced for CTIA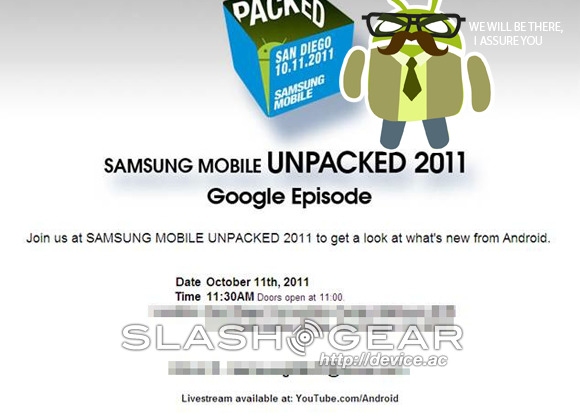 Samsung has announced their next Unpacked event, this one set to take place at the Autumn edition of CTIA and officially presented together with Google. This is Samsung Mobile Unpacked 2011 "Google Episode" and it seems pretty likely that it'll taste distinctly like vanilla ice cream. Ice Cream Sandwich, that is; the next big version of Android set, quite likely, to be hosted on a Samsung device by the name of Nexus Prime. Sound like a likely scenario to you?
For those of you unfamiliar with the situation at hand, Samsung has been calling their big press events taking place near technology conventions by the name "Unpacked". A Samsung Unpacked event generally reveals epic devices such as the Galaxy S II or the Galaxy Note, not to mention the Galaxy Tab 8.9 and 10.1 – these last two presented back at this spring's CTIA Samsung Unpacked event. Given the fact that we've just seen what appears very much to be a two-minute long hands-on video of Ice Cream Sandwich, might it be the next big reveal?
We just saw the Galaxy Tab 8.9 in the flesh and saw the USA announcement of the Galaxy Player 4.0 and 5.0 – will Samsung drop another device in less than a month's time? Just this past week we saw the Bluetooth certification of the Nexus Prime, a device that's only been rumored thus far, save for a handful of factoids – it must be!
We'll see when we get there. We'll be live both at the Samsung event here and the rest of CTIA bringing you so much coverage, your eyes will bleed!