Nexus Prime Bluetooth certification revealed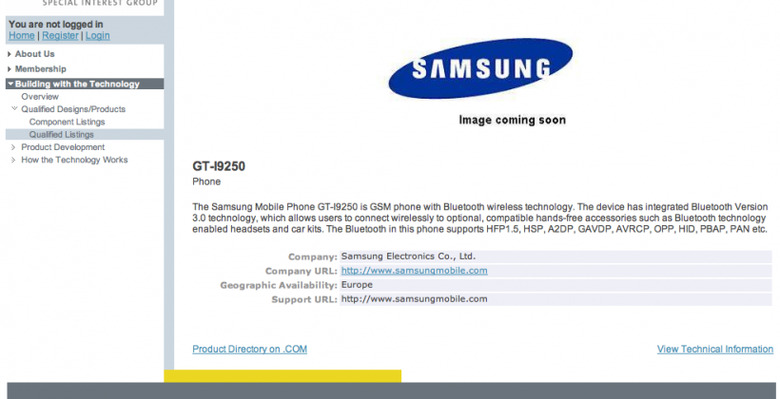 It appears that the Samsung device by the name of Nexus Prime has seen its way to Bluetooth certification, this being one of the last steps, FCC certification as well as an actual official word from the manufacturer being next, before an actual release of the device to the public. This Bluetooth certification is but one of many puzzle pieces we've all been putting together on the puzzle that is the hero phone for Android's next big version, Ice Cream Sandwich. One way or another there's going to be a phone here, ladies or gentlemen, and we've gotta find it!
For those of you not following along with this story as closely as the craziest of future fans might, you certainly should check our our guide: Google's Next Nexus Phone Details Roundup [Mid-Sept 2011, pre-release]. So much to read, so much to have! Also note here if you're not aware already, for Google to create a hero device is for they to work with a manufacturer to create a pure Android vision, that is, vanilla in flavor. Vanilla, in the Android world, means that its operating system is made entirely by Google without any additional modifications by the manufacturer.
The last model to hold such an honor was also a Samsung device, this time called the Nexus S, also the first device to receive Google Wallet which we've also got some hands-on time with. Nexus – the name just electrifies your brain. Will you be amongst the next generation of Ice Cream Sandwich owners via our next Google purity?
[via Android Community]