Samsung announces Galaxy Tab 8.9, Galaxy Player 4.0 and 5.0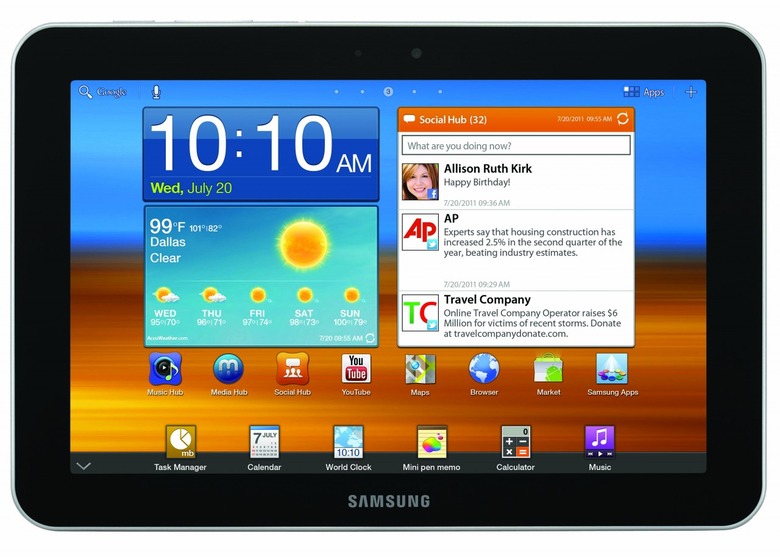 Samsung announced today the immediate availability of its Galaxy Tab 8.9 Android tablet and its soon to arrive Galaxy Player 4.0 and 5.0 media devices. The ultra-thin 8.9-inch tablet was first unveiled back at CTIA 2011 and is the smaller sibling to the popular Galaxy Tab 10.1, while the Galaxy Player 4.0 and 5.0 are handheld devices set to go head to head with Apple's iPod touch.
The Galaxy Tab 8.9 measures only 8.6mm thin and features Samsung's TouchWiz UX running on top of Android 3.1 Honeycomb. Samsung's custom UX includes a magazine-like widget view called Live Panel, one-touch overlay access called Mini Mode Tray, advanced copy and paste functionality called Clipboard, quick toggle settings called Indicator Quick Panel, and a native photo editor that lets you easily rotate, crop, and adjust colors of high quality images.
The tablet will run on a dual-core T250S processor and sport a WXGA TFT display with 1280 x 800 resolution and protected by Gorilla Glass. For more details on the slate, make sure to check out our hands-on and speed test with the European version of the Galaxy Tab 8.9 at IFA 2011. Some specs may vary for the US version.
The Galaxy Player 4.0 and 5.0 are 4-inch and 5-inch handheld media players. We've seen them announced back in March, but they've not been available to the US market until now. The devices resemble the Galaxy S smartphone, but do not carry cell service. They are intended to be used like the iPod touch for consuming media, such as watching videos, playing games, and surfing the internet with connectivity through WiFi.
The Samsung Galaxy Tab 8.9 is available for sale starting October 2 for $568 for the 32GB model and $469 for the 16GB model. The Galaxy Player 4.0 and 5.0 will be available starting October 16 with the 4.0 priced at $229 and the 5.0 priced at $269.