Samsung Galaxy Tab 3 10.1 Review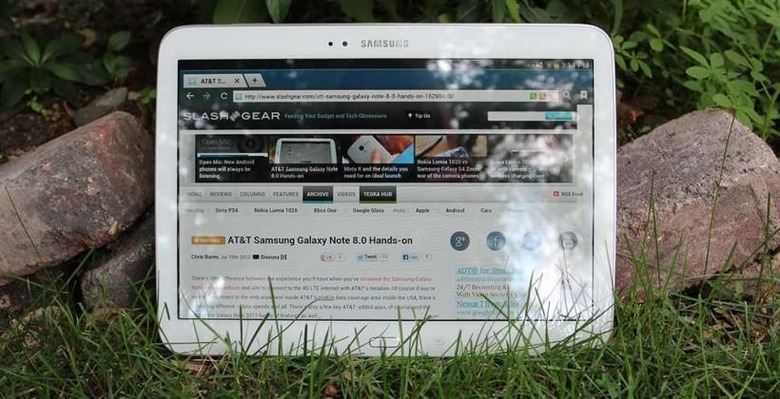 Each new release of the Samsung Galaxy Tab proves the company's willingness to stick with the brand name – and power. Samsung has the power to release a new wave of tablets each year without specific specification boosts bit-by-bit. Keep that in mind when you have a peek at this machine's top-to-bottom, especially when it comes to the final product.
Hardware
The Samsung Galaxy Tab 3 10.1 works with a 10.1-inch TFT LCD display with 800 x 1280 pixel resolution. That's 149.45 PPI and certainly not the sharpest display on the market, well under the current-gen iPad's 263.92 PPI and especially the Google Nexus 10 with its 300.24 PPI, but it's up at the point at which you're no longer going to be seeing a whole lot of difference.
This machine's display is the same resolution as the previous generation Samsung Galaxy Tab but here works with IPS TFT LCD technology instead of PLS TFT. In short this means the Galaxy Tab 3 line matches the Samsung Galaxy S 4 for brightness – not sharpness, of course, as the GS4 works with a much, much sharper panel, but for brightness without a doubt.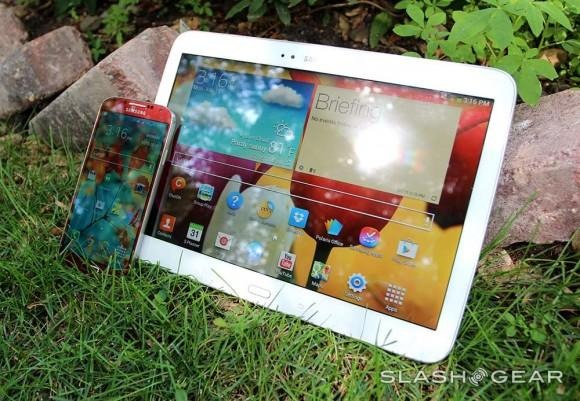 Samsung has also done a good job of matching the Samsung Galaxy Tab line to the Galaxy Note line from this generation – you're seeing the Galaxy Note 8.0 – and we're expecting the Galaxy Note III to look as vivid later this year as well.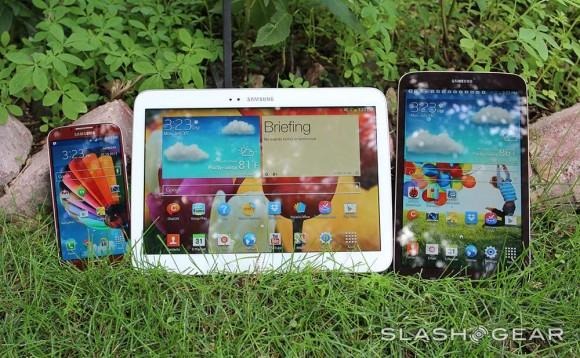 With the Samsung Galaxy Tab 3 10.1 you're not going to find a tablet aimed at being a one-stop-shop for excellence in all things media capturing as well as display. Instead, this device acts as one of several control ports for the whole Samsung device environment. You'll find out more about the app connections this tablet has with the rest of the Samsung devices of this Galaxy S 4 era – here in hardware, this means you're not going to be competing with standalone devices like the ASUS Transformer Pad Infinity for raw output and power – not by a long shot.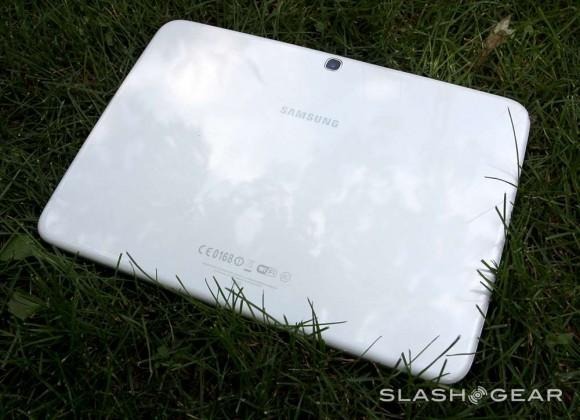 Inside the Samsung Galaxy Tab 3 10.1 you'll find a Z2560 Intel Atom 1.6GHz dual-core processor – Clover Trail+, that is – with the built-in ability to use 4G LTE (in future iterations of this hardware with a microSIM card slot, of course). This hardware will not work with said connectivity as it's got no SIM card slot to speak of, but we'll almost certainly be seeing this tablet working with AT&T and Verizon – and maybe even T-Mobile – inside the next half-year with 4G LTE connectivity.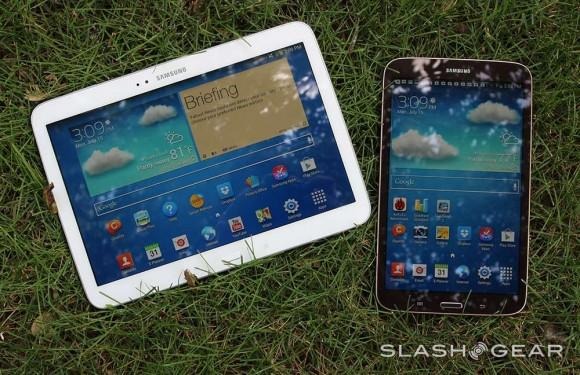 While it may seem like a bold move for Samsung to move from well-known processors like their own Exynos line and NVIDIA's Tegra SoCs in past Tab lines to Intel here in 2013, it's worth noting that they don't do so with their flag flying high. As mentioned in the Intel Scores column from Chris Davies earlier this year, both the Samsung Galaxy Tab 3 10.1 and the ASUS MeMo Pad FHD 10 work with Clover Trail+, but neither of them have "leapt to Atom wholeheartedly."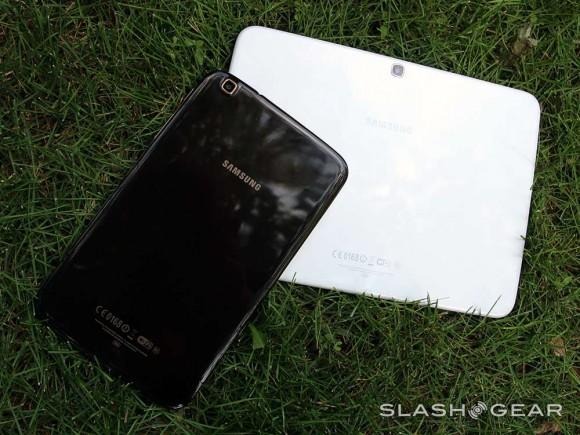 As it was with the release of the Samsung Galaxy Tab 2 lineup, here again the company is making very little of the creators of the processors under their device lineup's hoods. With the Galaxy Tab 2 line it was Texas Instruments OMAP line, here it's Intel's Atom, and the results make for a well-balanced tablet collection in either case, but not a set of machines made for breaking any barriers.
Have a peek at a set of benchmark tests here to see how the Samsung Galaxy Tab 3 10.1 fares and keep heart – the end result is solid for everyday media display, web browsing, and basic gaming needs.
Software
The software suite included with this machine matches that of the Samsung Galaxy S 4 era of devices. The smartphone acts as Samsung's hero for the rest of their smart mobile devices, and with each new era the collection becomes – at once – more diverse and more aesthetically similar. The Samsung Galaxy Tab 3 looks like the Samsung Galaxy Note 8.0 looks like the Samsung Galaxy S 4 – looks like the Samsung Galaxy Note III, eventually.
And inside they all look essentially the same.
You'll find Google's family of apps to be resting inside this machine – Chrome for web browsing, Gmail, Google+, Google Play, and Google search. You'll get Google Now as well with a long press on this device's physical home button and a tap of the G on the screen.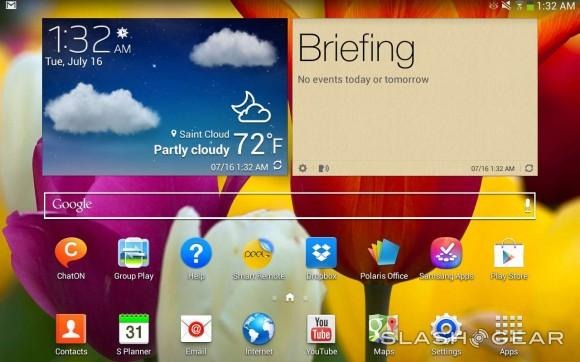 From Samsung you've got S-Voice and voice-controlled commands the likes of which are more precise than any previous version of Samsung's own voice commander. More important than this is the common appearance of the apps ChatON – for Samsung-centric media-friendly chat, Group Play – for Samsung-centric media sharing and entertainment inside a Wi-Fi network, and Samsung Apps.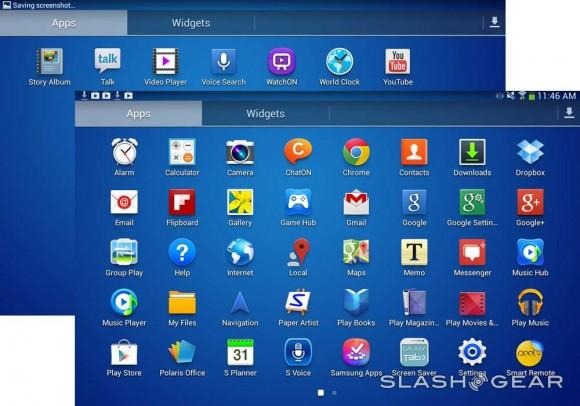 Samsung Apps connects the user with a Samsung account that'll allow the user access to apps and (and with Samsung Hub, also downloadable) media from whatever Samsung device the user is using. Oddly we're not getting Samsung Link right out of the box, this an experience rather similar to Group Play in its aim at connecting your Samsung devices together, here sharing to the cloud and pulling from tablets, smartphones, notebooks, and Samsung TVs.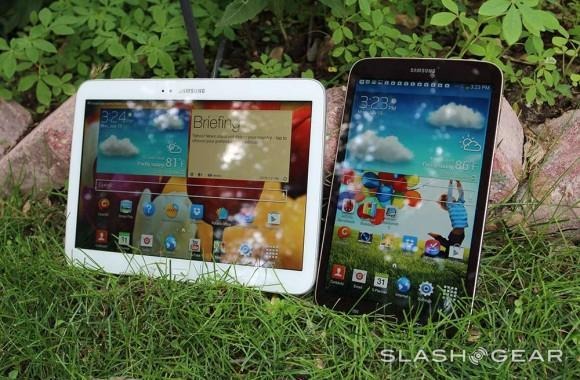 Even beyond benchmarks, this machine isn't exactly aiming to destroy its key competitors. Instead you'll find a well-balanced tablet aiming to be an everyday driver, not exactly the one you'll be picking up in hopes of being gaming machine of the year. It's not longer about being number one in the ranks for each individual device for Samsung, it's about creating a device ecosystem.
Camera / Battery
The camera on the Samsung Galaxy Tab 3 10.1 delivers media that leaves a bit to be desired. While we've seen top-notch results from the company's hero smartphone line in the Samsung Galaxy S 4 for photos and video, and machines like the Samsung Galaxy S4 Zoom bringing on a best-in-class bit of performance in the photo and video phones realms, here the Galaxy Tab line once again brings a "good enough" experience to the table.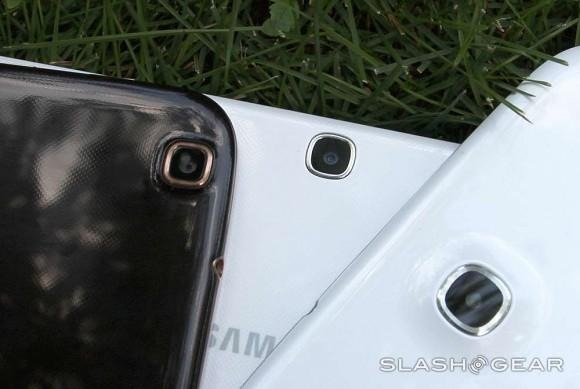 It's almost as if Samsung is suggesting we stop obsessing over taking photos with every single machine which could potentially work with a camera and just leave the media collection to the cameras and the smartphones.
That said, you'll still want to check the results of this device's abilities with its 3-megapixel back-facing camera. You've got a 1.3-megapixel camera on the front of this machine as well, but you'll not be wanting to use it for anything other than basic video chat on the regular.
The battery on the Samsung Galaxy Tab 3 10.1 sits at a cool 6800 mAh, meaning you'll be kicking out more uptime than essentially any other smart device you own unless you're doing nothing but non-stop video streaming and high-powered gaming at the same time. We've found standby time to be excellent as well, hitting at a rather low drain while most systems are deactivated.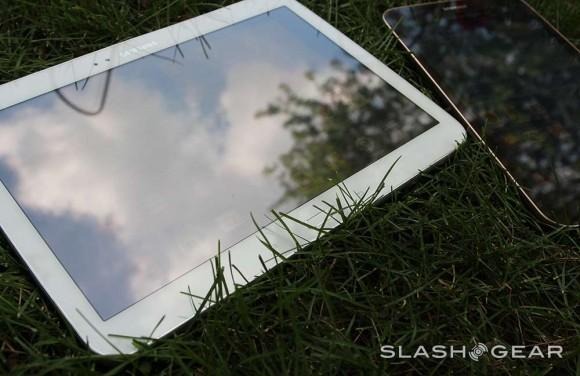 Once the battery is actually out all the way, we'll let you know. For now we're running on several days' steam without an issue – most of that is, indeed, time spent with the display off, and we're expecting far larger dents in the device's up time once this device sees a 4G LTE iteration.
Wrap-up
This device is ready to be a lovely addition to your Samsung Galaxy S 4 family of smart devices. If you've got a Samsung Galaxy Tab 2 10.1, there's little reason to upgrade – and you might just want to skip this generation if you really enjoy your front-facing speakers which do not appear here in 2013 – unless you've got the Galaxy Note 10.1, of course. The Samsung Galaxy Note 10.1 instead is the topmost hero tablet for the Samsung universe at the moment, running a quad-core Samsung Exynos processor and rolling with an S-Pen to boot.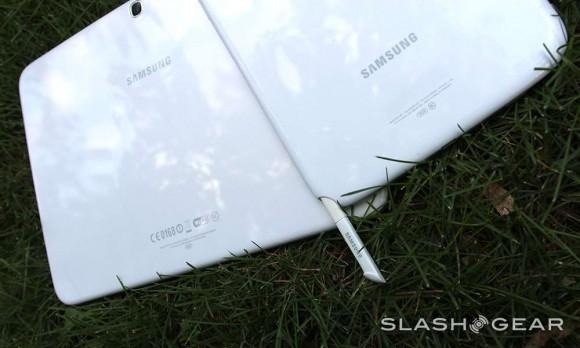 While the Samsung Galaxy Note 8.0 also brings some heat to the party, it's with the Samsung Galaxy Tab 3 8.0 that this smaller form-factor does battle with. It's also missing the front-facing speakers, while we're on the subject. Where did they go, and why did they disappear?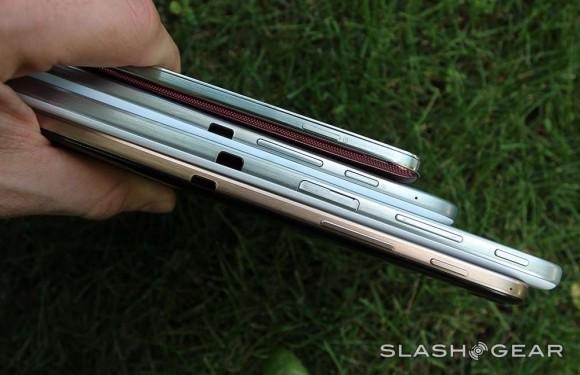 Above: Samsung Galaxy S 4, Galaxy Note 8.0, Galaxy Tab 3 10.1, and Galaxy Tab 3 8.0 (from top to bottom).
The Samsung Galaxy Tab 3 10.1 brings on the full aesthetic and software abilities of the Samsung Galaxy S 4 to the market. If you've already got a Samsung Galaxy Note 10.1 or Galaxy Tab 3 10.1, make with the skipping of this generation. If you want to connect to your Samsung Galaxy S 4-era family of devices with a variety of entertaining and powerful apps and features and have no recent-generation 10.1-inch tablet to speak of, feel free to select the $399 USD Samsung Galaxy Tab 3 10.1 – it's slick.