ASUS MeMo Pad HD 7 and FHD 10 tablets get official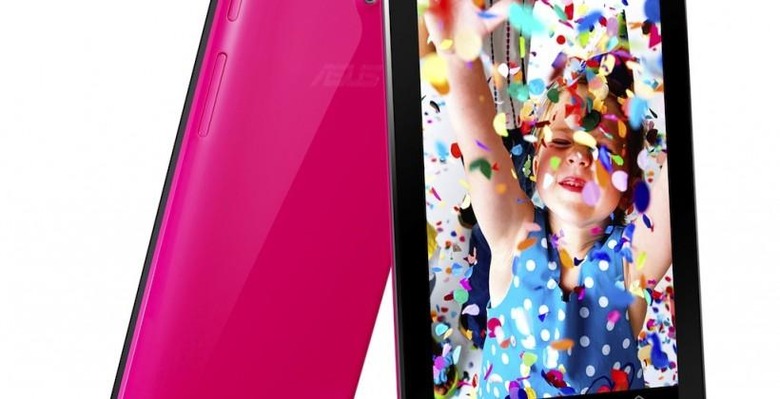 ASUS has two new mainstream tablets for Computex 2013 this week, and they each bring some interesting differentiators: the MeMo Pad HD 7 has a super-low price tag, kicking off at $129, while the MeMo Pad FHD 10 steps up to a Full HD display and slides in one of Intel's Atom processors. That's relatively unusual for an Android-based tablet, which more commonly would be found powered by an ARM chip (and, indeed, the MeMo Pad HD 7 does have something from ARM's line-up inside).
The cheaper tablet is likely to get the most attention, though whether those intrigued by it will be actually able to purchase it remains to be seen. Its $129 entry-price – for the 8GB model; the 16GB will be $149 – is positioning it squarely at developing markets, though ASUS hasn't said exactly where it will (and won't) be sold.
Still, it's much akin to a Nexus 7 in some ways, or even betters Google's slate. The display runs at 1,280 x 800, just as with the Nexus, but as well as a 1.2-megapixel front camera there's also an optional 5-megapixel camera on the back. Inside, there's an ARM Cortex-A7 quadcore; hardly likely to set any speed records, though we'll have to wait until we can have a proper play ourselves to see if it's sufficient for the Android 4.0 OS.
ASUS MeMo Pad HD 7:
The ASUS MeMo Pad FHD 10, meanwhile, should have a lot more grunt. The 10-inch tablet has a 1,920 x 1,200 display for better-than-Full-HD resolution, while inside is Intel's 1.6GHz dualcore Clover Trail+ processor from the Atom series. It's running Android 4.2 Jelly Bean, with a 25Wh battery that ASUS claims is good for up to 10hrs of runtime.
Otherwise, there's WiFi a/b/g/n, Bluetooth 3.0, and GPS, along with cameras front and back. ASUS will offer 16GB and 32GB versions, though is yet to confirm pricing and availability at this stage.
ASUS MeMo Pad FHD 10: