With the mid-sized tablet in the Samsung Galaxy Tab 3 series you're getting the only device on the market to go to war with the similarly-sized Galaxy Note. For Samsung it would appear easy to create so many device sizes that there's got to be one you're fond of, but here with the Galaxy Tab 3 generation of devices, it becomes so thick in the industry that the company redefines what it means to cannibalize one's own sales. That said, pretend the rest of the Samsung smart device universe doesn't exist and you've got a solid competitor for the 8-inch (or thereabouts) tablet market.
Hardware
The Samsung Galaxy Tab 3 8.0 works with an 8-inch display rolling with an 800 x 1280 pixel resolution across it, making it essentially the same delivery of sharpness and brightness as the Galaxy Note 8.0. While you'll find this close relative tablet mentioned more than once in this review of the Tab, you can be sure here first that the display panels themselves are directly on-par with one another for everyday use.
Inside you've got Android 4.2.2 Jelly Bean right out of the box, this powered by a Samsung-made Exynos (4212) dual-core processor. This processor is a step up from what we saw in the last generation of Samsung Galaxy Tab devices, to be sure, and acts as a decent engine for this mid-range tablet. It's got 1.5GB of RAM, too – odd, isn't it?
While you wont find this processor besting the likes of the Galaxy Note 8.0's quad-core Exynos SoC nor the NVIDIA Tegra 3 quad-core processor found in Google's current ASUS-made Nexus 7 tablet, you can rest in the idea that the Galaxy Tab 3 8.0's chip is one that'll keep you humming without lag well into the future.
This device comes in at 8.26 x 4.87 x 0.275 inches with a weight at 10.9 ounces, just a bit smaller than the Galaxy Note 8.0, and just as thin. This Galaxy Tab lineup aims to be just as slim as the smartphone that leads the pack, and as you can see, Samsung does well to make the whole family look extremely similar. Each of these Samsung smart devices feels like part of a unified whole – this is industrial design one-ness in full effect.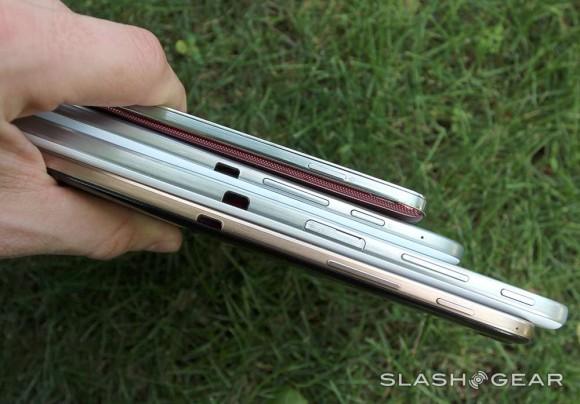 With the Galaxy Tab 3 8.0 you've got 16GB of internal storage as well as a microSD card slot with the ability to take on an additional 64GB. You'll be connecting to devices of all kinds with abilities in DLNA, Bluetooth 4.0 LE, and Wi-fi 02.11 a/b/g/n. In the future you can expect 4G LTE as well – though you'll need an edition with a microSIM card slot for that, too – later this year it'll all become clear.
Software
In the Samsung Galaxy Tab 3 8.0 you've got a software experience that you'll need to do at least a double-take with to realize it's not on-par with its brethren. You'll find the app "Samsung Link" missing from the Galaxy Tab 3 10.1 (see our full review) while the Galaxy Tab 3 8.0 has it ready to roll – ready to share and be shared with through the cloud with Samsung notebooks, tablets, and smartphones – and everything in-between.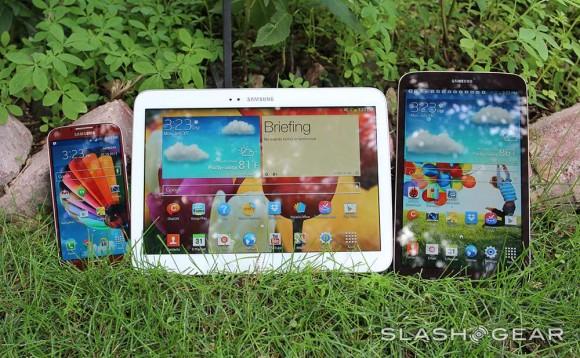 This is the full entry into the Samsung Galaxy S 4 era of smart devices from the manufacturer that promises wireless connectivity and cross-device sharing galore – just so long as you're working with Samsung devices. Samsung's Group Play and ChatON are another couple of good examples of this ecosystem – Samsung makes the case for Samsung-to-Samsung sharing as an experience you'll want to be a part of – over and over and over again.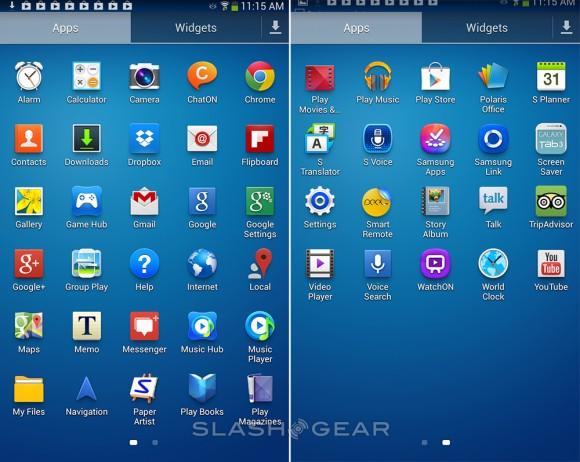 While you'll not be using NFC with this tablet – there's no NFC hardware to be had, that is – you'll get DLNA access, screen mirroring, and the promise of all the greatnesses of the software suites of the Samsung Galaxy S 4 and Galaxy Note families without the S-Pen-specific apps in play. Items like Samsung's "Smart Stay" keep the family's ability to detect your human eyes and account for it while items like Power Saving Mode and cloud storage abilities are assumed.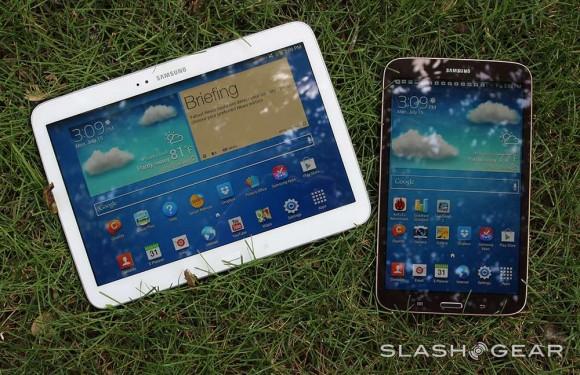 This device is one of several Samsung has released with a Dropbox bonus of 50GB of cloud storage added on to your account – or added to a brand new account – for 2 years from the point at which you access said space. Other bonuses include a $10 Google Play store credit, a 3 month Hulu Plus membership (for new users), and 12 months of Boingo Wi-fi access (also for new users). This is all part of the "Samsung Rewards" program the company is blowing out with the Galaxy Tab 3 line as well as the Galaxy Note 8.0 – and with future Galaxy Note devices soon, we must expect .
Camera and Battery
This tablet works with the newest version of Samsung's camera UI, the same not able to be said (at the moment) about the Galaxy Tab 3 10.1 or the Galaxy Note 8.0. We expect such an update to come on quick for those devices, on the other hand, and the camera quality here matches that of the Galaxy Note 8.0's shooter, one generation of camera app UI difference or not.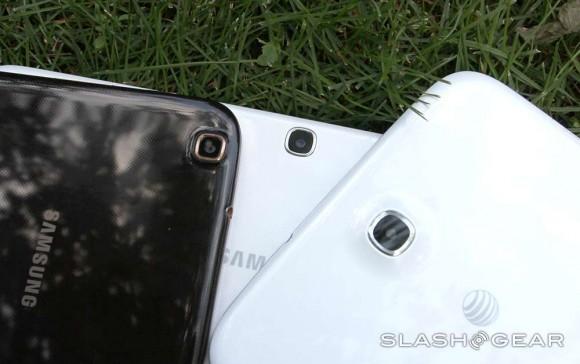 This device works with a 5 megapixel camera on its back with no flash while its front-facing camera is 1.3 megapixels, good enough (and specifically ONLY good enough) for video chat. The back-facing camera takes photos and video that are good enough for social networking and general small-scale sharing.

Click panorama photo for full-sized image.
Compared to the Galaxy Tab 3 10.1, the camera situation here is far and away superior – it would appear that the smaller tablets in this range are finding their camera setups to be a bit more of a priority than the slightly more awkward to wield amalgamations on the larger 10.1-tabs. It's clear that the extra cash the larger device costs is not applied to its back-facing shooter.
Meanwhile battery life is roughly the same here with the Galaxy Tab 3 8.0 as we've seen with the Galaxy Tab 3 10.1 – that is, with a 4,450 mAh battery in tow, this tablet will bring on a full day's usage without a problem, and standby time is – in general – acceptable as we've found it with the Galaxy Note 8.0 Wi-fi edition.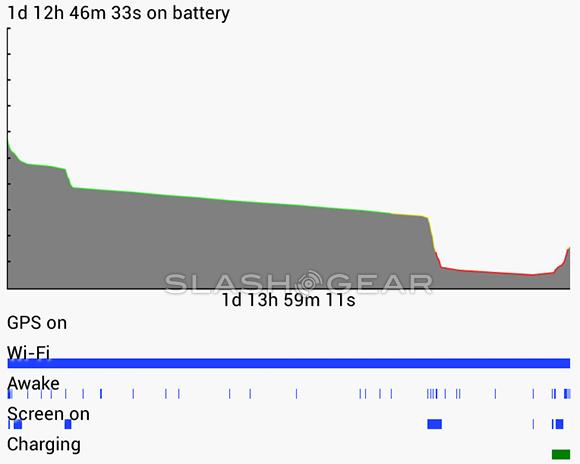 Both the Galaxy Note 8.0 Wi-fi edition and the Galaxy Note 3 8.0 work with Samsung-made Exynos processors, and though they're not the same model, they seem to work just as well as one another in the realm of energy conservation.
Wrap-up
The Samsung Galaxy Tab 3 8.0 is a fine upgrade from what's been offered at this size range by the manufacturer in past generations. While the Samsung Galaxy Note 8.0 bests this tablet in essentially every area save its smaller bezel, the Galaxy Tab 3 8.0 holds its own as a solid addition to the Samsung family of Galaxy S 4-era smart devices. Here the company brings an extremely thin and finely constructed mid-sized tablet that'll serve its users well into the future.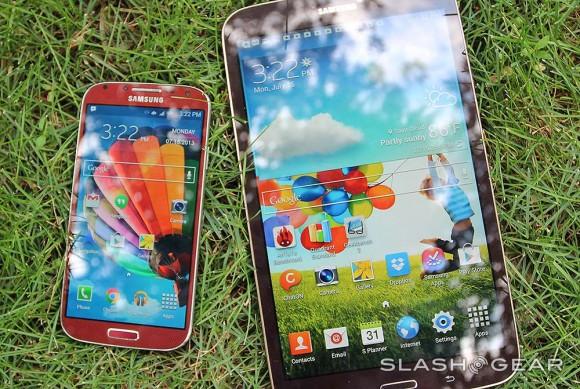 Be sure to have a peek at our Samsung Galaxy Tab 3 8.0 vs Galaxy Note 8.0 article to see which device is more your flavor. There you'll find the Galaxy Tab 3 8.0's price range – right at $299.99 USD and ready to sit between the hundred dollar addition or subtraction of the Tab 3 10.1 and 7.0, both of which have their own feature gains or drawbacks to speak of. Here in the Galaxy Tab 3 8.0 you'll have the most well-balanced member of this season's Galaxy Tab 3 lineup, bottom to top.