Samsung bada tipped open-source in 2012 for phones and smart TV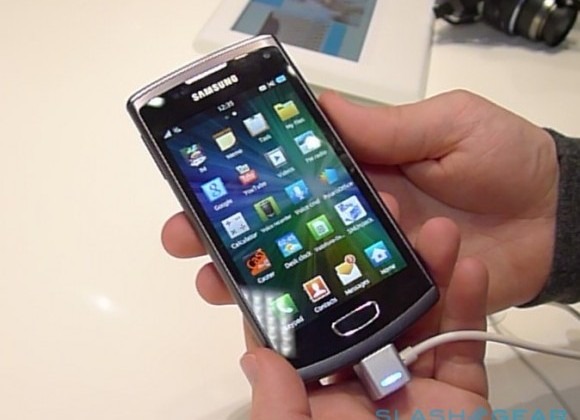 Samsung will open-source its homegrown bada OS in 2012, it's reported, as the South Korean company attempts to minimize its reliance on Google and Android. In addition to pushing bada for smartphones, the WSJ's insider claims, Samsung is also looking to use the platform for future smart TVs. It's unclear if this is instead of developing Google TV hardware, as the search giant announced Samsung was intending earlier this year.
Announced as a work in progress back in November 2009, bada has made several appearances on low- to mid-range Samsung smartphones since, though never to the same extent as the company has implemented Android. In its latest form, bada 2.0 as demonstrated on the new Wave 3 at IFA 2011 earlier this month, the OS has gained several Android-style features, as well as NFC support and boosted social networking integration.
Despite not being a household name, there are suggestions that bada has quietly been gobbling up marketshare and is, in fact, one of the fastest growing fledgling platforms. Samsung has invested heavily into third-party app development, and making bada open-source would likely be another attempt to boost interest.
[vms 15c7217cdc4ac692e704]
As for smart TV, Samsung had already confirmed that it was looking at the possibility of a single platform serving both phone and TV hardware, though the project went quiet shortly after. Rumors then suggested that the company was testing ARM-based Google TV implementations, which would require the next-gen version of Android, Ice Cream Sandwich, among other improvements. Samsung has previously said that it sees 2012 as "the year of smart TV" though has not clarified exactly which OS – or OSes – it may be relying on.
A gradual distancing from Google, especially in the aftermath of the Motorola Mobility acquisition announcement, looks likely, however. Samsung execs have reportedly decided they need to increase their software "competitiveness" with both mergers and acquisitions potentially on the table; nonetheless, this new insider claims Samsung "has no plans to buy" another software company. That echoes comments from CEO Choi Gee Sung earlier in September, when he denied Samsung would buy webOS.
Samsung may well struggle to motivate interest in bada among developers, however, who are already forced in many cases to choose between coding for Android or iOS. Simply making a project open-source is no guarantee of success, either, as Nokia discovered with Symbian. In Samsung's favor is its scale and the size of its corporate purse.