bada Developer Challenge pays out $2.7m; 5m bada phones sold by end of 2010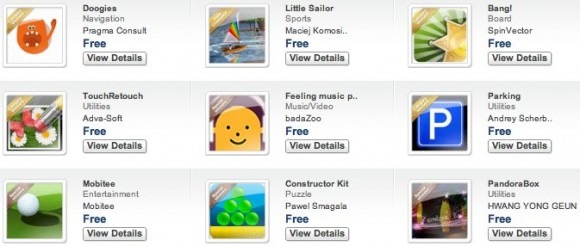 Samsung continues to chug away at its bada smartphone platform, and with good reason if recent reports of iPhone-style market penetration rates are anything to go by. The company has just wrapped up the bada Developer Challenge, handing out $2.7m between 34 winning developer teams, and to celebrate all the successful apps are being offered free.
Grand prize winner Mooncoder took $300,000 for his app "Little Sailor", a 3D yacht racing game that scored highest in the creativity, commercial potential, functionality, and user-friendliness categories. Eight further entrants took $100,00 apiece. Samsung isn't saying quite how many bada apps are out there, but it does expect to pass the 50m downloads mark sometime this month.
Meanwhile, sales of bada handsets are expected to pass 5m units by the end of the year, impressive given for much for the time only a single device, the Wave S8500, was available.
Press Release:
Samsung announces winners of bada Developer Challenge, demonstrating its commitment to the bada platform

(SEOUL=Korea Newswire) — Samsung Electronics Co. Ltd., a leading mobile provider, today announced the winners of 'bada Developer Challenge,' an application development contest for the bada platform which took place between May and December in 2010. Entrants participated in the contest online through Samsung's bada developer site.

The bada Developer Challenge attracted 2,077 teams from 54 countries. Samsung selected 34 winning applications, with the winners receiving US $2.7 million between them – as well as gaining marketing support to promote their applications on the Samsung Apps site.

"Samsung is excited to see such a great response from developers who entered applications to the bada Developer Challenge," said JK Shin, President and Head of Mobile Communications Business at Samsung Electronics, "We will roll out additional bada-based smart phones and continue to support bada developers in making and marketing high-quality applications."-

The grand prize winner, who won US$300,000, was Mooncoder in Poland. The winner's application "Little Sailor" is a 3D yacht racing game that allows users to experience a realistic sailing simulation – with the help of intricate controls and colorful graphics. The LittleSailor application scored highest in the creativity, commercial potential, functionality, and user-friendliness categories.

"We are extremely happy to receive the top prize in the contest organized by Samsung Electronics, a leading global company that is making inroads in software and applications," said Maciej Komosinski and Szymon Ulatowski, of Mooncoder which developed Little Sailor. "We believe bada will evolve into a platform that offers great opportunities to developers through Samsung's strength in the mobile arena. We will continue to join developer initiatives organized by Samsung in order to create more interesting and useful applications."

Eight other winners also received US $100,000 apiece, including badaSports, Doogie, Bang, WAMO_Camera, TouchRetouch, Bling-Bling Reader and Parking.

The award ceremony was held at the bada Developer Day in Seoul on December 8, which marked bada's first-year anniversary. At the bada Developer Day, Samsung provided a guide to developing applications for bada; including technical support regarding the platform as well as more information about the certification and registration process of Samsung Apps, the application marketplace for bada.

In addition to the Samsung Wave – the first bada smart phone- launched in June, Samsung has launched additional models such as the Wave II, Wave525, Wave533, Wave575 and Wave723. Sales of bada handsets are expected to reach 5 million units before the end of 2010.

Samsung Apps, Samsung's application store, has grown with the success of the Wave series; the total number of application downloads worldwide is expected to surpass 50 million by December, demonstrating the rising popularity of bada apps among smart phone users. Launched in France, Italy and the UK in September 2009, Samsung Apps is now available in 118 countries.

Samsung has been supporting developers in a number of ways; mainly through its online bada Developer site and also through offline local Developer Day events held regularly around the world. To build a better mobile eco-system, Samsung plans to introduce additional developer support programs, which include online and offline education courses for bada programming, online Q&A's via the bada Developer site and support for the publication of bada technical books.