Samsung's bada OS continues to be the silent runner among smartphone platforms, and the company is aiming big with bada 2.0. Announced at the bada developer day in South Korea, bada 2.0 will introduce NFC support, a boosted UI, third-party social-networking service integration and an all-new SDK with support for Linux and Mac.
There's also better support for multitasking, with the ability for apps to launch in the background and what Samsung is calling "multi-aspplication execution". The visual appeal should get a boost from regular TouchWiz too, with new animations and personalization options.
It's the services and revenue model aspects of bada 2.0 which will likely work most in its favor, however. The new version will add an ad gateway and operator billing support, which should make it more interesting to carriers and thus increase the availability, while functionality like speech recognition and push notifications will put it on a more level playing field with iOS and Android. No word on when we can expect bada 2.0 to launch, however, beyond sometime in 2011.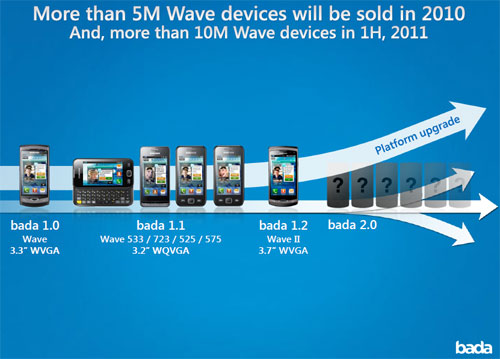 [via Samsung Hub]