Samsung Is Stepping Up With Tablets, So Where's Google?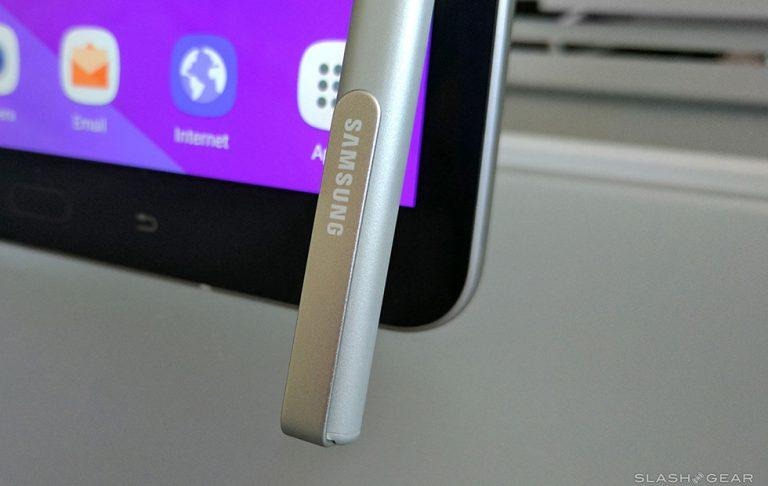 All eyes may be on Samsung's Galaxy Note 9 and its imminent reveal, but it's a far bigger Android device that demonstrates just how much the mobile device market is crying out for innovation. The Galaxy Tab S4 leaked earlier this week, Samsung's upcoming Android tablet, that seems set to arrive amid general slate apathy from Google itself.
It's fair to say that Google has been lukewarm at best on tablets in recent months. The company blamed a web design bug for the form factor disappearing from its Android site back in May. What was more notable when the section was restored, though, was just how outdated it had become.
With Google's own tablets discontinued, indeed, a mere three slates are currently showcased alongside the latest and greatest in Android smartphones. None are newer than 2015, despite several manufacturers still trudging ahead with newer options in the intervening years. Google may not have given up on tablets, but it has pushed them so far onto the back-burner that they run the risk of falling off the stove altogether.
Samsung's unwillingness to do the same, then, is admirable. All the same, there are reasonable questions about whether the Galaxy Tab S4 is guilty of doing "more of the same" rather than pushing innovation. From the leaked renders, there's now no physical home button, and the bezels are all more even in their sizing. Reported specifications hint at a Snapdragon 835 processor and a 10.5-inch display; Samsung might be using a face-scanning camera or iris recognition, replacing the fingerprint sensor with another biometric locking system.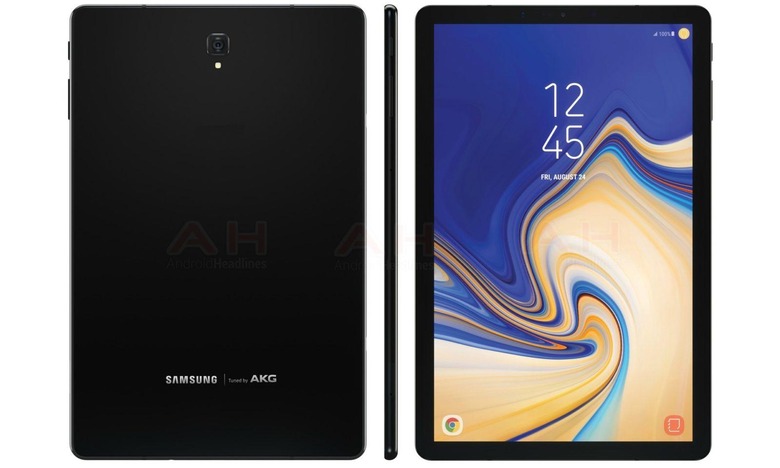 It's an incremental update over the Galaxy Tab S3, therefore, and that might not be enough. Iterating on a successful design has done Samsung proud when it comes to smartphones: this year's Galaxy S9 took the well-received bones of the Galaxy S8 from 2017, and gave it the polish required to keep it competitive. We're expecting the same from the Galaxy Note 9 early next month.
In contrast, though, Android tablets are struggling. Research may suggest that the form-factor itself is overtaking desktops in use, but it's Apple's iPad that is leading that charge. Microsoft's Surface saw growth in IDC's Q1 2018 research, too.
During that same period, however, Samsung slate shipments fell more than 11-percent, compared to the same quarter twelve months prior. The saving grace was 2-in-1s, but any sales strength there for Samsung was buried by dwindling interest in its regular models. In short, the market for premium Android tablets that aren't detachables is fading.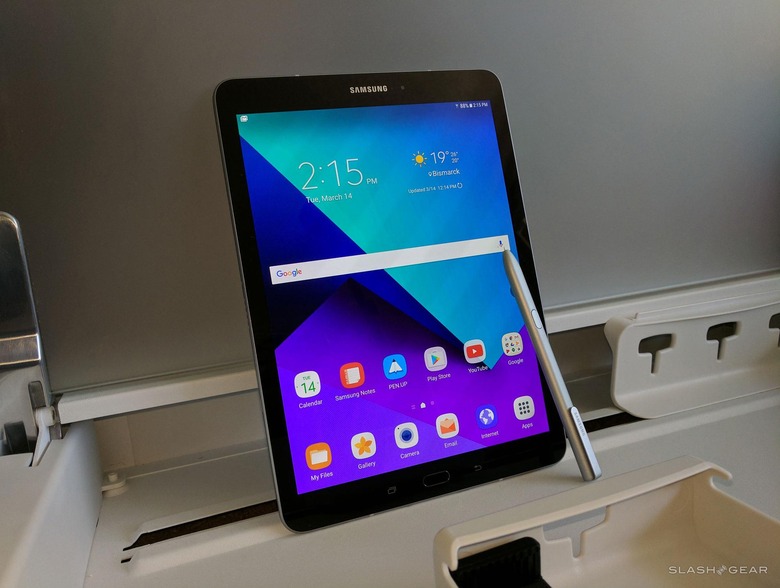 It comes as Apple is poised to nudge the iPad ahead once more, cherry-picking some of the iPhone X's talents for an upcoming new model. The big expectation is that Apple will add a TrueDepth camera array to the new iPad, giving it access to things like Animoji and iOS 12's Memoji, but also Face ID and a host of augmented reality possibilities. At the same time, the new tablet is believed to further shrink its bezels, particularly at the top and bottom of the screen.
That hardware revamp will come alongside iOS 12, and a variety of new software features focused on boosting tablet productivity. Even with the new version of Apple's mobile OS believed to downplay iPad enhancements in favor of polishing the iPhone experience first, there are arguably still more improvements for tablets in iOS 12 than we've seen Google discuss in Android for some time.
Apple's strategy with the new iPad is something Samsung, Google, and others could follow. Take tried and tested hardware and design ideas from popular smartphones, and port them across to tablet form-factors. Be clear with potential users as to how tablets can be not only replacements to laptops and desktops, but better than them in many ways. Don't just make a bigger phone: treat the category as a priority in its own right.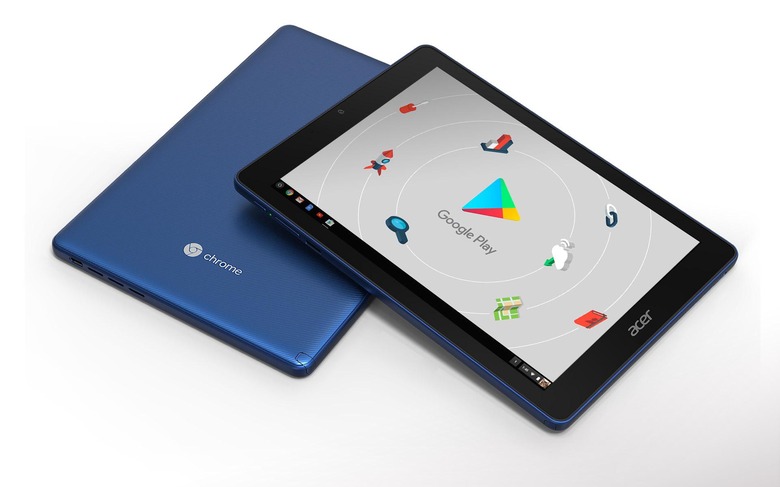 Google, though, seems more focused on Chrome OS, and how that can work on tablet form-factors. That's not necessarily a bad idea: 2-in-1 detachables, that pair a keyboard with a removable touchscreen slate, are an increasingly practical alternative to a traditional laptop for many users. Chrome OS' burgeoning features, and its recently-gained ability to run Android apps, make it a strong alternative to iOS on devices like the iPad Pro.
What hurts the segment – and, as a result, Google's OEM partners making Android tablets – is the lack of clear messaging on the subject. Google is evidently not yet ready to make an own-brand tablet itself, even after the demise of the Pixel C back in December 2017, and is more interested in working with hardware partners on launch-day devices. The Acer Chromebook Tab 10, for example, was designed in collaboration with Google around the new, tablet-centric build of Chrome OS, but still bears Acer's brand.
Fair enough, but there's little to guide potential shoppers through Google's confusing ecosystem. If I like Android on my smartphone, and want the same sort of experience on a larger device, I'll get more help from Amazon around its Fire tablets than I will from the maker of the OS that Amazon heavily customizes. It's leagues away from the joined up message that Apple delivers so well.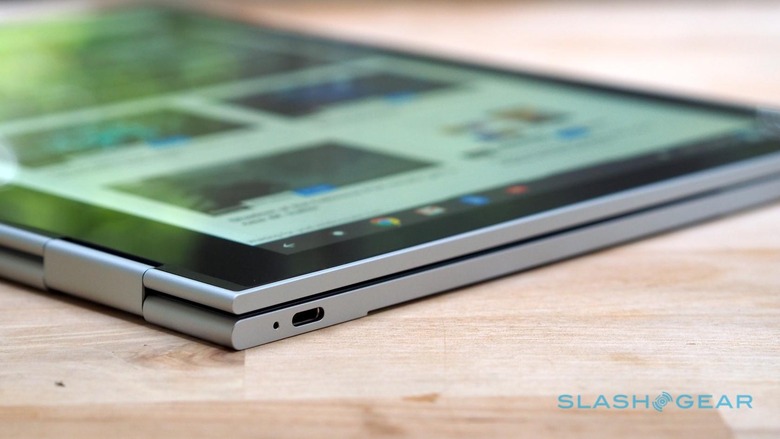 Google does its partners a disservice, along with Android and Chrome OS. Many of the underlying components are in place, ironically: Android apps on Chrome OS run surprisingly well, even given the disparity in screen sizes they were designed for. The Chrome OS team's recent updates to make the platform more pen- and finger-friendly are impressive. Google's own Pixelbook remains some of the best-designed convertible laptop hardware out on the market today.
Without a cohesive message, though, any new tablets – Samsung's Galaxy Tab S4 included – feel like vague scattershot in the segment more than anything else. And while Samsung, and Huawei, and others may be persevering with Android slates and keyboard equipped 2-in-1s, you can hardly fault consumers for questioning why they shouldn't just pick up an iPad Pro instead.
The Samsung Galaxy Tab S4 leak is good news, as is Samsung's continued interest in tablets despite the recent struggles of the industry as a whole. What's difficult to see beyond, though, is the absence of a clearly defined strategy for why anyone but the most enthusiastic of Samsung fans should particularly care right now. That's not a question Samsung alone can answer and, for all Google may be getting right in smartphones, it's missing the bigger picture when it comes to an ecosystem on the precipice of reinvention by competitors.