Google blames bug for disappearing Android tablets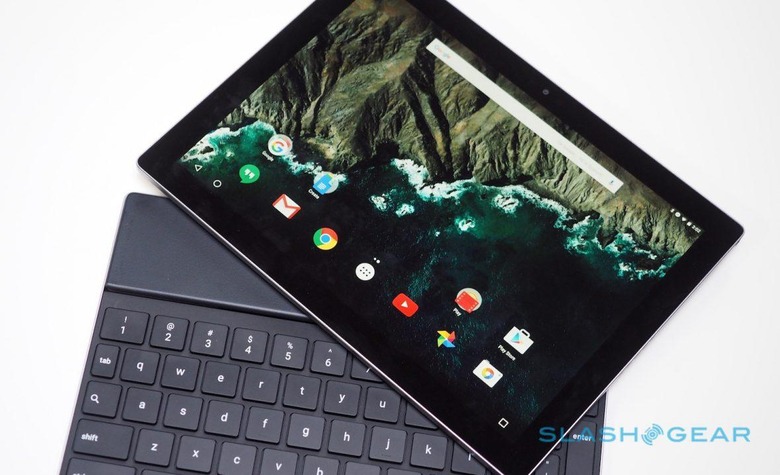 Google's tablets may have disappeared from its Android site, but the company insists that was a mistake, not a sign it's giving up on the form factor. Speculation about the future of Android on larger screen devices has grown in the aftermath of Chrome's recent update to support touchscreen-only tablets without keyboards.
Chromebook Tablets were announced back in March, a tweak of the cloud-centric OS to handle devices intended to be solely controlled by either tapping the screen or using a digital stylus. At the time, the move was seen as an attempt to box Apple's iPad out of the classroom, giving education customers an alternative to Chromebook notebooks. However, it also left some wondering whether, given Chrome OS' support for Android apps, this was also Google's future for tablets in general.
An update to the official Android site late last week seemed to double-down on that suspicion. Where previously "Tablets" had been a category heading on the page, that unexpectedly disappeared. Instead, there were links only for "Phones," "Wear," "TV," "Auto," and "Enterprise."

It wasn't just a UI layout change, either. Going to the URL that the "Tablets" link previously led to saw visitors looking for Android tablets redirected to the Android site's homepage.
It was unsurprisingly seen at the time as validation of the general suspicions that Android tablets were struggling so considerably, Google was sidelining them altogether. Certainly, the category hasn't seen much action, at least from Google itself. The Pixel C, its high-end Android tablet that supported a clever magnetic keyboard cover, was removed from the Google Store back in December last year, with no replacement in sight.
However, it seems the death knell may have tolled too soon. According to Hiroshi Lockheimer, Senior Vice President of Platforms and Ecosystems for Android, Chrome, Chrome OS and Google Play at Google, the disappearing section was "a bug" not an intentional slight on slates.
Oops we had a bug when we updated the site. It's back up now. Sorry for the confusion! https://t.co/5mI3L3Gzif

— Hiroshi Lockheimer (@lockheimer) June 3, 2018
As Lockheimer says, the link – and the page it connects to – has now returned. Still, you'd be forgiven for being underwhelmed if you click on it. Right now there are just three tablets actually listed – the NVIDIA Shield Tablet K1, the Samsung Galaxy Tab S2 8.0, and the Sony Xperia Z4 Tablet – none of which are particularly recent.
Admittedly there hasn't been a huge amount of movement even in third-party Android tablets of late, though that's not to say they're non-existent. Huawei's MediaPad M5, for example, launched back at Mobile World Congress in February, challenging Apple's iPad Pro with its keyboard and stylus support. At the same time, Alcatel launched two Android tablets.
In short, it's easy to see why Google's webpage managers might have forgotten all about the tablet section while updating the Android site. After all, it seems like Google has forgotten about tablets more generally, too.