Mouse Pad Travel Pouch Raises Question of Mouse Longevity in our Modern Mobile Culture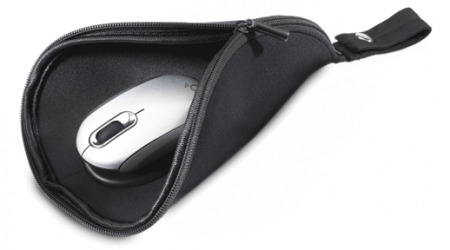 When was the last time you used a mouse? The last time I used a mouse, it was the late 1990s and I was playing the MMORPG Diablo II. Sidenote: Diablo III is coming out soonish, (within the next year, we hope,) and I may need a mouse – any suggestions? Since then, essentially every person I know, my age or otherwise, has been using a laptop for all their computing needs. A desktop replacement, rather, with a trackpad and no need for a mouse. The manufacturing and distribution group Smartfish has just released a product that, by all means, should have been invented years ago: the Mouse Pad Travel Pouch. Will you partake?
Have a look back at a device we reviewed at the beginning of this year: the HP ENVY 17 3D, a desktop replacement notebook. This laptop was (and is) so gigantic and powerful that there's no reason for you to own a separate device. There's no reason for you to have a separate computer unless you want to be mobile, that is. And for times like that, what will you do? Will you go for a tiny laptop like a MacBook Air 11.6"? Or will you hit the center with a lovely burnt orange Lenovo U260 IdeaPad? We've all got decisions like these to make – but what about that classic symbol of the modern computer, the cursor controller, the clicker, the mouse?
There's a gaming culture out there that still has mad love for the mouse. A few days ago we reported on a mouse-like device that uses all five fingers: the Double Research & Development Amenbo. A day before that, we spoke about the Kensington Orbit Wireless Mobile Trackball, a lovely mouse with a gigantic red orb that sits under your fingers for classical moving of the cursor in truly any direction. Then there's items like the Toshiba DX1215 all-in-one PC with a full HD touchscreen – there's a mouse in the press image, but what in the world would you want it for?
There's a new HP Wi-Fi mouse on the market, Logitech introduced a brand new Optical Gaming Mouse at the beginning of this month, and the massively technical Mad Catz Cyborg R.A.T. gaming mouse is just about the coolest thing I've ever seen. Did I just prove myself wrong? Is the mouse alive and well? There's a WaterField Keyboard Travel Express bag for your Apple set of peripherals, too, so it's not just relegated to PC computers.
What's up, world, is the mouse dead, or will you purchase the oddly enticing Mouse Pad Tavel Pouch for $14.95? Or I suppose you could just put your mouse in the bag you've already got. Gaming around the world, or sticking in the house?