MacBook Air 11.6" Review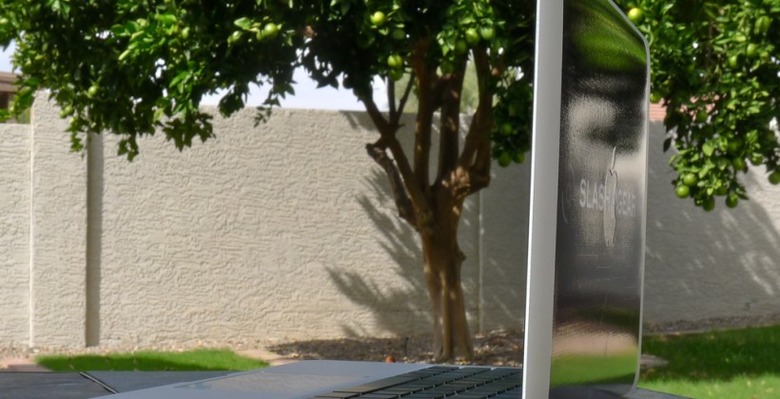 Steve Jobs' views on budget ultraportable are pretty clear. "We don't know how to make a $500 computer that's not a piece of junk," he told investors back in 2008, and so the new 2010 MacBook Air is neither of those things. Instead, it's a $999+ slice of instant-on notebook and, if you believe the hyperbole, pulls together the best of Apple's MacBook range and their best-selling iPad. It doesn't hurt that it's almost indecently fabulous looking, too. Check out the SlashGear review of the 11.6-inch MacBook Air 2010 after the cut.
The first-generation MacBook Air polarized opinion more than most of Apple's products. Fans praised its ultra-slim design and ruthless omission of anything not in keeping with its mobility ethos; critics derided its performance, minimal port selection and premium price. By the time the 13-inch unibody MacBook graduated to MacBook Pro status, the Air had been relegated to a very small niche.
The new MacBook Air announced as Jobs' "one more thing" at the company's otherwise OS X focused "Back to the Mac" event this week, pulls the range back up to date. By standardizing integrated batteries, bulky SSD (by today's standard) replaced by NAND flash storage, and the latest low-voltage CPU and GPUs – all technologies that were either too new, too expensive or too unrefined at the first Air's launch – Apple has successfully rebooted their ultraportable without necessarily stomping on other MacBook and MacBook Pro models in the process.
MacBook Air Solid State Flash Storage
[vms 820b41b54430b50e96b5]
Hardware
Two MacBook Air sizes are available, a 13.3-inch 1440 x 900 replacement for the original and a new 11.6-inch 1366 x 768 version. For the first time, Apple has picked 16:9 widescreen aspect panel for the 11.6" and 16:10 for the 13" MacBook Air. Both use Intel Core 2 Duo processors (1.86GHz or 2.13GHz on the larger model, 1.4GHz or 1.6GHz on the smaller) and have 2GB of 1066MHz DDR3 memory as standard (or 4GB as a $100 option), together with integrated batteries that Apple reckon are good for up to 7hrs wireless browsing on the 13.3-inch or 5hrs on the 11.6-inch. They also use new, slimmed-down NAND flash for storage; 128GB or 256GB on the larger model, and 64GB or 128GB on the smaller.
MacBook Air Design
[vms 826caf99687388d2e8f7]
Apple's decision to use Intel's previous generation of processors, the Core 2 Duo line, rather than the newer Core i3 and i5 chips we've seen on the MacBook Pro is most likely down to the GPU flexibility it allows them. By avoiding the newer chips, they're free to stick with NVIDIA's discrete graphics – in this case the GeForce 320M, which borrows 256MB of the Air's main memory – which are good enough to support both the built-in display and an extended desktop of up to 2560 x 1600 resolution.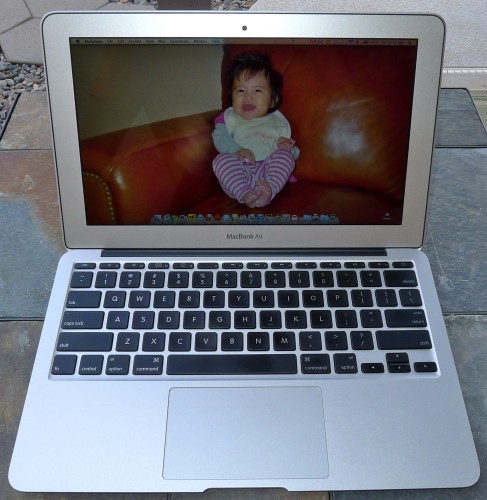 Gone, too, is the previous Air's hinged port door; the 2010 MacBook Air spreads its connectivity across both sides, with more options than were offered before. This 11.6-inch model has a MagSafe power port, USB 2.0 port, headphone jack and microphone on the left and a USB 2.0 and Mini DisplayPort on the right; the 13.3-inch version adds an SD card reader as well. A webcam, which is even thinner than the one on iPhone 4 – now rebranded as a "FaceTime camera" – is built into the wafer-thin MacBook Air display, for video calls, though the screen itself lacks the glossy glass layer of the MacBook Pro line, to save on weight.
Weight is obviously a big deal when it comes to ultraportables, and Apple has been pretty ruthless with the new MacBook Air's design. The full unibody aluminum chassis – with base and screen sections each crafted from a single, machined chunk of metal – measures 11.8 x 7.56 x 0.11-0.68 inches in the case of our 11.6-inch review unit; the 13.3-inch Air is broader and deeper (12.8 x 8.94 inches) but no thicker. Line the notebook up with an iPhone 4 at the front edge, and the two are almost exactly the same thickness. The MacBook Air is a beautiful, solid and eye-catching design, and feels premium all over.

Keyboard and Trackpad
Open the wafer-thin lid and there's a full-sized keyboard complete with function key row. The latter are the 11.6-inch MacBook Air's main concession to size, being thinner than their 13.3-inch counterpart's. Unfortunately, backlighting appears to have been a casualty of the update, and it's something we miss from the rest of Apple's range. Key feel is on the clicky side, though not unpleasantly so, and travel hasn't been too significantly curtailed by the shallow keyboard tray.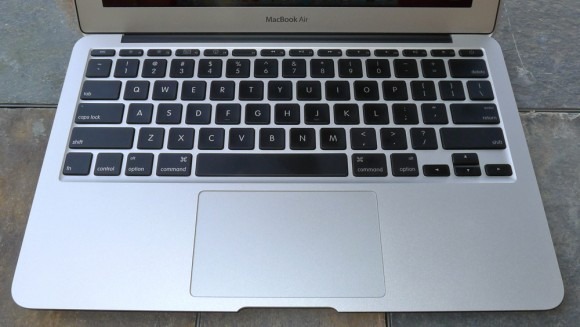 MacBook Air Multi-Touch
[vms d56c7edf3365fea7520f]
Despite their success with touchscreen technology on the iPad and iPhone, Apple is convinced touchscreen notebooks aren't usable. Instead they squeeze in an oversized, multitouch trackpad as on other models: it's slightly smaller than what you'd find on, say, a 15-inch MacBook Pro, but it's responsive and easy to use, and of course perfectly integrated with OS X's two-, three- and four-finger gestures.
Performance
The previous MacBook Air was most comfortable browsing and playing video, but Apple is positioning the 2010 model as more of an all-round machine. Still, the updated CPU and GPU do at least stand a better chance for more mobile graphics crunching. We ran Geekbench on our test unit, an entry-level 11.6-inch Air with the 1.4GHz processor and 2GB of memory, and it scored 2178. That's actually a couple hundred points less than the previous-gen 1.86GHz Air we reviewed in 2008, though it's worth noting that model was selling for a huge $2,499 compared to the $999 of today's version.
More importantly, perhaps, is how the CPU and GPU work together, and we have a real-world example to illustrate it. We took a quick day trip in and out of San Francisco this week to meet with HP; knowing that the story was going to be under embargo, we wouldn't really need a laptop since we woudn't be processing videos and images until we got back. As such, no need for the usual MacBook Pro, right? The obvious device of choice to take on the road is the iPad.
MacBook Air Mac Meets iPad
[vms 86b71e2da9acfe4fbd19]
Had we taken the iPad, it would have been a disaster. Why? Leaks and a broken embargo forced HP into releasing the story far earlier than expected. In this case, instead of carry a Core i7 15" MBP weighing nearly 5lbs, we had a lightweight yet very capable machine for processing 720p videos, images and writing up articles, and that's exactly happened. In between waiting at the airport, meetings and while on the airplane, we were able to write, process hands-on video and edit images.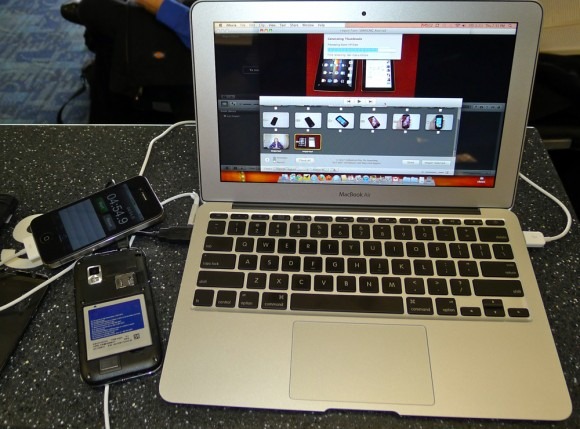 Using iMovie '11, we were able to import an 11-minute 720p video clip in AVCHD format in roughly 4 minutes. Editing was a breeze with the large glass trackpad and writing was not an issue with the full-size keyboard. Meanwhile iPhoto '11 made short work of the image processing. All we really missed on the 11.6-inch MacBook Air was the SD card slot. Luckily we had an external memory card reader, though we were also able to hook up a phone with a memory card slot and transfer files over from microSD that way. Processing the 10 minute 25 second video at 720p took just under 51.54 minutes. That's certainly longer than your Core i7 Mac Pro, but considering the portability of the Air it's a lot easier to forgive the longer than usual processing time; it's also worth remembering that we were running off battery power, which means the CPU would be underclocked as per Intel's power-saving systems. On mains power, it would be quicker.
As soon as we landed, we discovered the embargo had been lifted and we were all set to go. Hook up to Verizon's MiFi or jump on the airport's WiFi, upload images, videos and publish the articles. In a highly competitive environment, it's always best to be prepared and, in order to do that, you have to have the right tools.
Battery
Part of being the right tool is offering reliable battery performance, and we've been impressed with how the 2010 MacBook Air handles power. As we've seen from the teardown, most of the Air's interior space is taken up with battery packs; Apple claims the 11.6-inch version is good for up to 5 hours of wireless use or up to 30 days standby (using a new caching system that takes advantage of the fast SSD). With our mixed use of WiFi, video and image processing, watching two TV shows and then working on articles, the MacBook Air was still suggesting we had 45 minutes of battery life left. During all that time, while the ultraportable isn't fanless, it was still almost silent; meanwhile it barely got warm despite the processor load. It's worth mentioning that, by spreading the battery packs across the notebook, Apple has created a very well balanced machine that sits nicely on the lap.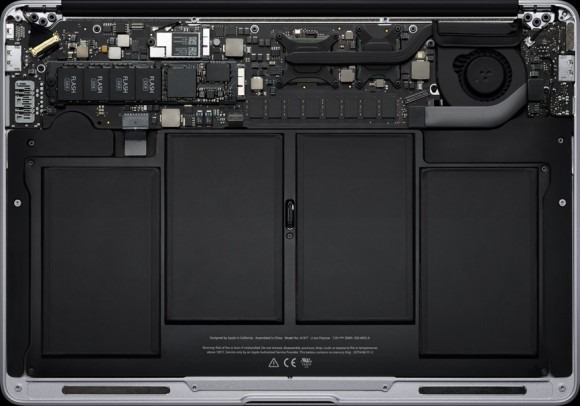 Wrap-Up
As with its predecessor, there are some compromises to be made with the new MacBook Air though. While the ultraportable has both WiFi a/b/g/n and Bluetooth 2.1+EDR as standard, there's still no integrated 3G option for mobile broadband. The omission of an SD card reader on the 11.6-inch model is frustrating, too. Perhaps more importantly, Apple solders the MacBook Air's RAM to its mainboard, and the SSD is a proprietary component; that means later upgrades aren't going to be easy. Stepping up to the 128GB 11.6-inch MacBook Air is $200 more than the 64GB version, at $1,199, while the 13.3-inch models are $1,299 for 128GB or $1,599 for 256GB. Budget $100 to double the RAM to the maximum 4GB.
Compared to the previous-generation MacBook Air, the new model is undoubtedly a bargain. Better looking, better performance and with longer battery life, Apple's ultraportable has come into its own now that the technology has caught up with the Cupertino company's ambitions. If you were tempted by the old model but put off by its limited performance and runtimes, this new version addresses that.
A more frequent question is likely to pit the MacBook Air against the iPad, and while we still like Apple's tablet, it's undoubtedly limited in its functionality. The new Air, meanwhile, is a fully-fledged notebook wrapped up into a slim, lightweight package, with the quick-start accessibility of the iPad along with the flexibility of OS X. It's especially enticing if you're already an iPhone 4 owner.
The MacBook Air is not the laptop for every user. Those looking to frequently edit HD multimedia will find its ULV processor limiting, while the downside to the speed and frugality of its flash storage is reduced capacity versus the 320GB and 500GB HDDs we're seeing as standard on rival machines. Still, it's not intended to be the notebook for all seasons. The upcoming Mac App Store will further blur the line between MacBook Air and iPad functionality, without giving up OS X in the process, but even as it ships today there's plenty to appeal about its extreme portability and surprising degree of usability. As with the previous MacBook Air, the style will win hearts in the Apple Store; what makes the difference is that the day-to-day experience is strong enough to win over your head and wallet, too.
Unboxing MacBook Air 11.6"
[vms 594c7bc3c36e7e8ab955]