Coronavirus symptoms, 2019-nCoV virus in China, case map, and CDC help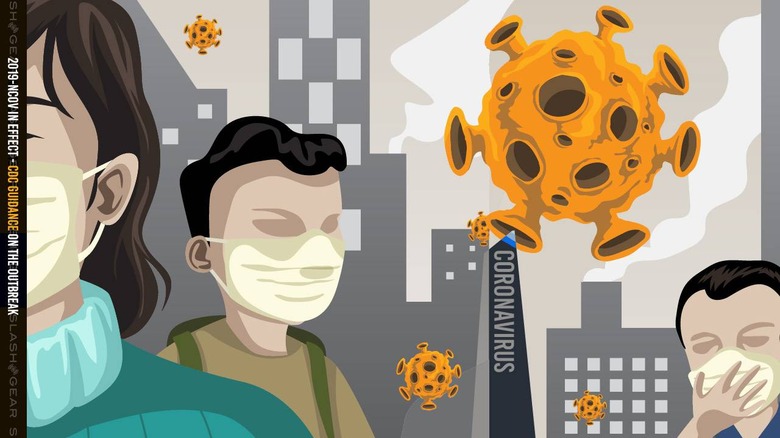 The word corona means crown and is the only link between coronavirus and the beer called Corona. "Human Coronavirus" is a virus which was first identified in the 1960s and, in the year 2019, a new sub-type was identified in China. The World Health Organization reported the newest coronavirus on January 9, 2020, after identification by Chinese authorities during an outbreak of pneumonia in Wuhan City, Hubei Province, China. This newest version of the virus is identified as 2019 Novel Coronavirus (2019-nCoV).
The following is an addendum and extension of what we knew and reported recently in our first China Coronavirus: What we know and what to do feature. We know a little bit more now – but that original report gives more data on the origins of the virus. Reports suggest this virus came from snakes!
Symptoms of Coronavirus (2019-nCoV)
According to the U.S. Department of Health & Human Services / CDC (Centers for Disease Control and Prevention), symptoms of Novel Coronavirus can appear anywhere from 2 to 14 days after exposure. It's important to be vigilant at this moment due to the amount we DON'T know about this virus – a virus that seems familiar, but acts out in ways that are new, and therefore extremely dangerous.
Symptoms of 2019-nCoV are very similar to those of the flu.*
• Shortness of breath
• Fever
• Cough
The CDC recommends that anyone who had/has these symptoms should call their doctor if they've also been in China within the last two weeks. The CDC reported that the symptoms of 2019-nCoV could appear anywhere from 2 days to 14 days after exposure – and that this range is based on the incubation period of related MERS (Middle East Respiratory Syndrome).
What to do
If you experience any of the above symptoms and have been to China recently, do NOT head directly to a doctor's office – call your doctor first. Per the CDC: "They will provide further instruction about steps to take before your medical visit to help to reduce the risk that you will spread your illness to other people in the office or waiting room, if that is what has made you sick. Don't travel while you are sick."
DO NOT DRINK BLEACH: there is NO instant/magical cure for Coronavirus. Do not drink any magical concoction someone on the internet told you will fix all your ills – do not drink bleach, please.
No matter where you are in the world today, the CDC recommends you avoid contact with people who may be sick, and as always, the following precautionary items:
• Cover your mouth and nose with a tissue or your sleeve (not your hands) when coughing or sneezing.
• Wash hands often with soap and water for at least 20 seconds. Use an alcohol-based hand sanitizer if soap and water are not available.
If you find yourself IN China, the CDC recommends:
• Avoid animals (alive or dead), animal markets, and products that come from animals (such as uncooked meat).
• Avoid sick people
• Do not hide the fact that you were in China when you leave. This could not only put your life at risk, but it could put those around you at risk via the spread of the virus (which you might not even realize you have living inside of you).
Further Warning on Travel to China
In January of 2020, the official CDC alert for travel in China read as follows: Warning Level 3, Avoid Nonessential Travel. CDC recommends that travelers avoid all nonessential travel to China. If you absolutely positively must go to China, see the official travel to China page at the CDC.
*The flu, too
Here in the United States, a significant number of people have died this year from the flu. The CDC recommends only one thing to stop influenza / the flu. They called it last year – now we've got a death count during the 2019-2020 season to prove it – it being a situation in which we're getting better at fighting the flu, but it's still deadly!
Per the latest report (late January 2020) from the CDC, we've actually got fewer deaths from Influenza this season than last season – and less again there than the year before. We seem to be on-track to hit around the number of deaths from Influenza we saw in the 2016-2017 season (which was 110 deaths). The 2019-2020 season thus far (December 15, 2019 through January 18, 2020), the USA has had 54 influenza-associated pediatric deaths.
Confirmed Cases of 2019-nCoV
As of January 29, 2020, the CDC reported a total of 5 positively identified cases of 2019-nCoV in patients in the USA. Five cases were identified in four states: Illinois, Arizona, Washington, and California. A number of other locations around the world have confirmed cases of the virus as well.
As of January 29, 2020, the CDC listed the following locations as confirmed for cases of 2019-nCoV:
• China
• Hong Kong
• Macau
• Taiwan
• Australia
• Cambodia
• Canada
• France
• Germany
• Japan
• Malaysia
• Nepal
• Sri Lanka
• Singapore
• Thailand
• The Republic of Korea
• United Arab Emirates
• Vietnam
• United States of America
Below you'll see a map from Johns Hopkins University (Johns Hopkins Whiting School of Engineering). Per a January 23 report on the project, this map is as updated as possible with the latest information about 2019-nCoV from reports around the world.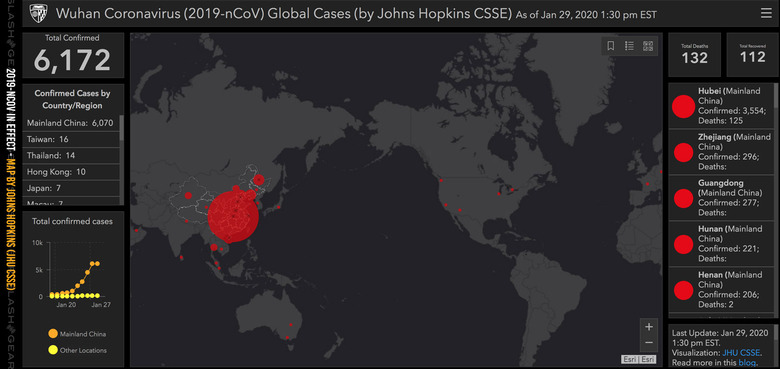 As of this latest report, 6,172 confirmed cases of 2019-nCoV have been reported. Area of highest concentration was Hubei (Mainland China) with 3,554 confirmed cases of 2019-nCoV, and 125 confirmed deaths of patients with confirmed cases of 2019-nCoV. We'll be reporting additional information in new articles in SlashGear's main news feed as they arrive.
UPDATE: February 13, 2020
Since we're still getting hits on this older article, this is a rundown of recent events — a "surge" in reported cases in the Hubei district of China wasn't quite so much of a surge as it was a change in the way they counted cases. Where before now they counted lab-test-confirmed cases, they're now including cases that were clinically diagnosed. Unfortunate for the people in charge of releasing reports, they did not make this change explicitly clear right off the bat – so there was a bit of panic before they released a followup report.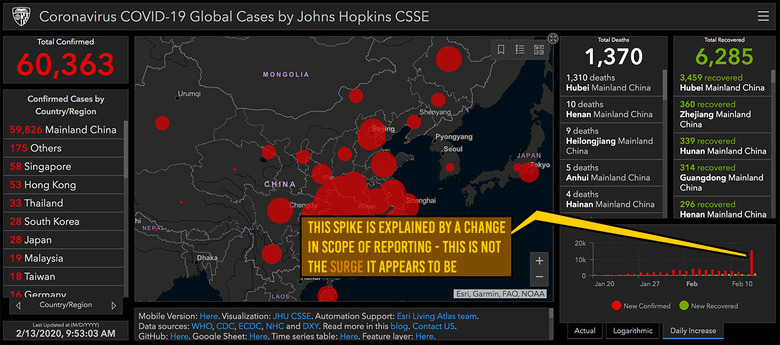 The map shown above has a bit of a SPIKE in the "daly increase" chart – it looks pretty frightening when not properly explained. You might also want to take a peek at the Coronavirus test that started shipping recently. The CDC has begun preparing for more cases in the USA, and WHO gave coronavirus a name: it's called COVID-19.