Apple iPod Event 2009 Summary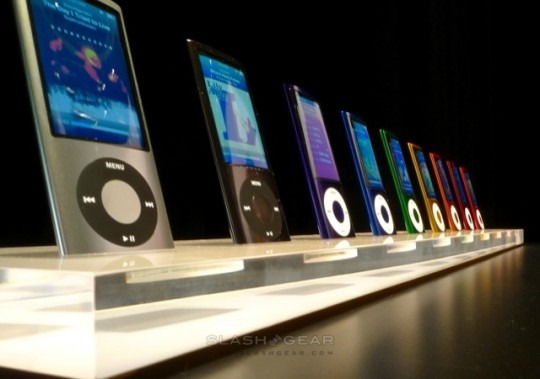 If you've just woken up from a week or three of particularly deep sleep, then you may have missed the news that Apple's traditional September iPod event took place yesterday in San Francisco.  Luckily for you, sleepy head, SlashGear was on hand with another liveblog and plenty of live photos of Apple's newest range, so read on for all the details.Hands-on galleries plus video of the new iPods after the cut
As expected, all of Apple's media players saw an update, though the meat of those changes didn't necessarily fit the rumors.  Most interesting is the fifth-generation iPod nano, which now gets not only a bigger 2.2-inch LCD display but an integrated video camera capable of capturing 640 x 480 30fps footage complete with sound.  Check out the full specifications and our hands-on gallery and video for more.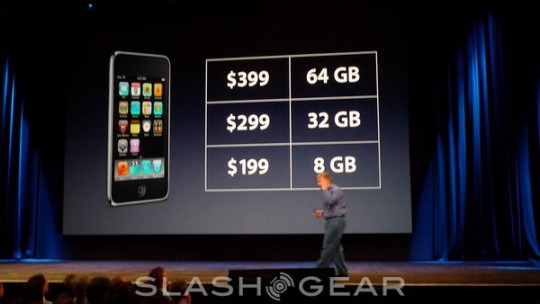 We'd expected the iPod touch to get a camera too, but that failed to transpire; instead, Apple kicked the 8GB model into budget position at their $199 "magic" spot, while updating the 32GB and new 64GB models – at $299 and $399 respectively – with the same performance abilities as the iPhone 3GS.  Meanwhile the iPod shuffle got a cheaper price and a few new color variants, including a slick polished stainless steel "special edition", and the iPod classic saw its storage bumped to 160GB for the same $249 price.
It was in software that some of the real magic happened, though, with a new firmware update for the iPod touch and iPhone, together with the debut of iTunes 9.  The former – iPhone OS 3.1 – brings with it $1.99 ringtones, Genius Mixes (which automatically creates playlist mixes) and App Store suggestions based on previous downloads.  As for iTunes 9, that gets a UI makeover to make it more streamlined, easier track previews, "iTunes LP" which encourages whole-album downloads by promising exclusive accompanying content and the ability to organize your iPhone/iPod touch apps from your desktop.  Apple have also thrown in Home Sharing, which allows you to funnel content from one computer between up to five, and do so in a far more useful way than mere streaming.
Did the event live up to the hype?  Not really, no, but then it's proving increasingly difficult for Apple to manage that.  The lack of iPod touch cameras could be explained by Apple not wanting to upset their iPhone carrier partners, but it leaves the PMP in an odd middle-ground between the optically-equipped nano and iPhone.  Steve Jobs claims it's because the touch is all about gaming, but we wonder whether the talk of CMOS issues may have had more of an impact on the Cupertino company's roadmap than they'd like to admit.
On the software front, meanwhile, iTunes 9 – and particularly its Home Sharing functionality – does seem to pave the way for an update to the Apple TV, which has languished compared to other products from the company.  Now that Apple seem to have woken up to the fact that households want to share their media and do so in a straightforward way, we're keeping our fingers crossed that they'll give the Apple TV some of that magic too.
All of the new products and software are available to buy or download now from Apple.com.  What did you think of the event yesterday, and SlashGear's liveblog coverage of it?  We're really interested in your feedback, so please do leave your comments below.
Apple iPod nano 5G hands-on:
[vms 305ca9ad266f53bc8251]