Apple iPod shuffle gets price cut, new colors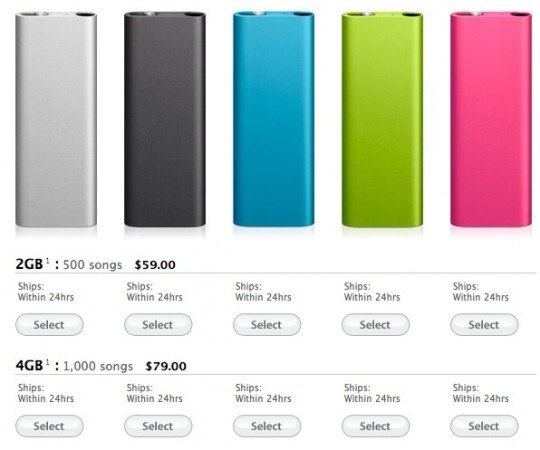 Apple have unveiled the latest incarnation of the iPod shuffle, and they've managed to bring the entry-price down to just $59 for the 2GB model and $79 for the 4GB.  There's also a new, special edition version with a polished stainless steel casing, priced at $99 for 4GB.
The black and silver shuffles now have new pink, blue and green models to accompany them, and VoiceOver has had a boost with a greater number of third-party headphones that support the in-line controls.  These include the new Monster headphones announced earlier this week, the control unit cable of which is being applied retroactively to all of the company's Dr. Dre designs.
The new Apple iPod shuffle models are available now, priced at $59 for the 2GB and $79 for the 4GB.  All ship within 24hrs.  Meanwhile the polished silver version is an Apple Store exclusive, and is $99.
Press Release:
Apple's iPod shuffle Now Starts at Just $59

World's Smallest Music Player Now in Five Great Colors

SAN FRANCISCO, Sept. 9 /PRNewswire-FirstCall/ — Apple today announced that iPod shuffle , the world's smallest music player and the first music player to talk to you, is now available starting at just $59 in five great colors. iPod shuffle's intuitive controls are conveniently located on the headphone cord, letting you navigate and enjoy music without even looking. With the press of a button, you can play, pause, adjust volume and switch playlists, plus the VoiceOver feature lets iPod shuffle speak song titles, artists and playlist names. The iPod shuffle is available worldwide today in a new 2GB model for just $59 and a 4GB model for $79, and both models come in silver, black, pink, blue and green.

"iPod shuffle is the world's smallest music player and now comes in five great colors starting at just $59," said Philip Schiller, Apple's senior vice president of Worldwide Product Marketing. "iPod shuffle is so small that you almost forget it's there, yet remarkably, it holds up to 1,000 songs and talks to you."

iPod shuffle is based on Apple's incredibly popular shuffle feature, which randomly selects songs from your music library. iPod shuffle features a sleek and ultra-wearable design with a built-in stainless steel clip. iPod shuffle users can easily clip it to almost anything and take it everywhere.

In addition to the Apple Earphones and Apple In-Ear Headphones with Remote, third party manufacturers including Sony, V-MODA, Klipsch and Scosche are supporting built-in headphone controls and Belkin and Scosche offer built-in headphone adapters allowing users to enjoy iPod shuffle with their own headphones.

iPod is the world's most popular family of digital music players with over 220 million sold. Apple's new holiday lineup includes iPod shuffle in five great colors starting at just $59; iPod classic in a new 160GB model holding up to 40,000 songs for $249; the incredible new iPod nano with a video camera available in nine brilliant polished aluminum colors starting at $149; and the revolutionary iPod touch starting at the breakthrough price of just $199.

Pricing & Availability

The third generation iPod shuffle is available immediately for a suggested price of $59 (US) for the 2GB model and $79 (US) for the 4GB model in silver, black, pink, blue and green through the Apple Store (www.apple.com), Apple's retail stores and Apple Authorized Resellers. A 4GB special edition polished stainless steel model is available in a 4GB model for $99 (US) through the Apple Store (www.apple.com) and Apple's retail stores. iPod shuffle comes with the Apple Earphones with Remote and the iPod shuffle USB cable. iPod shuffle requires a Mac with a USB 2.0 port, Mac OS X v10.4.11 or later and iTunes 9 or later; or a Windows PC with a USB 2.0 port and Windows Vista, Windows XP Home or Professional (Service Pack 3) or later.

Apple ignited the personal computer revolution in the 1970s with the Apple II and reinvented the personal computer in the 1980s with the Macintosh. Today, Apple continues to lead the industry in innovation with its award-winning computers, OS X operating system and iLife and professional applications. Apple is also spearheading the digital media revolution with its iPod portable music and video players and iTunes online store, and has entered the mobile phone market with its revolutionary iPhone.

2009 Apple Inc. All rights reserved. Apple, the Apple logo, Mac, Mac OS, Macintosh, iPod shuffle, iPod, iPod classic, iPod nano, iPod touch, Apple Store and iTunes are trademarks of Apple. Other company and product names may be trademarks of their respective owners.