Apple iPhone OS 3.1 Released With Genius, Ringtones, and Organization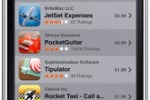 Just in case you weren't aware: Apple had an event today. And we've got you covered, as we bring you all the updated information, tucked away in our little hand basket. What we have here, is an update that's available right now, and it's called iPhone OS 3.1. It's bringing a whole lot of features, most of which are pretty outstanding, and together with iTunes 9, makes Apple's iPhone and iPod Touch even more formidable.
The Genius functionality isn't brand new anymore, so Apple went ahead and improved it. And by improvement, we mean not just improving, but expanding its functionality. Genius not only does your music choices anymore, but takes in all your application usage as well, and will happily recommend some more for you to go ahead and peruse, and of course, purchase.
It's a brand new feature in the App Store, visible right on the front screen for your finger-tapping pleasure. It uses the information from your current app inventory, and uses that information to promote new ones, ones that you might not have noticed on your own, or maybe just needed that extra shove before you talked yourself into buying it.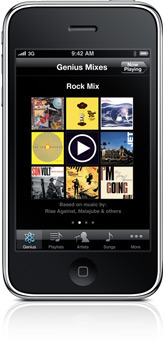 Genius Mixes is something we saw introduced in iTunes 9, and here it is within OS 3.1. On your iPhone or iPod Touch, Genius Mixes will go ahead and select a song within your library, and from that information, forge ahead and create up to 12 playlists for you, without you ever needing to select a sample song. Again, this uses your already functioning library to populate the lists, it's just a different way to get some more variety in your day.
Ringtones are nothing new to the iPhone, but Apple wanted to make it a bit easier for the end user. By adding a Ringtone feature into the App Store, you can go ahead and purchase ready-made ringtones whenever you like.
And again, that improved syncing we spoke about with iTunes 9 is obviously integrated with OS 3.1. You can use your iTunes library to drag your applications onto virtual homescreens right there on your Mac or PC, customize them to your liking, and then sync the information to your iPhone or iPod Touch. Once that's done, your peripheral will reflect the changes that you made on your computer, with just a simple sync.
There's a load more of features added to OS 3.1, some of which are: redeem Gift Cards, codes, and certificates right there in the App Store; save video from Mail and MMS into Camera Roll; the ability to remotely lock your iPhone with the use of Mobile Me; and an option to "save as new clip" when trimming a video on your iPhone 3GS. Take a look at Apple's website for a list of other features. Also, OS 3.1 retains all features added from the previous, 3.0 update, but there's no surprise there. iPhone OS 3.1 is available now.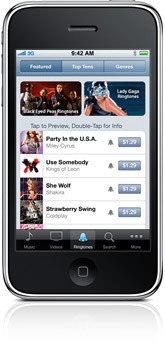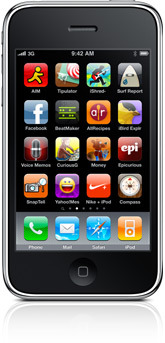 [/gallery]
[via Apple]