Apple iTunes 9 Gets Launched Today, Plethora of New Things In Tow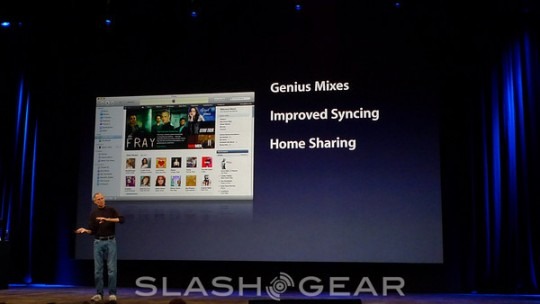 Now that Apple's latest event has come to an end, we can go ahead and collect ourselves, and go over everything we've announced. And sure, there are changes to the iPod lines that definitely deserve attention, but we can't forget about iTunes now can we? After all, it basically started it all, and it's about time the online giant got a major upgrade. And let's just say that iTunes 9 fits the bill perfectly, and it is a welcomed addition to the Apple family.
First up, we've got iTunes LP. In this day and age, with the digital download basically ruling over every kind of media that exists, the physical parts of an album were basically lost. Now though, iTunes 9 has the LP function, which brings a brand new sort of interactivity to listening to your music. By downloading select albums, you are able to experience a beautifully designed world right there in your iTunes library, on your Mac or PC. As you listen to your music, you are able to interact with animated lyrics, as well as liner notes, watch performance videos, view photos about the band or artists, and enjoy other bonus materials embedded within.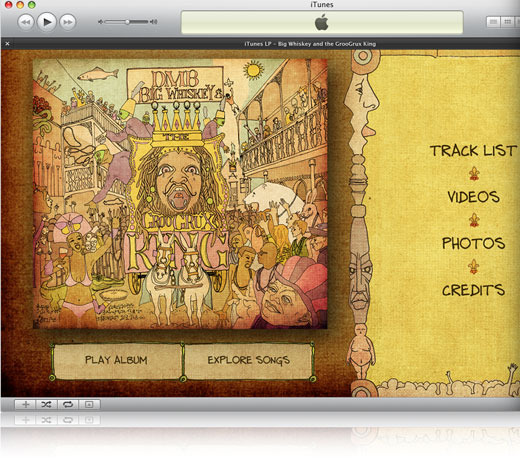 Home Sharing is an exceptional way to share not just music, but videos, applications downloaded from the App Store, TV shows and movies, as well as audio books. With Home Sharing, you can browse the iTunes libraries of up to five authorized computers in your home. By doing this, you are able to import whatever you like, and automatically add purchased items from any one computer to another, at any given time.
the iTunes Store itself has gotten a redesign, focusing now on maneuverability within its digital pages. It is now even easier to find new music, or explore the expansive catalogs of songs, movies, TV shows, and more.
Buying a DVD or Blu-Ray, and getting all those extra features is part of the movie watching experience, and Apple has gladly listened to its customers. With iTunes Extras, you get the extended features that you've come to expect from those physical media products, but you don't have to leave your iTunes library to witness all of the extras included. There are interviews, trailers, photos, amongst other things.
Genius Mixes are a brand new, powerful way to mix the music within your library, and it does it all automatically. The Genius Mix will populate 12 mixes right on the fly, without the user having to do a thing. Apple says that these mixes are like channels, programmed entirely with your music, and therefore better than streaming.
With improved syncing, there are far more flexible ways to sync everything in your iTunes library to your Apple peripherals. Not only can you pick and choose what to sync to your devices in a far more controlled manner (ranging from playlists to individual artists), you are now able to organize all the Apps on your iPhone or iPod Touch right from your desktop. You can add or delete homescreens; drag and drop applications to different screens; as well as delete and add them as you see fit. And when you're done, iTunes will sync your new set up, so that your iPhone or iPod Touch shows off all your changes.
Pictures galore of the event at hand follow up in the gallery, so take a gander at all the flashy Apple images. iTunes 9 is available right now.
SAN FRANCISCO, Sept. 9 /PRNewswire-FirstCall/ — Apple today introduced iTunes 9, the latest version of the world's most popular software application to purchase, manage and play media, packed with innovative features such as iTunes LP, Home Sharing and Genius Mixes, as well as a redesigned store and improved syncing. iTunes 9 makes it easier than ever to discover, purchase and enjoy your music, movies, TV shows, and apps for iPhone(TM) and iPod touch from Apple's revolutionary App Store. Plus, Home Sharing now lets you easily transfer songs, movies and TV shows to other computers in your home.

"iTunes 9 is a great iTunes release, with innovative features that make using iTunes better than ever and iTunes content richer than ever," said Steve Jobs, Apple's CEO. "iTunes LP, for example, lets artists share more of their creativity with fans and gives music lovers the feeling of being immersed in an entire album with art, lyrics, liner notes, photos and videos."

iTunes LP is the next evolution of the music album delivering a rich, immersive experience for select albums on the iTunes Store by combining beautiful design with expanded visual features like live performance videos, lyrics, artwork, liner notes, interviews, photos, album credits and more. iTunes LP debuts today with albums including Bob Dylan's "Highway 61 Revisited," Norah Jones' "Come Away With Me," The Grateful Dead's "American Beauty" and Dave Matthews Band's "Big Whiskey and the GrooGrux King: iTunes Pass." The new iTunes Extras provides a similar experience for movies on iTunes with features including documentaries, deleted scenes, interviews and interactive galleries. iTunes Extras is now available for select movies including "Twilight," "Batman Begins," "WALL-E," "Iron Man" and "The Da Vinci Code." Customers can enjoy iTunes LP and iTunes Extras on a Mac or PC.

iTunes 9 also introduces Home Sharing, which lets you easily transfer music, movies and TV shows among up to five authorized computers in your home. Family members can now view up to five iTunes libraries on their home network, see only the portion of these libraries they don't already have, import their favorite content directly to their own libraries, and automatically add new purchases from other computers into their library.

The incredibly popular Genius feature gets even better with Genius Mixes which are created using the results of over 27 million music libraries with over 54 billion songs that have been submitted and analyzed by Genius. The new Genius Mixes feature is like having a "Genius" DJ that automatically generates up to 12 endless mixes of songs from your iTunes library that go great together.

With improved syncing in iTunes 9 and iPhone OS 3.1, you can now organize your iPhone apps right in iTunes and they will automatically appear on your iPhone with the same layout. Plus, syncing music, photos, movies and TV shows is easier than ever with the added ability to sync music by artist and genre and sync photos by Events and Faces. The iTunes Store on iPhone now features precut ringtone downloads with over 20,000 ringtones priced at just $1.29.

iTunes 9 is available immediately as a free download at www.itunes.com.

The iTunes Store is the world's most popular online music, TV and movie store with a catalog of over 11 million songs, over 50,000 TV episodes and over 7,500 films including over 2,000 in stunning high definition video. With Apple's legendary ease of use, pioneering features such as iTunes Movie Rentals, integrated podcasting support, the ability to turn previously purchased tracks into complete albums at a reduced price, and seamless integration with iPod and iPhone, the iTunes Store is the best way for Mac and PC users to legally discover, purchase and download music and video online.

Apple ignited the personal computer revolution in the 1970s with the Apple II and reinvented the personal computer in the 1980s with the Macintosh. Today, Apple continues to lead the industry in innovation with its award-winning computers, OS X operating system and iLife and professional applications. Apple is also spearheading the digital media revolution with its iPod portable music and video players and iTunes online store, and has entered the mobile phone market with its revolutionary iPhone.

2009 Apple Inc. All rights reserved. Apple, the Apple logo, Mac, Mac OS, Macintosh, iTunes, iPhone, iPod touch and iPod are trademarks of Apple. Other company and product names may be trademarks of their respective owners.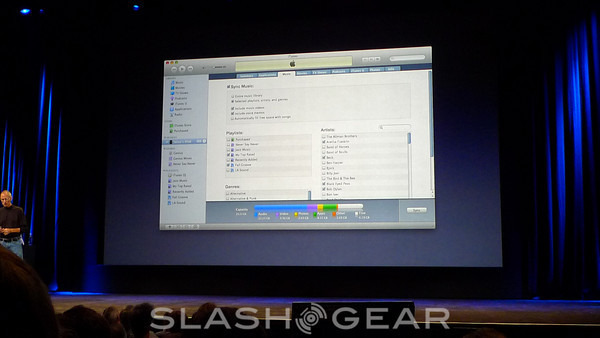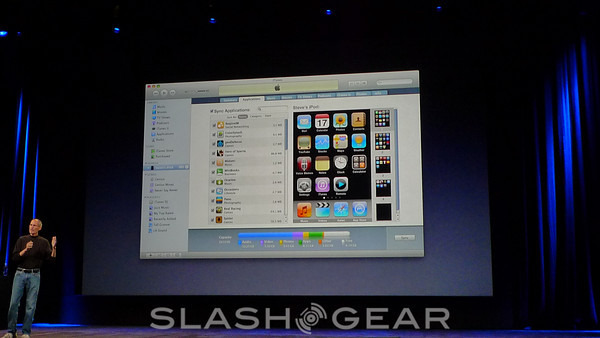 [/gallery]