OnePlus 10 Pro 5G Review: Opposing Expectations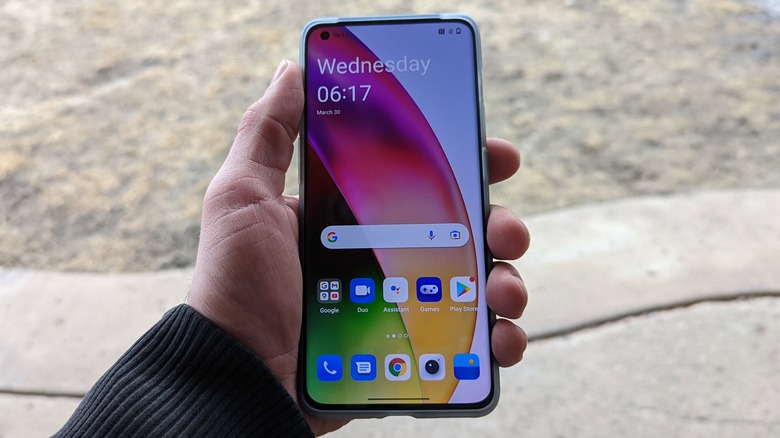 Chris Burns/SlashGear
The OnePlus 10 Pro 5G is the most advanced smartphone the brand has released thus far. This device delivers a high-end experience for a price that beats Apple and Samsung's similarly-sized devices, and effectively matches that of Google's latest Pixel. This newest OnePlus device continues the brand's "Pro" tradition with not only display and camera power, but a clear sense that OnePlus wants to go above and beyond the competition with software-based adjustment options. Where most major mobile carriers in the U.S. focus on phones sold by Samsung and Apple by default, OnePlus appears to remain steadfast in their mission to offer a respectable alternative.
Given what I've experienced with OnePlus devices over the past half-decade, I had high expectations for this new OnePlus 10 Pro 5G. While I'm still not convinced that a smartphone display should have rounded corners or a punch hole in its forehead, and I'm always going to wish any smartphone was capable of top-tier on-the-go photography, this OnePlus 10 Pro was every bit as great as its predecessors.
OnePlus is part of OPPO: So what?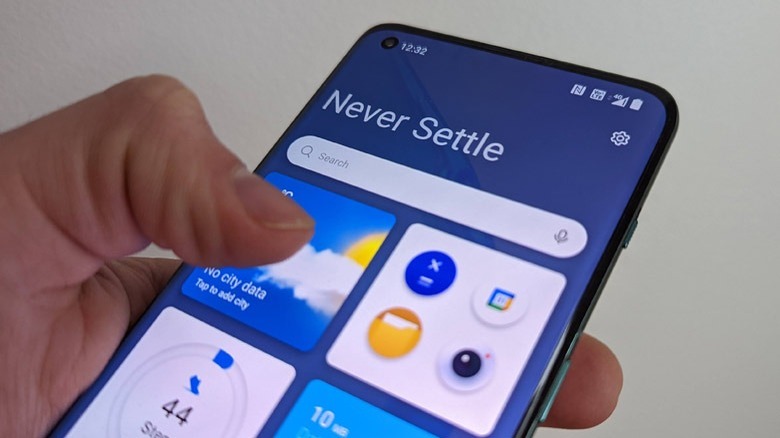 Chris Burns/SlashGear
Before we get too excited about how OnePlus's track record indicates they'll continue to make great phones, we must also consider the fact that OnePlus remains subject to criticism for their business dealings with smartphone brand OPPO. Back in June 2021, it was announced that OnePlus and OPPO would be merging. It was suggested that this could mean that OnePlus would change the way it does business, starting with moves like ditching its own operating system in favor OPPO's ColorOS.
As it turned out, this piece of the puzzle only fit for China — everywhere else, OnePlus would still use its own OxygenOS. At the same time, the merging of the two companies did mean the merging of the development of the two operating systems. This might not matter to the everyday average smartphone user, but for a OnePlus fan looking to the brand to present a unique mobile experience, working with OPPO isn't exactly what the doctor ordered.
The good news is that on the surface, it seems like this OnePlus smartphone is just as effective at all the most important day-to-day business as OnePlus phones released in past years. Until we see or uncover definitive proof that teaming back up with OPPO was a bad idea, we'll continue to rate OnePlus devices according to what they deliver in hardware and software form.
A friendly, familiar industrial design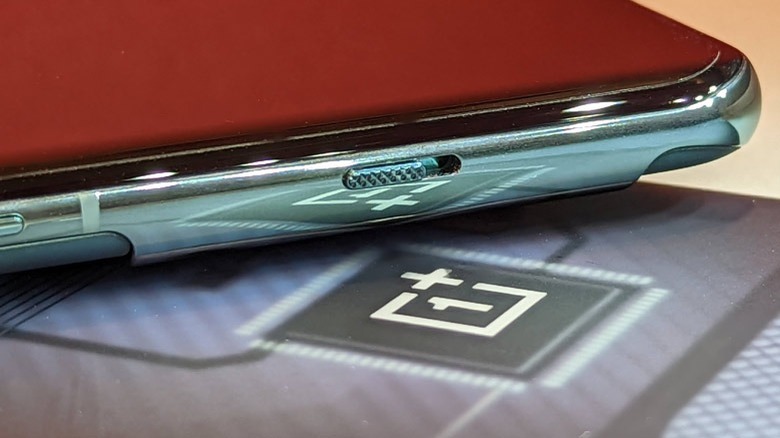 Chris Burns/SlashGear
Despite this being the first major smartphone release by an OPPO-merged OnePlus (other than the half-step OnePlus 9RT), the OnePlus 10 Pro looks and feels like a OnePlus brand phone. It feels like a natural progression from the device's most recent predecessor, the OnePlus 9 Pro. 
The OnePlus 10 Pro 5G looks largely like its last couple of predecessors on its front side, complete with a punch hole in the upper left-hand corner of its curved-edge display. The back side of the device has a camera array that creeps around the side and rests in a peninsula, not entirely unlike what we saw in Samsung devices released over the past couple of years.
Hasselblad is printed on the camera array making it clear that this OnePlus device benefits from professional photography finessing on the part of the Swedish brand. OnePlus includes their "Alert Slider" switch on the right side of the OnePlus 10 Pro as they've done in earlier phones. The inclusion of this piece of hardware feels important. Despite the fact that I rarely found it necessary to use this switch on an average day, I found it appealing and familiar.
Each major OnePlus smartphone release since the first was given this sort of slider, complete with a tactile 3D design. Perhaps in part because of the lack of public comment or claim about the unique nature of this slider by OnePlus, I find its inclusion to feel like a slight nod to longtime fans. It's as if OnePlus is saying, "we're still the same brand you've always known and loved."
A great display panel with rounded corners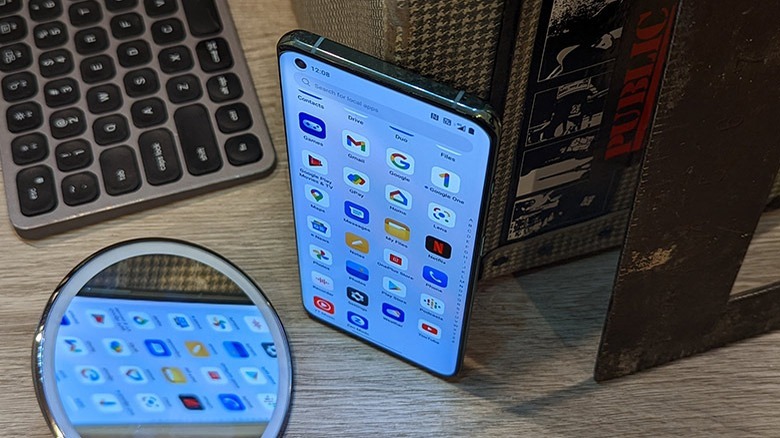 Chris Burns/SlashGear
I've become used to the size and shape of the Google Pixel 6 Pro as it's been my primary smartphone for the past several months. As such, I expected that the relative size and shape of the OnePlus 10 Pro wouldn't be a major shock to my system. The 6.7-inch display of the Pixel 6 Pro feels larger than the 6.7-inch display of the OnePlus 10 Pro. They're made with very similar display panels with nearly identical resolutions, brightness, and image refresh rates, but because the OnePlus device has more extreme roundness to its corners, the Pixel feels just a bit more generous.
The 6.7-inch AMOLED display of the OnePlus 10 Pro works with LTPO (low-temperature Polycrystalline oxide) tech, similar to that of most 120 Hz smartphones released over the past few years. With LTPO, the OnePlus 10 Pro is able to switch between 120 Hz and 60 Hz refresh rate with relative ease. For the end user, this means we'll be able to benefit from a high refresh rate panel without worrying that we'll drain our battery in short order.
The display panel in the OnePlus 10 Pro is largely the same as is included with the OnePlus 9 Pro. As it's been with each OnePlus Pro device released thus far, I have no doubt that the OnePlus 10 Pro has one of the finest smartphone panels available on a smartphone today. And it comes with its own pre-installed screen protector.
An absurd amount of adjustment options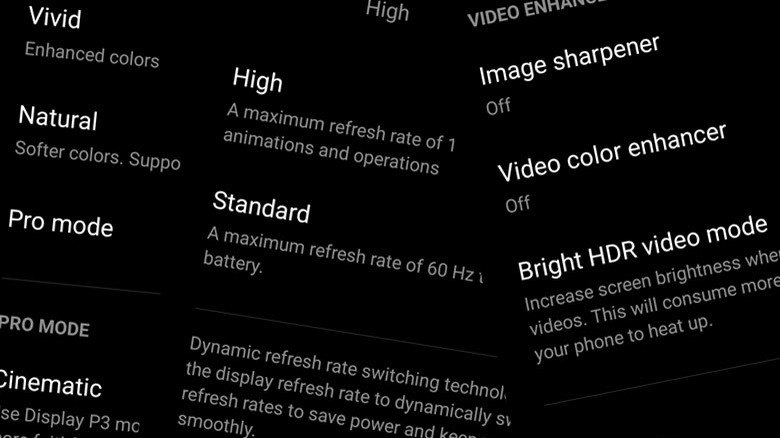 Chris Burns/SlashGear
I have never seen a smartphone with more display adjustment options than the OnePlus 10 Pro. Screen color, screen temperature, and color vision enhancement options are available. Light and dark modes can be set according to the status of the sun. The phone can adjust display color temperature according to detected ambient lighting, and "eye comfort" mode (reducing blue light) can be set to a user's schedule. A "video enhancement engine" section of options in this phone's settings has toggles for automatic image sharpening, video color enhancement, and a "Bright HDR video mode."
The user can choose between FHD+ and QHD+ screen resolution or automatic switching between the two according to display content. The only surprising limitation in the whole display settings is in screen refresh rate. The user can choose a "maximum refresh rate" of 60 Hz or 120 Hz, but no forced minimum can be set. 
A professional camera experience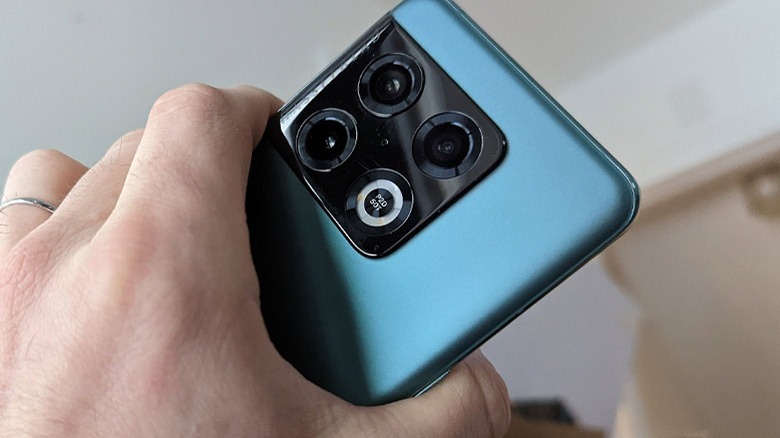 Chris Burns/SlashGear
As it is with this phone's display, so too is this phone's camera system jam-packed full of options. An array of options as wide as is included with the OnePlus 10 Pro says to me that OnePlus trusts the user. This is something we've come to expect from OnePlus, and it's nice to see that, once again, they've not reined in their efforts in this arena whatsoever.
They trust that I will know whether I want to shoot in HEIF format, or record in HEVC, or capture photos with 10-bit color. I can choose to capture photos in JPG, RAW, or RAW Plus, or use the camera app's Hassleblad XPan feature previously available with a software update to the OnePlus 9. This device's camera app has it own Hassleblad-branded "Pro" mode that allows me to control my ISO, shutter, EV, focus, and white balance.
Above and below you'll find examples of photos captured by the OnePlus 10 Pro with its back-facing camera array.
While having this mass of options was appreciated, there did seem to be some degree of tradeoff when it came to reliability when capturing photos out in the wild. I inevitably compare all phone camera systems to the Google Pixel line of phones because of the high rate of success I've had with using any Pixel in a point-and-shoot situation. 
During this review, when I didn't have time to make adjustments, the Google Pixel 6 Pro had a better chance at capturing a worthwhile photo than the OnePlus 10 Pro. When I had time to stop and adjust my settings for effectively any sort of odd media capture situation, the OnePlus device was the superior choice. 
A decent battery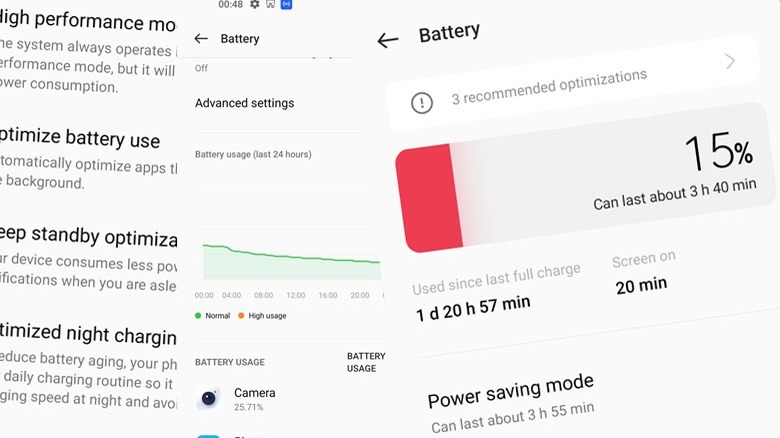 Chris Burns/SlashGear
In the first few days I used the OnePlus 10 Pro, it seemed as though the battery drained at an extraordinary rate. After a few days of use, it seemed as though the device's charge held for a more standard amount of time. After a decade of reviewing phones, I've come to expect that any smartphone of this size will last at least a span of 8 hours of average use without needing a charge. The OnePlus 10 Pro lasted me an average of 10 hours or more after its first finicky few days out in the field.
Inside the OnePlus 10 Pro is a 5000-mAh battery, a full 500-mAh larger than its predecessor. This device has 65W "SUPERVOOC" fast charging speed with a required OnePlus 65W charger, and it's capable of 50W fast wireless charging. Again, assuming you're using OnePlus hardware, you'll get maxed-out charging speed, and it is very fast.
If you have an international version of the OnePlus 10 Pro, you'll find that it's capable of 80W charging. Unfortunate for users in North America, OnePlus suggests that their 80W charging system does not currently support 110/120-volt AC power, AKA the standard voltage for power outlets in the U.S..
So we're left with what OnePlus implies will be the fastest charging speed they're willing to deliver to a smartphone battery in North America. As this still means we're getting a charging system that goes from empty to full in less than an hour, we're OK with what we've been granted.
What about 5G?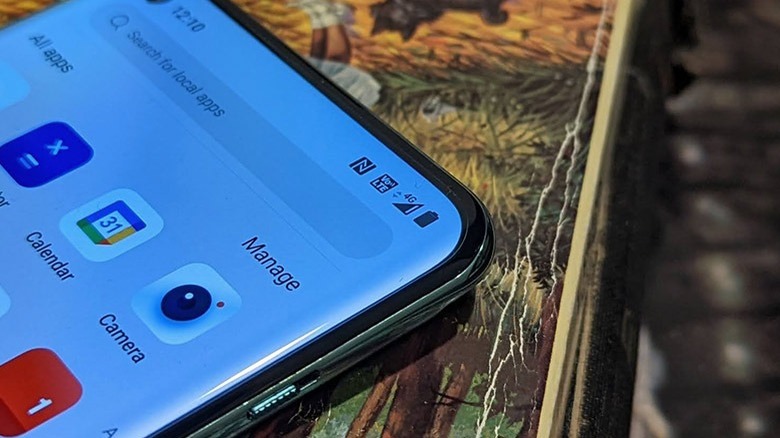 Chris Burns/SlashGear
You may have noticed that this review uses the device name "OnePlus 10 Pro" interchangeably with "OnePlus 10 Pro 5G." You may see one or the other in marketing materials, depending on your region. The version we are reviewing is the international version of the device, model NE2215. 
I mention this because while reviewing the OnePlus 10 Pro 5G, I saw the 5G connection symbol appear very few times. The 5G connectivity I experienced while reviewing this device was effectively a non-factor as carriers have yet to deliver statewide 5G coverage here in my home state of Minnesota. 
This device has support for some 5G radio bands, but not all. Like the recently-revealed iPhone SE, the OnePlus 10 Pro 5G is not compatible with mmWave, wide-band 5G, or what Verizon would call UWB.
Wrap-up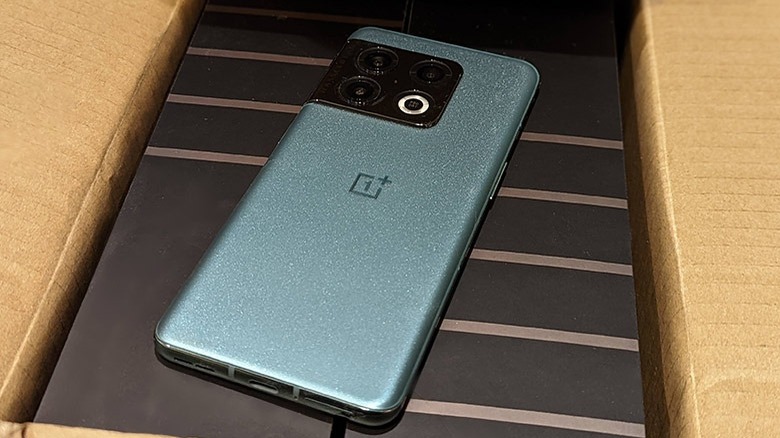 Chris Burns/SlashGear
We've reached a point in which high-end smartphone purchase options are slimmer than at almost any point in the past. If you're aiming to buy a new Android device, you'll likely find your default choice is the Samsung Galaxy S22+. The Galaxy S22+ is highly comparable to the OnePlus 10 Pro and the Google Pixel 6 Pro for a price that's over $100 more expensive than either device, starting at $1049.99. As Chris Davies said in our Galaxy S22+ Review, that price starts to feel a bit expensive when we're comparing handsets with very similar capabilities.
The starting price of the OnePlus 10 Pro is $899 (including 8GB RAM and 128GB internal storage) inside the U.S., meaning it effectively matches the price of the Google Pixel 6 Pro.
The OnePlus 10 Pro has a newer and more powerful processor than the Google Pixel 6 Pro, more camera adjustment options, and more display adjustment options. The OnePlus 10 Pro also has a newer and more powerful processor inside, but I never once questioned whether one device was more powerful than the other during this review process — in everyday life, processing power ended up being indistinguishable between these two very similar devices. 
Because I find the overall experience with the Google Pixel 6 Pro to be more approachable, and the camera system on the Pixel to be ever-so-slightly more reliable for on-the-go photography, I'd recommend the Pixel over the OnePlus at this price point. I'd also recommend the OnePlus 10 Pro over any other Android at this price at this point in time.
The OnePlus 10 Pro has a pre-order date of March 31, 2022, and a release date of April 14, 2022. You'll be able to purchase the OnePlus 10 Pro in black and green from OnePlus.com, alongside a collection of OnePlus-branded accessories.