5 Reasons The iPhone SE 5G Is Your No-Brainer Upgrade In 2022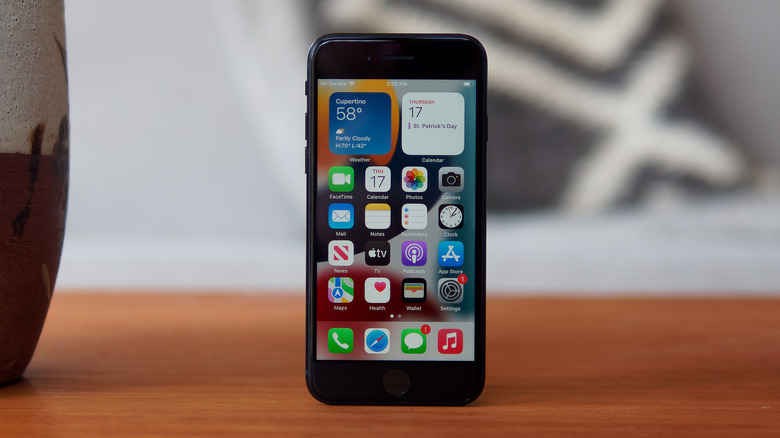 Chris Davies/SlashGear
If ever there was a secret weapon in Apple's line-up, the iPhone SE stands a better chance than most hardware to be it. Now in its third generation, the cheapest iPhone is also the one that arguably makes the most sense to the most people. Sure, there are plenty of good reasons to want an iPhone 13 or iPhone 13 Pro — or, for that matter, to wait and see what the iPhone 14 Series brings later in 2022 – but it's tough not to be swayed by Apple's value proposition here.
For 2022, it's a familiar recipe of a few new upgrades combined with some familiar features and style. The iPhone 8 aesthetic remains, along with the iOS home button and a 4.7-inch Retina display. However, Apple has also added 5G support for the first time — meaning the whole iPhone line-up is now compatible with 5G networks — and of course, there's a bleeding-edge chipset inside, too.
What hasn't changed is the value. Pricing kicks off at $429 for the 64GB model, rises to $479 for the 128GB version, and $579 if you want to splash out on the largest, 256GB iPhone SE. There are three colors, too: Midnight, which is so dark a gray as to be effectively black; Starlight, which is a somewhat pearl-like white; and finally (PRODUCT)RED, which is — you guessed it — red.
Touch ID keeps some big advantages over Face ID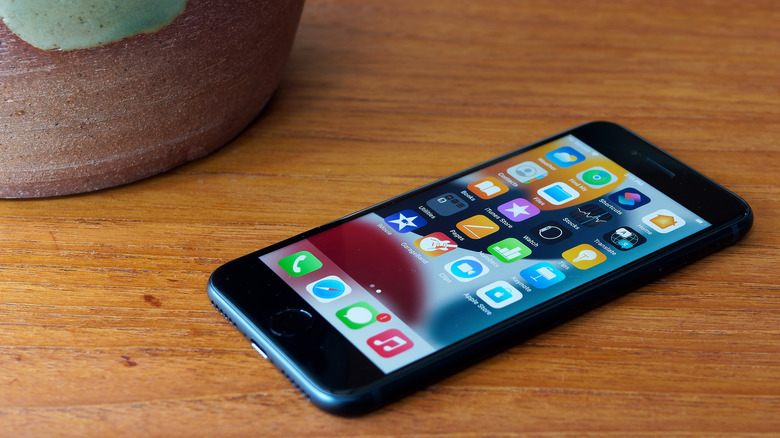 Chris Davies/SlashGear
Mask mandates may be softening in the US and elsewhere, but face coverings are still a fact of life in many situations, and that doesn't seem like it'll change any time soon. Apple has added new masked Face ID support in the latest iOS 15.4 release, but the value of being able to simply and quickly unlock the iPhone SE with a finger on the home button cannot be overstated. In the finest tradition of Apple tech, it just works.
Of course, by sticking with a home button for Touch ID to reside in, Apple does leave 2022's iPhone SE with the same 4.7-inch Retina display as before. Its LCD panel can't come close to the bold colors and deep, inky contrast of its OLED-toting iPhone 13 brethren, and outdoor visibility just isn't as good. Maybe more of an issue is the general size for things like the on-screen keyboard: it could be that I'm getting old, but it's a little harder to hit the right key on the first attempt these days, and autocorrect doesn't always pull its weight (and not just when it comes to cuss words).
Honestly, this might well be the last generation where a 4.7-inch screen is acceptable. What I'd have really loved to see would be a version of the Touch ID power button that Apple has used on the iPad Air to such good effect. That way, it could keep bezel sizes slim, cover more of the smartphone's front with display, and yet maintain that useful fingerprint sensor.
The iPhone SE (2022) is fast... really fast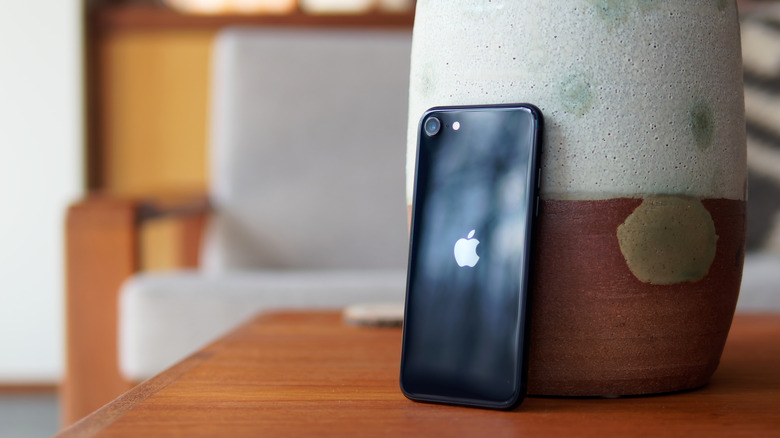 Chris Davies/SlashGear
Arguably what makes the iPhone SE such a killer phone is the chipset that Apple puts inside it. Most of the time, cheap smartphones come with mediocre processors: Apple upends that, fitting the new iPhone SE with a chip from the same A15 Bionic family that powers the iPhone 13 Series.
In fact, with its 6-core CPU — with 2 performance and 4 efficiency cores — along with a 4-core GPU and 16-core Neural Engine, the iPhone SE's version of the A15 Bionic is the same as you'll find in the iPhone 13 and iPhone 13 mini. Not bad at all when you consider they start at $220 more.
Speed is the obvious result, and the iPhone SE frankly flies. iOS 15.4 feels just as swift as on the phone's more expensive cousins, and apps open, and switch, with just as much urgency. Now, fast scrolling along webpages or galleries will still lead to some blur, but that's more to do with the absence of 120Hz ProMotion display tech, as you get on the far-more-pricey iPhone 13 Pro.
While that's all good news today, the bigger advantage here is longevity. Apple has a deserved reputation for lengthy support for its iPhone series, pushing out updates to iOS for many more years — on average — than their Android rivals can count on. iOS 15, for example, supports models as far back as the iPhone 6S, which launched six years ago in 2015. If your take on value isn't just what your new phone can do when you take it out of the box, but how long you'll keep being able to use it, then the iPhone SE is definitely worth considering.
All your existing iPhone SE accessories will work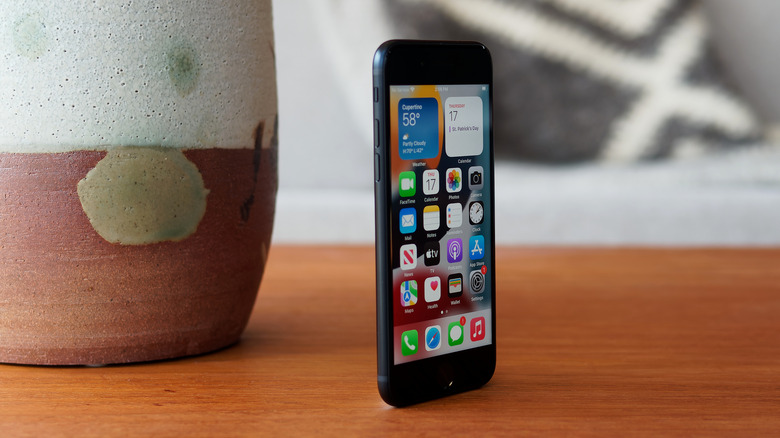 Chris Davies/SlashGear
Buying a $30 case for a four-figure smartphone feels just plain sensible. Buying one for a sub-$500 phone feels a little more frustrating. Sticking with the same hardware design for 2022's version of the iPhone SE may undoubtedly help out Apple when it comes to keeping production costs down, but it also pays dividends for those considering upgrading from their second-generation iPhone SE or, indeed, an old iPhone 8.
That means any accessories you might have — like cases or car kits — will simply keep working. It's worth noting that, like with the second-generation iPhone SE, Apple bundles a USB-C to Lightning cable in the box with this 2022 version, but no actual charger. You also don't get a set of EarPods, or indeed a Lightning to 3.5mm adapter.
The iPhone SE's 5G is good enough for most people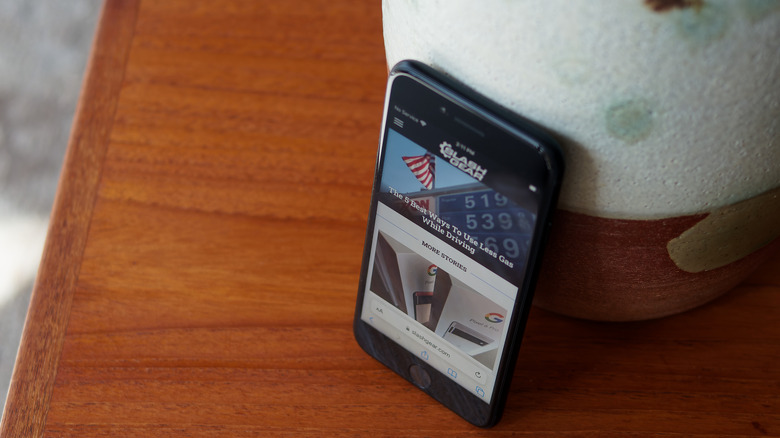 Chris Davies/SlashGear
Your 5G is not necessarily the same as my 5G, and for two little characters there's a heck of a lot of confusion around just what fifth-generation cellular networks actually are. The bottom line, though, is that while the iPhone SE closes the loop on 5G support across Apple's smartphones, it's not quite the same, fully comprehensive 5G support that more expensive models enjoy.
The big absence is mmWave 5G: that's the fastest iteration, though also the rarest to encounter. Carriers like Verizon have prioritized its deployment in select cities and public venues like stadiums, and it's certainly true that if you can find mmWave service then you can enjoy blisteringly-fast downloads and uploads. The challenge is actually finding it.
mmWave 5G deployment has been slow, in comparison to the so-called Sub-6 version of 5G that the 2022 iPhone SE supports. That's generally slower — though still speedier than 4G LTE, most of the time — but far more prevalent. Honestly, I can count the number of times I've seen the symbol for mmWave 5G on my iPhone on the fingers of one hand, and while I'd knock a flagship iPhone 14 Pro Max if it didn't have support for it, I'm of a mind to be much more forgiving for the iPhone SE.
Apple focused its upgrades where they really matter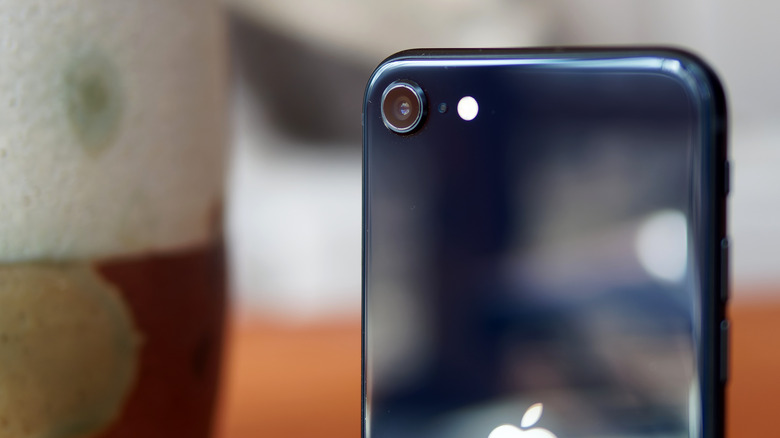 Chris Davies/SlashGear
Apple could've gone all-out with the iPhone SE. A bigger, better display; a new aesthetic; all the flavors of wireless connectivity. Problem is, then it would've inevitably lost the primary reason the smartphone has been such a perennial success across its three generations: value for money.
I suspect that, for most iPhone SE buyers, the fact that they can be pretty much guaranteed to get half a decade or more of iOS updates on the same device, and yet spend under $500, is more important than having a long list of other features. And, if they really do need the cutting-edge in photography (not that the new iPhone SE's camera is bad, for that matter, even if you don't get an ultrawide-angle or telephoto lens) then there's the iPhone 13 for them to consider.
My suspicion is that this is the last time Apple will roll out this particular recipe for the iPhone SE. When the fourth-generation model arrives — which, if the Cupertino company sticks to its past cadence, will be in about two years time — I'd be very surprised if it kept the same screen size. Today, though, this still feels like an iPhone very well suited to the mass market, even if there are areas where its more expensive brethren undeniably have an edge.
Preorders for the new iPhone SE are open now. Apple says its newest, most affordable smartphone will ship from Friday, March 18th, both unlocked and from its usual carrier partners.