iPad Air (2022) Gets Apple M1 And 5G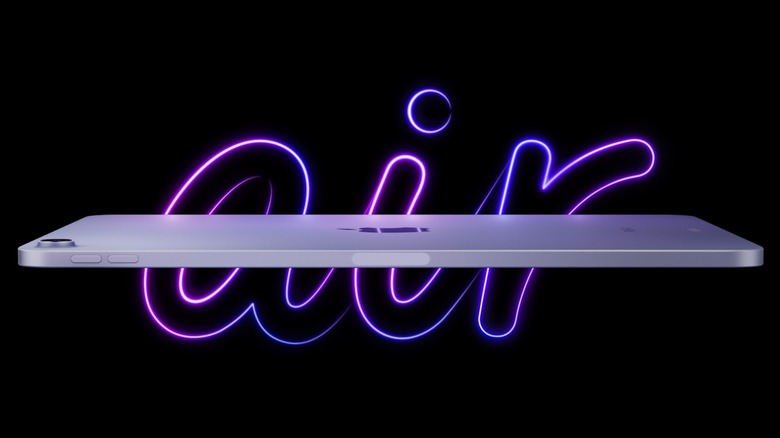 Apple
As expected, Apple today announced a new iPad during its Peek Performance event. Following hot on the heels of the new iPhone SE 3, Apple confirmed a new addition to the iPad Air lineup. This new model comes with a number of upgrades, including Apple's M1 chip. While some earlier rumors suggested the fifth-generation iPad Air could come with the A15 chip found in the iPhone 13, it seems we're skipping that and jumping straight to the M1 CPU found in other Apple devices like the iPad Pro.
That CPU isn't the only piece of hardware the iPad Air shares with its Pro counterpart, as the fifth-gen Air will also support 5G. With several other improvements in tow, Apple calls this "the most powerful and versatile iPad Air ever," and that may not just be talk. At the very least, it seems the new iPad Air can serve as a decent alternative to the 11-inch iPad Pro, which definitely gets our attention.
iPad Air 2022 specifications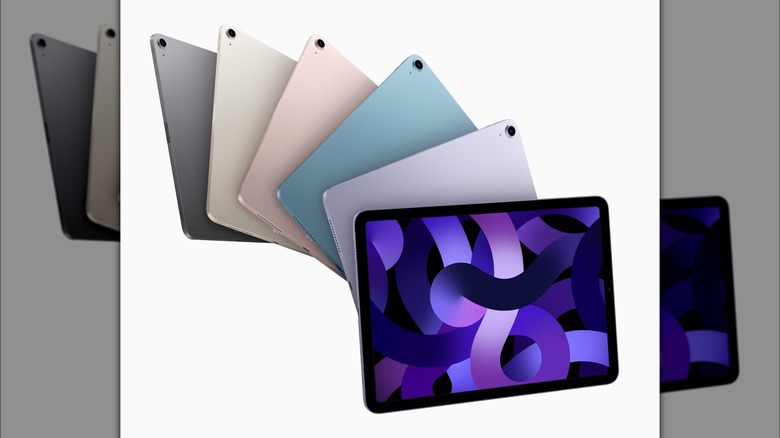 Apple
While we'll have to wait for the Apple website to be updated before we can check out a full list of specifications, Apple hit some of the high points during its presentation today. The company says the iPad Air comes outfitted with a 10.9-inch Liquid Retina display that outputs at a max of 500 nits brightness and supports features like True Tone with a P3 wide color gamut. The iPad itself is also outfitted with a USB-C port that's twice as fast as the one previously found on the iPad Air, with data transfer speeds maxing out at 10Gbps.
Of course, a lot of attention will be given to the M1 chip, which Apple says will give the iPad Air "a giant performance boost." Compared to the last-gen iPad Air, that M1 represents 60% faster performance, while the GPU boasts twice the performance. Of course, that M1 chip backs Apple's Neural Engine, which can help with things like augmented reality, gaming, and video editing (something that's made easier by the fact that iMovie seems to be along for the ride in this latest iPad Air iteration).
The front camera has also been upgraded to a 12MP shooter with support for Center Stage, which will follow users to keep them centered in the frame and automatically zoom out to accommodate multiple people. In addition, the iPad Air features a 12MP wide camera on the back, matching the front camera at least in terms of megapixels.
iPad Air 5G, pricing, and availability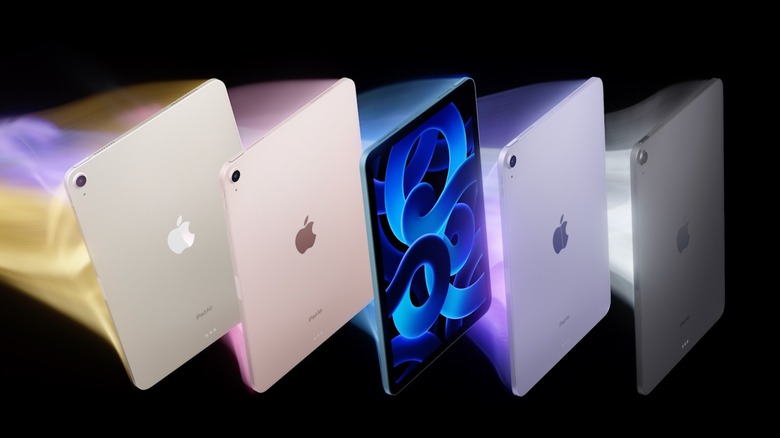 Apple
According to Apple, the 5G antenna baked into the new iPad Air can reach peak speeds of 3.5Gbps in "ideal conditions," and those looking to pick up one of the cellular models will probably like to hear that eSIM support will be present, as well. In addition to the cellular capabilities of some models, the iPad Air will also support WiFi 6, which isn't a huge shock but is a welcome feature nonetheless. Expect the iPad Air to be compatible with the 2nd-gen Apple Pencil and the Apple Magic Keyboard, along with a range of other Apple accessories.
WiFi-only models will start at $599, while models with cellular functionality will start at $749. The iPad Air will be available in 64GB and 256GB storage capacities across space gray, starlight, pink, purple, and blue models. Look for it to go up for pre-order later this week, on Friday, March 11, 2022, and launch the following week on Friday, March 18, 2022.