iPhone SE 3 (2022) Pairs 5G And A15 With Familiar Design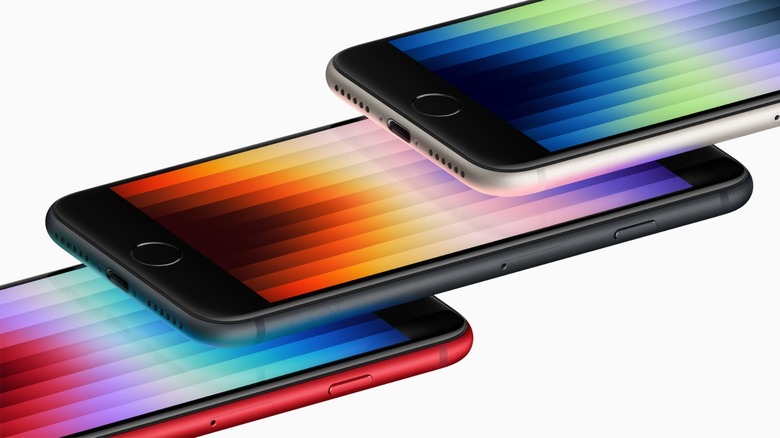 Apple
Apple has just introduced a new 2022 version of the iPhone SE, one that packs iPhone 13 processing power and a build that's very similar to the iPhone 13 2nd gen model (2020). According to Apple CEO Tim Cook, this device is meant to include Apple's "most advanced tech" at an "affordable price." The updated handset builds on the success of previous Phone SE models, including the original iPhone SE and the iPhone SE released in 2020.
The differences between the 2022 iPhone SE and previous generations will be in the inclusion of new-generation processing power, new reinforced glass, and 5G connectivity. This device will be released in black, white, and red, otherwise known as Midnight, Starlight, and PRODUCT(RED). It's entirely possible there'll be more colors in the future, but at launch, this device will be limited to three.
A15 chip inside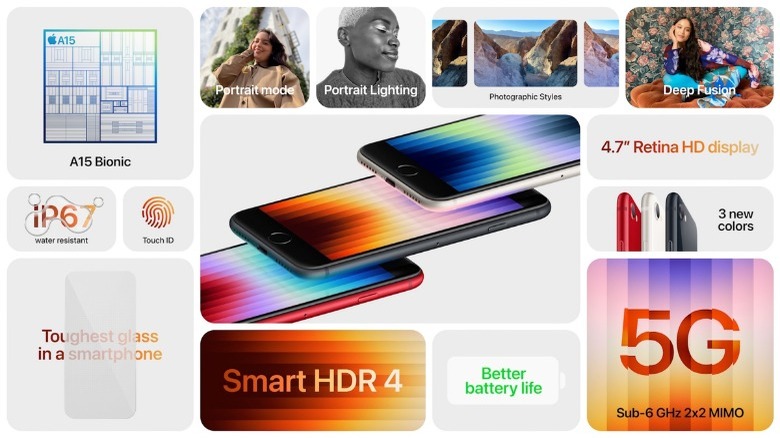 Apple
The iPhone SE (3rd generation, 2022) has an A15 chip inside similar to that of the iPhone 13 smartphone family. The model's 4.7-inch display paired with such a powerful processor chipset might very well make this iPhone SE the most needlessly overpowered smartphone on the market.
Apple's presentation of the processing power of this iPhone SE seeks to compare the device to iPhone 8 and older, meaning it's suggesting (or hoping) users will upgrade from their relatively dated devices. The A15 Bionic packs a six-core CPU, which includes two high-performance cores for what Apple says is an overall 1.8x speed boost compared to the iPhone 8. Even better, the chip also adds a 16-core Neural Engine, bringing certain key features to the iPhone SE, including on-device dictation support.
Cameras, charging, and 5G connectivity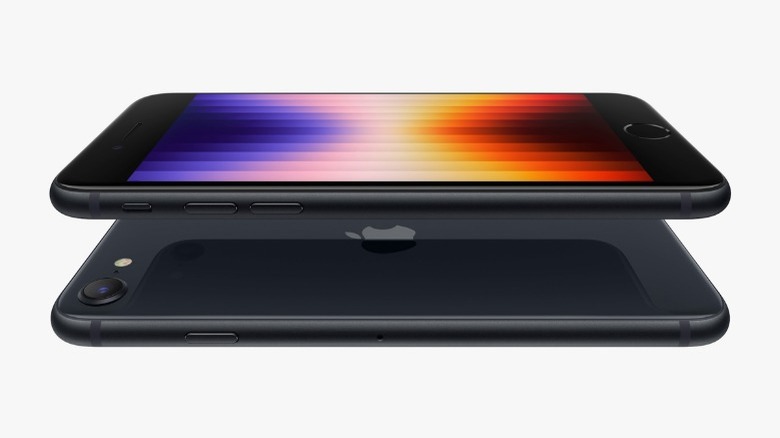 Apple
The company also suggested that the glass on the front and back of the iPhone SE is the same as that of the iPhone 13 and 13 Pro. Another equalizer in this equation is the inclusion of IP67 water and dust resistance.
There's still a physical home button and the display is still rectangular. There is still a single camera at the back, as well – though it should be significantly more powerful as a 12MP shooter packing Apple's Deep Fusion processing tech.
This device has 5G connectivity with sub-6 GHz and 2x2 MIMO, but there's one notable absence: mmWave. Though that fastest-speed 5G connectivity is not present, this iPhone SE does get wireless charging, at long last. Qi-certified chargers are compatible, and "fast charging" will work (that's up to 50 percent charge in 30 minutes with Apple 20W adapter or higher – sold separately, of course).
iPhone SE 2022 release date and price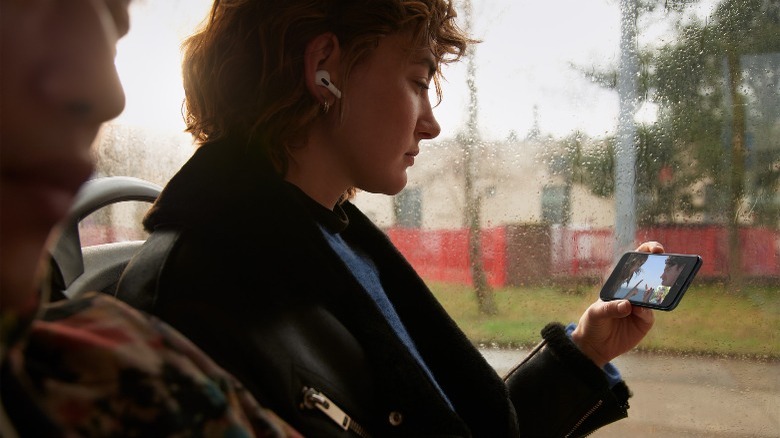 Apple
The iPhone SE (2022) will be available in three iterations with different internal storage capacity options: 64GB, 128GB, and 256GB models in Midnight, Starlight, and (PRODUCT)RED. The starting price of the iPhone SE (2022) will be $429 in the USA. Pre-order for iPhone SE (2022, 3rd gen) will be Friday, March 11, 2022, at 5 AM PST. This 2022 iPhone SE has a release date of Friday, March 18, 2022.
Stick around as we compare this new iPhone SE to not only the previous generations, but the iPhone 13 lineup as well. Hands-on impressions and a full review are forthcoming, right here on SlashGear.