OnePlus 10 Pro USA Release Detailed With OxygenOS Surprise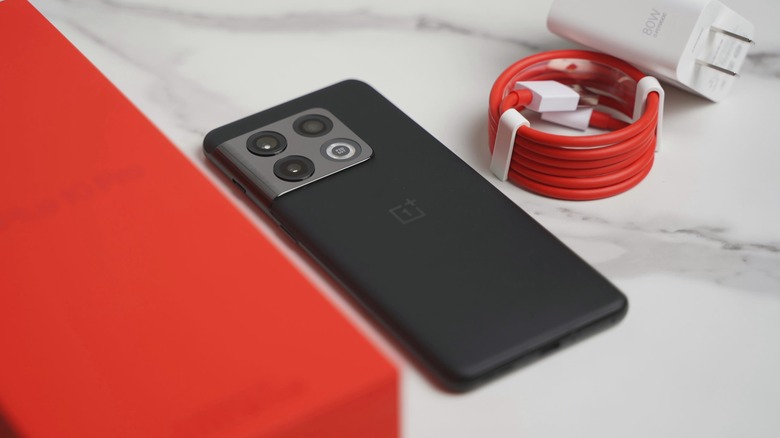 Jack Skeens/Shutterstock
OnePlus has released a number of important announcements today, talking about the previous year as well as its plans for 2022. The plans are certainly going to be interesting to the fans of the brand — OnePlus 10 Pro is going to be released in North America, India, and Europe before the end of March 2022. The phone has already been released in China, but up until now, there has been little information about a global launch.
OnePlus 10 Pro was initially unveiled during CES 2022 and launched swiftly after that, but only on the Chinese market. Three months later, it seems that this latest and greatest OnePlus smartphone is now making its way to the United States and other countries. Of note, partially because of how unexpected it was, is the fact that there will be one major difference between the model released in China and the one that makes it to the global market: the phone's operating system.
The OnePlus 10 Pro that was released in China runs ColorOS 12.1, but the version we'll be getting is going to run the latest version of OxygenOS instead. The OS actually makes for another part of today's reveal, because OnePlus has teased that it's currently working on OxygenOS 13. To some, this may come as a surprise, because the brand has previously stated that it wants to unify OxygenOS and ColorOS, making a single system with OPPO, its parent brand.
The OnePlus 10 Pro was a hit in China
Both ColorOS and OxygenOS have a unified code base, but it seems that for now, they will remain two separate operating systems. As of right now, that doesn't make much of a difference for the end-user, and it's curious that OnePlus has decided to keep the brand names separate when the actual software is so similar. Perhaps going forward the company will want to introduce some changes between the two operating systems, but there has been no mention of that, so treat it as speculation.
As for the OnePlus 10 Pro launch, the company is yet to reveal the exact date or pricing, but we do know a fair bit about the phone due to its Chinese release. OnePlus reports that the 10 Pro received a warm welcome in China and became one of the brand's fastest-selling smartphones. As such, it's no wonder that OnePlus is eager to bring it to a global market. 
The OnePlus 10 Pro 5G comes in two color schemes, green and black, and features a fairly sizeable camera interface on the back. This smartphone has a 6.7-inch 120Hz Fluid AMOLED screen, triple cameras on the back (48MP, 50MP, and 8MP), and one camera on the front (32MP). It's certainly a flagship device, and although it was fairly affordable in China, the global variant might very well be one of the most costly in OnePlus smartphone history.