Samsung Galaxy S22 Plus Review: 2022's Easier Choice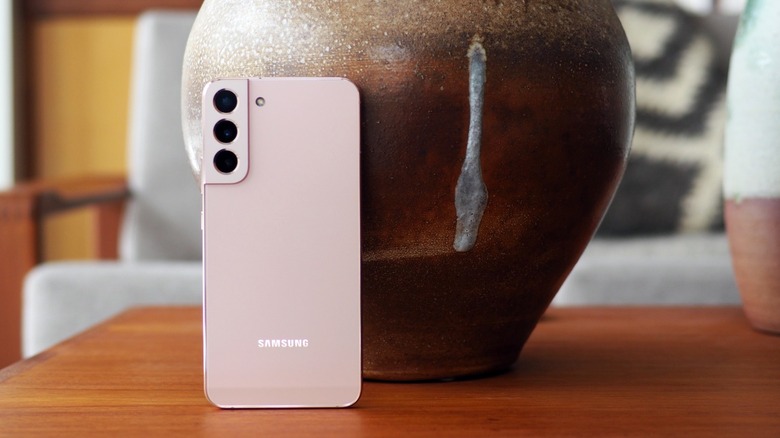 Chris Davies/SlashGear
The Samsung Galaxy S22+ makes things easy. In recent years, picking which Galaxy S flagship to buy has involved some soul-searching: the rational choice has typically been the mid-tier model — which Samsung usually brands the "Plus" phone — but it's been tough to hold the geek-lust about the "Ultra" flagship at bay. After all, there you're getting a bigger screen, extra camera features, and a larger battery in the process.
Samsung's 2022 strategy toward its high-end phones has made all that a little easier, though. With the Galaxy Note series effectively retired in favor of spreading "Note experiences" through the rest of Samsung's line-up, the Galaxy S22 family has a far more pronounced divide this time around. Indeed, you could well argue that the Galaxy S22 Ultra is far more like a new Note — in both its design and its functionality — than it shares DNA with the Galaxy S22+ and the S22.
As a result, if you're most interested in getting the best "consumer" Galaxy S22 series device, that really does feel like it's the Galaxy S22+ in 2022. Happily, the actual experience of living with the phone also backs that decision up.
A thoughtfully-evolved design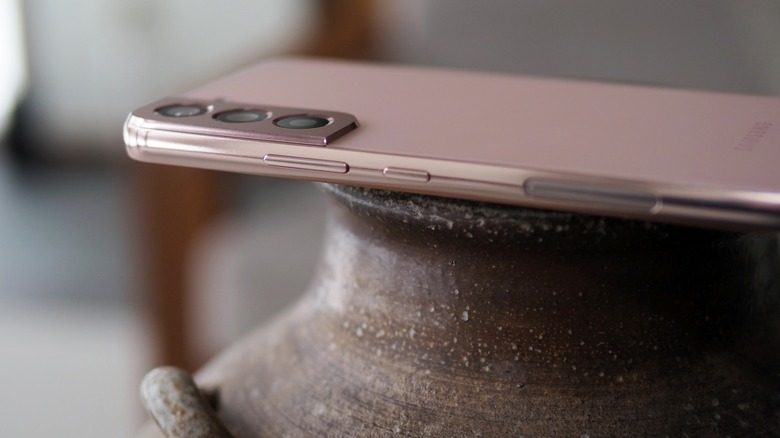 Chris Davies/SlashGear
The design is a thoughtful evolution of last year's Galaxy S21+ and what Samsung refers to as Contour Cut. That encloses the trio of camera sensors on the rear in a separate section, though this time around it matches the S22+'s body color too. Combined with a gloss metal frame — using Samsung's custom Armor Aluminum for the promise of extra toughness — and Gorilla Glass Victus+ front and rear, the result is both handsome and comfortable to hold for extended periods.
The sides aren't hugely curved, but they're not iPhone-13-Pro-flat either. It means less of a sharp edge to cut into your palm and fingers as you grip. I approve of Samsung's decision to go with a frosted rear finish, too, which helps hide fingerprints. My review handset is the new Pink Gold finish, but there's also a fetching Green and the more standard Phantom Black and Phantom White. If you want Samsung's lovely Burgundy, you'll need to step up to the Galaxy S22 Ultra, though there are Graphite, Cream, Sky Blue, and Violet finishes available exclusively for orders placed through Samsung's own store.
Great display, solid battery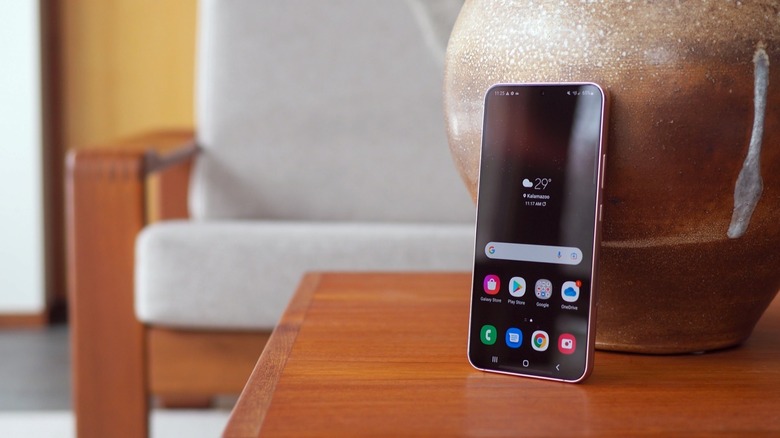 Chris Davies/SlashGear
As for the display, that's a 6.6-inch Dynamic AMOLED 2X panel, and it borrows most of the best features from the slightly larger screen on the Ultra. Yes, the Full HD+ resolution is a little lower, but it's still crisp and jag-free, and you get the same 120Hz maximum refresh rate, 240Hz touch sampling rate, and hefty 1,750 nits of maximum brightness. The latter combines with Samsung's new Vision Booster system, which tweaks not only brightness but contrast and tone to improve overall visibility both in dark and light environments. I certainly had no issues seeing details out in bright sunlight.
It's not entirely a like-for-like experience, mind. Although the Galaxy S22+ also supports adaptive refresh, it'll only crank down to 48Hz at its lowest: the S22 Ultra can drop to as little as 1Hz. In practice your eyes don't notice it, but it's worth noting given the smaller battery inside too. Here, that's 4,500 mAh: 500 mAh lower than what's in the S22 Ultra, and actually 300 mAh less than what was in the S21+ last year.
In practice, that still holds up for a full, typical day of use. There's support for 45W wired charging and 15W wireless charging: solid, but nothing special in this age of 60W+ support we've seen from other phone-makers. Samsung doesn't include a charger in the box, either.
Speed and software promises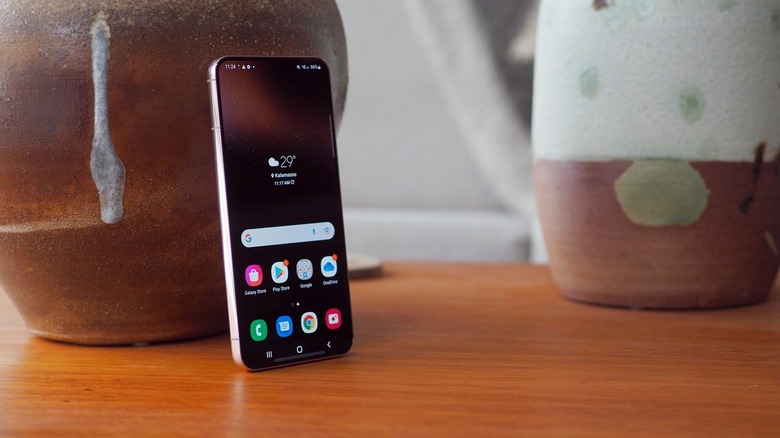 Chris Davies/SlashGear
For US-spec phones, there's Qualcomm's latest Snapdragon 8 Gen 1 inside. 8GB of RAM is standard, and there's no 12GB option unlike in the Galaxy S22 Ultra, just a choice of 128GB or 256GB storage tiers. Pick wisely, as Samsung still shows no inclination to bring back the microSD card slot.
Despite the slightly lower RAM tally, I can't fault Galaxy S22+ performance. Apps run swiftly and smoothly on Android 12, and Samsung's own One UI 4.1 does a reasonable job of adding functionality without needlessly complicating matters. The decision, for example, to switch to Google Messages — complete with RCS support — rather than to keep pushing Samsung Messages is a wise one, though your photos do still show up in both the Samsung Photos and Google Photos apps, and Samsung preloads its own browser as well as Chrome.
If that's a minor annoyance, then Samsung's extended commitment to updates makes up for it. Galaxy S22 series owners will get up to four generations of Android OS upgrades, the company has promised, which bests what even Google commits to on the Pixel. Considering Android phones still have a reputation for being left behind when it comes to OS updates, it's a welcome change for Samsung.
Dependable cameras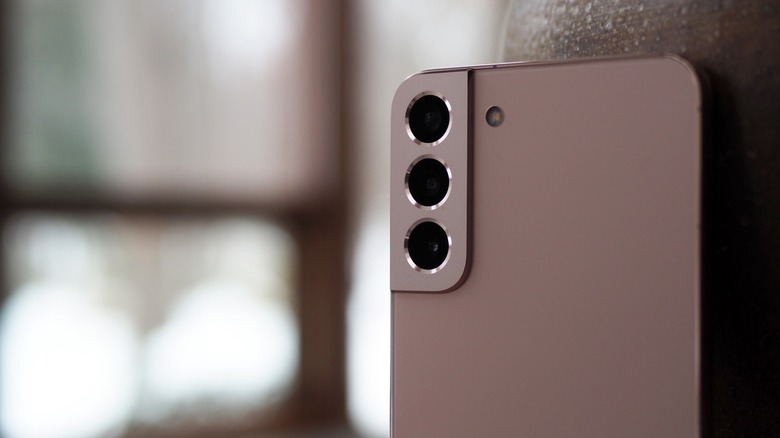 Chris Davies/SlashGear
For photography, there's a 50-megapixel wide camera on the back — with Dual Pixel AF, OIS, and an f/1.8 lens — alongside a 12-megapixel ultra-wide with a 120-degree lens, and a 10-megapixel 3x optical zoom that also has OIS. A single 10-megapixel front camera pokes through a small hole in the display, for selfies.
The sensor selection is different, then, but much of the camera strategy for the S22+ is the same as for the S22 Ultra. Key is a bigger sensor, apparently 23-percent larger than the primary camera in the Galaxy S21+ last year. That means more light sensitivity, which works with the Adaptive Pixel system to help trim exposure times — that can lead to shake and thus blur — without losing detail.
Adaptive Pixel is basically Samsung's branding for a combination of pixel binning and multi-frame capture. The former sees data from clusters of four pixels combined, to increase sensitivity; the latter combines multiple shots, taken with different settings, to improve things like dynamic range. Finally, Samsung then combines that data with a full, 50-megapixel capture, to hopefully generate a shot with improved brightness, contrast, and detail.
It's activated if you shoot at the maximum resolution; if you shoot at the more storage-friendly 12-megapixels, which is the default, you don't get all the same benefits (but you do get to use the optical zoom). Overall, though, I can't complain too much about the pictures the Galaxy S22+ captures. Colors back away from the extreme over-saturation which earlier Galaxy phones were prone to, and there's plenty of detail, though don't expect a night-and-day difference compared to last year's phone. The improvements are definitely evolutionary rather than revolutionary.
As for low-light, there Samsung uses its hardware/software blend to try to coax more detail without requiring massively lengthy exposures. Happily this moves away from the very artificially lightened images in the old Galaxy S series, with things looking more natural; the Pixel 6 Pro does still have the edge, though. The same goes for portrait mode, where Samsung's big claims of an AI Stereo Depth Map precise enough to distinguish individual hairs still struggles to isolate cat whiskers.
Finally, there's Samsung's 30x "Space Zoom" which is a blend of the optical telephoto and software magnification. It is, as on the Galaxy S22 Ultra, of mixed usefulness: detail gets splotchy and abstract the further you zoom in. Reining yourself back to the 3x optical zoom gets much better results, even if you're not so close.
Samsung Galaxy S22+ verdict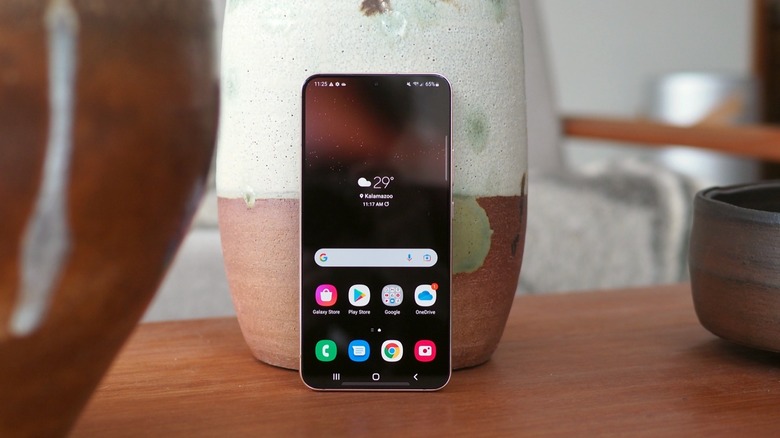 Chris Davies/SlashGear
At $999.99, the Galaxy S22+ is no more expensive than last year's Galaxy S21+, though you'd still be forgiven for wincing at the idea of basically spending four-figures on a smartphone and not even getting the full flagship. Samsung offsets that pain with some healthy trade-in deals, not to mention a pre-order promotion that gets you the 256GB model for the price of the base 128GB version. If things stay true to form, meanwhile, even bolder deals are likely to arrive in short order; we've seen things like two-for-one promos or discounts of several hundred dollars in previous years, and I'd expect the same for 2022.
For most people, the Galaxy S22+ is all the phone they'll need from the Galaxy S series. The S22 Ultra's slightly larger display, S Pen support, and 100-megapixel camera are nice-to-haves but far from essential. The S22, in contrast, has slower charging and a markedly smaller battery, which together feel like too much of a compromise.
If there's a wildcard, it's the Pixel 6 Pro. That starts at $899, isn't quite as potent as Samsung's phone, but gets you a front row seat to Google's computational photography developments. If you're the sort of person who simply must have the cutting-edge software, that will count for something; everyone else, I suspect, will be better served with the longevity of Samsung's Android OS update commitment.
As sweet-spots go, then, the Galaxy S22+ feels like the ripest cherry in Samsung's 2022 line-up. It may not be a fancy foldable, or have the most megapixels, or the biggest display, but neither does it feel like it's lacking. There are very good reasons not to pick the Ultra instead, beyond the money you save in the process, and while those who need to have the latest and greatest may think otherwise, for the mass market this mid-point is just right.