Samsung Galaxy S22 Ultra Review: Everything Is Not For Everybody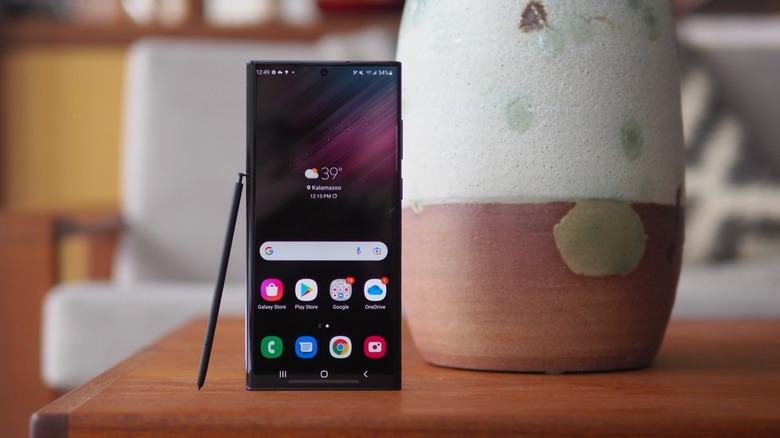 Chris Davies/SlashGear
The Samsung Galaxy S22 Ultra is not like its S22 Series siblings. 2022's flagship relies on both specifications and design to distinguish it from the more affordable Galaxy S22+ and S22, with a built-in S-Pen and different cameras just a few of the details that might help you justify a $1,200+ purchase. In an age of four-figure phones, the fact that the S22 Ultra is expensive isn't really new, but it does mean expectations are rightly set high.
Where the Galaxy S22 and S22+ use Samsung's Contour Cut Camera aesthetic — albeit with some handsome refinements for 2022 — you'd be forgiven for assuming the Galaxy S22 Ultra was a leftover Galaxy Note design. Flat on the top and bottom, and crisp in the edges, it's a handful certainly, though not quite unwieldy. The 8.9 mm depth means it's actually thicker than an iPhone 13 Pro Max, but the curved sides help disguise that fact.
Glorious Samsung AMOLED - check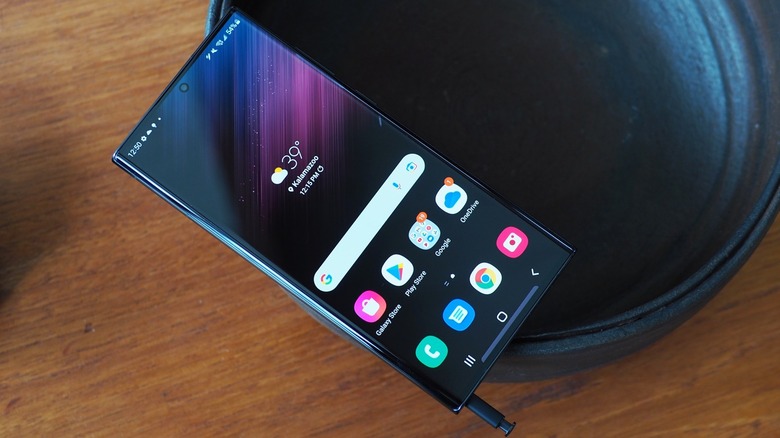 Chris Davies/SlashGear
Samsung builds it out of its new Armour Aluminum — a specially-formulated metal blend which it says is more impact and scratch-resistant — and Gorilla Glass Victus+ which also boasts greater toughness among its advantages. I'd still not want to drop it.
The size allows for a few important things. For a start, the screen is huge: a 6.8-inch Dynamic AMOLED 2x 120Hz panel. At 3088 x 1440 resolution it's crisp, but what stands out more is the brightness and speed. With a peak of 1,750 nits it's more than bright enough for comfortable outdoor use, even in direct glare, while the adaptive refresh rate can adjust automatically between 1Hz and 120Hz.
As a result you get silky-smooth scrolling and fast-paced games without blurring, though without as big a hit on battery life when you're using less graphically-intensive apps. Samsung uses the S22 Ultra's heft to squeeze in a whopping 5,000 mAh battery, but every little helps.
Samsung's screen tech has always been cutting-edge, and the Galaxy series has invariably been a benchmark for the smartphone segment. One welcome change for 2022 is the Galaxy S22 Ultra's Vision Booster system, which can tweak screen contrast and tone according to the ambient conditions. That means improving visibility isn't just about cranking up the brightness, which can lead to extra eye-strain or simply missing details.
A fully-integrated S-Pen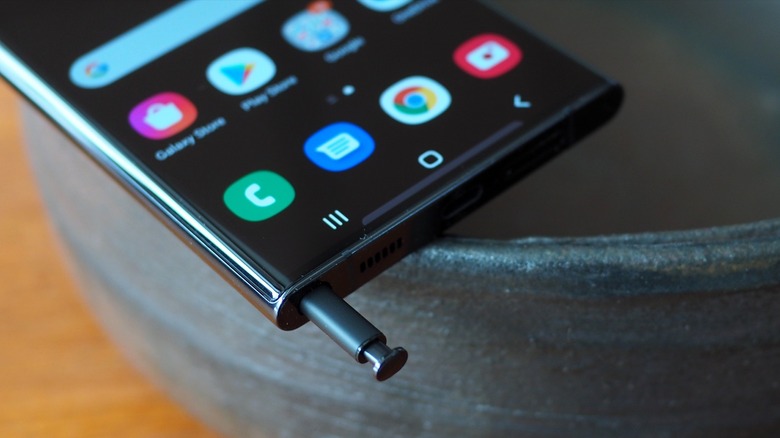 Chris Davies/SlashGear
S-Pen fans love the stylus. That's Samsung's argument, and while the Galaxy Note may be retiring as a specific brand, that leaves "the Note experience" to expand more comprehensively across other devices like foldables and tablets.
I used to be a big fan of digital inking though, as my handwriting continues to suffer, I find I'm less and less inclined to whip out the S-Pen. Those who are, however, will find a more responsive stylus overall. Certainly this is the best example of a virtual pen I've seen, the flow of on-screen ink smooth and lifelike.
Though the Galaxy S21 Ultra supported the S-Pen last year, it felt like an afterthought. Without a silo to hold the stylus, you needed either a special case or to remember to slip it into your pocket so that you'd actually have it with you. The S22 Ultra finds space for the pen inside, and though the resulting tool is slim, it's no tougher to grip than any recent Note S-Pen.
As for the software, you can instantly start scribbling notes when you pull out the S-Pen — even if the S22 Ultra is locked — and there's all manner of annotation, screenshotting, handwriting-to-text, and other talents that Samsung has baked into its One UI 4.1 interface. Again, this is much as we've seen on the Galaxy Note before, and if you're on Team Stylus then you're going to love it here, too. The combination of trimmed latency and that excellent display makes for as close an experience to real pen and paper as you can get in a smartphone.
108-megapixels on tap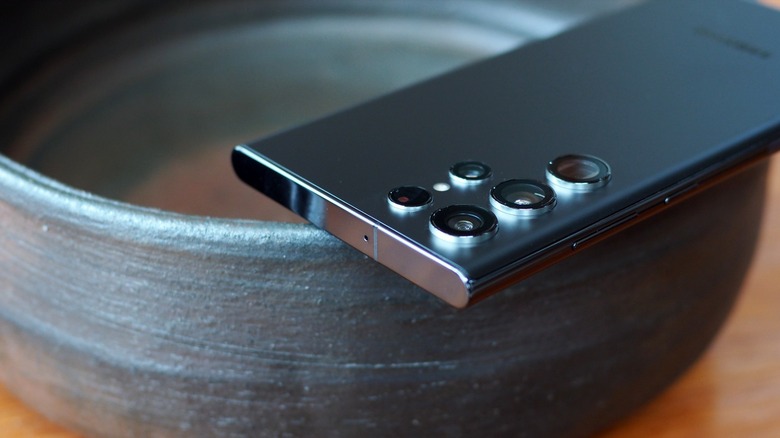 Chris Davies/SlashGear
Cameras sell phones. That's the message we've been hearing for the past few years, and the result has been not only a push to include more physical sensors into the latest-and-greatest handsets, but more emphasis on computational photography to work around limitations of sensor and lens size. As a result, the Galaxy S22 Ultra has a full four different cameras on its rear.
The main camera packs a whopping 108-megapixel sensor with Dual Pixel AF. Alongside it is a 12-megapixel ultra-wide camera, with a 120-degree field of view. For zooming there are two cameras, both with 10-megapixel sensors: one with a 3x lens, and the other with a 10x periscope lens. As with the Galaxy S21 Ultra, though, sometimes Samsung's software will just skip them entirely and crop from the 108-megapixel sensor.
That's not as big a hardship as you might think, because Samsung's primary camera is a gem. While its headline feature may be all those megapixels, most of the time the Galaxy S22 Ultra uses them in clusters in a process called binning. Basically, groups of nine adjacent pixels on the sensor combine their data, and the result is a more accurate pixel in a 12-megapixel final image.
I have no complaints there, either. Samsung offers both a Pro mode and a separate Expert RAW camera app with even more room for photographer-tinkering, but left to its auto devices the regular camera app is just fine at getting great images. Having pulled back somewhat, in recent generations of phone, from the over-saturation default that left pictures looking borderline unnatural, the S22 Ultra still shows Samsung's inclination toward punchier hues. Still, overall the main camera is reliable and predictable, which is just what you want when you need to capture something without fuss.
Samsung uses some of the same computational trickery on its other cameras, though without the binning system the results aren't quite as conclusive. The ultra-wide has admirably minimal distortion around the edges — which is usually where these extra-wide-angle lenses show their shortcomings — but the resulting shots lack the crispness of their wide-camera counterparts.
Low-light good; Space Zoom bad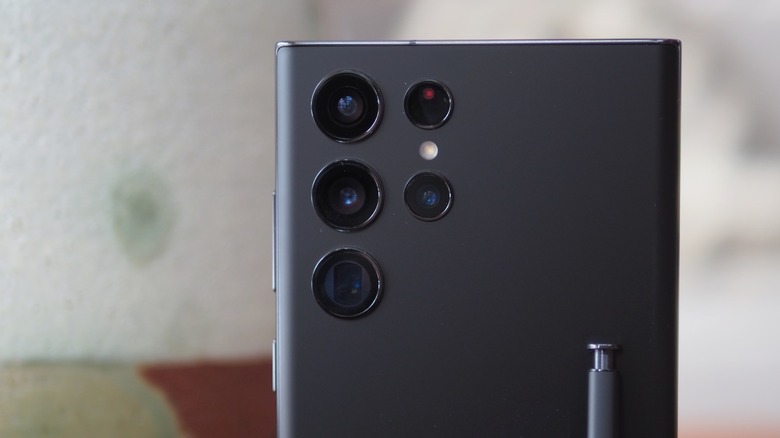 Chris Davies/SlashGear
It's low-light where the Galaxy S22 Ultra promises the biggest improvements over last year's phone. A bigger primary sensor, combined with more AI massaging, should lead to more usable images in dusk or night conditions. That includes upgrades to Super HDR, which combines multiple frames to make a clearer, richer final image.
For the most part, it's rewarding. The low-light enhancements kick in automatically, but there's also a dedicated Night mode you can switch to. I like that Samsung holds off from too much artificial lightening — previously it tended toward night scenes that were so processed they didn't look like night shots any more — though I still think Google's Pixel 6 Pro with its Night Sight has the edge.
Elsewhere, Samsung's other big promises for its artificial intelligence aren't quite so compelling. The new AI Stereo Depth Map — generated for Portrait mode, both on the rear and the 40-megapixel selfie camera — should, the company claims, be able to distinguish a single hair from the background, both for you and your pets. In practice, while portrait shots generally look good and lack that too-crisp delineation around the subject, and you can adjust the level of background blur, they still truncate cat whiskers.
Then there's Space Zoom. Samsung's fancy branding for its 30-100x digital telephoto continues to provide results that look surprisingly fine on-screen, but which fall apart when you pinch-zoom in at all. Even at 30x magnification the result is blotchy; get anywhere near to 100x and you're left with an abstract painting. As an example of Samsung's stabilization — a blend of optical and digital — it's all impressive, holding most of the inevitable hand-shake at bay, but I struggle to think of when the results would actually be usable.
As for video, the feature I was most curious about was Advanced Auto Framing. That promises to not only spot faces in the scene, but intelligently zoom to make sure they're kept in-shot. The Galaxy S22 Ultra can spot and track up to 10 people at once, and it's smooth at doing so, but the biggest issue is that it tops out at Full HD/30fps, well short of the 8k/24 maximum that the video mode can support normally. It's also a shame not to be able to include objects other than people: say, if you were giving a product demo, and wanted to make sure the device itself was also always in-frame.
Android 12 and Samsung One UI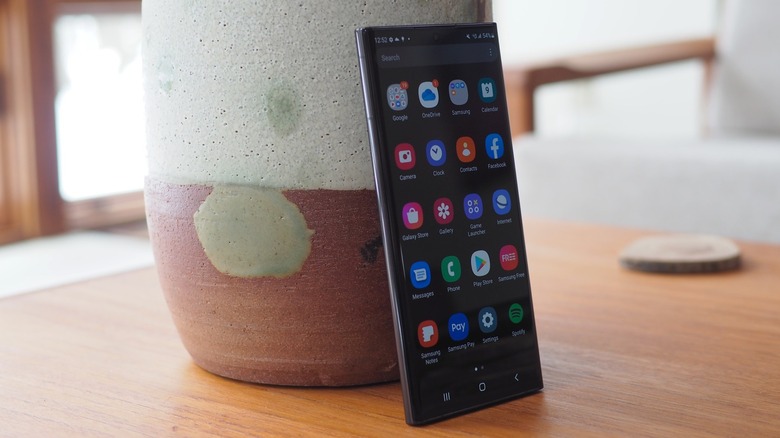 Chris Davies/SlashGear
At launch, the Galaxy S22 Ultra runs Android 12 with One UI 4.1. Samsung's interface is a familiar thing right now, with graphics not too far from the Android default. Better still, it's progressively paring back its custom apps in favor of Google's own.
That's most obvious when it comes to messaging, where Google Messages is now the default, not Samsung Messages. It means another piece in the overall puzzle of getting RCS to be a broader standard, though the reality is that it'll take Apple embracing that before it can truly gain traction.
The other software tweak worth noting is to Google Duo, though that might be more of a placeholder to return to than something you get maximum use from today. Custom Galaxy enhancements will see higher video quality and improvements in audio too, along with easier sharing. Problem is, initially that's exclusive to the Galaxy S22 series, though Samsung does say it'll be rolling out to other Galaxy products in due course. Stick a pin in it for now, and wait to see if you have enough Galaxy-owning friends to make the upgrades worthwhile.
An admirable commitment to updates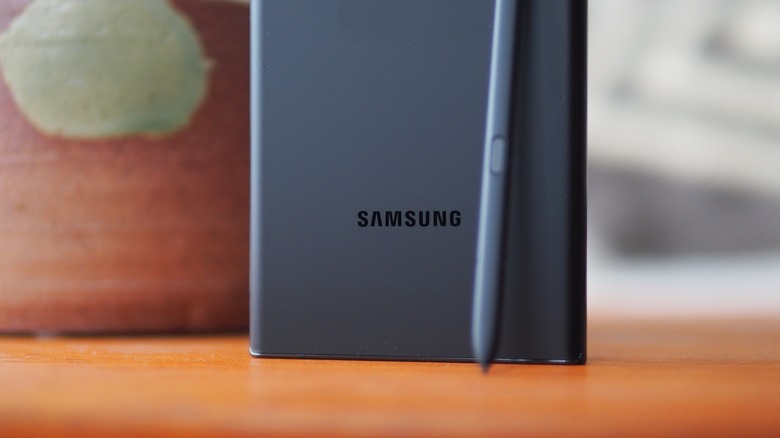 Chris Davies/SlashGear
What I can really get behind, though, is Samsung's commitment to Android updates. It's fair to say that Android phone-makers haven't, traditionally, had the best reputation for supporting their existing users: in the Bad Old Days, phones that were left out of software upgrade cycles only a couple of years post-launch were shamefully commonplace. However, for the Galaxy S22 series, Samsung is promising up to four years of Android OS updates.
Out of the gate, that's a degree of reassurance that will likely be welcome to anyone considering a $1,200+ phone purchase. It's also, notably, more generous than Google itself is. Buy a Pixel 6 or Pixel 6 Pro today, and while you'll get security updates for 5 years post US-launch — which means October 2026 — it'll only commit to OS updates until October 2024.
Big battery could charge faster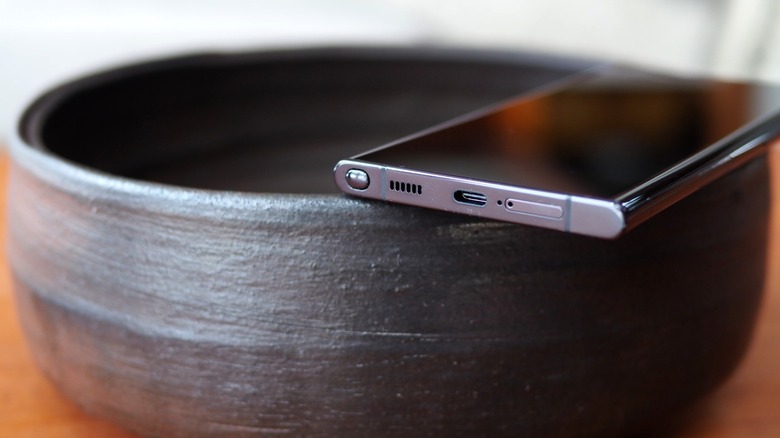 Chris Davies/SlashGear
All that runs — on US-spec phones, anyway — on Qualcomm's latest Snapdragon 8 Gen 1. The entry-level model has 8GB of RAM and 128GB of storage, but Samsung rectifies that with 12GB as standard on the 256GB/512GB/1TB versions. Admittedly you're paying a whole lot at that top end: $1,600 for the maxed-out phone.
Unsurprisingly, Qualcomm's newest silicon and 12GB of memory in my review handset proved to be every bit as fast as you'd hope. No lag, no slowdown. That's good, obviously, but it also feels like table-stakes at this point in the market.
The 5,000 mAh battery in the Galaxy S22 Ultra is a beast. Getting through a full day is no problem at all, even with plenty of photography. For topping it up, there's 45W wired and 15W wireless support, though — beyond the USB-C cable in the box — Samsung leaves you to your own devices to supply the charger itself.
Honestly, I'm okay with that, but both of these rates seem a little underwhelming considering what we're seeing elsewhere in the smartphone space. Is 60W+ wired charging, as other phone-makers are already offering, fairly excessive? Sure, maybe, but this is Samsung's flagship and you'd be forgiven for expecting it to go all-out for the specifications.
Samsung Galaxy S22 Ultra verdict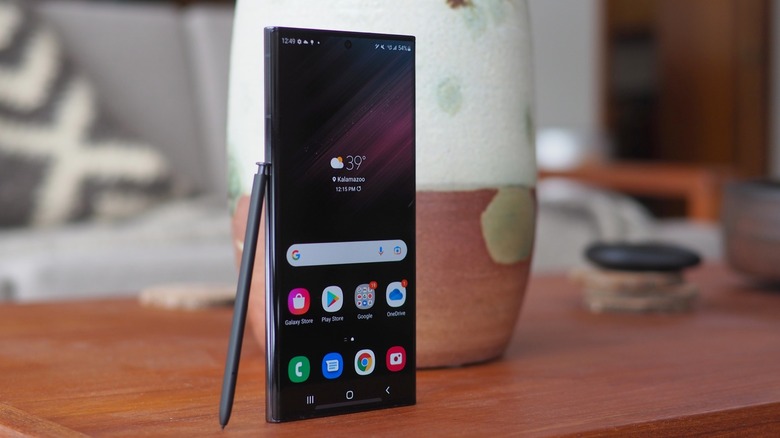 Chris Davies/SlashGear
There are clearly some areas where Samsung is leading the field. Four generations of Android OS update, for example, bests even Google's own commitment. The willingness to embrace even niche functionality like the S-Pen — and not only that, but continue development of it — is another. All the same, things like the maximum charging rate and the headline-grabbing-but-questionable 100x Space Zoom feel like Samsung lost some focus along the way.
More broadly, though, this "everything but the kitchen sink" experience has laid down a bolder dividing line in the Galaxy S22 series than we've seen in previous generations. It's hard to argue that the Galaxy S22+ isn't the best pick for most people now.
Where, then, does that leave the Galaxy S22 Ultra? 2022's range feels like an intentional tidy-up of Samsung's overall smartphone portfolio: three S22 series handsets doing the work of what once would've been three Galaxy S and two Galaxy Note phones, and in the process leaving fresh space for the company's ongoing Galaxy Z Fold ambitions. Samsung hasn't been coy at predicting foldables are the future.
The target audience for the Galaxy S22 Ultra, then, feels more narrow than ever. If you want the S-Pen, or the biggest display, but you don't want to go the whole-hog with a foldable, then Samsung is holding nothing back. All the same, I could understand you sitting out this particular upgrade cycle, because now more than ever it feels like we're about at the tipping point of something new.