Galaxy S22 Plus Impressions: A Blessing And A Curse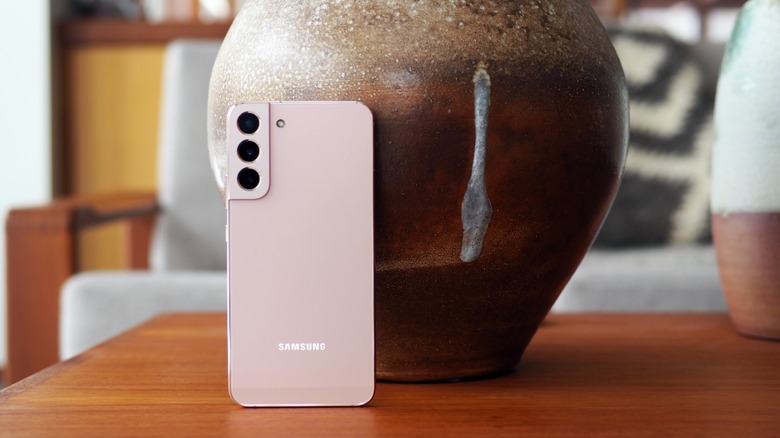 Chris Davies/SlashGear
Similar, but different. At first glance, it's easy to sideline the new Galaxy S22+ as a repeat of last year's design language. Samsung effectively did the same thing, highlighting that the mid-range phone – and its more affordable S22 sibling – keeps the so-called Contour Cut aesthetic while the Galaxy S22 Ultra embraces its Note-esque angles. In reality, though, that downplays quite what Samsung has achieved here.
Perhaps the Pink Gold finish – brighter and more jewelry-like than the sober, business-like Phantom Black of my Galaxy S22 Ultra review unit – plays to the Galaxy S22+'s favor. Refinements this year enhance that use of color: the camera housing now matches the body color, making the whole thing feel more cohesive, while the metal frame is symmetrical.
For 2022, a focus on premium feel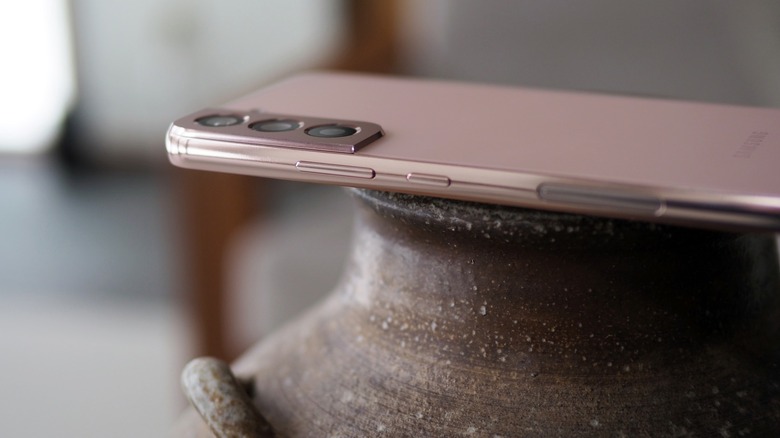 Chris Davies/SlashGear
Stung, maybe, by last year's accusations (not unfairly made) of cost-cutting in some of its flagships, gone is the plastic. Instead, all Galaxy S22 series phones use the same Corning Gorilla Glass Victus+ as the S22 Ultra on both the front and the back. The S22+ feels every part a thousand dollar handset.
The same goes for the Armor Aluminum, the new metal that Samsung uses for the frame of the S22+ and its range-mates. There's something almost Apple-esque about its gently bowed form when you first slip it out of the box, in fact, reminiscent of the curvier look that the iPhone has since abandoned in favor of sharper edges. An iPhone 13 Pro may feel crisp and precise in the hand, but I suspect the Galaxy S22+ will feel comfortable in that grip for longer periods.
2022's must-have Galaxy S22 model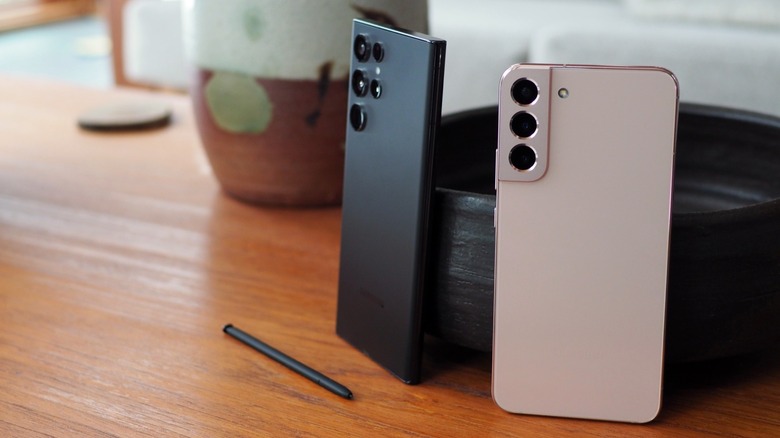 Chris Davies/SlashGear
I'm surprised by how much I prefer it over the look and feel of the Galaxy S22 Ultra, in fact, and for 2022 it already seems like the "this is the best Galaxy for most people" question has a far more obvious answer. The midrange model was, frankly, the natural pick of 2021's Galaxy S series, though the fact that the Galaxy S21 Ultra was just a little bigger but otherwise so visually similar likely left a few people wondering if they should be going all-in.
This time around, there's a far clearer visual distinction between the S22+ and the S22 Ultra. I suspect that'll work in Samsung's favor here: the most expensive, S Pen-enabled phone feels closer to the Galaxy Note that it is in all but name. Samsung has thus managed to make two distinct ranges out of its single 2022 S series, despite managing to – we assume – trim any new Note models from the line-up later on.
Leaving behind compromise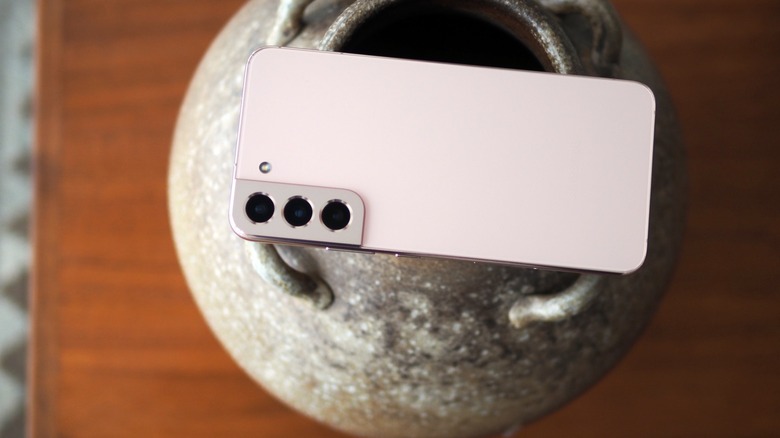 Chris Davies/SlashGear
Compromise is typically the case for when you don't stretch to the most pricey phone, though this time around the sacrifices don't seem so grand. The S22+ screen gets the same battery-saving adaptive refresh, now capable of as little as 1Hz, and beefy 1,750 nits of peak brightness; there's still UWB and Wi-Fi 6E along with the 5G, plus 45W fast wired charging. Even the cameras, though lacking the 100x Space Zoom of the Galaxy S22 Ultra, arguably feel more applicable to everyday use with 50-megapixels to play with on the primary sensor.
As has become obvious over the past years, the sheer number of megapixels is only one part of the photography equation. Here, they're larger than the S22+'s predecessors' pixels – 23% bigger, in fact – for greater light capture. Combined with pixel binning, where data from clusters of four pixels are blended into one, and there should be a significant uptick in low-light camera abilities.
Less branding, more substance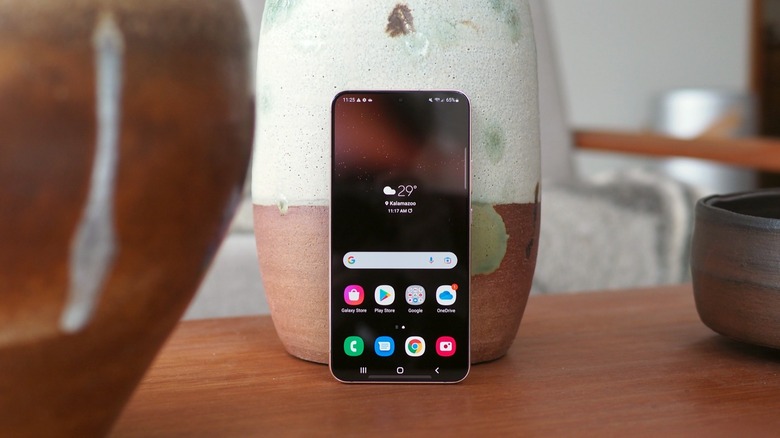 Chris Davies/SlashGear
Some years, it feels like Samsung has hurtled headlong into branding madness. More buzzwords than you can shake the proverbial stick at; weird tweaks, enhancements, and software gurgles that end up, well, not being all that useful in the real-world. For 2022, though there's still some of those flourishes, the emphasis for the most part seems to be on usable functionality.
The low-light improvements are part of that, as are Samsung's claims about enhanced portrait mode. There, a new AI Stereo Depth Map promises to distinguish down to a hair's width – whether on your head or that of your pet – so as to better differentiate between subject and background. If it works, something we'll be testing in our full review, then I suspect it'll be exponentially more beneficial to owners than oddball "food photography" modes or even greater access to pro-style settings.
That's because the reality of modern phone-ownership is that they have to be appliances as well as tech luxuries. Functionally cohesive, first and foremost: if the bells and whistles aren't easy to use – or, worse still, if they don't do what they promise the very first time – then people just won't use them at all.
Making a $1,000 phone make sense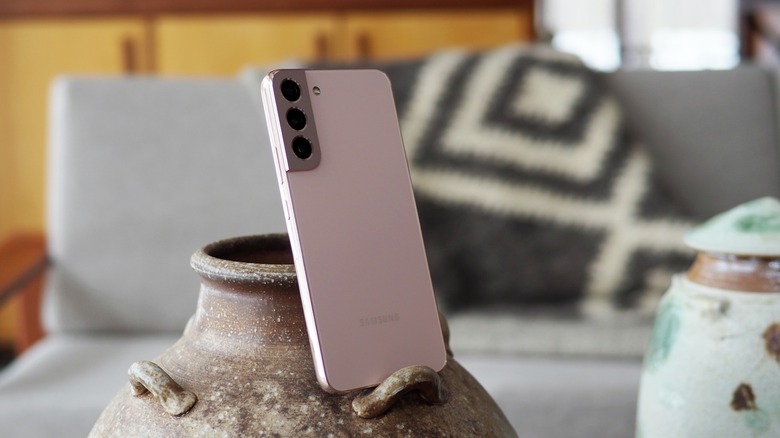 Chris Davies/SlashGear
Samsung, for the most part, seems to have grasped that. Its commitment to up to four generations of Android OS update – more, even, than Google promises for the Pixel series – illustrates that nicely. Maybe you don't care so much about what software you'll be running in your third year of phone ownership on day one, when you buy your shiny new Galaxy S22+, but fast-forward and suddenly longevity may seem a lot more pressing when you're considering if you need to upgrade.
Whether that's all worth the $999.99 price tag, well, there's the big question at a time when many are wondering if premium phones can justify the premium outlay. Payment plans certainly help take some of the sting out of that, and the carrier trade-in deals are unusually generous in some cases this year, but there's usually a catch somewhere like needing to be on the most expensive service tier in order to qualify.
That may lead more people to simply step off the flagship train altogether. While high-end devices have been pushing the envelop in performance, screen tech, photography, and connectivity, arguably the more interesting efforts in the world of smartphones over the past couple of years has been in more affordable handsets.
Flagships are easy, value is hard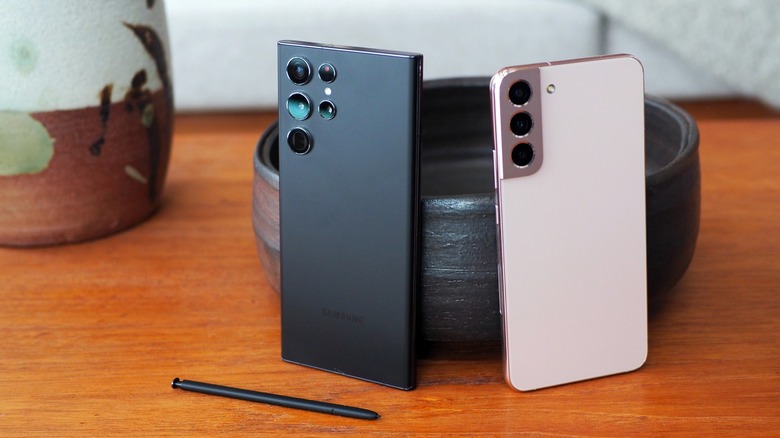 Chris Davies/SlashGear
After all, throwing the kitchen sink of gadgetry at a four-figure phone is a relatively easy approach to making something appealing. With their Snapdragon 8 Gen 1 chipsets (in the US), splendid screens, and metal & glass designs, the Galaxy S22 series is fine evidence of that strategy at play. Figuring out, though, what to distill from that to build a compelling midrange device – something which can be made, and sold, at a far more attainable level, but which doesn't necessarily feel like it – is much more difficult.
It's for that reason that the Samsung Galaxy S21 Fan Edition (FE) is remaining on sale alongside this year's Galaxy S22 series. It'll be the cheapest option, but still packs much of what made the Galaxy S21 line-up compelling. Is it as exciting as a brand new Galaxy S22+ or S22? No, probably not, but at $700 before trade-ins or deals it's a fair sight cheaper. If it's any consolation for Samsung, Apple is probably seeing shoppers making the same decisions about its more affordable iPhone models, and even more so when the expected iPhone SE 5G update arrives.
First impressions count for a lot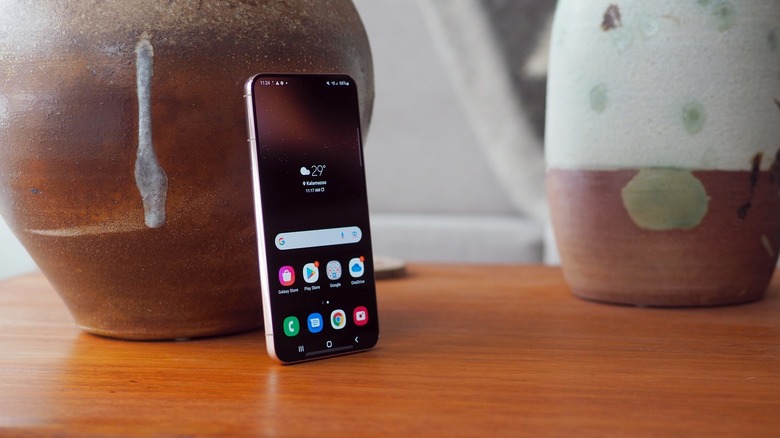 Chris Davies/SlashGear
Samsung sold plenty of Galaxy S21 series phones, though – according to the rumors, at least – not quite as many as it might've liked. We're in competitive times in the smartphone world right now, and even if upstarts like Oppo, Vivo, Xiaomi and others aren't especially well known in markets like North America, they're doing a solid job of eating into Galaxy market-share elsewhere in the world. Factor in the specter of this year's iPhone 14 launch, already omnipresent despite being months away, and you could well understand Samsung feeling the pinch and reevaluating its priorities in the meantime.
First impressions count for a lot. The Galaxy S22+ feels premium, from the very first moment you see it in fact, and that's important. It's also something Samsung hasn't consistently got right over the years. How it holds up in day to day use, we'll know soon enough, but in what's set to be a challenging year for smartphones – not least as Samsung itself pushes the inevitability of foldable devices usurping the spot of more traditional handsets – this middle model in the Galaxy S line-up may end up shouldering more than the usual share of responsibility for success or failure overall.