2024 Toyota Tacoma First Look: Proof That Good Things Come To Those Who Wait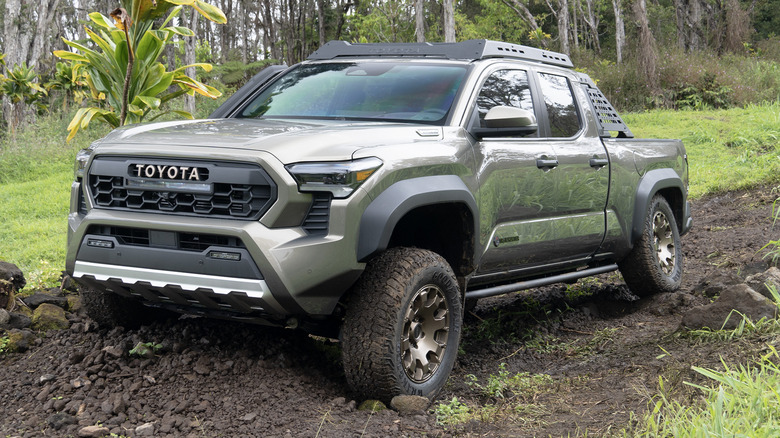 Michael Teo Van Runkle/SlashGear
Toyota unveiled the next generation of the Tacoma last week with a laundry list of long-delayed and highly-anticipated updates to help the iconic pickup compete in an increasingly crowded and competitive market segment. The fourth-gen truck's bold new exterior design arrives as something of an expected step, but substantial drivetrain and tech developments inside and out represent a much more critical evolutionary leap.
Much like the latest Tundra, the 2024 Tacoma now receives an optional hybrid assist for a new 2.4-liter turbocharged engine, plus an eight-speed automatic transmission, a five-link coil-sprung rear suspension setup, plenty of off-roading goodies, and for the first time, disc brakes at all four corners. Still, Toyota made sure to retain plenty of the old-school touches that fans crave, including a promised six-speed manual option, as well as a simple interior that carries over rugged functionality despite significant improvements to ergonomics and connectivity. And the revived TRD PreRunner trim even keeps leaf springs in the mix!
Up close and personal with the new Taco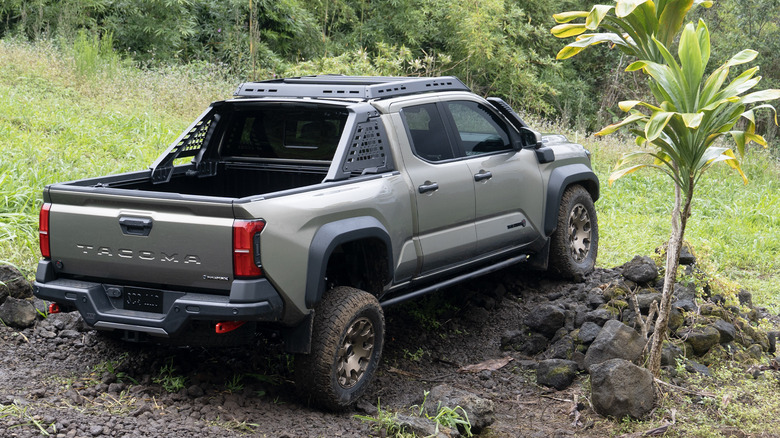 Michael Teo Van Runkle/SlashGear
A lengthy press release that leaked ahead of the official debut covers all the basic stats and specs across a grand total of eight (8!) available trim levels, but Toyota also invited select media to experience the new design's physical presence at the Kona Coffee & Tea farm on the big island of Hawai'i. Having seen all the "leaks" and teaser images, I arrived very curious to check out the new Tacoma up close and personal, since photos typically never do justice to real-world proportions. And even from afar, the new generation still retains the identifiable lines and profiles of the outgoing truck, now muscled-up with market's ubiquitous aggressive angles a la Ford Ranger, Chevrolet Colorado, and Nissan Frontier.
Some might call the fender flares and grille trims a bit bulbous but the revisions arrive amid a rapidly expanding truck market—expanding not only in terms of entrants, but also in sheer size. A quick jump in the time machine reveals that the new Tacoma's two optional wheelbases actually measure longer than both the two-door and four-door versions of the first-gen Tundra. Specifically, Toyota will offer the three different configurations: a 3350-millimeter frame allows for either a four-door double cab with a five-foot bed or a two-door extra cab with a six-foot bed. A four-door double cab with a six-foot bed requires the longer 3685-millimeter wheelbase.
Immediate uproar over an air dam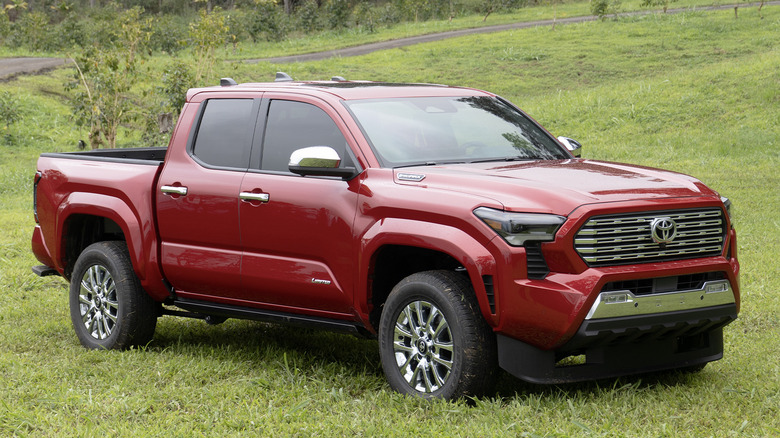 Michael Teo Van Runkle/SlashGear
Toyota will not offer a two-door with a seven or eight-foot bed on the long wheelbase, news that will come as something of a bummer for the growing off-road and overlanding community still holding out for a similar configuration on a mid-size truck from Jeep, Ford, Chevy, or Nissan. But the biggest uproar that emerged immediately after early images of the Tacoma hit the web involved something much more mundane: massive air dams below the front grille. That air dam was also the focus of one of the first questions I asked Sheldon Brown, Chief Engineer for Tacoma that Toyota made available for questions at Kona Coffee.
"Honestly, I would've loved to have been able to either shorten those up or get rid of 'em altogether," Brown admitted about the air dams. "But they're significant. And I mean, you can get anywhere from seven to 11 counts of aero improvement, which is pretty doggone important in terms of fuel economy."
Unlike the Tundra, which employs an electronically deploying air dam to improve MPGs at speed, the Tacoma's tighter packaging (a 90-mm shorter overhang, to be specific) made such an option unfeasible. Plus, reliability always comes into the mix, Brown told me.
"Trust me, we talked long and hard," he said. "People are super active in these trucks. And you know, if they come down and bust that on a rock, that is not an inexpensive repair."
Luckily, only nine screws hold on the air dams, so buyers who prize cosmetics over efficiency can easily undo Toyota's necessary concession to fleet averages.
Four engine outputs with two transmission options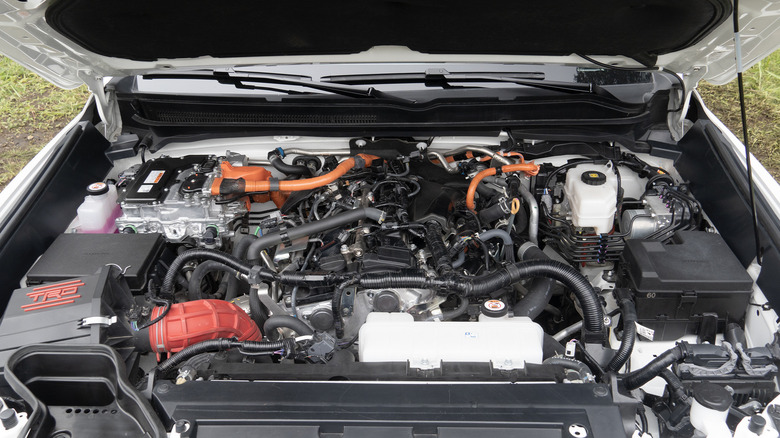 Michael Teo Van Runkle/SlashGear
In the modern era, those fleet averages dictate plenty of drivetrain and aerodynamic considerations from major manufacturers. But the Tacoma undoubtedly needed a massive engine and transmission update to keep up with the competition, probably more so than just about any other vehicle on the market. A new turbocharged four-cylinder engine with optional hybrid assist puts Toyota back in touch with reality, in terms of both fuel economy and power output, as does an eight-speed automatic gearbox.
The drivetrain choices total four specs across all eight trims: SR, SR5, TRD PreRunner, TRD Sport, TRD Off Road, Limited, TRD Pro, and Trailhunter. In base SR form, the engine produces 228 horsepower and 243 lb-ft of torque. All others equipped with the eight-speed automatic produce 278 hp and 317 lb-ft. The hybrid system bumps those figures up to 326 hp and a whopping 465 lb-ft, but the six-speed stick shift is available only with the gas engine producing 270 hp and 310 lb-ft.
Given the massive torque figure for a relatively diminutive 2.4-liter four-banger, I asked Brown about the hybrid system. Turns out, the specs should have looked somewhat familiar, since the exact same battery and electric motor already arrived in the Tundra. And unlike other more commuter-focused Toyotas, the Tacoma hybrid will still use a traditional gearbox rather than a CVT.
"We're actually using the same 48-horsepower motor," Brown said, "and the exact same 1.87-kilowatt-hour nickel-metal hydride batteries in the back. And those are sandwiched in between the engine and the transmission, so you're turning gears. All you're doing is using that motor to spin up your torque."
All the Trailhunter goodies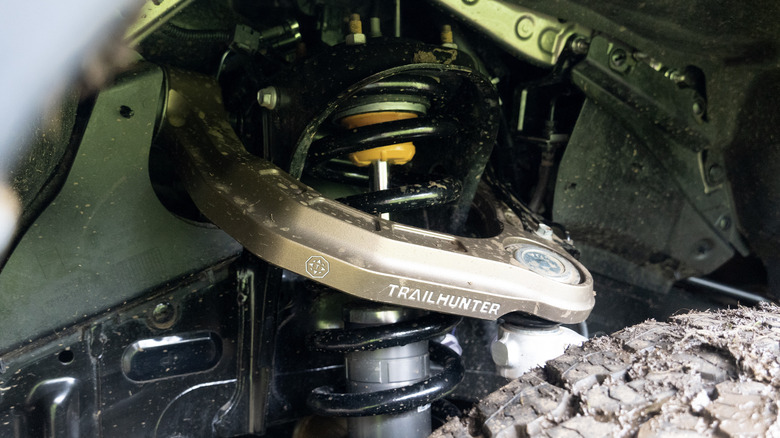 Michael Teo Van Runkle/SlashGear
At the top of the new Tacoma lineup sits a new trim level, dubbed Trailhunter and designed precisely to compete with the likes of Ford's Ranger Raptor and Chevy's Colorado ZR2. In Hawaii, Toyota posed a Trailhunter perfectly to show off just how much flex the new five-link suspension and trim-specific upgrades allow for the standard 33-inch Goodyear Wrangler R/T tires. As the range-topper, the Trailhunter will, sadly, come only as a hybrid with no manual option, but hopefully the catalog of four-wheeling-focused improvements makes up for such a disappointment.
Highlights run from a set of adaptive ARB Old Man Emu shocks with rear piggybacks, to a disconnecting front sway bar, center and rear locking differentials, steel bumpers, recovery points, and all the racks and molle panels imaginable.
Given how hardcore the Trailhunter looks—and how hardcore the top-spec Ranger and Colorado are—I asked Brown why he decided against a front locker. Turns out the bean counters dictated that decision. But in reality, he asked me, how often does anyone really use a front locker? Plus, the disconnecting sway bar allows for so much improved articulation that a rear locker becomes all the more capable, and now throw in Multi-Terrain A-trac that brakes the front wheels, Brown said, and you've basically got what he calls a "Pseudo front locker. And you have a little more mechanical sympathy that way."
Bringing back the RWD TRD PreRunner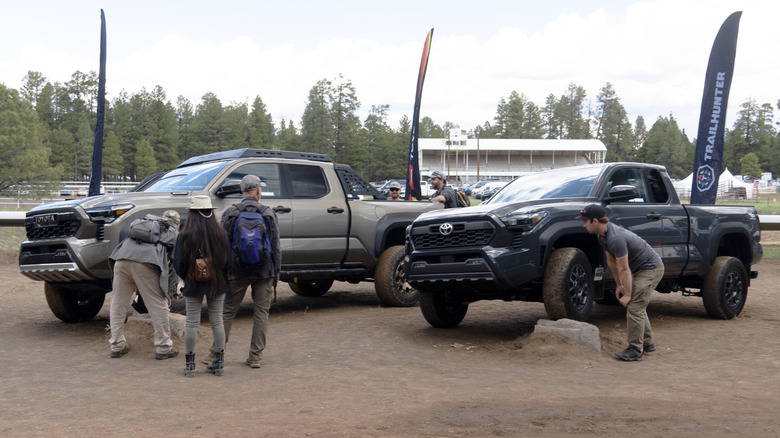 Michael Teo Van Runkle/SlashGear
Locking front differentials put much more strain on steering and driveline gears than any other four-wheeling feature, but such concerns will evaporate for buyers who want the two-door Tacoma's top trim level: the revived TRD PreRunner that made its debut later in the week at Overland Expo near Flagstaff, Arizona. Toyota shipped a group of select media out to OE to catch the show and see what is, undoubtedly, the best looking of all the new Tacoma trims.
Those flared fenders and aggressive lines pair best with a short cab and longer bed, without a doubt, and the PreRunner can also come with a manual transmission in addition to the rear-wheel-drive layout, rear locker, and leaf springs. Of course, I left wishing for a two-door long-bed with a manual hybrid and four-wheel drive, but as is, the PreRunner harkens back to the days of simple little pickup truck runabouts. And given the weight savings on this simplified package, 317 lb-ft from a peppy four-banger ought to do the trick just fine, anyway.
Modern interior tech and ergonomics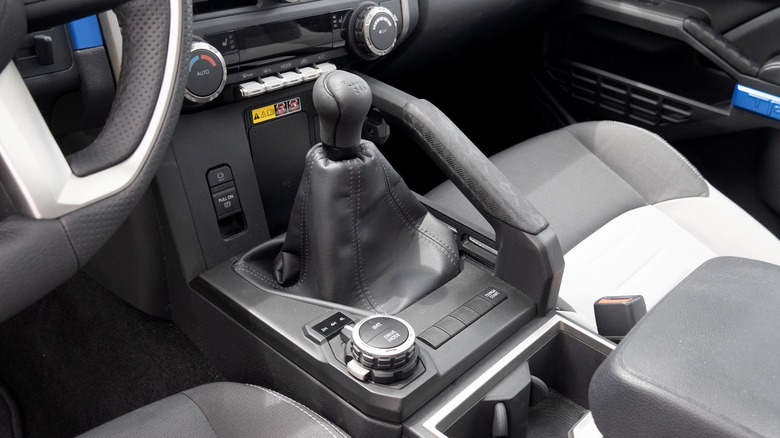 Michael Teo Van Runkle/SlashGear
All Tacomas benefit wildly from a modernized interior, which clearly prioritizing cost savings for non-high-touch materials but loses much of the Spartan aesthetic that made 2022 Tacomas seem more fit for model year 2010. Now, an optional 14-inch infotainment screen allows for acceptable resolution when using wireless Apple CarPlay or Android Auto, though lower trims get an eight-incher that Toyota declined to show off quite yet. A matte digital instrument cluster behind the steering wheel stretches to 12.3 inches on higher trims, up from seven inches on cheaper trucks.
Perhaps just as importantly, I noticed immediately how much the rearranged switchgear makes for improved ergonomics. Gone are the random off-roading buttons on the ceiling—everything now centers around the driver's right hand. Still, the overall design isn't as tidy as Tundra's expansive piano keys and clean center console, which Brown brought up during our conversation.
"We actually looked at what Tundra did and we just didn't have the space that Tundra had to lay some of these things out," he explained. "We have a lot of technology that's coming to this truck. We wanted it to be natural and intuitive, right? So I wanted you to be able to say, 'Hey, if I need to control the powertrain, I'm looking right down here, here's where it's at.' The other thing is, let's be clear, we don't have a lot of real estate in a compact truck."
Eye-popping TRD Pro with new IsoDynamic seats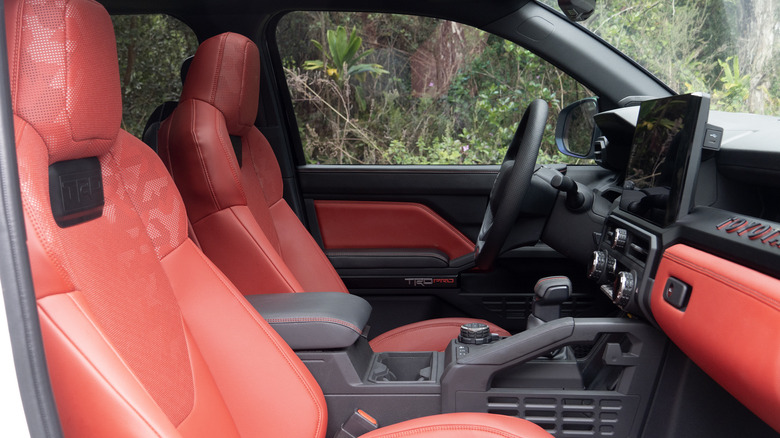 Michael Teo Van Runkle/SlashGear
While most of the Tacomas sport relatively restrained dash and upholstery color combos, not so for the eye-popping TRD Pro. But equally as bold as the bright red leather and accents, a set of ridiculously fancy seats also made their debut in Hawaii. Toyota calls them IsoDynamic Performance Seats and though the units installed on the show car were pre-production (so I wasn't allowed to take pics), to my eyes they looked decidedly un-Toyota. But Brown disagreed.
"It isolates, but it's completely dynamic and can move up and down and around," he told me. "And so as you're coming down, rather than feeling all of that input of the big hits, we can knock the edges off for a lot of the smaller inputs. We can basically isolate you from that. And what that means is we can take about, on average, about 7% of the input that's going into your body, we can damp all that out. That means less driver fatigue, less passenger fatigue, fewer times your partner or whoever's sitting in the passenger seat's bouncing their head off the glass."
Brown claims that in testing, drivers unconsciously felt so much more in control while using the IsoDynamic seats that with steadier heads, they would average speeds up to 20 miles an hour faster on the same trail. Baja racing inspired the tech, though Mitsubishi fans might point to Monteros in the 1980s and 90s that offered optional spring-loaded bouncy seats to get similar levels of off-road smoothness. (Just don't ask why the also Montero came with five-link rear suspension or electronically adjustable shocks all the way back in the 1990s, two of the other biggest updates for the new Tacoma almost a quarter-century later.)
Sacrificed rear legroom in a compact pickup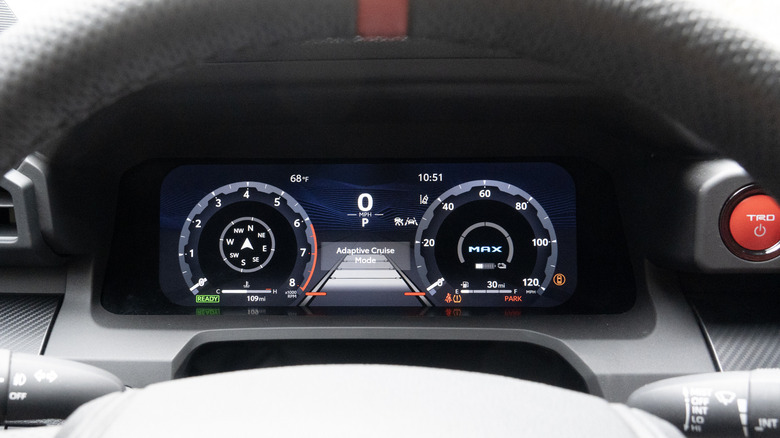 Michael Teo Van Runkle/SlashGear
The IsoDynamic seats look sufficiently futuristic but the air-oil dampers and controls seem less catered to actual adjustment while driving, which would require cranking an elbow around to play with dials while bouncing around in dirt. The seats inhibit rear passenger legroom. Brown obviously recognizes such considerations but surveys apparently said the seats were worth the sacrifice.
"Something like 40% of our customers in TRD Pro said they rarely have anybody in the backseat. And like 15% said they never have a backseat passenger."
Well, 100% of TRD Pro customers can now expect to experience the IsoDynamic Performance Seats, which comes standard on the trim. At least four-legged dog friends probably won't mind the reduced space.
Strange details on the new Tacoma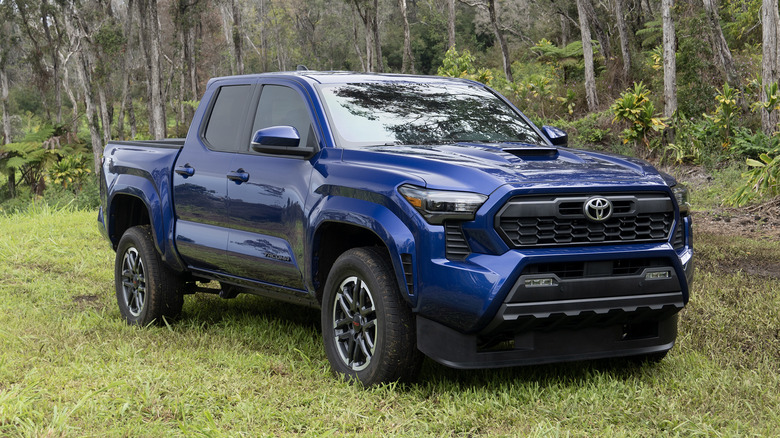 Michael Teo Van Runkle/SlashGear
A few other funny details on the new Tacoma also stood out for me, even in my brief time with all the trims. Among the grass and greenery of Hawaii, chrome rims and exhaust tips on the Limited seemed entirely out of place, while body-colored cladding somehow looks even worse than the increasingly popular industry trend of matte plastic fender liners. And the TRD Pro's off-roading approach, breakover, and departure angles actually decrease minimally—to 33.8 degrees, 23.5 degrees, 25.7 degrees, respectively.
Of course, keyboard critics will heap hate on the excessive air dams, over-styled wheel lines, and angular headlights all they want. In reality, the lack of paddle shifters for the automatic transmission seems more consequential, given that most eight-speeds tend to over-shift while off-roading, which can lead to lurching at the worst possible times. At least Toyota offers tiptronic-style shifting with the gear lever—directly next to the four-wheel-drive controls, as Brown pointed out—another way for Tacoma to more closely match the Ranger Raptor's performance focus and differentiate from the Chevrolet Colorado's strangely tiny shift buttons.
Durability of a more complex system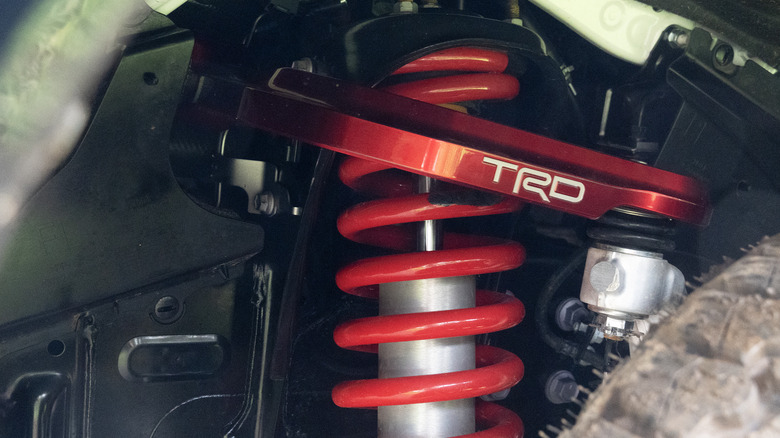 Michael Teo Van Runkle/SlashGear
A new hybrid system, tiny turbo engines, an eight-speed automatic transmission and overly complex suspensions seats... Many of the Tacoma updates sound likely to raise the spectre of reduced reliability, as well. After all, the simple naturally aspirated V6, obsolete six-speed automatic slushbox, and leaf springs of the previous gen undoubtedly ticked the box for Toyota's expected dependability, even while making long slogs up steady grades something of a chore.
"I know a lot of folks are worried about the durability," Brown told me. "I can assure you these powertrains go through the exact same testing that we did before. In fact, even on our turbos, we actually set the requirements on the trucks for these turbos to meet our commercial grade specifications. That's about 30% more duty cycle, 30% more life. Because we know people are gonna be running these harder, they're gonna be wheeling off road, the duty cycle's gonna be a lot higher."
Toyota's decades of experience building hybrids came together already in the Tundra, so the higher-volume Tacoma should benefit from any learnings gleaned from the larger sibling. And hybrid power should, in theory, translate even better in a lighter, smaller truck. I asked about fording depth for the hybrid system, given that I felt hesitant crossing a river with a Tundra iForce MAX not long ago. Brown replied that Toyota probably won't publish a declared fording depth but recommended keeping the cabin doors closed in water.
"Keep it below the rocker," he advised. "You're gonna be in good shape."
Ready to sell like hotcakes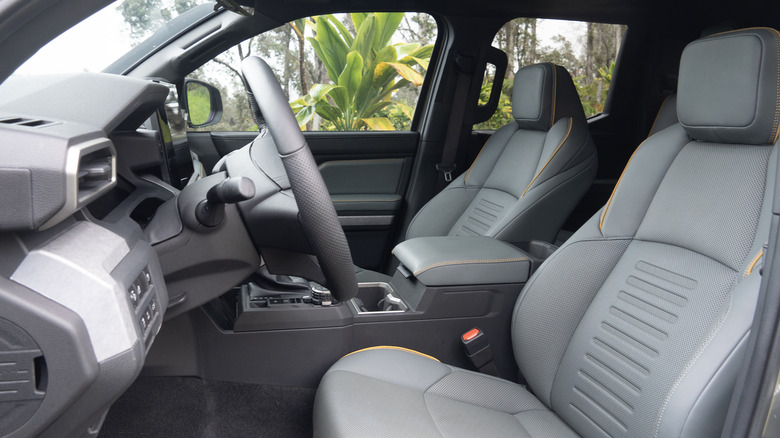 Michael Teo Van Runkle/SlashGear
Hybrid powertrains also mean higher prices, not just lower water crossings. MSRPs for the new Tacoma's many trims remain under wraps, but for context, a 2023 Tundra starts around $38,000 and the hybrid tacks on an additional $15,000. Meanwhile, the outgoing third-gen Tacoma starts at $27,150 and the lowest-spec Chevy Colorado WT stickers at just under $30,000.
Anybody in their right mind should expect the new Tacoma to sell like hotcakes, given the massive high jump into the modern era. Like the current model, the fourth-gen's design hopefully looks better when dirty rather than sparkling clean, whether from the grit and grime of off-roading, a hard day's work, or daily use. Taking into consideration all the off-road features, tech updates, and those seats, expect price points for the popular TRD Pro and PreRunner, as well as the hybrid-only Trailhunter, to keep pace with inflation just as easily as they should now keep up with other pickup trucks in the race towards off-road capability and powertrain efficiency.