2023 Chevrolet Colorado First Drive: Midsize Truck Is Heavy On Swagger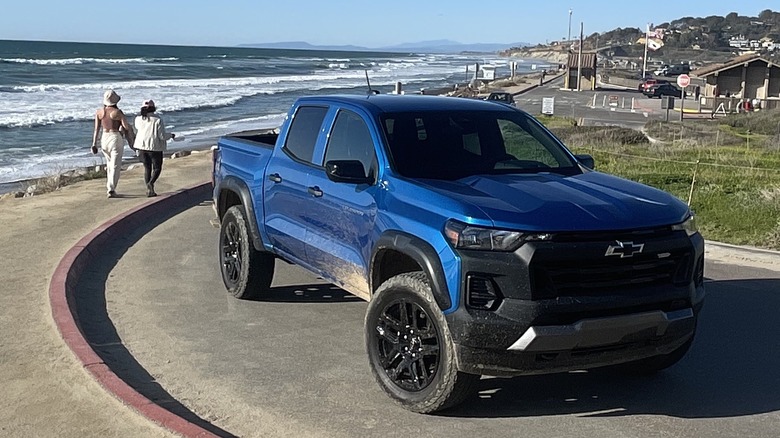 Cherise Threewitt/SlashGear
Look at this truck — how could you not want to scamper all over it? The 2023 Chevrolet Colorado swaggers with a tougher and more aggressive look than the outgoing truck, even in the more basic entry-level models, thanks to a more forward front axle and a lower stance. The tailgate is a perfect place to lean while framing photos of the ocean; the textured step cutouts that support an easy climb up to the bed are also a convenient place to temporarily set down a snack.
All the fanfare over new, affordable, compact unibody pickups has, by proximity, cast a similar glow over the sometimes-overlooked midsizers: the Canyons, Frontiers, and Rangers of the world. In other words, it's the perfect time for a full redesign of the Chevy Colorado, which offers something close to full truck functionality (at least in terms of performance and robustness) without the price or size commitment of the full-size Silverado. The exterior and interior design, powertrain, and electrical architecture are all new, and combined, they make for an enjoyable driving experience with tons of potential for adventure.
Here's what we learned over a sunny day testing the Z71 and Trail Boss models in the 'burbs, pie shops and desert trails surrounding San Diego.
Four bangers only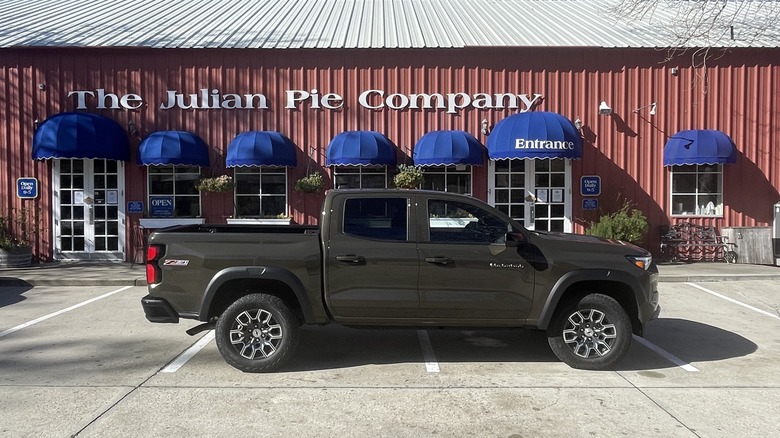 Cherise Threewitt/SlashGear
That's right — the Colorado is available exclusively with a four-cylinder engine for this generation, though fret not, it's been put through the ringer in the Silverado already.
This 2.7-liter turbocharged engine is available with three outputs, all paired with an 8-speed automatic transmission. The base engine starts off with 237 hp and 259 lb-ft of torque, while the Turbo Plus gets tuned for 310 hp and 390 lb-ft. Finally, the Turbo High-Output — intended specifically for the ZR2 — boasts that same 310 hp but cranks the twist up to 430 lb-ft.
Here's the cool thing: since the difference between the Turbo Plus and High-Output engines is controlled through software, Chevy hints it's possible that in the future Colorado owners might be able to upgrade power by visiting a dealer for a quick flash. Here's another cool thing: if there's enough interest, this four-banger might be available as a crate engine.
Worried about towing with a turbo-four? Don't be. The new electric water pump is much more resistant to wear and tear than a mechanical unit, Chevy says. Worried about just, well, driving a truck with a turbo-four? We can't help you there, other than to point out both that this engine has more performance potential than Chevy's current V6 and turbo-diesel units, and to advise you to get over it.
Colorado design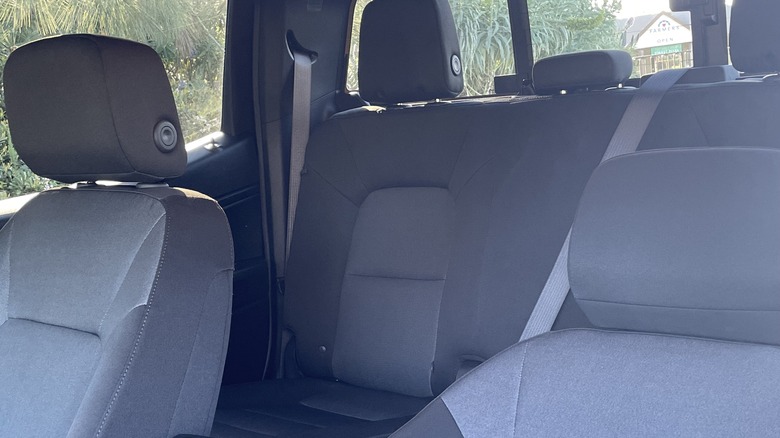 Cherise Threewitt/SlashGear
The Colorado's design incorporates a couple of best-in-class specs, like 17 tie-downs and a tie (with the Nissan Frontier) for towing capacity, at a maximum 7,700 pounds. The Trail Boss model has a unique front fascia and a removable front air dam that yields a better approach angle. The bed features cutouts for motorcycle wheels and the tailgate has a partial close point to accommodate or help support longer items; the tailgate itself features a segment-exclusive storage cubby hidden inside, and the top pays homage to the Colorado and its sibling, the GMC Canyon, with a mountain range pattern across the top. 
Most of these details, Chevy emphasizes, are to improve functionality. Not the indentations on the wheel arch cladding, though: Colorado designer Sam Zhao says those are just for show.
These thoughtful touches carry over inside, for the most part. We love the giant water bottle holders in the doors, the wide armrest that accommodates both front occupants, the easy-reach controls, and the great vision to the front and sides. In the Z71, the textured upholstery on the front of the dash with contrast trim dresses up the inevitable textured plastic across the dash top and sides; the Trail Boss we tested was kind of bland inside, though Chevy says that's deliberate. Even when the fabric is dull, the tech-heavy interior feels fresh and modern, with a crisp 11.3-inch infotainment display and tons of features like off-road performance tracking, various camera displays, and towing assists.
Five models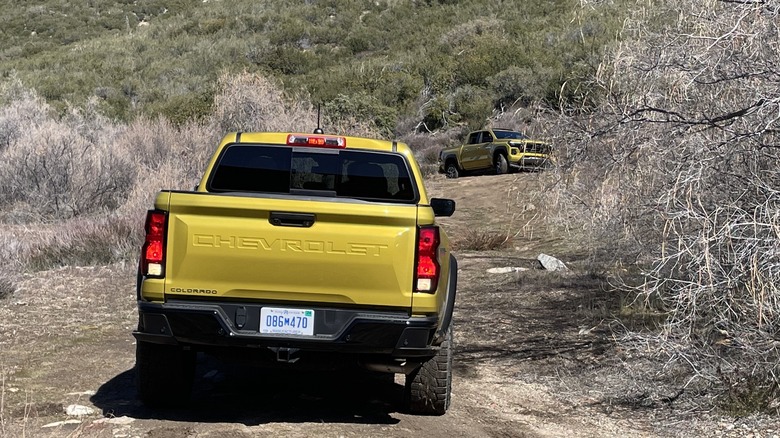 Cherise Threewitt/SlashGear
The Colorado runway features a familiar cast, though the Trail Boss nameplate makes its first appearance here this year. That model slots in the middle of the lineup, with the utilitarian WT (Work Truck) and LT beneath, and the showier Z71 and ZR2 in the spotlight.
The WT, often perceived as fare best left for fleets or contractors, suits those needs just great but is also a good choice for buyers who have grand plans for a more tailored, bespoke truck. With few options or features, aside from a solid suite of safety and driver-assist tech, it's a comfortable driver that won't require customizers to spend lots of money on parts they'll only end up removing. The LT builds on the WT with just slightly more upscale components such as keyless entry and push-button start. These models both come standard with 17-inch wheels, the base engine, and rear-wheel drive, and can be upgraded with either or both the mid-range engine and four-wheel drive.
The Trail Boss adds the mid-tier engine, gloss-finished 18-inch wheels with all-terrain tires, a two-inch lift and upgraded suspension, and standard 4WD. It's basic inside and out, but provides a comfortable ride to the trailhead.
The Z71 gets fancier, and ZR2, fanciest. Both get LED lighting and upgraded interiors, though the Z71 retains the mid-tier engine. The ZR2 gets the high-output engine, along with other amenities like the storage tailgate, heated front seats, 17-inch wheels with mud tires, and electronic locking front and rear differentials. The ZR2 Desert Boss Package tacks on an exclusive front fascia and bumper, 17-inch beadlock-capable wheels, a roof-mounted light bar, and an underbody camera system.
Bounce house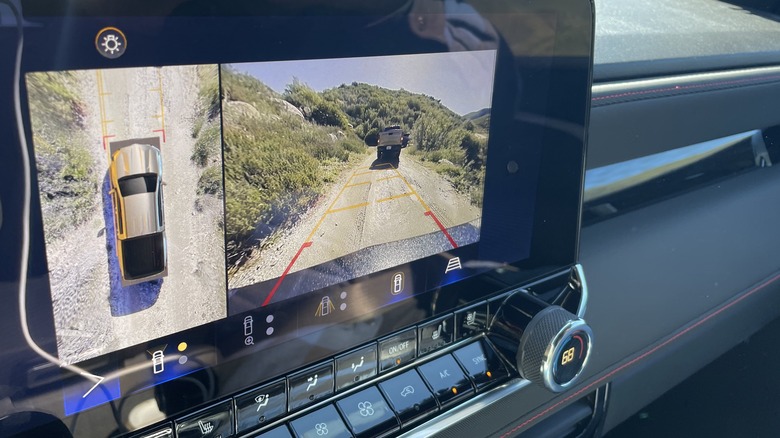 Cherise Threewitt/SlashGear
For all those steps and hand-holds that provide support when it's necessary to perform various gymnastics along the exterior of the Colorado, the cabin is curiously lacking in similar infrastructure. That's fine most of the time; the Z71 and Trail Boss models we tested were comfortable and smooth on pavement (and, notably, nearly indistinguishable in driving dynamics despite the differences in ride height, wheels, and rubber).
On the trail? That's another story. Glad I wore a sports bra.
I've driven enough off-road courses of varying degrees of difficulty to know I'm going to get banged up a bit — I've even asked friends to take videos of certain excursions so I can show my husband the source (seat belts) of the abrasions across my chest and neck. We tested the Colorado on a pretty tame trail in the desert outside San Diego and it was a similar story. In the driver's seat, no problem — hands on the wheel, one food braced against the floor and the other working the brake and throttle — easy peasy. In the passenger seat? Yikes.
It's hard to fault the Colorado's design, off-road hardware or systems, or other mechanicals here; it was simply behaving as a truck behaves when it's being driven like it's in a commercial. There just aren't any grab handles. There are none on the driver's side, and the passenger gets just one on the a-pillar, where, if I'd slid my seat up far enough to reach, my knees would have been battered to shards on the dash.
Anachronisms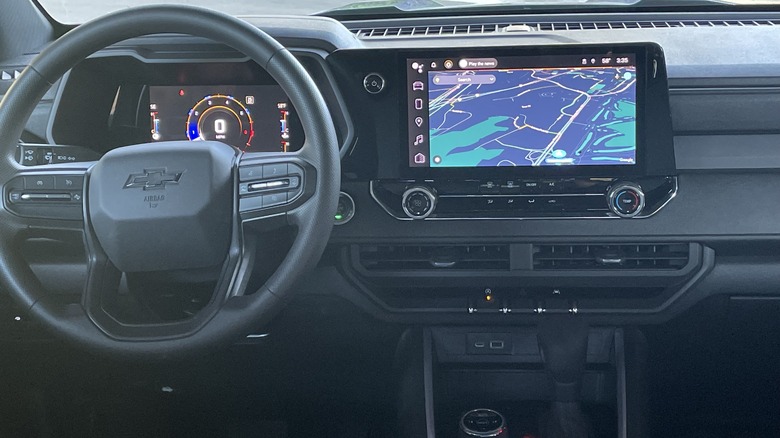 Cherise Threewitt/SlashGear
This leads us to the Colorado's few flaws. Regarding the grab handle observation, Chevy reps on site gave a shrug and a nod with no effort to defend what is almost certainly a bean-counter's decision rather than an oversight; we personally wouldn't be surprised if they quietly appear in a mid-cycle refresh a couple years down the road. Sure, most Colorado buyers probably won't off-road, but it's not a cheap truck and it seems like a bad idea to save a few bucks by letting owners struggle to get in and out. Especially, again, considering the level of thought and detail paid to exterior access.
Chevy reps told us the off-roading interface was intuitive; we'd disagree. The dial to select drive modes doesn't illuminate to show which mode you're in; the infotainment display changes as the dial scrolls and may or may not stay on what you selected (or, in our case, thought we selected); and the mode might show up on the instrument cluster. Or not. No doubt you'd get the hang of it if it was your truck, but for our purposes, we just wanted the drive mode and drive type illuminated to confirm our selections, like you'd find on nearly any other vehicle equipped with such systems.
And, while it's not a flaw, specifically, but perhaps better described as a design oddity — when's the last time you saw a prominent whip antenna on a brand-new vehicle? That poor element looks as dated as an aux-in jack.
Pricing and availability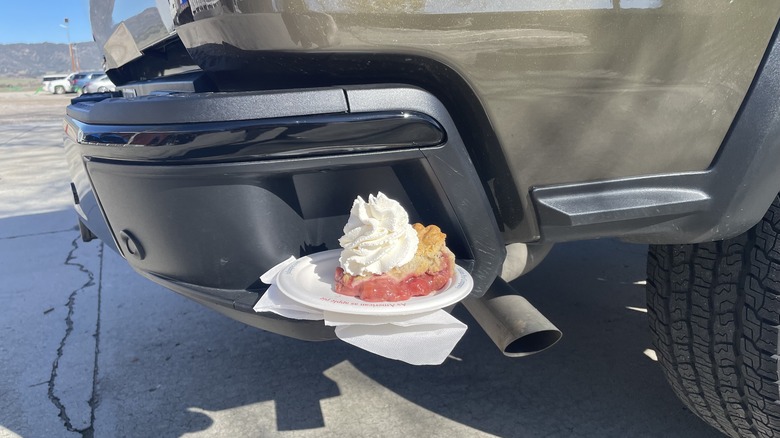 Cherise Threewitt/SlashGear
The 2023 Colorado is exclusively available with a crew cab and short box configuration with room for five passengers. When it hits dealerships by the spring, it'll start at $29,200 for the base WT model, which is competitive with rivals like the Toyota Tacoma and Ford Ranger (for the purposes of more accurate comparison, we're leaving the unibody compact pickups out of this; they're a thing of their own). The LT, at $31,600, adds some creature comforts. Budget another $3,300 or so to upgrade the WT or LT from rear-drive to 4WD.
The three top trims include 4WD. The Trail Boss starts at $37,000, Z71 at $39,900, and ZR2 at $46,800. Note that these prices are based on Chevy's press briefing and are a little lower than the prices on Chevy's website at the time of publication. Across the lineup, Chevy tacks on another $1,495 for the destination charge.
The sticker price for the Z71 test car provided for most of this review was $48,730, which includes the destination charge, a sunroof, a technology package and two convenience packages with a ton of creature comforts (bringing the Z71 close to or at "fully loaded" status), plus the trailering package and underbody trail camera package. If you're going to budget this much for a Colorado, at least check out the ZR2 for comparison first — we can't wait until we get that opportunity ourselves.