2023 GMC Canyon AT4X Gets More Lift, More Width, More Off-Road Talent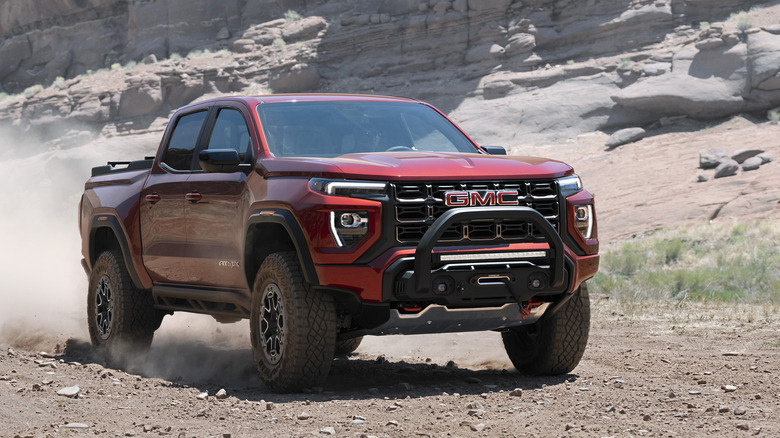 GMC
Designed for fans of uncompromising pickups that aren't necessarily outsized, General Motors will soon be offering a significant off-road improvement over its previous GMC Canyon models in the shape of a 2023 midsize pickup, which also shares some DNA with the 2021 GMC Canyon AT4 Overland and the 2022 GMC Sierra.
Unveiled on August 11, 2022, the 2023 GMC Canyon AT4X doesn't stray too far from a familiar formula for the brand. Dubbed "the official vehicle of nowhere" by GMC, that means a burlier exterior, a standard factory lift, and a widened track. However it pairs that with plenty of technology, too, plus a revamped interior design.
It's the first in the Canyon series to receive the AT4X trim, which originated with the 2022 GMC Sierra. As we noted in our first drive of that truck, the AT4X trim provides significant upgrades to the grille, chassis, interior, and engine, and in fact left the Sierra a potential contender against the all-powerful Ford F-150 Raptor. 
AT4X is an upgraded version of the AT4 trim, with the ultra-wide track equipped with 33-inch mud terrain tires, as well as multimatic DSSV shocks for improved suspension damping. The trim also gets underbody cameras that can view both in front and behind the truck. In all, there are up to 10 cameras that can track off-road performance, which is displayed to the driver on dashboard screens
Canyon AT4X starts at around $63,350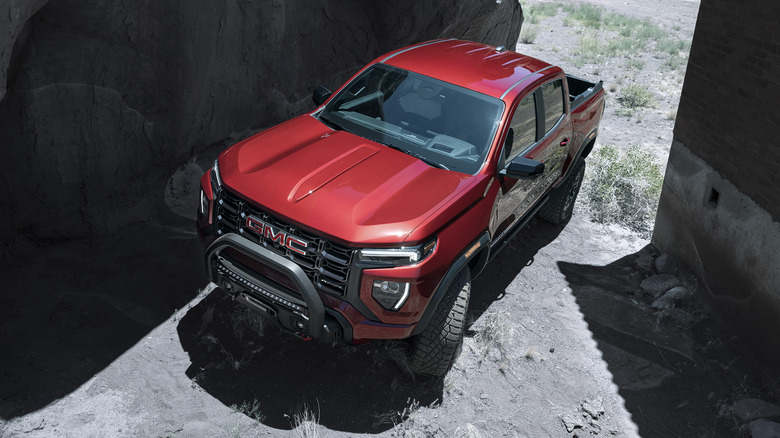 GMC
The 2023 GMC Canyon AT4X is armed to the teeth with technology, but it also features the raw size and horsepower to shred its way through most off-road environments. It packs GMC's 2.7-liter turbo engine that can pull 430 lb-ft of torque, combined with differentials that are equipped with e-lockers that can lock both the front or back wheels when needed.
In comparison to the previous Canyon models, GMC has given the 2023 AT4X trim a much taller and wider exterior, and as a result you'll be able to sit higher in the interior cabin.There'll be five different driving modes, though the one you'll probably really want to play with is the Baja Mode, which is exclusive to the AT4X trim and is balanced "for high-speed off-road driving". You'll also get to play with Terrain Mode for navigating rocky and otherwise unpleasant terrain at a slow pace, a standard Off-Road Mode, a Normal Mode for street and road driving, and a Tow Mode that does exactly what it sounds like.
If that already sounds like a day of fun in the desert sun, it might get even better once you hook your favorite tunes into the built-in Bose audio system through the car's standard Android Auto or Apple CarPlay. While there's no formal release date set, GMC says that the truck is scheduled to go into production sometime in spring 2023. You can currently reserve a first-edition 2023 GMC Canyon AT4X from the GMC website, starting at $63,350 plus destination.