2023 Chevrolet Colorado Focuses Its Upgrades Where They Matter Most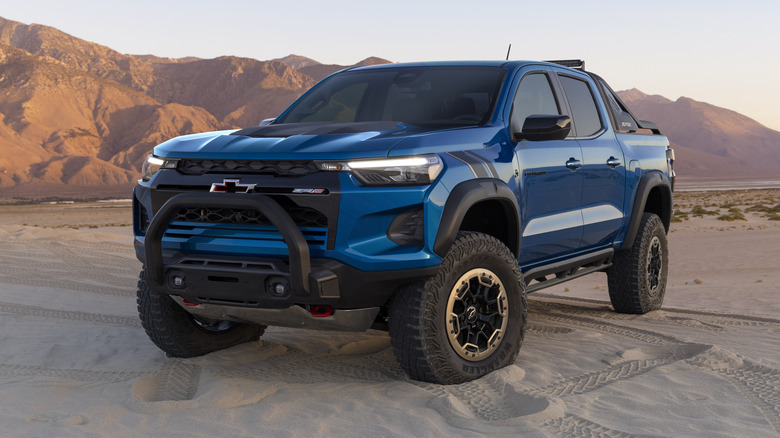 Chevrolet
Chevrolet's midsize truck is getting a big makeover, with the 2023 Colorado streamlining its engine options, adding practicality and tech, and introducing more off-road choices including a new Colorado Trail Boss. It's Chevy's attempt to push back at strong competition — from rivals old and new — in a segment that has seen considerable growth.
It's been a particular success for Chevrolet, and not just in outright sales. The hope, when the automaker first launched the US-spec Colorado back in 2014, was that it would bring new customers to the brand rather than cannibalize existing Silverado owners. That not only turned out to be the case, but Chevy says that in fact there is minimal interaction between the two, with few Colorado owners choosing to step up to the larger truck.
Instead, the focus with the 2023 Colorado is to give midsize truck buyers more options: particularly if they're in the market for a sportier, off-road pickup. There'll be five versions, from the Work Truck (WT) and LT, through the familiar Z71 and potent ZR2 trims, and for the first time a Trail Boss, too.
More rugged styling means more off-road talent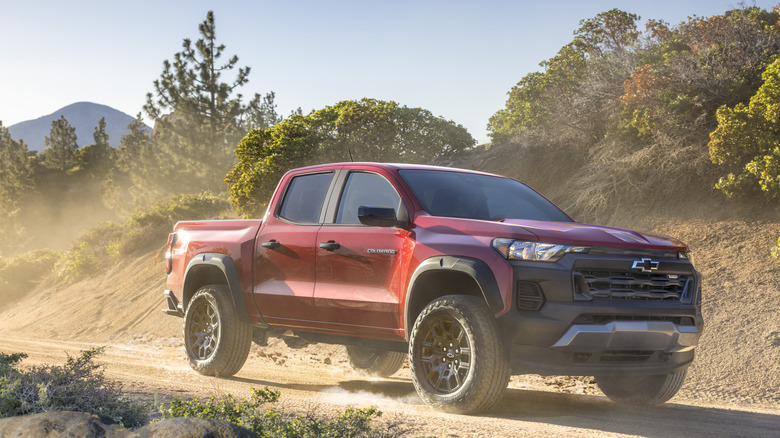 Chevrolet
All five will feature different exterior styling, but the core changes are the same. Chevy has extended the wheelbase by over three inches and trimmed the front overhang, aiding both aesthetics and front approach angle performance. The front axle has shifted forward, while the rear shocks have been repositioned outboard, so as to better protect them during off-roading activities.
The result is up to 38.3 degrees of off-road approach angle, up to 25.1 degrees of departure angle, and up to 24.6 degrees of breakover angle, trim depending. There's also up to 10.7-inches of ground clearance.
For those numbers, you'll need the top-spec 2023 Colorado ZR2. Given that there's an appetite for off-road looks even among drivers who don't necessarily require the performance, however, Chevrolet is adding the Trail Boss to the line-up. That tops out at 30.5 degrees approach angle, 22.4 degrees departure angle, and 21 degrees breakover, and 9.5-inches of clearance, but still gets the burlier design cues and — borrowing from the already-successful Silverado strategy — will be more affordable than the ZR2.
A simplified engine line-up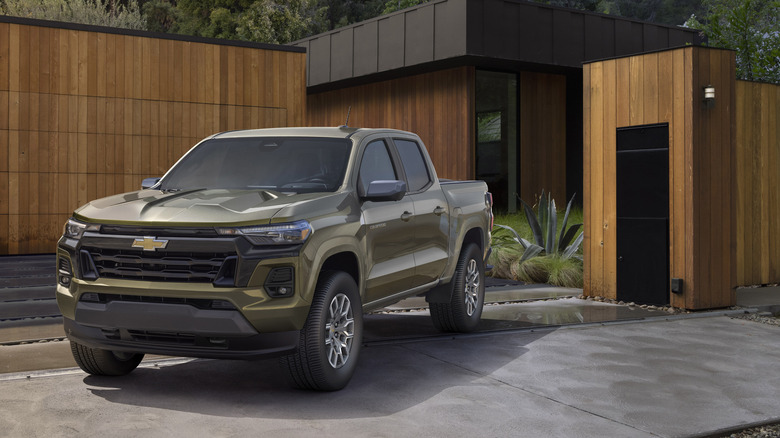 Chevrolet
Gone is the old, three-engine line-up from the previous-generation pickup. For the 2023 Colorado, Chevrolet has standardized on just one engine, the 2.7-liter turbocharged four-cylinder, albeit with three levels of tune. The Work Truck and LT trims get 237 horsepower and 259 lb-ft of torque, with an 8-speed automatic transmission as standard, and a 3,500-pound tow rating.
The 2.7 Turbo Plus — optional on the WT and LT, and standard on the Z71 and Trail Boss — increase that to 310 horsepower, 390 lb-ft of torque, and 7,700 pounds of trailering capacity. Finally, the 2.7 Turbo High-Output, standard on the ZR2, increases torque to 430 lb-ft.
While diesel fans may be disappointed to see the Duramax option retired, Chevy's argument is that its flexible 2.7T offers the best of all worlds when it comes to torque, economy, and trailering. There's also automatic cylinder deactivation, trimming the engine down to just two cylinders for economy reasons, though we'll have to wait until closer to launch to find out the actual EPA numbers.
Trail Boss and ZR2 Desert Boss add mud cred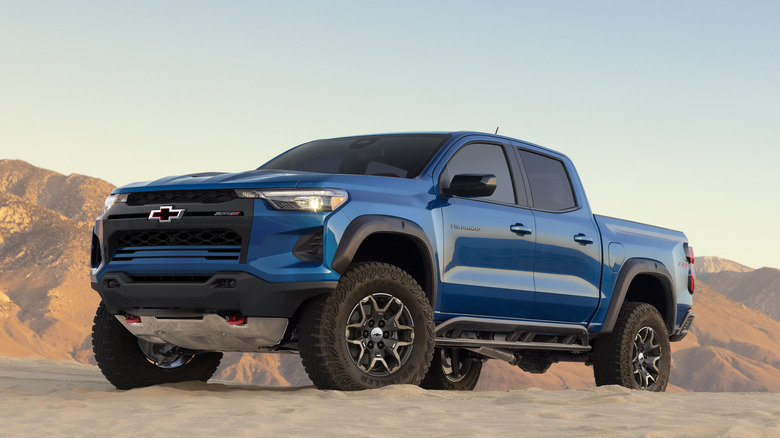 Chevrolet
2WD and 4WD variants will be available on the WT and LT; the Trail Boss, Z71, and ZR2 will be 4WD only. There'll be a number of drive modes, model- and drivetrain-depending, accessed with a new dial in the center console. That includes five drive modes for different on- and off-road surfaces, along with controlling the Auto/4x4 switch, together with Tow/Haul.
The Trail Boss gets 2-inches of lifted suspension, a wider chassis, and a 3-inch wider front track. For the 2023 Colorado ZR2 specifically, there are Multimatic DSSV passive dampers as standard, along with power-locking front and rear differentials. There are also special cast-iron control arms, a 3.42 ratio rear axle, and extra underbody protection with an aluminum skid plate and transfer case shield, plus rocker panel protection.
The ZR2 Desert Boss package, meanwhile, upgrades the ZR2's standard 17-inch wheels (with 33-inch mud/terrain tires) to headlock-capable versions. There's also a new off-road bumper, sports bar with sail panel, and roof light bar.
A huge tech upgrade in the cabin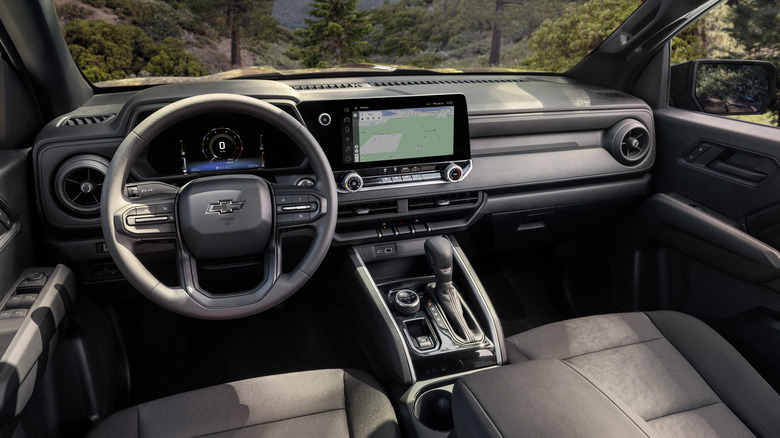 Chevrolet
It's the inside, arguably, where the 2023 Colorado really levels up. The outgoing truck was sturdy but uninspiring, and felt like it made do with the leftovers from Chevy's infotainment parts bin. With a standard 11.3-inch touchscreen, this new model instantly takes a leap ahead.
It's running a custom Android-based OS, with wireless support for both Apple CarPlay and Android Auto, and native Google Maps and Google Play access. There's a new Off-Road Performance Display, which shows metrics like vehicle altitude, pitch, roll, tire pressure, g-force, wheel slip levels, and transfer case status. Hitch Guidance is standard, while Hitch View is now available.
That's not the only tech introduction. The Chevrolet Trailering App is available too, along with up to 10 camera views — including, on the Z71 and ZR2 — an optional underbody camera for off-roading. Wireless charging is available, with an oversized pad to accommodate larger phones (or phones in chunky cases), while dual-zone climate control with rear vents is also available.
One bed option, but more flexibility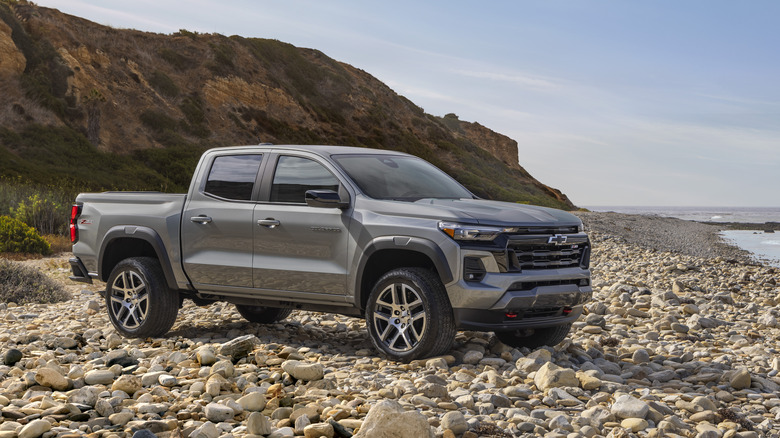 Chevrolet
Compared to the rugged WT and Trail Boss interiors, the LT adds softer trim and silver detailing. The Z71 kicks that up with a sportier theme, adding black and red accents to the cloth/leatherette surfaces. The Z71 and ZR2 can be had with red or yellow seat belts now, too, while the 4WD LT, Z71, and ZR2 can have a sunroof added.
Behind the cab, the standard 5-foot 2-inch bed — the only option, with the Crew Cab, that Chevrolet will be offering for this new Colorado — also gets some upgrades. There are eight fixed tie-downs and up to nine additional accessory ones, plus four stake pockets on the top of the bed, six 2 x 6-inch in-bed pockets, and four 2 x 8-inch in-bed pockets. The front bed wall has two tire grooves for motorcycles or bicycles.
The tailgate can be fixed at a halfway position, supporting up to 500 pounds, and there's a new storage option with a lidded box built into it. Sadly, Chevy's clever MultiPro Tailgate won't be offered. Options include a 110V outlet, remote tailgate locking and unlocking, and a spray-in bed liner.
Chevrolet misses out one obvious upgrade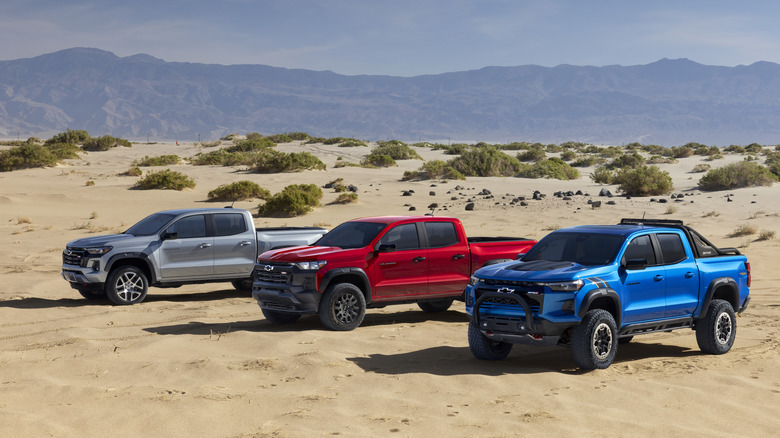 Chevrolet
Standard active safety features include forward collision alert, auto emergency braking and front pedestrian braking, lane-keep assistance with departure warnings, and auto high beams. Options include blind spot steering assist, rear cross-traffic braking, adaptive cruise control, and rear pedestrian alert. There's also an available 360-degree camera.
Despite the tech upgrade, there are still some lingering omissions. The biggest is arguably Super Cruise, which Chevrolet has begun to offer on select models, but which is still missing from the 2023 Colorado. Considering how impressive the latest iterations of the hands-free driver-assistance technology are — including support for automatic lane changes and trailering — that seems like a missed opportunity.
Production of the 2023 Colorado begins sometime in the first half of 2023, Chevrolet says, at its Wentzville, Missouri assembly facility. Pricing will be confirmed closer to that point, though the outgoing 2022 Colorado currently begins just north of $25k.