2022 Toyota Tundra Review: Better In Almost Every Way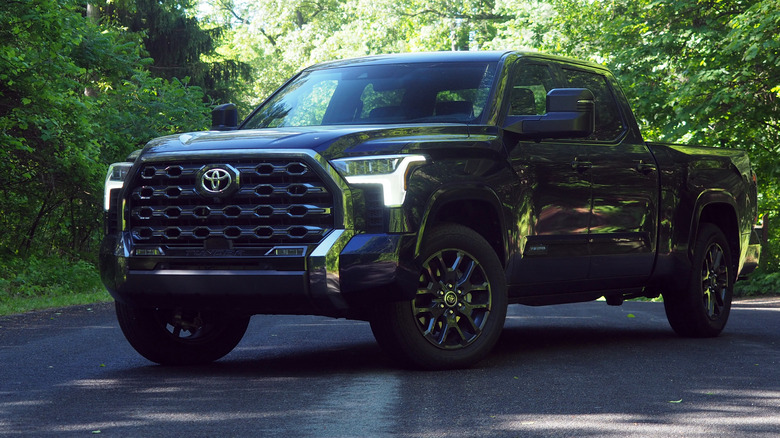 Chris Davies/SlashGear
The 2022 Toyota Tundra had a lot of ground to make up. Its predecessor felt dated five years ago, much less in the face of more modern, capable, and tech-savvy alternatives from Chevrolet, Ford, and Ram, and today, the truck buying audience has never been more demanding. With pickup sales still skyrocketing, compromise simply cannot be on the menu.
Updates, revamps, and general massaging had left the outgoing Tundra looking pretty fresh still, at least, particularly in TRD Pro form. This new 2022 version picks up from where that left off. The grille has hopped aboard industry trends and increased in size, its chainmail-style mesh emphasized by a ring of chrome that extends — handlebar mustache style — down into the front bumpers.
It's cleaner overall than the old Tundra, and certainly isn't short on presence — even if things get less dramatic from the side and rear views. Pricing is aggressive, too, kicking off at $35,950 (plus destination) for the SR trim, $47,550 for the Limited, and $57,690 for the Platinum you see here. Like the rest of the truck industry, Toyota has embraced the idea that pickup buyers are willing to spend big if the opportunity is there: A 2022 Tundra TRD Pro starts at $67,505, while the most lavish Capstone trim begins at $74,230.
Focusing on the essentials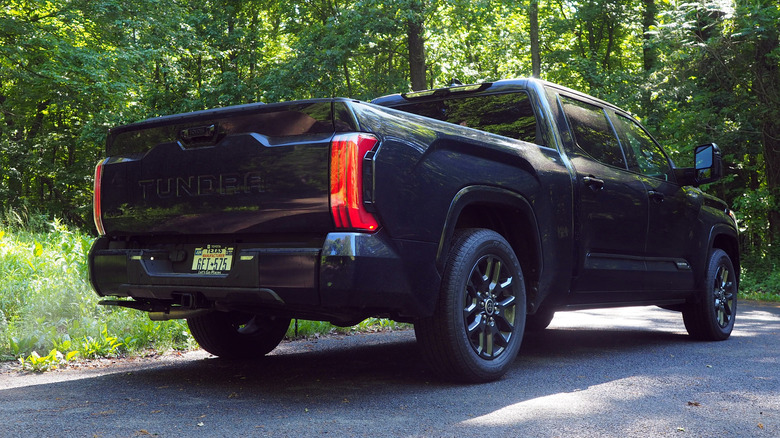 Chris Davies/SlashGear
As pickups go, the 2022 Tundra focuses on the essentials. There's a choice of two cabs — a Double and a CrewMax — and three beds, measuring in at 5.5 feet, 6.5 feet, and 8.1 feet. Not all can be combined, unsurprisingly, though all three get a sturdy composite liner as standard, four adjustable tie-down cleats, and several fixed points too. Higher spec trims get power fold-down running boards and a cute (but sturdy) pop-out rear step to help you clamber up into the bed.
It also means that, if you want some of the bells & whistles that truck owners have gradually been spoiled with, you may need to look elsewhere. There's a single, optional 120V/400W AC bed outlet (which comes with a matching outlet in the second row inside), but none of the run-a-whole-worksite onboard generator magic that, say, the F-150's Pro Power Onboard system provides. The tailgate is, well, a tailgate: there aren't trick steps and flaps that unfold like origami, like a Silverado's Multi-Flex system.
Depending on trim and equipment level, the Tundra is rated to tow between 8,300 and 12,000 pounds. Payload capacity ranges from 1,745 to 2,290 pounds. They're solid figures, albeit short of class-leading, though I suspect more than high enough for what most owners have in mind.
A much-needed dashboard reinvention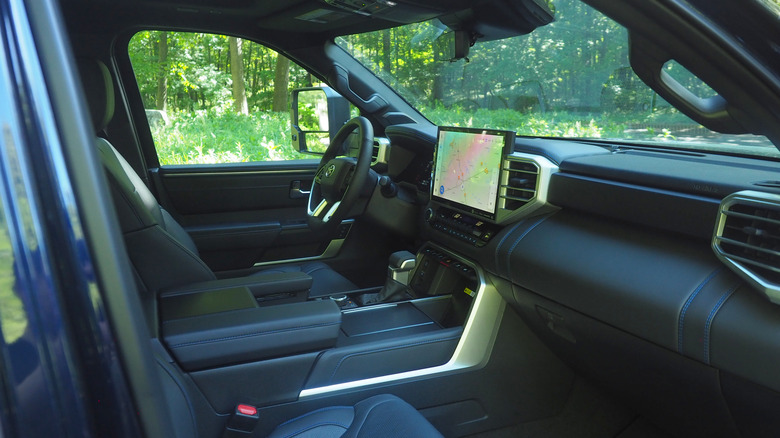 Chris Davies/SlashGear
Toyota's dashboard upgrade for the 2022 Tundra is a night-and-day change over the outgoing truck, addressing just about all of my complaints from the 2021 pickup. Gone is the pokey little central touchscreen — replaced, on this Platinum trim, by a vast 14-inch landscape display running the new infotainment platform Toyota shares with Lexus – while the embarrassingly diminutive cluster screen is ousted in favor of fully-digital gauges. There's even a head-up display.
Of course, not all Tundra trims get such fancies. The standard binnacle pairs analog dials with a far smaller, 4.2-inch color screen; trucks without the massive infotainment touchscreen make do with an 8-inch panel instead. You still get wireless Apple CarPlay and Android Auto, though, along with SiriusXM and Toyota's much-improved voice control system. The old Tundra felt archaic from behind the wheel, but the new one is far more competitive.
It's also comfortable. The old Tundra was lavish in all directions, and the new one continues that trend. No shortage of headroom or legroom in either row, and there's a sizable storage box under the rear bench. A big cubby in-between the front seats has some useful sliding trays to keep smaller items separate, though a little more rubber lining would help avoid rattling.
No BEV, but a V6 and an optional hybrid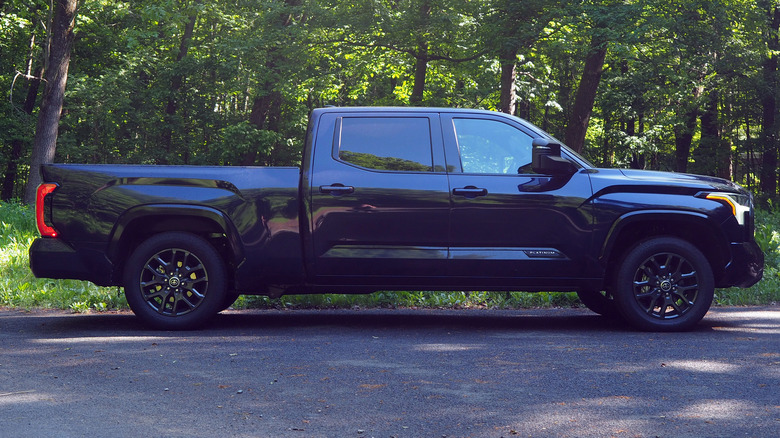 Chris Davies/SlashGear
Toyota may not have an all-electric truck, but for 2022 the Tundra says goodbye to the V8 and hello to a hybrid option. Standard is a 3.5-liter twin-turbo V6 with 348 horsepower and 405 lb-ft of torque; Toyota also offers a tuned version with 389 horsepower and 479 lb-ft. Either way there's a smooth and swift 10-speed automatic and, while 2WD is standard, 4WD is an option.
Finally, there's the i-FORCE MAX hybrid. That combines the same V6 with electrification, for a total of 437 horsepower and 583 lb-ft of torque, with a diminutive 1.87 kWh battery driving the electric motor-generator. It's not, as you might have guessed, a plug-in hybrid (PHEV); instead, the Tundra claws back energy that would otherwise be wasted when the truck is slowing, and uses that when you need more grunt.
While V8 fans may mourn, the twin-turbo V6 is no slowpoke. It leaves the Tundra fast to accelerate, and there's little in the way of turbo lag; surging ahead from stop lights, or taking advantage of overtaking opportunities, are both easily achieved. With the right package, the standard Eco, Normal, Tow/Haul, and Sport drive modes are upgraded with Comfort, Sport S, Sport S+, and Custom. As well as tweaking throttle and transmission mapping, Tundra with the optional adaptive variable suspension and load-leveling rear height control air suspension also adjust their settings depending on that mode.
Comfortable to drive but tricky to see out of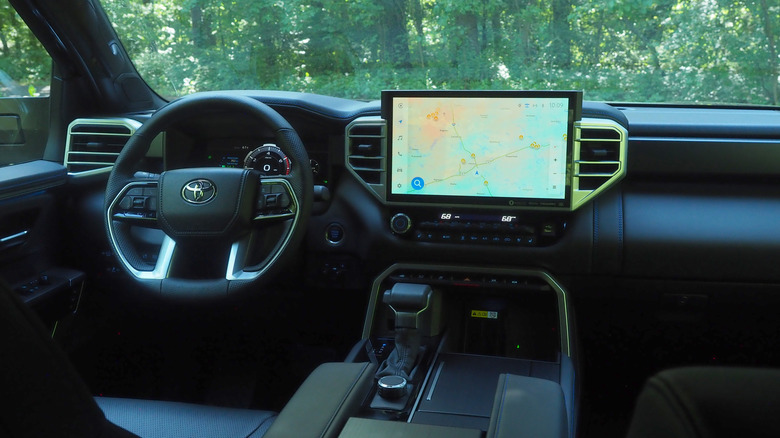 Chris Davies/SlashGear
Behind the wheel, there's no denying that this is a big truck. The driving position is high, but the new Tundra's sizable A-pillars and huge side mirrors conspired to limit visibility. I'm 5'8, and with the seat at the right position, I'd lose whole side-roads from the location of the chunky mirrors. Toyota doesn't offer adjustable pedals, either, which I've found can help with sightline flexibility in other full-size trucks.
At slower speeds, the 360-degree camera proved more than a little useful. The Tundra isn't alone in having a big, upright grille — and there's definitely a discussion to be had about how aesthetics in trucks generally leave pedestrians and cyclists at a disadvantage — but the slab-sided proportions meant the surround-view system definitely helped with maneuvering. Toyota includes a big, easily-located button to summon that camera too, far better than the mass of smaller controls still clustered down to the left of the steering wheel.
As for highway driving, Toyota's suspension upgrades leave the new Tundra a far more pleasant place to be on extended runs. Gone is the jostle and bounce of the old truck, and its shouty manners — or lack of — for that matter, too. In place is a reasonably hushed cabin and a settled ride, while corners no longer feel like a recipe for instant lean and the steering has a nice level of weight to it.
The thirst is real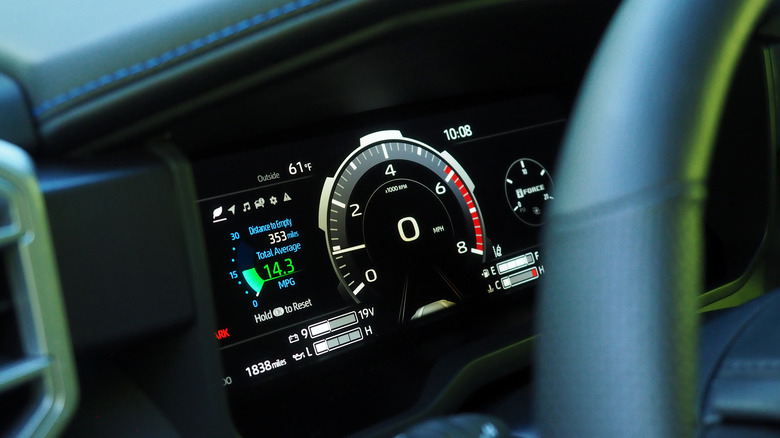 Chris Davies/SlashGear
On paper, the twin-turbo V6 should be more frugal than the outgoing Tundra's V8. According to the EPA, the 2022 truck should manage up to 22 mpg on the combined cycle in 2WD form, or up to 19 mpg for the 4WD version. That's compared to 15 mpg or 14 mpg for the 2021 Tundra 2WD and 4WD, respectively.
In practice, though, I saw just over 14 mpg based on a mixture of highway and urban driving. For a full-size truck that's probably not too ridiculous — though given current fuel prices, it's certainly enough to make you wonder if you really need all that space and capacity each and every day you hit the road — but it's worth noting that I hit close to 16 mpg with similar use of the 2021 Tundra last year. That was with the off-road-focused TRD Pro package, too.
2022 Toyota Tundra Platinum Verdict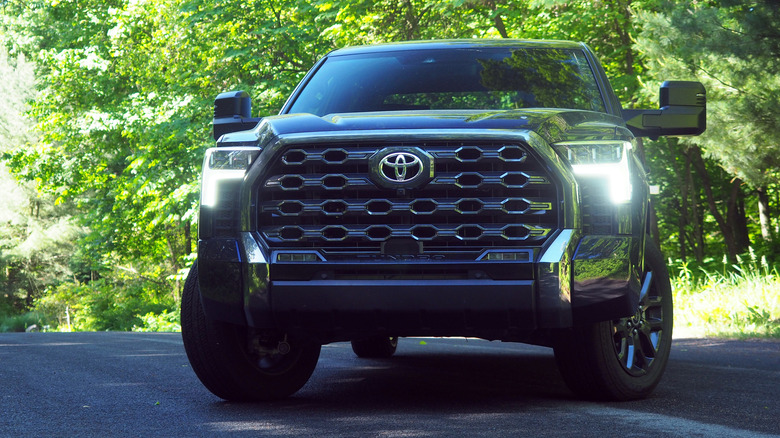 Chris Davies/SlashGear
Running costs aside, it's hard not to be impressed by just how much of an improvement Toyota has made with the 2022 Tundra. More refined to drive, yet more capable; a cabin that can hold its own in design, materials, and technology to what Ford, Chevrolet, and Ram are putting out there. Plus a drivetrain that, though V8 stalwarts probably won't be pleased to hear it, more than makes up for the absence of two cylinders. If the old truck was playing to existing fans, this new version has more than enough to win over some new converts. 
If there's something missing, it's the bleeding-edge sparkle that rivals have been experimenting with. Something to rival Ford's expansive onboard generator options, or Chevy's Super Cruise; something that — beyond a great infotainment upgrade — puts Toyota's tech on the map. The new Tundra is good, but the full-size truck category in 2022 is great.
That's not to say there's not a place for a capable and comfortable pickup that nails the essentials. The 2022 Tundra demonstrates that Toyota knows what works in the truck world, and that it can deliver that competitively.