Lexus Interface Review (2022): A Long-Overdue Infotainment Upgrade
Chris Davies/SlashGear
Trying to find something automotive media collectively agrees on is generally a recipe for frustration (and arguments; so, so many arguments) but the hair-tearing awfulness of the Lexus infotainment system has consistently been a safe topic. Bland bordering on outright ugly, its numerous menus and options are navigated by a touchpad experience that would be underwhelming on a $300 laptop. Factor in the sad-robot bloops as you scroll around, and it's no real surprise that the system crops up in the "Cons" column of most Lexus reviews.
It's related, of course, to Toyota's infotainment system, but somehow Lexus' version is all the more galling. Probably because it's found in cars that command price tags that are two, three times more expensive than their Toyota cousins. I'll stomach uninspiring graphics in a $22k Corolla, but the non-touch display and fiddling trackpad you get in a $101k Lexus LC convertible is a lot tougher to wave through.
Indeed, beyond a few other mechanical odd decisions, Lexus' dashboard software has long been the biggest drawback to picking a car or SUV from the brand. It's not to say the absence of a touchscreen needs to be a dealbreaker, period: see, for example of how you can make it work far more convincingly, Acura's True Touchpad interface. More that, whether it's Lexus' touchpad or its even more awful little joystick, the implementation just didn't live up to the rest of the car.
It's a dashboard war, and Lexus was losing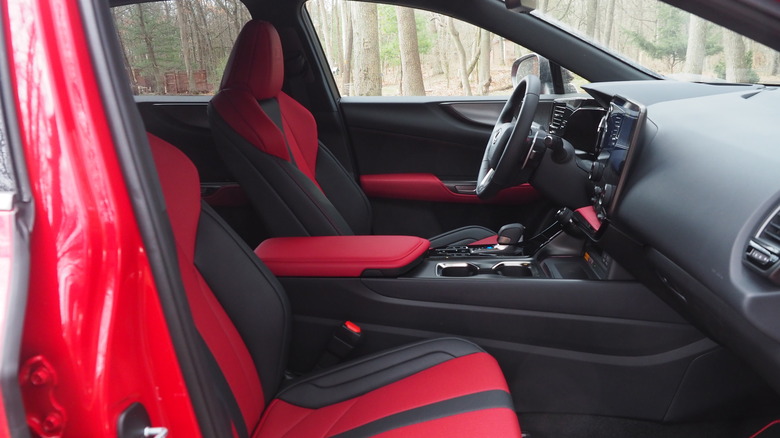 Chris Davies/SlashGear
That was a problem, especially when Lexus' rivals were generally rising to the infotainment challenge. The inroads being made by Apple and Google — both of which have been more than eager to supplant native software with their own smartphone projection systems and, more recently, with dedicated platforms such as Android Automotive OS — undoubtedly lit a fire under the traditional automakers. It's just taken Toyota and Lexus a little longer than some to show their hand.
The end result debuts in the 2022 Lexus NX, a particularly important model for the company to get right. The midsize luxury crossover was Lexus' second best-selling vehicle in 2021, behind only the all-conquering RX. It's a fiendishly competitive segment, and a dreary dashboard experience is enough to send potential shoppers into another dealership. Happily, Lexus' handiwork makes a far better first-impression.
Finally, a touchscreen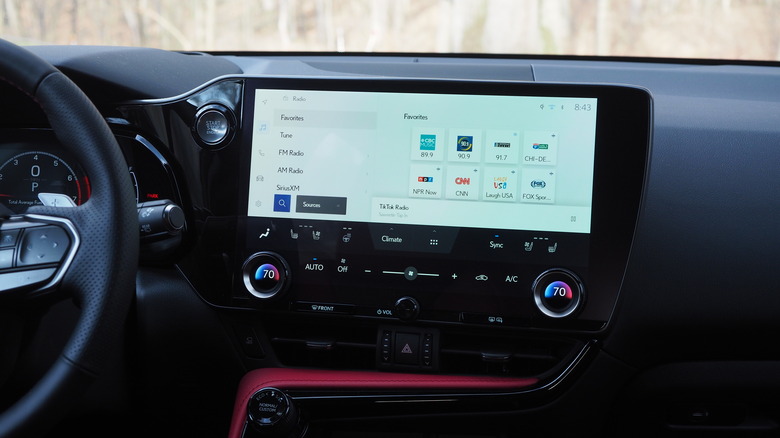 Chris Davies/SlashGear
For a start, the Lexus Interface multimedia system — to give it the full, official name — finally embraces the touchscreen. It's a decently-sized one, too: 9.8-inches as standard in the 2022 NX, but with an optional 14-inch upgrade. Safety advocates may argue about the smartphoneification of the car dashboard, but the reality is that drivers are increasingly used to the concept of being able to reach out and tap an option. It's hard to imagine that trend reversing any time soon.
Just being able to touch an icon rather than remotely swipe to it does not make a car tech system great. Happily, Lexus hasn't simply swapped out its displays and left it at that. Indeed you'd hardly recognize it as being from the same automaker.
Bid farewell to the bland UI, with its gradients that looked like they could've come from an ATM screen. In its place is a fairly minimalistic layout with a persistent column of shortcuts along the left side, and HVAC controls along the bottom.
There's no home screen, as such, a decision which is a little confusing to begin with. Instead, it's expected that you'll jump between the full-screen interfaces for navigation, multimedia, and the like. You can always summon the expanded controls for the climate system with a shortcut at the bottom — though things like fan speed, seat heating and cooling, steering wheel heating, and temperature are persistent — while a Favorites menu learns your most frequently-used controls as well as offering some "Comfort & Control" options like "Max Heat" and "Max Cool" for swifter access.
Physical controls still have a place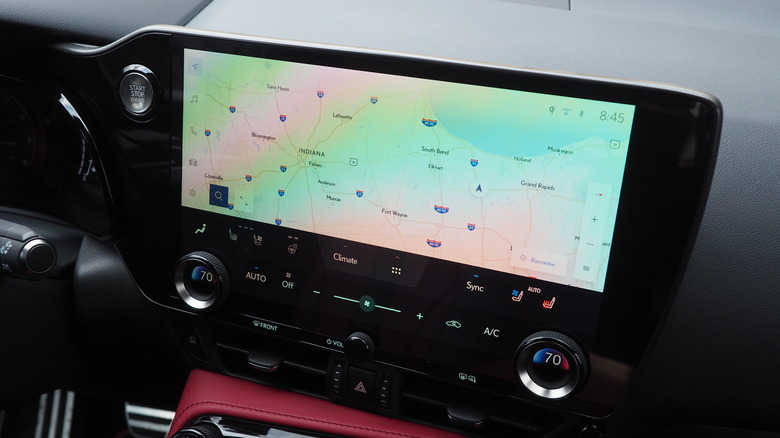 Chris Davies/SlashGear
Interactions are fast and there's no observable lag. Zooming in and out in the navigation app, for example, used to be a lesson in laggardly rendering; now, it's smooth and crisp. The touchscreen itself gets an anti-glare coating, though that's not always successful depending on the strength and angle of the sun.
Happily, Lexus hasn't done away with physical controls completely, even with its much-improved digital interface. There's a physical volume knob, along with buttons for the front windshield defrost, and for the heated rear window and side mirrors. The driver and passenger temperature controls are fancy knobs with displays at their center, too.
If you'd rather use Android Auto or Apple CarPlay, they're both supported, and in their wireless flavors rather than just wired. For regular Bluetooth devices, Lexus Interface will store up to five connections overall, and can have two actively paired at the same time. That's useful if one person wants to supply the soundtrack, while the other can answer calls through the speakerphone.
Touch or talk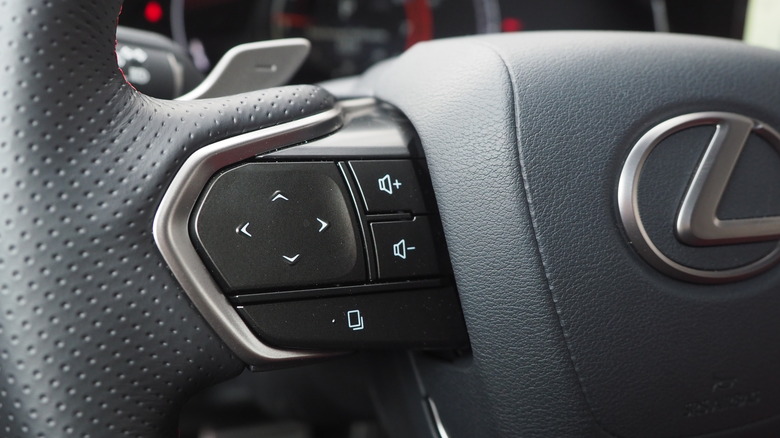 Chris Davies/SlashGear
Lexus' steering wheel controls have also been updated, and — after a little acclimation — they're unexpectedly capable. There's a D-pad on each side, and they work in tandem with the 10-inch head-up display that's either optional or standard, trim-depending. Rather than limit things by etching labels on the pads, or forcing drivers to remember which button does what, stroking them summons a virtual version as an aide-mémoire in the HUD.
Graze the left pad, for example, and you'll see that pressing the Up direction answers or ends a call, the Left and Right buttons skip backward or forward in music tracks, and the Down summons the voice control system.
Alternatively, you can just talk to Lexus Interface. As we've seen with other automakers, Alexa-style voice control brings natural language speech recognition to the dashboard, and generally it works well. Summoned by the "Hey Lexus" wake-word, you can ask for different radio stations, adjust the climate control, and set navigation, among other things. It's usefully granular: you can ask to adjust the passenger-side temperature specifically, for instance.
The promise of OTA updates to come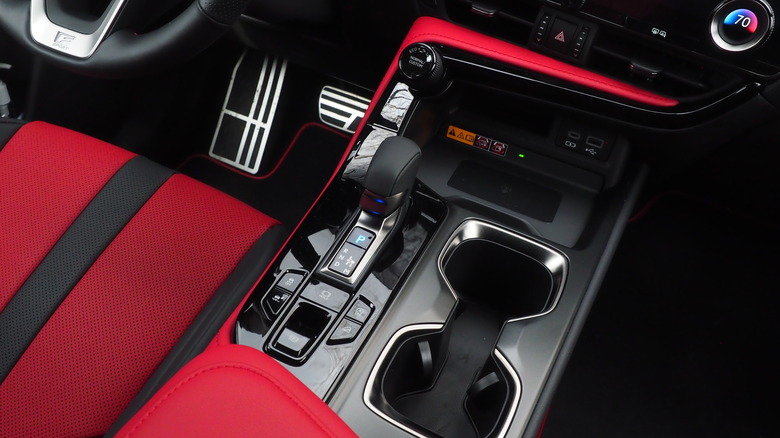 Chris Davies/SlashGear
Building on that is Drive Connect, an optional connected car system that ties Lexus Interface into the cloud. It's standard on the top NX trims, an option on the rest, and adds features like point-of-interest search by voice to the dashboard. You can also request weather forecasts or other trivia.
How much of this will people use on every drive? Perhaps just a subset of it, but there's no denying that it helps bring Lexus' system right back into contention with its primary competitors. It'll potentially help with brand retention, too: the Lexus smartphone app can save configuration settings from the car, storing them in a profile and then restoring them to any Lexus Interface-equipped vehicle. That means media favorites, navigation presets, and more.
The same app also supports remote start and vehicle health reports; Lexus Digital Key will be optional on all trims, turning a phone into a key fob replacement. Down the line, the new system supports OTA updates via the car's standard WiFi connection. We'll have to wait and see, mind, just how generous Lexus actually turns out to be with those updates.
Patience is a virtue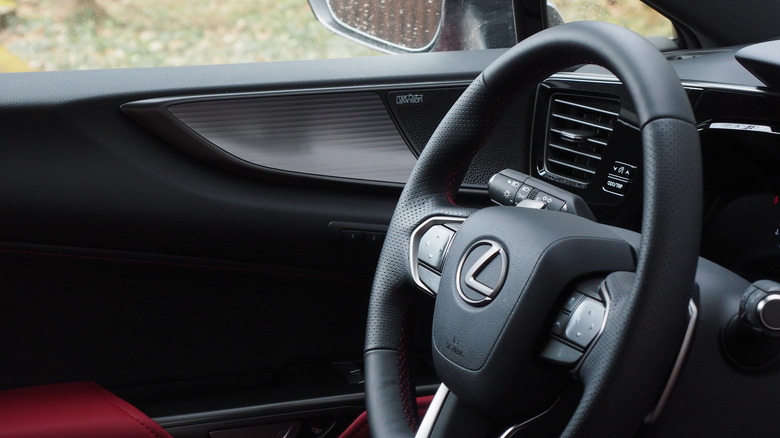 Chris Davies/SlashGear
It's fair to say the car dashboard has become the unexpected battleground for tech in recent years. Automakers have found themselves pinched between expectations set by newer rivals like Tesla, and the ambitions of Google and Apple to colonize infotainment systems with their own software. Factor in an increasingly demanding audience of buyers, no longer willing to accept that the system they experience on day one will go unchanged until they trade in on a new model, and it's clear that doing the bare minimum is no longer anywhere close to being sufficient.
For a long time, it seemed Lexus was stubbornly ignoring this new reality. The arrival of the Lexus Interface in the 2022 NX crossover suggests that assessment was unduly pessimistic, even if it's taken Toyota's luxury arm longer than we'd have liked to get its act together.
Now, of course, the question is just how much longer we'll have to wait for the new system to spread across the range. Lifecycles in the auto world are far longer than, say, those of smartphones or tablets: the NX may be merely the first to get Lexus Interface, but it could be years before every model goes the same way. The good news, at least, is that the dashboard upgrade is finally something worth looking forward to.