Unihertz Luna Review: Does This Android Phone Look Like Nothing To You?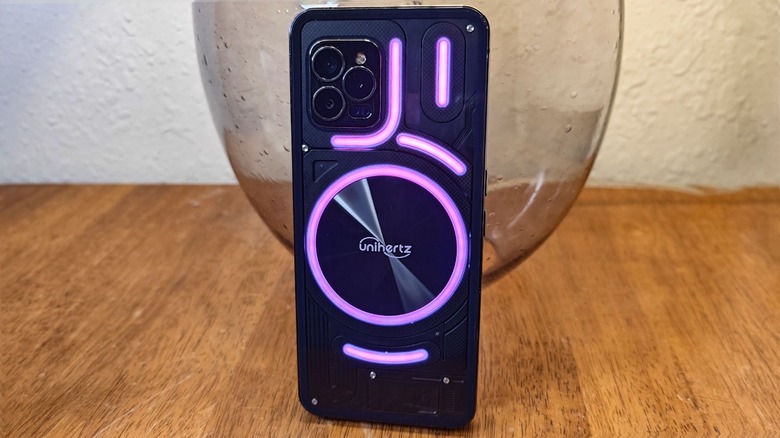 Steve Smith/SlashGear
We may receive a commission on purchases made from links.
Unihertz is known for developing niche smartphones that attempt to cater to a variety of needs. It makes unique phones such as the TickTock series that integrates a watch into the back of the phone. Regarding slightly more traditional devices, Unihertz appears to be unabashed in showing its industrial design inspirations. This was first evident in their Titan series, with its Blackberry-inspired physical keyboard. Its latest smartphone, Luna, is another smartphone heavily inspired by another phone maker which becomes readily apparent once you see the device's backside.
The Unihertz Luna is a phone heavily inspired by Carl Pei's Nothing Phone and its hardware design — this is most evident when comparing this Luna phone to Nothing Phone (1), as both have very, very similar translucent back panel designs adorned with LEDs. It is a polarizing design that you will very likely either love or hate. Unihertz sent a Luna for the purpose of this review.
Hardware Design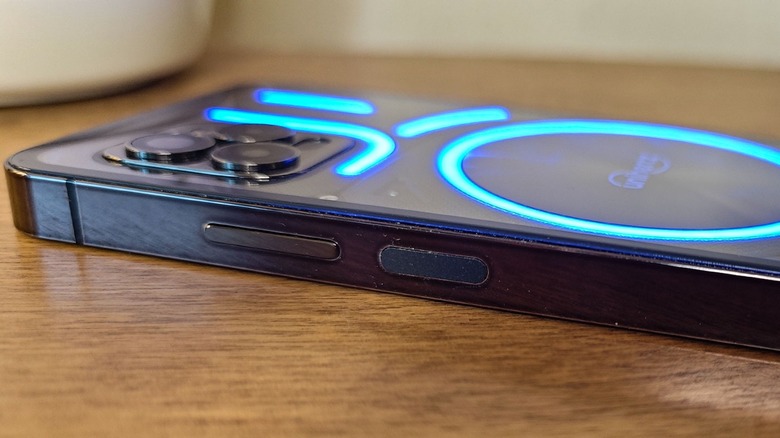 Steve Smith/SlashGear
Like most phones today, the front of the Unihertz Luna is mostly compromised of the display, and a selfie camera located in the top left corner. The display has relatively thin bezels along the top and sides of the display, but there is a bit of a chin along the bottom edge. The left side of the device has two programmable buttons and the right side of the device has two volume buttons and a power button. The power button has a built-in fingerprint sensor, which worked reliably during my testing.
Flipping the device over and you will find the translucent back. In addition to seeing some of Luna's internals, you will find five different areas filled with LEDs. Being able to see through the back of the device gives it a very industrial feel. You will also find its triple camera setup surrounded by a bit of chrome.
The Luna is a large device and its overall size can be a bit surprising. At 168 x 76.8 x 10.4mm, this device is both taller and thicker than the Samsung Galaxy S23 Ultra and the iPhone 14 Plus. In addition to its overall size, at 298g (10.5oz) it is quite possibly the heaviest phone you will ever hold. For comparison, the Galaxy S23 Ultra weighs 234g and the iPhone 14 Plus weighs 203g. 
The Unihertz Luna also has a 3.5mm headphone jack, an IR transmitter, Bluetooth 5.3, NFC, and FM radio support. It is available in either black or white.
The Light Show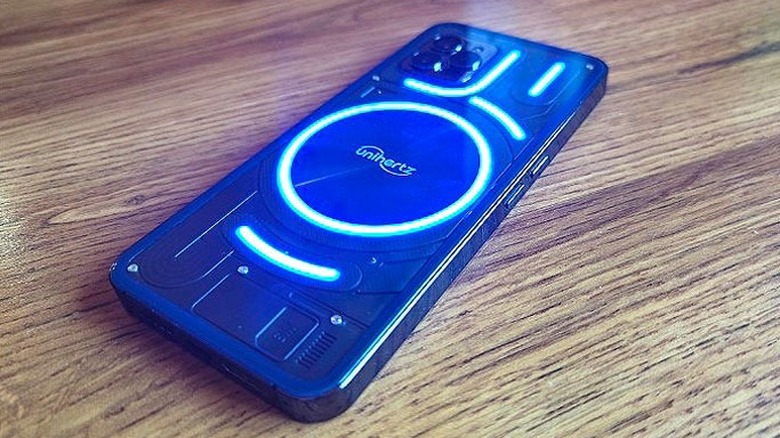 Steve Smith/SlashGear
Unihertz includes five different zones of LED strips on the back of the Luna. Each zone can light up independently of the other and show its own color, although in practice each LED strip that lights up will generally be the same color. The LED colors are called patterns, and you get six preconfigured colors on the device. The patterns are red, green, blue, yellow, teal, and pink. You can select one of the six patterns, have it randomly choose one for you or create your own.
The lights themselves are controllable through the included LED lights menu in the Android settings. You can control their overall brightness, and if you want them always on or to light up when you receive a notification or an incoming call. Other options include music visualization, a charging reminder, and ambient light. Music visualization allows the LEDs to pulse based on the rhythm of the music. If ambient light mode is enabled, the LEDs will also light up different colors based on the colors of the video you are watching.
It was exciting to test out the LED features, as this is one of the main selling points of this device. Ultimately, I decided to disable the lights and go without them. When receiving a notification, the lights would light up so quickly and then turn off that it was easy to miss. When consuming content, the lights had a tendency to distract from the experience, not add to it. It also became quite annoying to those around me, as they could usually see the lights radiating from the back of my device.
Display and Audio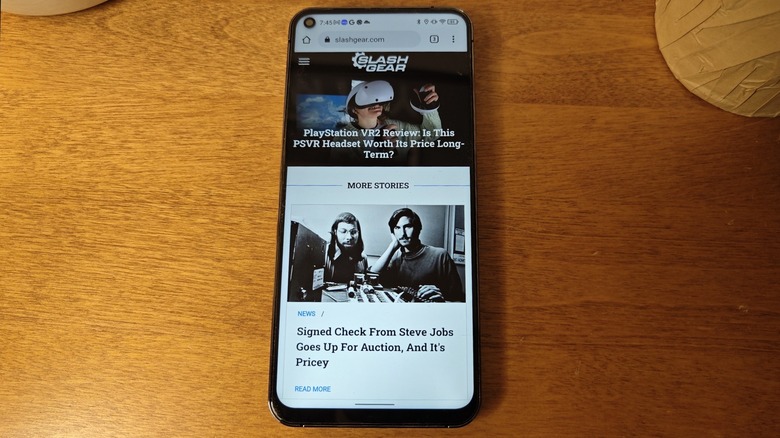 Steve Smith/SlashGear
Unihertz went with a 6.81-inch display with a 2340 x 1080 resolution which results in 336PPI. Unihertz didn't publish the display's refresh rate, but it seems to be a standard 60Hz refresh rate panel. To help with scratch and shatter protection, the display is protected by Panda MN228 glass. The overall sharpness of the display and its color accuracy were acceptable. Once you step outside this phone becomes a real problem under direct sunlight. Even set to its maximum brightness, it is completely washed out and it can be difficult to see the screen when it's bright out.
The Luna has a single mono speaker located at the bottom of the device. Luckily, that single speaker can get quite loud and deliver impressive sound. I never had an issue hearing any of the content I consumed, as long as I wasn't covering the bottom of the device with my hand. This did happen on occasion, but infrequently enough for it to cause any real trouble.
Performance and Battery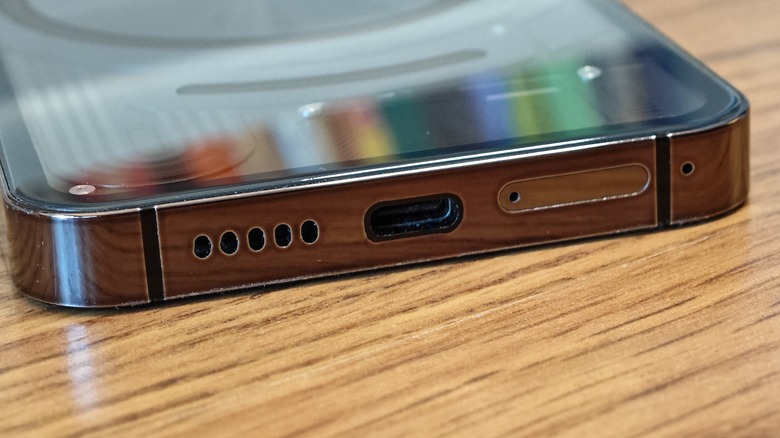 Steve Smith/SlashGear
Powered by a MediaTek MT6789 Octa-Core CPU with 8GB of RAM, the Unihertz Luna is capable of your standard daily tasks. Running Geekbench, the Luna was able to achieve a single-core score of 721, and a multi-core score of 1994. For comparison, the Nothing Phone with its Snapdragon 778G+ chipset was able to get a single-core score of 886, and a multi-core score of 2911. Unihertz included 256GB of UFS 2.2 storage on this device.
While it's not the strongest chipset, the phone had no trouble running games like "Call of Duty Mobile" or "GRID Autosport." Settings were set to low for these games, but they were playable. It's not always a smooth experience, but it is a serviceable one. On occasion, there was slight stuttering when moving scrolling around the UI, or even scrolling through heavy websites. 
Battery life was quite good on the Luna. The included 5000mAh battery easily lasted me all day with heavy usage. Taking it off the charger at 5:30 am, it would have about 30-40% battery at 9:00 pm. I never made it to the end of the day worried about the phone running out of juice. Charging this phone is quite slow though. It can take up to two hours to get a full charge.
Software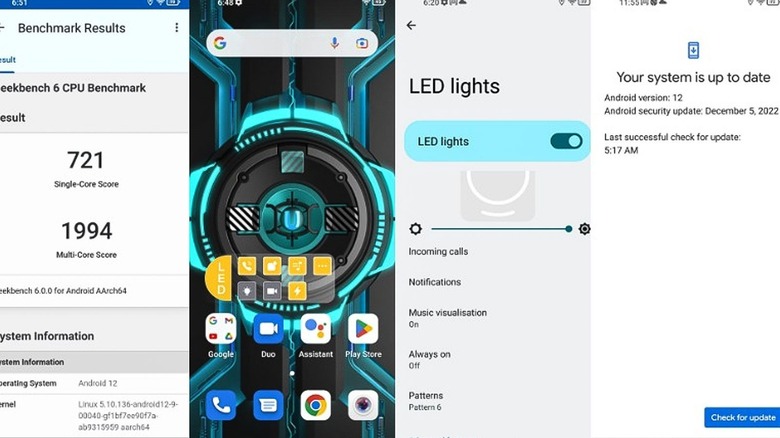 Unihertz launched the Luna with a relatively stock version of Android 12. There is minimal bloatware on the device and all of the included apps could be removed — aside from system apps included by Google, as per usual with any device with Google's Play Store onboard. The only real tweaks that Unihertz made to the software were the inclusion of the LED light software manager, and the added intelligent assistance menu. The intelligent assistance menu includes a network manager, an app blocker, a call recorder, and a scan function for reading QR codes. You also get an IR blaster, allowing you to use your phone as a remote control for devices around your home, like your TV.
In terms of software support, there is no commitment by Luna for upgrading this device. It may never see Android 13, let alone anything beyond that. At the time of writing this, it only has the December 5 security update. That puts it four months behind in security updates. 
Cameras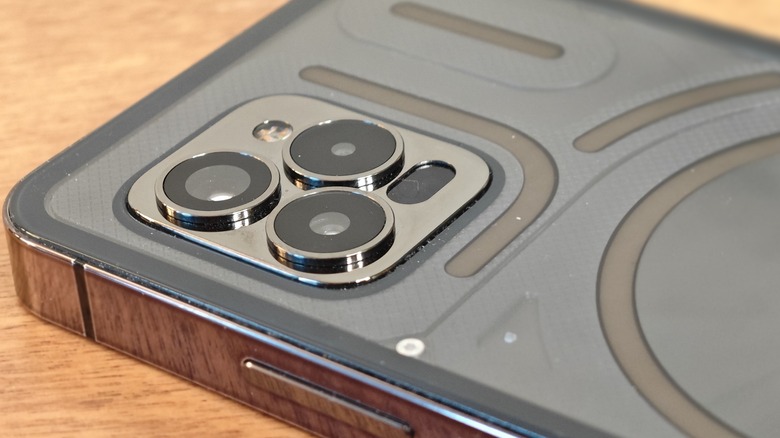 Steve Smith/SlashGear
The Unihertz Luna has a triple rear camera setup. You are getting a 108MP main camera, a 20MP night vision camera, and a 2MP macro lens. The main camera is quite serviceable when lighting conditions are good. It was able to capture photos that are useable, especially for social media. The color reproduction in photos taken by the Luna isn't super accurate and it can struggle to focus if trying to take a quick shot.
There isn't a night mode on the Luna, so as soon as the lights begin to dim, photos become dark and grainy. It also isn't great at capturing moving subjects. If your subject isn't stationary, it will most likely result in a blurry photo. Unihertz does allow you to use the full 108MP, but it bins down to 12MP by default.
The Unihertz Luna struggles with dynamic range. The sky looks mushy and washout in both the photo of the brick building above and the white building below.
The night vision (infrared) camera was cool to use for testing, but it's unlikely the average person will use it all that often. In a pitch-black room, with no light source at all, the camera was able to see in the dark. 
It was amazing to use the infrared camera to see items in the dark, but it's not immediately clear why anyone would need to take a picture that way. It could be useful to find objects without turning on the lights — but aside from that, it's limited. The 2MP macro camera isn't worth much. I was unable to get any usable photos from it — nothing worth sharing, anyway. You can safely forget about the macro lens and just stick to the single primary camera.
Final Verdict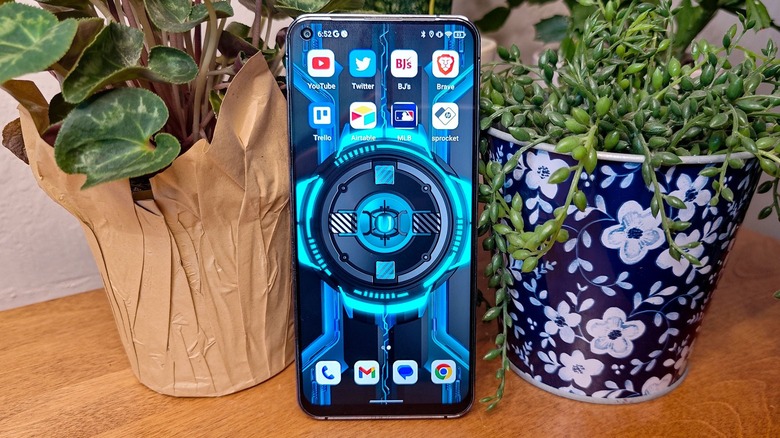 Steve Smith/SlashGear
In the end, the $300 Unihertz Luna is difficult to recommend. While it features a unique design, a decent display, and good battery life, the cons outweigh the pros. For starters, this is a big and heavy device. Normally that wouldn't be an issue, but the weight of it tips the scales in this case. Then there is the LED light show on the back, but its usefulness is limited and is far more gimmick than functional.
I would have loved it if the notifications sent off a constant glow or the lights were less distracting when watching videos. The hardware is there for Unihertz to pull that off, but failed at the implementation. It's not that the Luna is inherently a bad phone, it's just facing some stiff competition at the $300 price point. Add in the mediocre performance and you get a package that is easily outclassed by its competitors. Right now you can get a OnePlus Nord N20 or a Moto G Stylus 5g for the exact same price. You can even find the Google Pixel 6a for that price on sale. Any of the three will offer a lighter, more robust phone experience.