Samsung Galaxy S23 Ultra Review: Excellence Is Expensive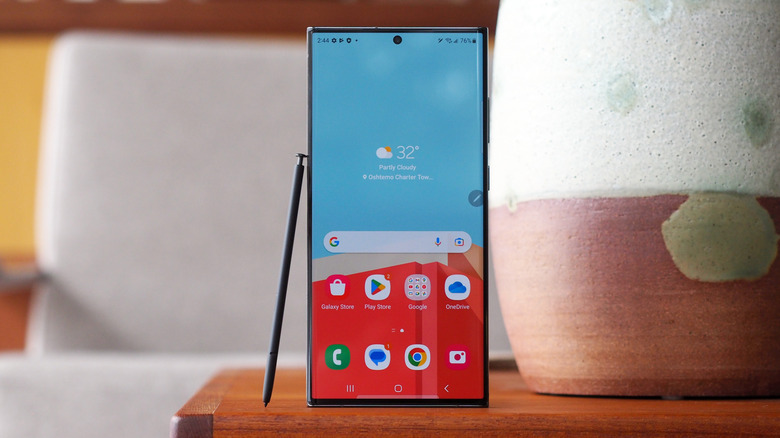 Chris Davies/SlashGear
We may receive a commission on purchases made from links.
No smartphone maker is going to admit to following the "If it ain't broke, don't fix it" strategy of product evolution, but there's a lot to be said for graceful refinement rather than change for its own sake. The Samsung Galaxy S23 Ultra opens the door to 2023's flagship handsets with just that approach, keeping what works — whether an aesthetic or an ethos — and selectively improving in areas shoppers most care about, like photography and battery life.
When I say the S23 Ultra is a slightly finessed slab, then, I mean it as a compliment. It'd be easy to glance at 2023's non-foldable Galaxy flag-bearer and think nothing had changed from its predecessor last year. After all, when you're trying to push the screen as close to the edges as possible, is there really that much you can do?
Turns out yes, there is, when you're thinking about how the smartphone feels in your hand versus just looking at it. The sides of the Galaxy S23 Ultra are flatter than those of the S22 Ultra, and its Gorilla Glass Victus 2 front is slightly less curved at the edges. The result is more comfortable to hold, feels easier to grip securely, and has less of a sliding-nib problem when the S Pen gets close to the very sides of the display.
They're subtle changes but, at this point, subtle refinement is the name of the game. They also — along with the barely-repositioned cameras on the rear — mean that the Galaxy S23 Ultra won't fit into cases designed for its predecessor. Annoying, but hardly all that unusual.
The big, beautiful display you expect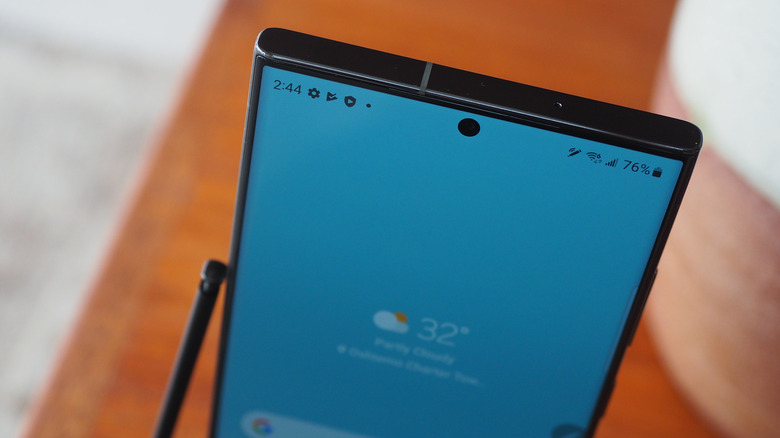 Chris Davies/SlashGear
Small phone lovers will want to look elsewhere, but that's what you get when you prioritize a 6.8-inch display. It's tough to be disappointed with Samsung's Dynamic AMOLED 2X panel, either for its crisp 3088 x 1440 resolution, its dynamically-adjusting 120Hz refresh rate, or its pleasingly bright colors. At this point, we know to expect great things from the company's screen experts, and the S23 Ultra doesn't upset that track record.
There are a few tweaks over last year's screen, though if they do their job right you shouldn't really notice them. Advanced Vision Booster now supports three levels of ambient lighting adaptation, while Enhanced Comfort promises to better massage contrast and color so that you avoid eye strain in dark conditions.
Really, though, it's the peak brightness — up to 1,750 nits, apparently — that stands out. Outdoor visibility is just grand (as is the reassurance of IP68 water and dust resistance in case you drop your phone while you're venturing out).
Photography is Samsung's biggest promise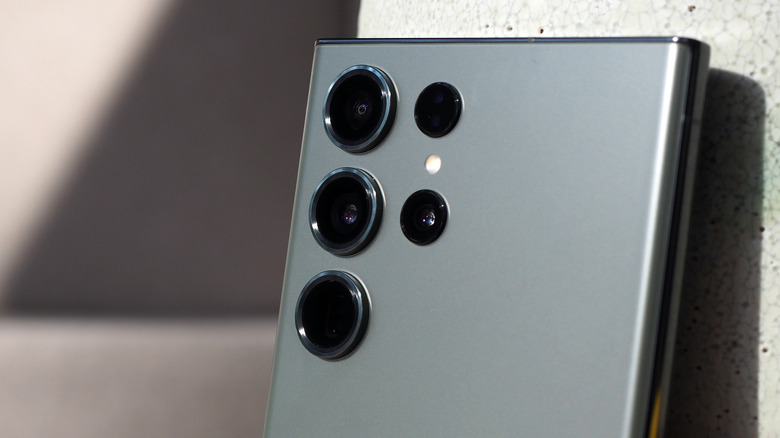 Chris Davies/SlashGear
As has been the case for several years, now, it's photography where Samsung is hoping to sway upgraders. The primary camera is a 200-megapixel sensor with an f/1.7 lens; it's alongside a 12-megapixel f/2.2 ultra-wide camera, and two 10-megapixel optical telephoto cameras, one at 3x zoom and the other at 10x zoom. Laser focus is included, too, as well as an upgraded optical image stabilization (OIS) system that promises to smooth out more hand movements. Samsung's 100x zoom is noticeably better than in its previous iterations: it still feels like a marketing gimmick, but the results are at least better than the incomprehensibly blotchy watercolors that older Galaxy phones produced. 30x zoom — which also combines optical and digital — is much more usable.
On the front, there's a 12-megapixel camera for selfies. That's down considerably from the 40-megapixel front camera that last year's Galaxy S22 Ultra offered, but Samsung claims the addition of Super HDR and 60fps video capture support mean the results are better. I found the iPhone 14 Pro Max's selfies looked more accurate, but the S23 Ultra's selfies were more flattering.
200 megapixels is a lot. The assumption, of course, isn't that you'll actually shoot in that mode — though you can, or split the difference with 50-megapixel shots — but that you'll leave the Galaxy S23 Ultra to do its clever pixel binning with all that data. Again, it's not a new idea, but where last year's flagship combined nine pixels worth of information into a single pixel in the resulting 12-megapixel image, this year 16 pixels are combined.
The camera algorithm knows what it's doing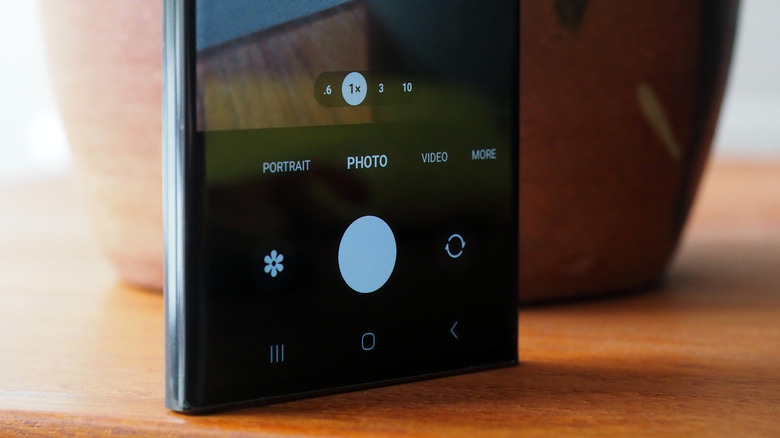 Chris Davies/SlashGear
I'm glad Samsung offers the option to capture the full resolution image, but most of the time I've preferred the results once Adaptive Pixel has its way. Zoom right in, and the algorithmic polish leaves crisper detail. Letting the S23 Ultra figure things out seems preferable, given how photos are generally used and shared these days, particularly since the full resolution images are 6-7x the size in terms of storage. The exception is if you're planning to view them on a bigger screen, where the extra detail finally has a chance to shine in a way phone-scale displays can't really take advantage of, or crop dramatically while still hoping to preserve detail.
Generally, there's a whole lot to like about the newest Galaxy's cameras. Samsung's historical tendency toward over-saturation is dialed back by default, and the Super HDR is particularly adept at pulling detail in scenes with very bright backgrounds with darker foregrounds. The result can look a little flat at times, but Samsung makes it easy to tweak the color balance.
Portrait shots do somewhat better at distinguishing between subject and background details, and you can adjust the degree of blurring. All the same, pet whiskers and fur are still a challenge, and can end up artificially truncated or with a blunter edge than you'd get with an actual bokeh-prone lens.
Experts can tweak more easily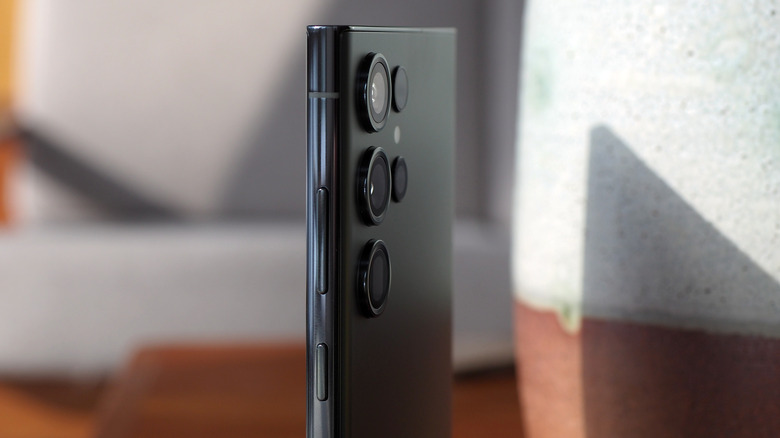 Chris Davies/SlashGear
In another now-familiar refrain, low-light performance is also said to be markedly improved. Samsung's "Nightography" branding remains cringeworthy, but its ability to drag detail out of super-dark scenes is impressive nonetheless. To the naked eye, the scene below was two pinpricks of light, and yet the S23 Ultra managed to pull out some pleasing color and texture. Even with the upgraded OIS, though, you need to take extra care to hold still as the long-exposure captures: the Galaxy can still suffer from hand shake like its iPhone and Pixel counterparts, as you can see in the blurred windows of the house in the photo below.
Samsung seems more willing than its rivals to acknowledge that mobile photographers might want to take over from the algorithm, with Expert RAW available as a free download. Both a camera app and an editing tool in one, it can capture and process JPEG and RAW files, at up to 50 megapixels (though if you want to shoot the full 200 megapixels the primary sensor is capable of, you'll need to use the regular camera app).
Expert RAW does a decent job of balancing the computational photography side with some of the more traditional shutterbug skillset. Being able to tweak things like Astrophotography settings and how multiple exposures are combined into a single image is neat, though the app isn't an S23 Ultra exclusive: high-end Galaxy S, Fold, and Note devices from the past few years can download it for free, too. At some point, the limits of the app are reached, meanwhile, and Samsung recommends picking up where you left off in Adobe Lightroom instead.
Fast and reasonably future-proof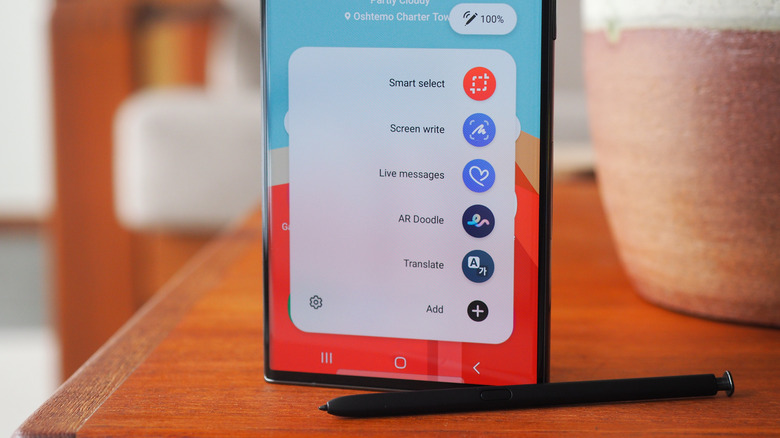 Chris Davies/SlashGear
The rest of the Galaxy S23 Ultra experience feels familiar — and familiarly slick. Qualcomm has fettled its Snapdragon 8 Gen 2 into a special "for Galaxy" version with slightly faster CPU and GPU speeds, just for Samsung, and the chipset — along with the 12GB of memory in my review unit, though the base model makes do with 8GB — whips along with the alacrity you'd expect from cutting-edge silicon.
That Android 13 and Samsung's One UI 5.1 run smoothly comes as no surprise. Really, you want the latest and greatest chip to hold up to Samsung's commitment to four generations of OS upgrades and five years of security updates. 
As for the S Pen, that experience is familiar too. Given the decline in my handwriting over the years, I rarely use the S Pen to jot down notes. Being able to quickly grab screenshots and annotate images is useful, however, and the ability to sign documents can be very handy. Samsung Notes has been updated to support multiple people collaboratively working on the same document; clever, but I question whether it's something that's likely to move the needle for most people. Nonetheless, if you want a phone with a stylus then your options are comically limited, and so the fact that Samsung does more than just the bare minimum with the S Pen is notable.
Great battery life, but average charging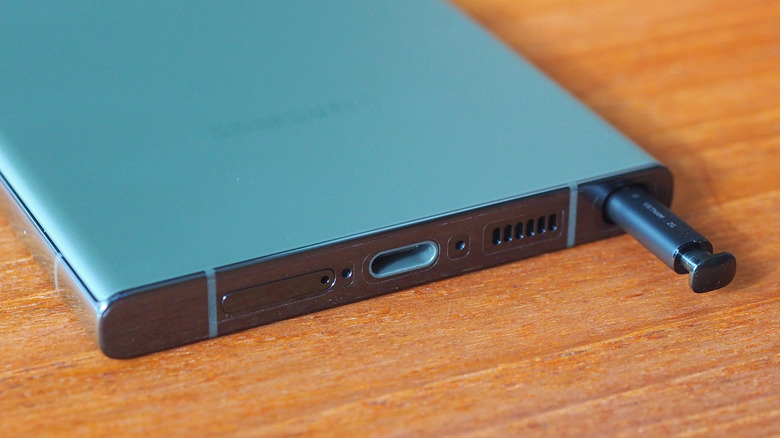 Chris Davies/SlashGear
Of far more use is the S23 Ultra's lengthier battery life. You get the same 5,000 mAh as last year, but Samsung credits various software and hardware efficiencies for improving time between charges by up to 20%. How much that will hold true away from artificial runtime benchmarks and in real life will obviously depend on what you're actually using your phone for on the daily, but I didn't have an issue going from morning to bedtime without needing to reach for the charger.
As before, you'll need to supply that yourself: there's no power adapter in the box, only a USB-C to USB-C cable. With a 45W adapter, you're looking at going from 0-65% in about 30 minutes. There's also Fast Wireless Charging 2.0 support, and Wireless PowerShare that can top up other Qi-compatible devices.
Is that fast enough? Probably, but it's also far short of what some of Samsung's rivals offer. The new OnePlus 11 5G, for example, may lack wireless charging, but with its 80W charger — included in the box — will go from 0-100% in about 27 minutes. Maybe that's overkill (and it's not even the fastest charging phone out there right now), but it's hard not to be a little disappointed that what Samsung considers "Ultra" hasn't kept up across the board.
Samsung Galaxy S23 Ultra Verdict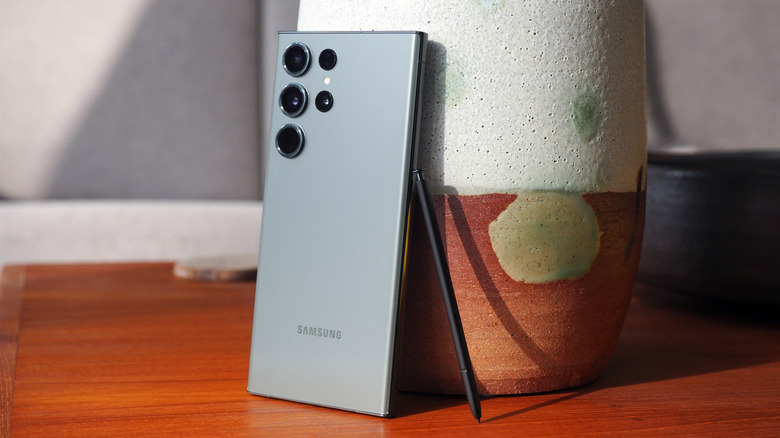 Chris Davies/SlashGear
It's pretty much par for the course these days that those who bought last year's flagship shouldn't feel the need to upgrade twelve months later. That's absolutely the case for the Galaxy S23 Ultra, which tweaks and refines the recipe we saw introduced on the S22 Ultra — but falls short of anything revolutionary. If you have Galaxy S21 Ultra, though, or are still rocking a Note 20 Ultra from back in 2020, the appeal is more obvious. A Pixel 7 Pro may be markedly cheaper, but its feature list has omissions that Samsung supplies.
You do pay handsomely for that upgrade. $1,199.99 for the base-spec phone — just like last year, though with twice the storage at 256GB — or $1,379.99 for the 512GB model. Expect to pay $1,619.99 for the 1TB version, and figure on buying from Samsung direct if you want the fetching Red, Lime, Sky Blue, or Graphite finishes. Carriers and other retailers will get the standard Green, Phantom Black, Lavender, and Cream options.
Color preference is subjective, but the Galaxy S23 Ultra is objectively a great phone if you have the budget for it. Powerful, with a fantastic display, excellent cameras, and just about every nice-to-have extra that those in the market for a flagship will be expecting, it is refinement done right.