Google Pixel 7 Pro Review: The Value Behind The Gimmicks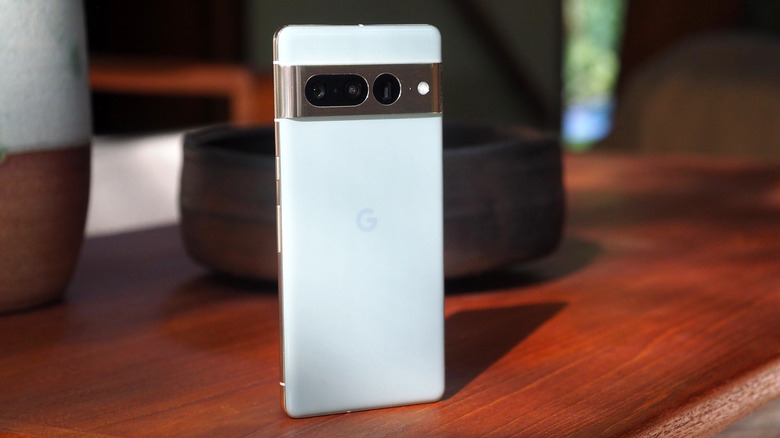 Chris Davies/SlashGear
Google has stuck to a familiar formula with the Pixel 7 Pro, though that's no bad thing. 2022's Android flagship finesses its camera talents, debuts a handful of new software features, and adds a little speed, but arguably most important it doesn't do so without smashing through the four-figure price barrier. At a time when entry to Samsung and Apple's top-tier series will set you back upwards of a thousand dollars, the Pixel 7 Pro's $899 tag is positively aggressive.
Familiar, but refined. That's the best way to describe the Pixel 7 Pro aesthetic, clearly related to last year's Pixel 6 Pro but massaged in a few key places. Last year's metal and glass construction is carried over, including the boldly protruding camera bar, but they're handled a little differently. More metal, for a start, and a new color option alongside the Snow and Obsidian: the Hazel you see here. It's a darker green paired with a gold finish frame, and it looks tremendous.
More classy and mature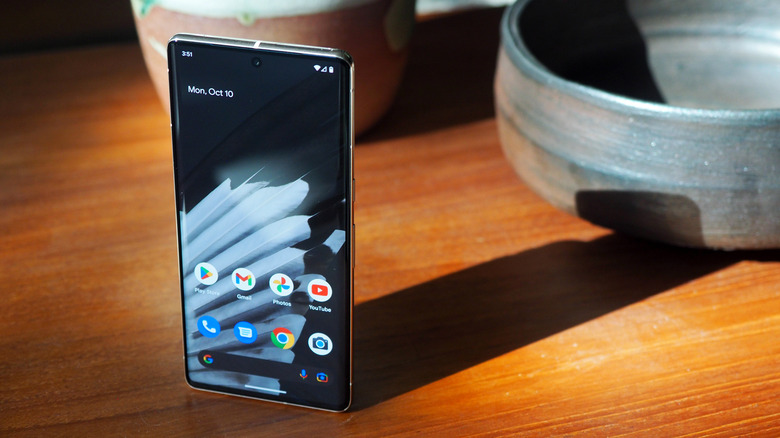 Chris Davies/SlashGear
The new aesthetic is most noticeable on the camera array. Last year, it felt like Google was hoping to hide its sensors behind a monolithic black bar; a little like the all-seeing laser-zapping eye of Gort from "The Day The Earth Stood Still." This time around, though, the sensors get a glass cut-out in a shiny finish metal ingot. That metal then flows smoothly into the sides, where there's a power button — a double-tap of which opens the camera, a shortcut I really wish Apple would steal — and a volume rocker. 
I think it looks classier, and it also helps visually distinguish the Pixel 7 Pro from the cheaper Pixel 7, which lacks an optical zoom. The shiny finish to the metal also sets the two apart — the standard Pixel 7 has matte metal — while the glass is actually toughened Gorilla Glass Victus. Would I want to drop it all the same? Certainly not, but that plus IP68 water and dust resistance keep Google toe-to-toe with rivals.
A great display brings back Face Unlock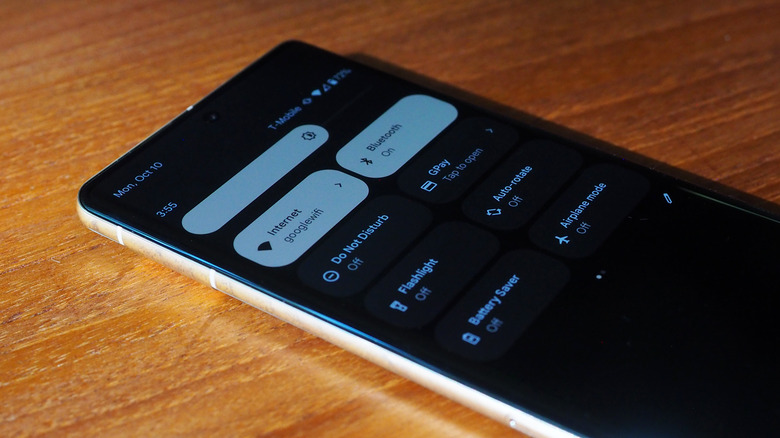 Chris Davies/SlashGear
On paper, the Pixel 7 Pro is slightly smaller than its predecessor. In practice, you'd need fingers like calipers to notice. It's fairly hefty, but the curved edges are more comfortable to grip for extended periods than the sharp sides of the iPhone 14 Pro Max. The Pixel 7 Pro's cover glass also curves, slightly, at the sides.
The display, meanwhile, is a 6.7-inch OLED panel with up to a 120Hz refresh rate. Last year's screen was great, and this year's is no different. Again, on paper, it won't go quite as bright as an iPhone 14 Pro Max might, but less you're trying to use it in direct sunlight I'm not sure you'll complain. Maybe more key, if you felt like the Pixel 6 Pro wasn't quite bright enough, the Pixel 7 Pro will go 25% brighter this time around.
Integrated into a little cutout hole is the front-facing camera, which Google is using here for Face Unlock. It's something Pixel-loving Android users have been missing on Google's smartphones, but though its return is welcome, it's also important to notice just what the company is saying about the tech.
Google Face Unlock is not Apple Face ID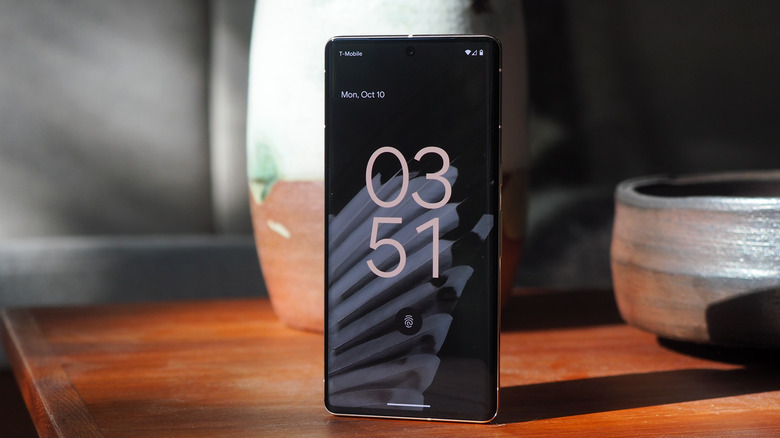 Chris Davies/SlashGear
Face Unlock on the Pixel 7 Pro is pitched as a convenience feature more than a security one: if you're more concerned about the latter, the in-display fingerprint sensor should be your first port of call. If you're more worried about quickly getting into your phone, however, Face Unlock is very swift. A little ring appears around the front camera, and in a split second, you're looking at the home screen.
It's worth setting up both, though, because Face Unlock can't be used for anything beyond accessing the Pixel 7 Pro. If you want to log into a mobile banking app, or to authenticate a payment, then you need to use your fingerprint (or a PIN or passcode).
If you're coming from an iPhone with Face ID, that's probably going to feel like a step backward. Nonetheless, I'm glad to see Google offering both options but without allowing users to compromise security along the way.
Tensor G2 chases loftier AI goals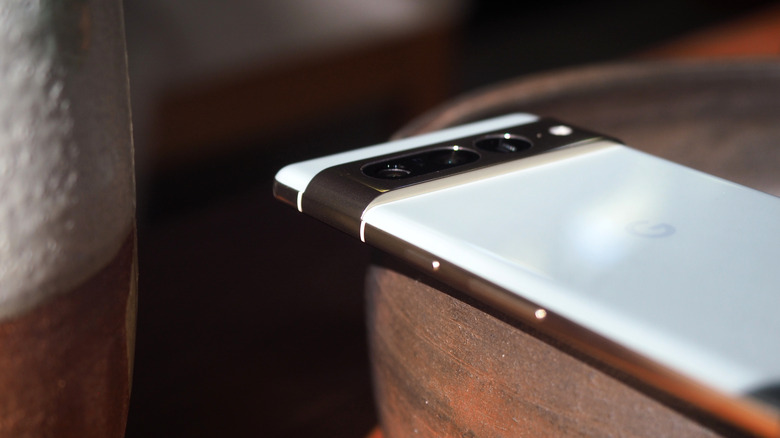 Chris Davies/SlashGear
Unlike Apple's aggressive adoption of eSIM, the Pixel 7 Pro sticks with a more familiar SIM/eSIM combo. My experience with eSIM on the iPhone 14 series hasn't really been problematic, but I think Google's more cautious approach probably matches the mood of the market more right now.
The big change inside is a new generation of Google's own chipset. The Tensor G2 sees the company once again work with Samsung on a custom SoC, with a particular emphasis on things like AI processing and computational photography.
I'm of the mind that artificial benchmarks aren't much use to everyday smartphone owners. Suffice it to say, the Pixel 7 Pro felt plenty swift at everything I threw at it. Google also uses it for things like on-device transcription in the Recorder app, which considering services like Otter.ai have made their free plans less flexible recently, could make a Pixel 7 Pro worth the cost of entry all by itself.
On the home screen and lock screen, meanwhile, there are now things like weather forecasts and precipitation alerts, flight landing cards, and — if you have a Nest Doorbell — notifications for things like packages that might be waiting on your doorstep. Of course, you'll need to let the Google Assistant fairly deep into your life in order to see those details, though I suspect most Android fans — and Pixel owners in particular — will already be onboard with the degree of access that the search giant requires.
Google nails the camera basics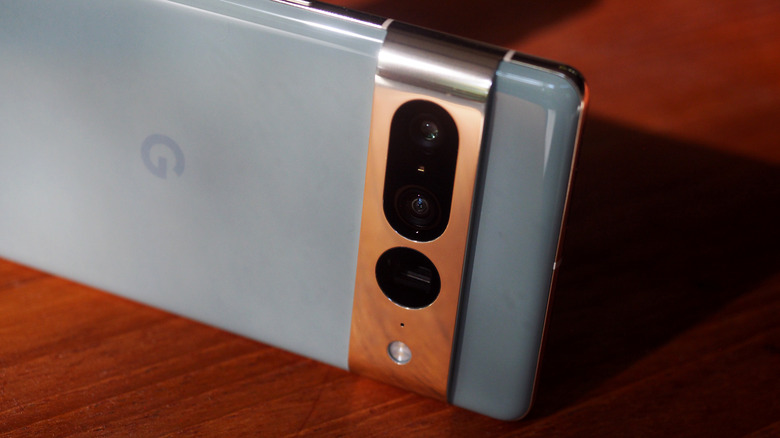 Chris Davies/SlashGear
It's not unfair to say that, despite strong competition, the Pixel 6 Pro was still ranked by many as the best smartphone camera out there right now. We can probably forgive Google for not throwing everything out and starting from scratch this year, then, because frankly, the results speak for themselves. If you're looking for cameras that deliver regardless of lighting, the Pixel 7 Pro should absolutely be on your shortlist.
Like the Pixel 7, there's a 50-megapixel main camera alongside a 12-megapixel ultrawide camera. Only the Pixel 7 Pro gets the 48-megapixel optical zoom, however, complete with cunningly accommodated folded optics for its lossless magnification.
Out of the gate, things look great. Colors are bold but accurate; Google's contrast balance is solid, and there's plenty of detail. There's a macro mode that works as close as an inch or two from the subject, which is fun for picking out subtle details. Of course, where things really shine is when the Tensor G2 weighs in.
The Pixel 7 Pro can feel like witchcraft in action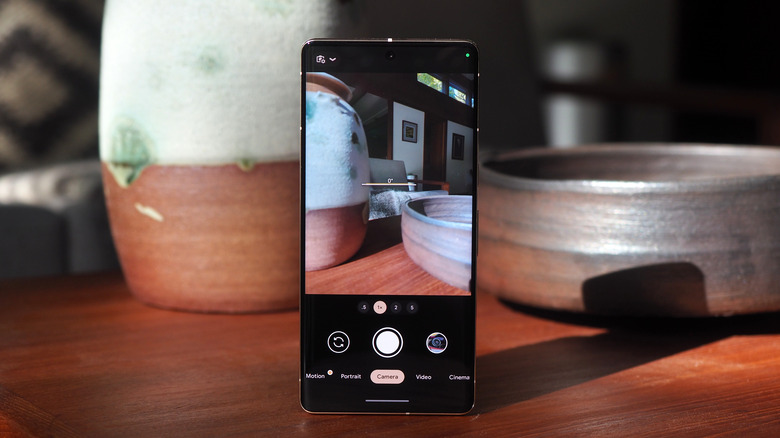 Chris Davies/SlashGear
Just like last year, Google's photographic abilities here feel like borderline magic. Super Res Zoom, for instance, allows you to magnify to up to 30x, and unlike on some rival phones — yes, Samsung, I'm looking at you — the results are actually usable. However, it's not just about blowing up a shot and then tweaking the pixels.
If you zoom in between 2.5x and 5x, for example, the Pixel 7 Pro combines simultaneously-captured shots from the wide and telephoto cameras, and then automagically combines them into one shot. Get past 15x zoom, meanwhile, and an unexpectedly capable anti-shake system kicks in.
Since you can't disable the computational photography features, it's unclear just to what extent things like dual-sensor image fusion are swinging the needle here. Nonetheless, I'm getting more acceptable zoomed shots with the Pixel 7 Pro than I have on a recent Galaxy S-series device.
A big step up in Portrait mode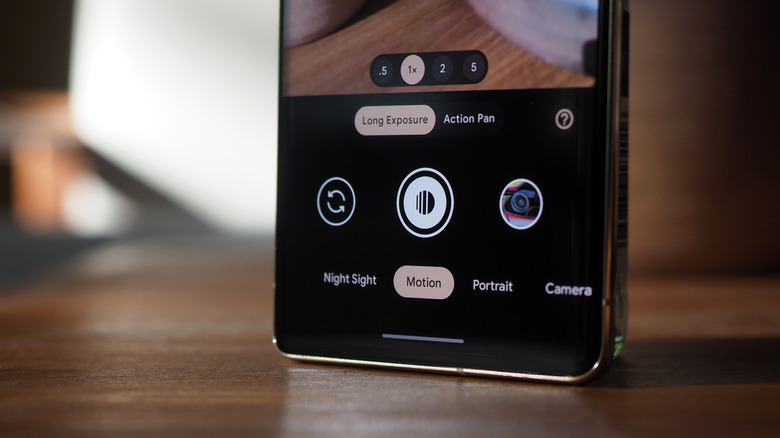 Chris Davies/SlashGear
Portrait mode also sees a step up in performance. My go-to test is always pet fur: things like whiskers are often where these faux-bokeh systems fall short. Either they're cut off completely, or they're oddly defined which spoils the "I took this with my best creamy lens" effect.
On the Pixel 7 Pro, though, I've been seriously impressed. Not only is the detail of the whiskers and fur preserved, but it's also done so in a way that looks far more natural: far closer to what you'd expect if you took the shot with an actual prime lens.
Then there's Photo Unblur. It'll work with shots taken with the Pixel 7 Pro, but also anything else you might have uploaded to your Google Photos account, and promises to take care of things like camera shake, slight out-of-focus captures, and motion blur from shaky hands. Google Photos will recommend it for images the AI believes could benefit, or you can access the tool through the Edit menu (as long as you're using a Pixel 7 or Pixel 7 Pro). It's not perfect, or infallible, but it can add a little crispness to select shots, particularly those which include faces.
Clever can sometimes just feel gimmicky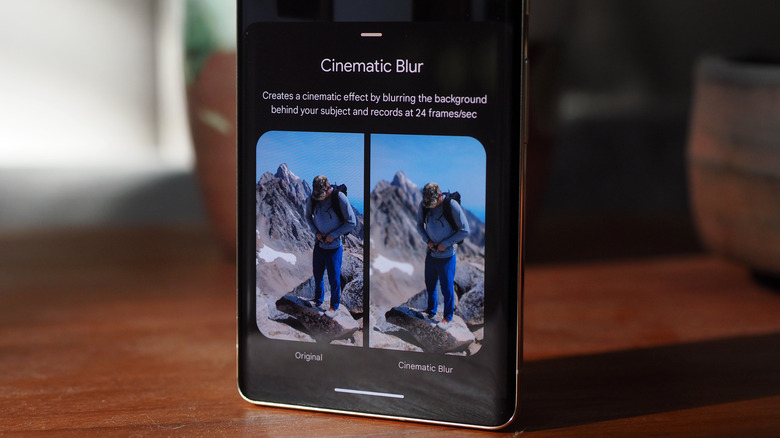 Chris Davies/SlashGear
On the video side, there's now 10-bit HDR support, which you can turn on or off depending on if you like the bolder colors. Of course, you'll also need a screen that supports HDR to actually see the improvements. Otherwise, there's up to 4k capture at up to 60 fps.
Cinematic Blur is a new addition for 2022, and you can basically think of it as portrait mode for video. It's similar to the iPhone's Cinematic Mode, artificially blurring the foreground and background of whatever you're focused on, so as to emulate a shallower depth of field and — so the argument goes — a more movie-like clip in the end.
I haven't really been convinced by Apple's system, and I'm not super-impressed by Google's, either. There are definitely some artifacts around the edges of objects, and you have to be very careful with your focus lock or the effect starts to wobble around the frame. Fun, then, but most of the time I'll be shooting in regular mode.
Google Pixel 7 Pro Verdict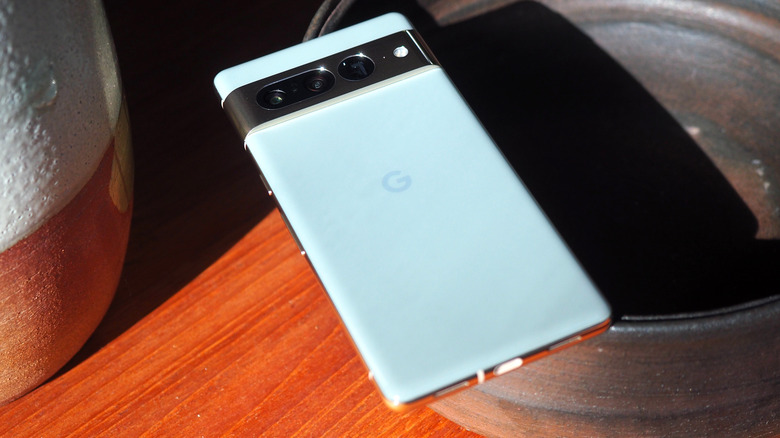 Chris Davies/SlashGear
If you enjoy feeling like you're on the bleeding edge of Google's most experimental features, the Pixel 7 Pro is probably the phone for you. Some of the tech graduates to Android in general, or at least to earlier Pixel phones, but some require the Tensor G2 and will stick with 2022's phones. You can argue the wisdom of that strategy either way, but I do wonder whether it overshadows what I think is most impressive about the Pixel 7 Pro.
That's the amount of solid, usable, dependable smartphone you're getting for a mighty competitive price. Even if you never use the fancier camera modes, the Pixel 7 Pro's general talents at photography are more than sufficient to leave it holding its own versus the iPhone 14 Pro Max. Its screen is excellent, its performance top-notch, and its battery life has lasted pretty much all day in my testing.
They're arguably table stakes for something wanting flagship branding, but at the same time, a $1k+ price tag has also become the standard for such a phone. Google, instead, undercuts its rivals without leaving the end result feeling cheap or subpar. While access to what's newest in Google's labs is great, what's truly rewarding is the way the Pixel 7 Pro bucks the trend in ever-increasing smartphone pricing, without feeling like it compromises along the way.