Google Nest Rolls Out New Wired Doorbell And WiFi Pro As Nest Renew Launches For Everyone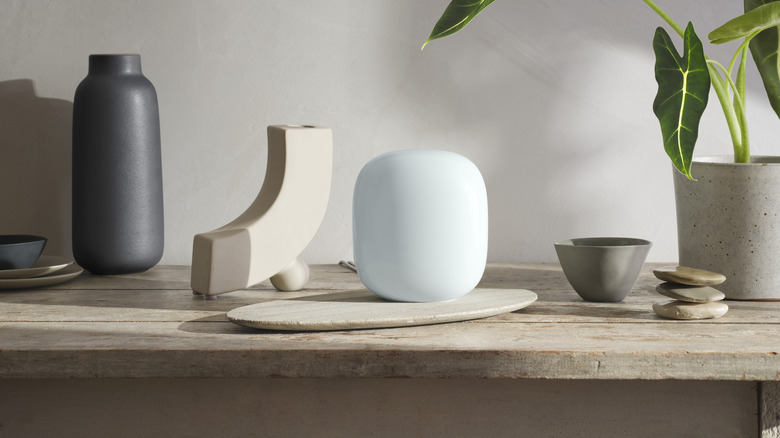 Google
Google's Pixel 7 event is happening this week, but fans of the tech giant don't have to wait that long for a look at its latest generation of smart home devices. The company has just announced a next-gen Wi-Fi router, a new doorbell, and a service that makes it easier to stay green while heating your home. All of the devices integrate well with Google's revamped Home app, which was also announced today.
Several of the devices, and the new Home app, take advantage of the upcoming Matter smart home standard, which aims to improve how smart devices from different manufacturers interact with one another. So if you've built your smart home around products from Apple, Amazon, or Samsung, the products Google has just announced should fit in seamlessly with them, provided they're also "Matter certified." Equally, getting one of these devices when building your smart home doesn't tether you to Google, either.
Nest WiFi Pro promises fast, easy, coverage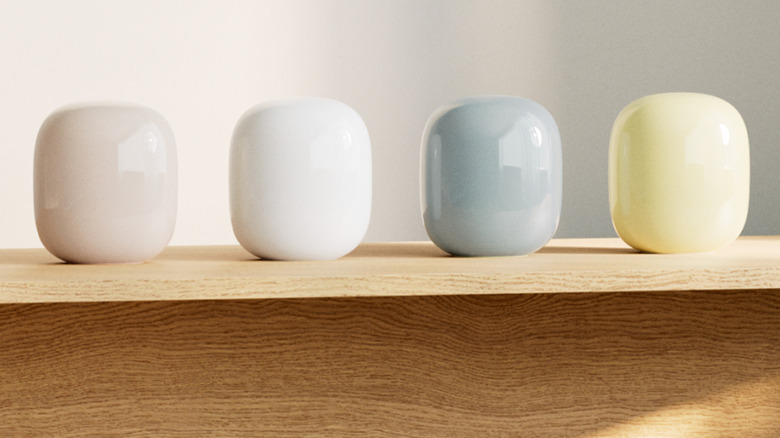 Google
Google's new flagship Wi-Fi system promises its buyers increased security, fast setup, and easy management. You can buy a single router for $199.99, two for $299.99, or a three-pack for $399.99 and proceed to spread them around your home for maximum connectivity. The company hasn't said how much of your home a single router will cover, but a two-pack is apparently good for 4,400 square feet, and a three-pack will cover 6,600 square feet. Google also claims its routers can handle up to 300 connected devices, which is far beyond the 25 the average home has.
Nest WiFi Pro operates on the new Wi-Fi 6E system and offers access to the 6 GHz Wi-Fi band, which makes it pretty future-proof. While 5 GHz is more than fast enough to meet your needs, 6 GHz is capable of handling multiple high bandwidth activities without slowing down. So if your household is full of people who like to make video calls while streaming 4K movies simultaneously, you'll really see some benefits. 
In terms of the present, you may not actually own many devices that can make use of 6 GHz Wi-Fi. Even a newer laptop or PC may not have a Wi-Fi card that can make use of the band, but that's okay. The Nest WiFi Pro also has 2 GHz and 5 GHz bands available. If you have a newer phone, you can enjoy some cutting-edge Wi-Fi technology with very little interference or overcrowding, and you'll be all set as you acquire 6 GHz capable devices as time goes on. Pre-orders are live now with availability starting on October 27.
Nest's Wired Doorbell offers always on security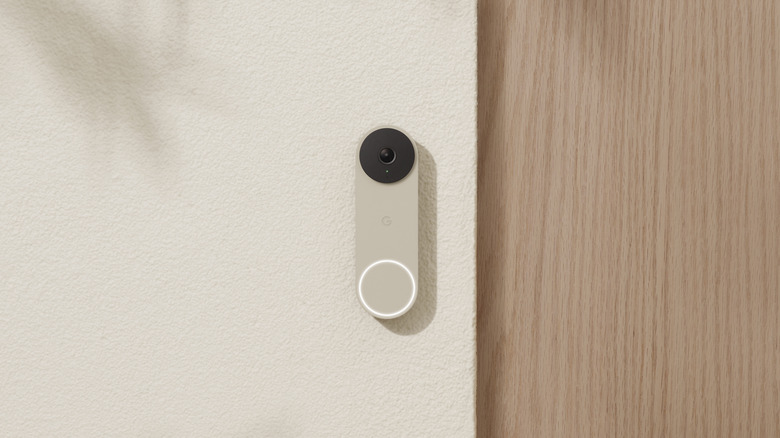 Google
Google has also unveiled a second-generation wired doorbell that promises always-on security coverage for your front door. The wired model is 30% smaller than the battery-powered version and designed to blend in with its surroundings. According to the tech giant, the doorbell's features go beyond the continuous electricity supply. It says an upgraded camera provides a clearer view of what's happening in front of your house than previous generations. The fisheye effect has also been eliminated through the use of so-called image tuning. As with other smart doorbells, you'll receive notifications through your phone or other connected devices if you choose to do so.
In terms of storage, the doorbell can fit an hour's worth of happenings into its onboard memory. Incidents are recorded as short clips that last up to five minutes, and Google will store an additional three hours worth online for free. If that's not enough, a "Nest Aware Plus Subscription" gives you the option of storing 10 days of 24/7 coverage — which Google claims is "industry-leading."
The doorbell comes in two colors: snow and ash. Home security aficionados hoping to get their hands on one don't have to wait, either. Google says the second-generation Nest Wired Doorbell is available now in the U.S. and Canada, priced at $179.99 south of the border and $239.99 CAD if you have the late Queen Elizabeth II on your money.
Nest Renew promises to make green energy easy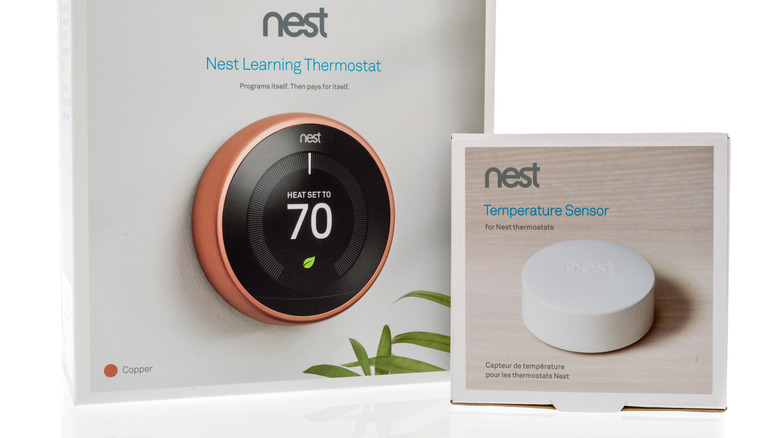 Keith Homan/Shutterstock
Google is also expanding access to its Nest Renew service with anyone in the continental United States who owns a compatible thermostat now able to join. A preview of the service was launched last year but has been invite-only up until now. Renew offers Nest users another way to help in the fight against climate change by providing data on times of peak energy usage, feedback on the user's impact on the climate, and automation tools designed to make your home greener.
It works in tandem with a program called Energy Shift, which attempts to optimize your home's energy usage, so your peak hours don't overlap with the times when energy is in high demand. If it performs as Google says it does, Nest Renew and Energy Shift will make your home greener, more efficient, and cheaper to run than it was before. The system checks the power grid every five minutes to determine periods of high usage.
It mainly works on the principle that small changes across a large number of users can have a huge impact. For instance, if the temperature of every Nest Renew user's thermostat is automatically reduced by one degree Fahrenheit at peak times, it can make a big difference overall. Google estimates that users in the preview have "collectively prioritized cleaner energy usage for over 20,000,000 hours." Users can also just ignore Nest Renew and ramp up their heat at any time. Third-generation Nest Learning Thermostats, the Nest Thermostat E, and the newest Nest Thermostat are all eligible for the service, and a premium service, which offsets fossil fuel use with green energy credits from Google's renewable energy portfolio, is available for an additional $10 a month.