Google's Big Pixel 7 Event Confirmed For October 6: Here's What To Expect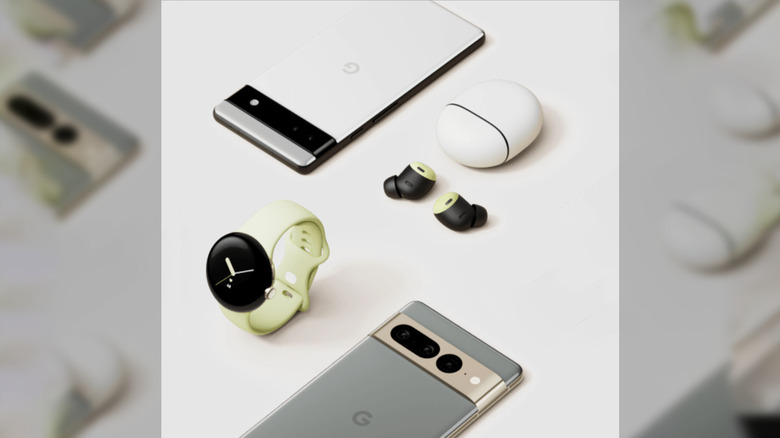 Google
Google has given its fans a glimpse of what they can expect from the upcoming Pixel 7 event. The date and time of the upcoming conference were also announced, alongside a 10-second long video that showed flashes of products that could be featured. Google's yet-to-be-released tech parallels recent releases from both Apple and Samsung, which could be seen as a statement of intent.
Samsung's annual Galaxy Unpacked event took place last month, and the South Korean company's range of folding phones took center stage. The flagship Galaxy Z Fold 4 was unveiled, boasting a Qualcomm Snapdragon 8+ Gen 1 processor and larger battery capacity. Another phone was added to Samsung's cheaper, but still "flagship-priced" flip series. The Galaxy Flip 4's main selling point was an improved cover screen. Away from smartphones, the company also expanded its range of wearable tech. Galaxy Unpacked saw the debut of the Galaxy Watch 5 and Galaxy Watch 5 Pro — a pair of direct competitors to Apple's own smartwatches. 
Samsung also offered an android alternative to Apple's Air Pod Pro earbuds, with a second edition of the Samsung Galaxy Buds Pro hitting the market. Apple's big event takes place this week and is expected to center around the unveiling of the iPhone 14. The new iPhone 14 family is rumored to include the base phone, a more powerful "pro" variant, along with the larger iPhone 14 Max and iPhone 14 Pro Max. There may be a notable absence, with the general consensus being that Apple will not release an iPhone 14 Mini. The eighth series of Apple Watch is also expected to be unveiled during the event, which takes place on Wednesday, September 7.
What we're expecting to see at Google's event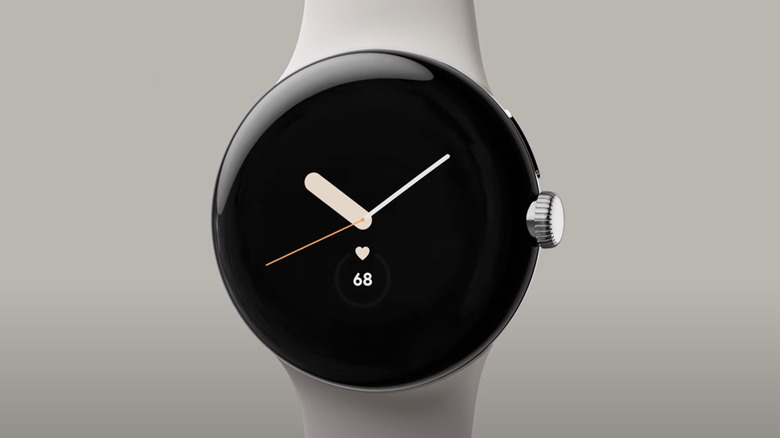 Google
It's easy to spot parallels between Samsung, Apple, and now Google's major hardware releases. The brief teaser delivered by Google showed glimpses of what appeared to be a smartwatch, a set of earbuds, and some smartphones. The teaser ends with the hashtag #MadeByGoogle and the words October 6 2022 at 10 am ET — which is the date and time of Google's event. More information will probably come out before the conference itself but, as limited as the teaser was, it does line up very well with some of the rumors circulating about Google's upcoming devices.
It's all coming together.

Join us live for #MadeByGoogle on October 6th at 10am ET.

Sign up for updates and add to your calendar: https://t.co/SAeNERjey0 pic.twitter.com/NaeUtChx7X

— Made By Google (@madebygoogle) September 6, 2022
The phone is almost certainly the Pixel 7, the Pixel 7 Pro, or both. The unveiling of Google's new flagship smartphones is expected to be the headline act of Google's event. If rumors are to be believed, the new smartphones will feature a faster, more efficient, processing chip and Android 13. The new phone's front-facing camera could also lead the way in terms of smartphone security. 
Google isn't just competing with the iPhone and Samsung Galaxy series, the tech giant is also keeping up in the smartwatch market too. The rounded smartwatch that briefly appears in Google's video is its upcoming Pixel Watch, which like the Pixel 7 was hinted at during I/O 2022. The Pixel watch is expected to work in tandem with a wide range of devices, including Android phones and smart homes. A pair of wireless earbuds is also prominent in Google's reveal, though info on these next-gen audio blasters is scarce.
What we probably won't see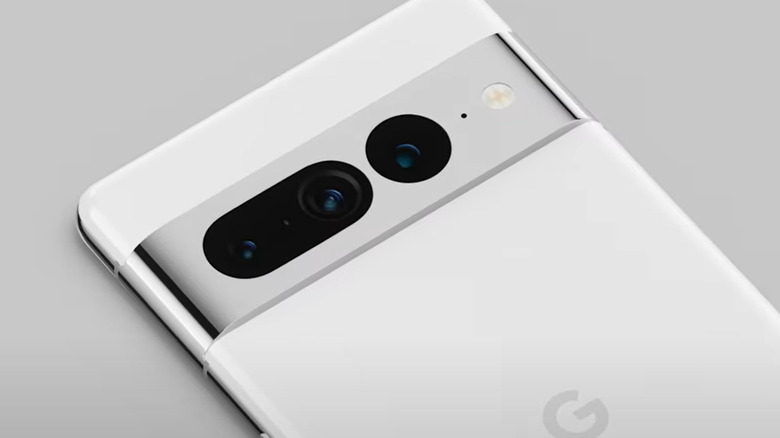 Google
Alongside its versions of the smartwatch, wireless earbuds, and standard smartphone, there are rumors that Google has another major device in the works. It has been working on an alternative to Samsung's series of folding phones, though the project has had some ups and downs. Assuming there are no more delays, the "Google Pixel Fold" is also expected to arrive in 2023 at the earliest, so we are unlikely to see any significant unveiling during the tech company's 2022 event.
When it does arrive, the Google Pixel Fold has the potential to shake up the foldable display phone market. It will allegedly feature a ceramic body, a 50MP camera, and a full 2K display. The phone is also expected to be powered by the new generation of Tensor chips.
There is also a suggestion that the device could feature a dedicated periscope camera — another first for the Pixel series. While it's very unlikely we'll receive more information on what could be the most exciting device Google has ever produced this year, there is a small chance we'll get another hint to keep us in suspense. If not, we'll just have to cross our fingers and wait until #MadeByGoogle 2023.