Qualcomm's Snapdragon 8 Gen 2 Wants To Give Your Android Flagship Phone An AI Edge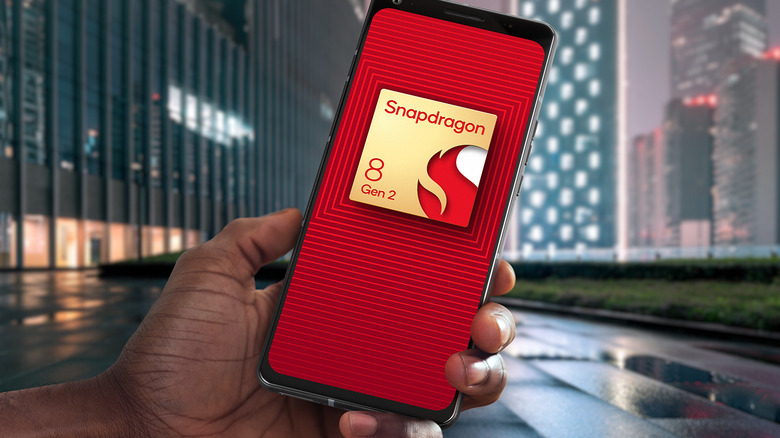 Qualcomm
Say hello to the chipset that will very likely power your flagship Android smartphone in 2023, with Qualcomm pulling the wraps off the Snapdragon 8 Gen 2 mobile platform. Successor — as the name suggests — to 2021's Snapdragon 8 Gen 1, the newest 8-series chipset brings with it a new CPU called Kryo, more onboard AI processing, and speedier 5G and WiFi.
It's been a good year for the current Snapdragon 8 Gen 1, found in well-reviewed high-end phones including Samsung's Galaxy S22 Ultra. The chip world doesn't stay still, however, and with Apple's A16 Bionic in the iPhone 14 Pro making waves, Qualcomm has plenty of motivation to keep its Android-favoring OEMs happy.
The first phones to launch using the Snapdragon 8 Gen 2 are expected to arrive by the end of 2022. So far, Qualcomm says it has ASUS, Motorola, OnePlus, OPPO, Sony, Xiaomi, and others onboard to use the mobile platform.
A big bump in performance for mobile gaming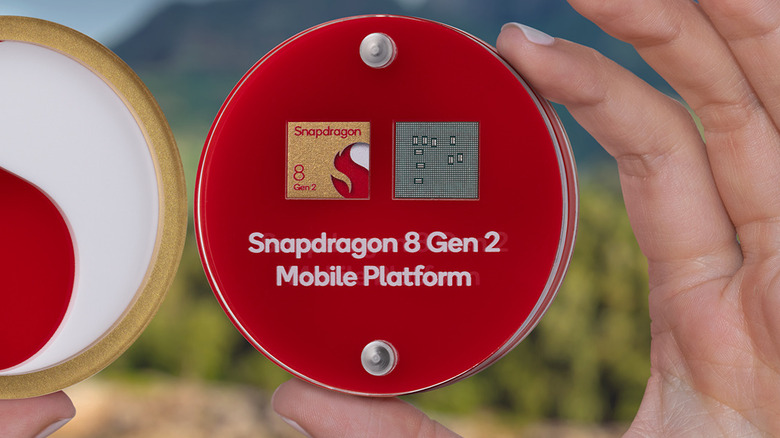 Qualcomm
As with the existing chip, Qualcomm is taking a "three-tier" approach to its new Kryo CPU. There's still a single Arm Cortex X3 Prime core — here running at 3.1 GHz — alongside four 2.8 GHz Arm Cortex A710s and A715 Performance cores and a trio of 2.0 GHz Arm Cortex A715 Efficiency cores. The result, the chip-maker claims, is up to a 35% performance improvement, and up to 40% more power efficiency.
Then there's the graphics, with up to 25% performance and 45% power efficiency improvements from the new Adreno GPU. There's support for Unreal Engine 5 and the Metahuman framework, plus hardware-accelerated ray tracing, along with the first Vulkan 1.3 API support we've seen on a mobile platform. The latter should deliver up to 30% more performance, Qualcomm says.
The overall result should be more lifelike characters, with realistic features and skin complexions. Games should also include softer shadows and accurate reflections on glossy surfaces. There'll also be support for Adaptive HDR and OLED Aging Compensation, to avoid screen burn-in.
On-device AI gets faster and more power-efficient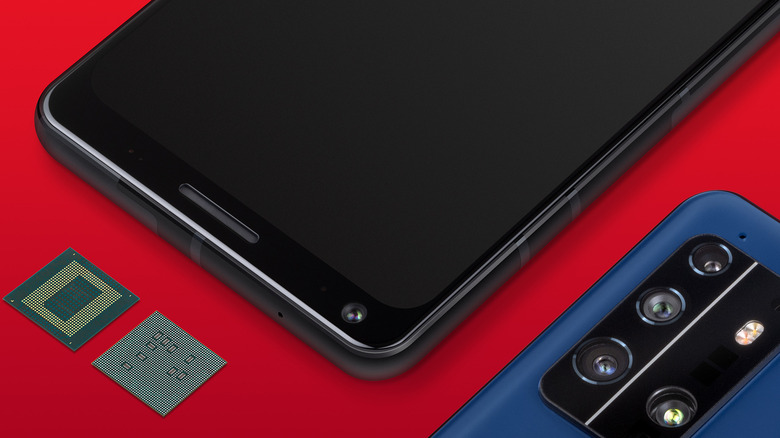 Qualcomm
It's artificial intelligence where Qualcomm is most eager to show off the Snapdragon 8 Gen 2, though. That's used in everything from on-device language translation to camera pipeline processing. The Hexagon processor has double the tensor accelerate size and dedicated power delivery, for up to a 4.35x performance improvement and a 60% per watt power improvement.
Despite that, it can now run more complex neural networks, Qualcomm says, and with support for Integer 4 Precision (INT4) it can run more AI models simultaneously. A second AI processor has been added to the Sensing Hub, doubling the overall performance, and with 50% more memory. It'll allow for tools like scanning QR codes with the camera even if the phone is turned off, including processing it and launching a relevant app, in addition to privacy-centric features like turning off notifications if the front-facing camera spots a second person looking at the display.
On the photography side, the Spectra 18-bit triple Cognitive ISP uses AI processing for the first time. That can handle up to 200-megapixel still captures, and 8K HDR video capture in 10-bit HDR. Real-time segmentation filters can not only differentiate between different layers in a scene — such as distinguishing a person from their background, including their hair, skin, clothes, and more — but apply custom treatments such as brightness and contrast adjustments before capture, rather than after it.
5G and Wi-Fi 7 improve connectivity speeds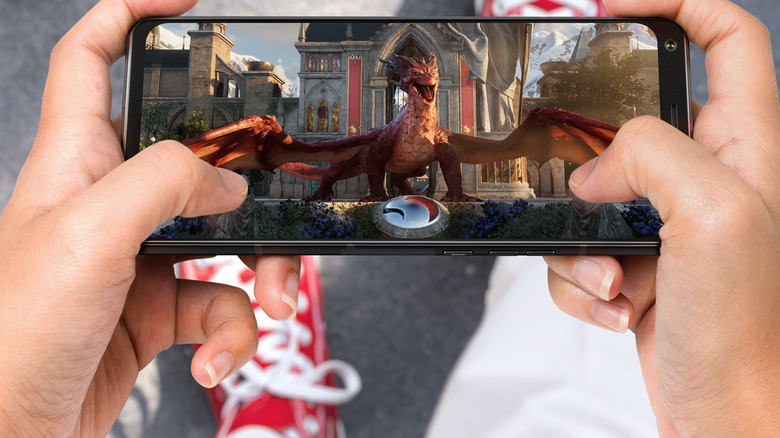 Qualcomm
For audio, there's now spatial audio with head-tracking. Ultra-low latency Bluetooth streaming is also supported, with sub-48ms lag. Qualcomm is also including support for lossless music streaming.
On the connectivity side, the Snapdragon 8 Gen 2 will use the Snapdragon X70 5G Modem RF System and FastConnect 7800 Mobile Connectivity System as standard. That includes global 5G dual-SIM dual-active (DSDA) support — which allows for two 5G SIMs (or 5G and 4G SIMs) to be used simultaneously — along with support for 4x carrier aggregation for up to 10 gigabits downloads and up to 3.5 gigabits uploads.
The X70 also includes a dedicated AI processor, however, which Qualcomm says will help improve the performance of everything from throughput, coverage, range, and speed, particularly at the network's edge. For Wi-Fi, there's Wi-Fi 7 support with High Band Simultaneous multi-link rates of up to 5.8 Gbps using the 6 GHz link. That's more than double the rate of Wi-Fi 6. Finally, there's dual Bluetooth, with two radios to improve range considerably and speed up pairings.