Google Pixel 6a Review: Undeniably Decent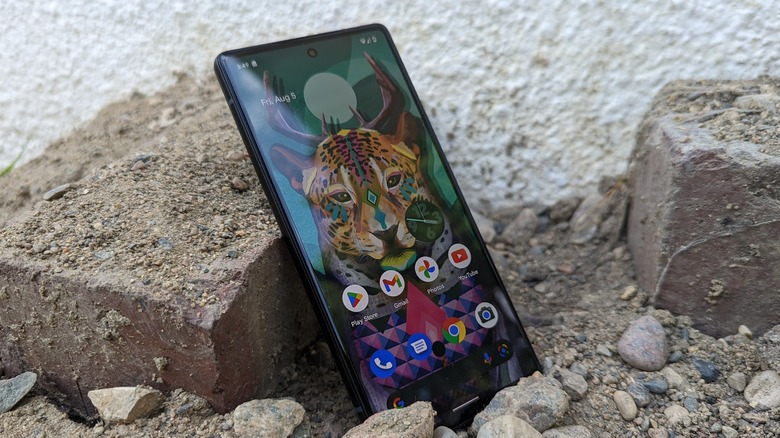 Chris Burns/SlashGear
EDITORS' RATING: 9/10
We may receive a commission on purchases made from links.
The Pixel 6a isn't Google's first attempt at creating a smartphone that is a perfect balance of price and reliability. The search giant might use a different word to describe its key intent here, and indeed with its other Pixel phones, but at any price point, dependability is paramount. Even after Google strips away some of the high-end features included with the Pixel 6 and the most powerful Pixel in the land today, the Pixel 6 Pro, the Pixel 6a still delivers a smartphone experience that can be counted upon — despite a $449 price tag. That may be as flashy a promise as an overflowing spec-sheet or dramatic physical redesign, but it's arguably far more important. 
With the Pixel 6a, Google's made a smartphone that's compact, user-friendly, and ready to last. As is generally good advice with any new smartphone without built-in rugged outer hardware, it wouldn't be a bad idea to purchase a protective case for the Pixel 6a the moment you buy the phone. Even after you figure in the price of a case with the phone, though, the value of a Pixel 6a exceeds the cash you'll need to drop. In short, this phone does the trick, especially if you're seeking a smaller handset that can still hold its own against any other similarly-priced (or sized) mobile device on the market.
Display and Size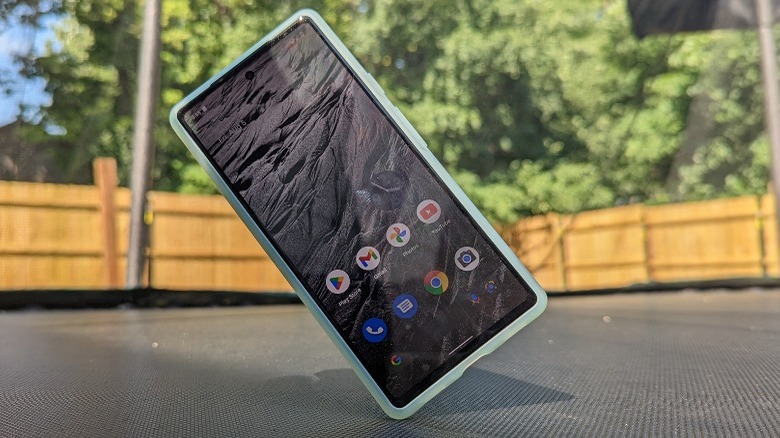 Chris Burns/SlashGear
The Pixel 6a is small. While its display is significantly larger than the biggest smartphones released a decade ago, I can't shake the feeling that this device reminds me most of the Samsung Galaxy S II. It reminds me of how that phone fit in my hand all the way back in 2012, and how the Galaxy felt like it was ideally-sized and pocketable. Most smartphones released today feel more like small tablets in comparison.
I didn't really think about the size of the Pixel 6a until I started testing the phone's camera, shooting side-by-side with the Pixel 6 Pro and iPhone 13 Pro Max. Compared with those devices, the size of the Pixel 6a makes it feel more like a companion device — only in my pocket for times I need its assistance.
The 6.1-inch display on the Pixel 6a is ever-so-slightly smaller than that of the Pixel 6, and considerably more compact than the 6.7-inches of the Pixel 6 Pro. Even without the 90Hz refresh rate of the Pixel 6, or the 120Hz refresh rate of the Pixel 6 Pro, however, the Pixel 6a still makes the most of its space and power. There's been a lot of controversy over whether a 60Hz panel is "enough" in 2022, but I can't say I found it an issue worth complaining about. 
Camera Power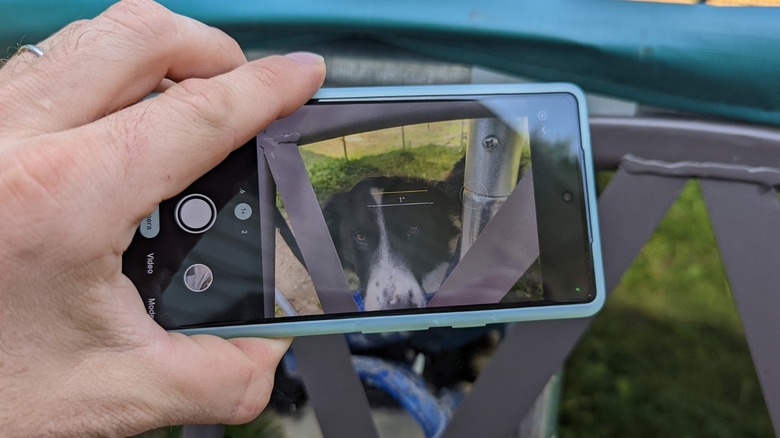 Chris Burns/SlashGear
If you've used any Google Pixel device before, you know that they're capable of capturing great photos. Google's computational photography process can feel like borderline-magic at times, and what stands out is that, though the Pixel 6a may not use the same sensors as its more expensive siblings, it still benefits from all the software smarts. There's a lot going on in there as part of that, but effectively the Pixel 6a analyzes what the cameras capture and then tries to make adjustments according to what it understands the content to be.
Google's photo processing power continues to impress, even years after the first Pixel was released. Here, with the Google Pixel 6a, we have a set of two cameras that are more than capable of capturing photos worth sharing. Above and below you'll find a set of photos captured by the back-facing camera array of the Pixel 6a.
Those primary sensors include a 12.2-megapixel primary camera with f/1.7 aperture, and a 12-megapixel ultrawide-angle lens with an f/2.2 aperture and a 114-degree field of view. All three Pixel 6 devices have this same ultrawide camera on their back, but their main cameras are different. While the others have 50-megapixel cameras, the Pixel 6a's main camera clocks in with a significantly lower resolution.
While the resolution may be different, the video support is the same: all three phones can capture 1080p video at 240fps or 4K video at 60fps. You can shoot HDR video, too, just like the more expensive handsets, and I didn't notice any signs of overheating during extended recording.
Not everything is carried over, mind. The Pixel 6a does not have the same laser autofocus as the other two devices, and Pixel 6 Pro has a significantly more capable zoom courtesy of its dedicated telephoto lens. That's absent on the Pixel 6 and Pixel 6a. Similarly, though the front-facing cameras on the Pixel 6a and Pixel 6 are identical, the Pixel 6 Pro has a slightly better camera up front with a wider lens and more options for video.
Battery power and charge speed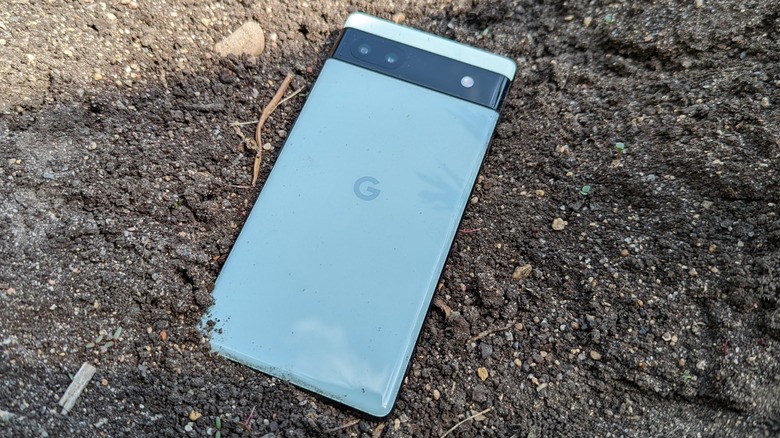 Chris Burns/SlashGear
The Pixel 6a does not have wireless charging support, while the other two Pixel 6 devices do. You'll be able to charge at 18W, and you still have USB Power Delivery 3.0 like the other devices, but you'll get no wireless charging or reverse wireless charging. That's the other big criticism Google faces, but I'm of the mind that it's an acceptable compromise given the price tag. 
There's a 4,410 mAh lithium polymer (Li-Po) battery in the Pixel 6a, where the other two Pixel devices in this generation have lithium ion (Li-ion) batteries. Li-ion tech is supposed to take longer to charge but also last longer, while Li-Po is supposed to be able to fully recharge faster. Given the top charge speeds of each of these devices, though, it all pretty much evens out.
Most important, the Pixel 6a's battery should easily last you a full day on a single charge. So long as you're not blasting full brightness on your display while playing chipset-demanding internet-connected mobile games, you shouldn't have a problem getting from morning until night without need of a charger.
Other Pixel differences, minor and major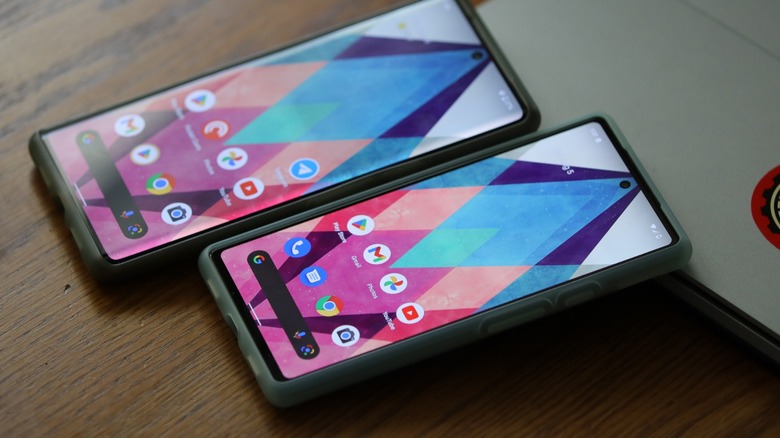 Chris Burns/SlashGear
If you're looking at buying a Pixel, it's important that you know the differences a couple hundred dollars can make. The Pixel 6a has Bluetooth 5.2 LE and A2DP the same as the other two models, for example, but it doesn't support aptX HD. That means, if you have headphones that support aptX HD, you won't get the same high-resolution audio benefits. 
All three devices have a fingerprint scanner under their display that's effectively identical. There've been some reports of issues with this scanner in each of the Pixel 6 series but, at present, all issues seem to have been cleared up. I noticed no problems with my review device.
The Pixel 6a comes in one configuration, with 128GB internal storage and 6GB RAM; there's no expandable storage beyond the cloud. Both the Pixel 6 and Pixel 6 Pro offer more memory and the potential for considerably more storage: up to 512GB, in fact. Color options on the Pixel 6a include Chalk (white), Charcoal (black/gray), and Sage (a fetching green, like the one we're reviewing here), though while the Pixel 6 and Pro have IP68 dust/water resistance, the Pixel 6a has IP67. It's a relatively minor difference, mind: where the other two phones can be in up to 1.5m of water for 30 minutes, the Pixel 6a can be in up to 1m of water for up to 30 minutes.
Reminiscent of one of the iPhone SE's big advantages over other affordable phones, the Pixel 6a has the exact same mobile chipset as the others: Google's own Tensor. Considering many budget devices make do with lesser — or older, or both — CPUs and GPUs, this is a big advantage, not least when it comes to playing with very latest Android features. 
If you're looking for a Pixel that has as much network compatibility as possible, you'll need to look to the Pixel 6 or 6 Pro. The Pixel 6a does not work with CDMA bands and is not compatible with mmWave 5G (unless you pay $50 more for Verizon's customized version). You can connect to sub-6 5G, so you should be safe with most 5G connectivity in the U.S. — but in all cases, you should check with your carrier of choice, first.
Google's Android for Pixel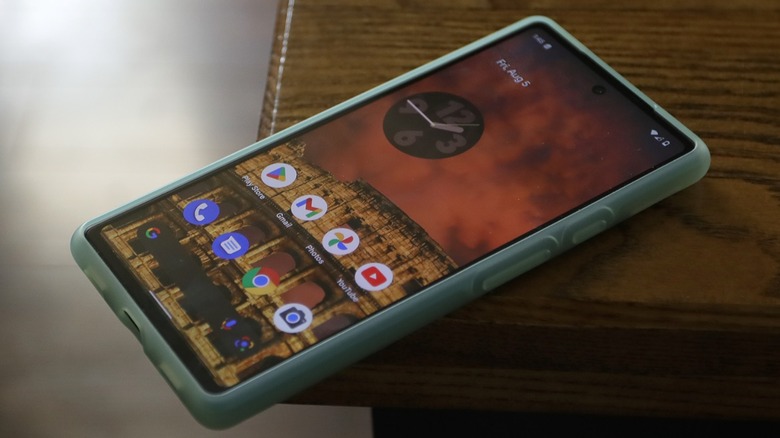 Chris Burns/SlashGear
When you're considering buying a new smartphone, it pays to consider the reliability of the brand. While there are plenty of Android smartphones out there, the ownership experience is not always created equal. Whether that's underwhelming hardware, slow software updates, or a prematurely-early end to any new security patches, there's a reason the experience with Google's phones is typically the most cohesive. 
A big part of that is how long you can expect to get updates. Google guarantees that the Pixel 6a will get Android version updates until July 2025, and security updates until July 2027. Now, you could argue that buyers of new phones — even more affordable ones — could maybe expect, not unfairly, more than three years of OS updates, but this is still solid for the Android world. 
The first of those big updates will be to Android 13. With the next iteration of Google's OS fast-approaching, it might seem strange to launch a phone that's running Android 12. One benefit, though, is that Google has had time to work through the more objectionable bugs: Android 12 runs just fine and hiccup-free on the Google Tensor.
Google Pixel 6a Verdict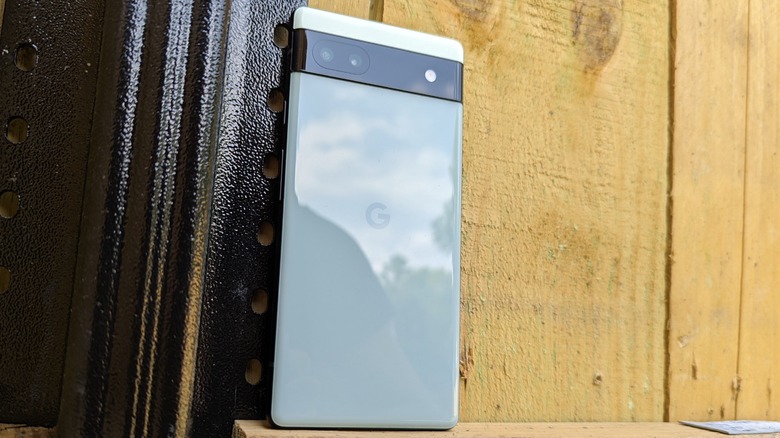 Chris Burns/SlashGear
At $449, the Pixel 6a makes a strong case for being the most compelling budget smartphone on the market. If you set aside those who are devoted to iOS — and thus leave the $429 iPhone SE out of the equation — there's even a solid argument for Google's phone being the best bang-for-buck around. Those who demand a bigger screen may want to look elsewhere, with the Galaxy A53 an obvious alternative, but Samsung's phone relies on a cheaper chipset unlike the Pixel 6a's full-fat Android experience.
In short, if you're looking for a low-price, high-quality, no-nonsense, reliable smartphone right now, you can't get much better than a Google Pixel 6a. The upcoming Pixel 7 and Pixel 7 Pro may reset the goalposts as to what we should expect from a flagship, but for those of us wanting a balance of spend and specifications it's tough to argue against the balance Google has on offer here.