Samsung's Galaxy A53 5G Could Give iPhone SE Nightmares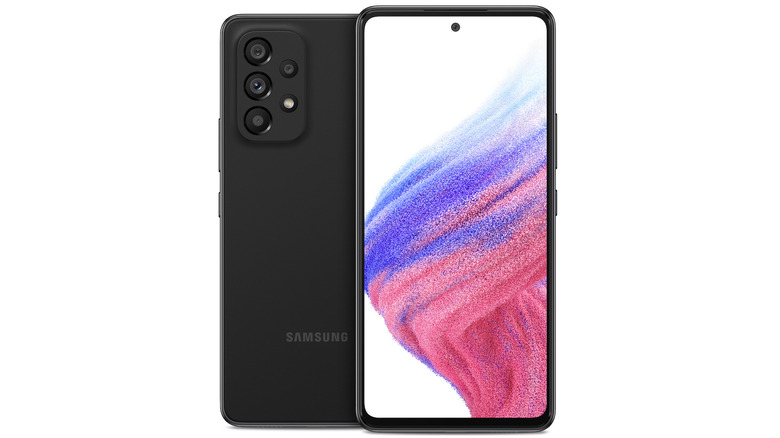 Samsung
Samsung has revealed its own new affordable smartphone to rival Apple's latest iPhone SE: the Samsung Galaxy A53 5G. According to Samsung's press release, this smartphone will offer the "best possible mobile experience" to a broader audience than past releases, thanks in a big part to its price.
The Samsung Galaxy A53 5G looks a whole lot like its predecessor, the Galaxy A52, and has features that place it just under the brand's hero smartphone line: the Samsung Galaxy S22. This phone has a 6.5-inch Super AMOLED display with 120Hz refresh rate, an impressive set of cameras on both its front and back, and it runs the latest version of Google's Android (Android 12, with One UI 4.1).
One cannot help but compare this latest release from Samsung with Apple's latest similarly-priced iPhone: the iPhone SE 3, otherwise known as the iPhone SE (3rd generation, 2022). Both devices are meant to deliver an experience that focuses on the essential features each brand wants to offer, and both are meant to be significantly more affordable by the common consumer than their far more expensive top-tier hero phone options. 
How do the Galaxy A53 and iPhone SE 3 compare?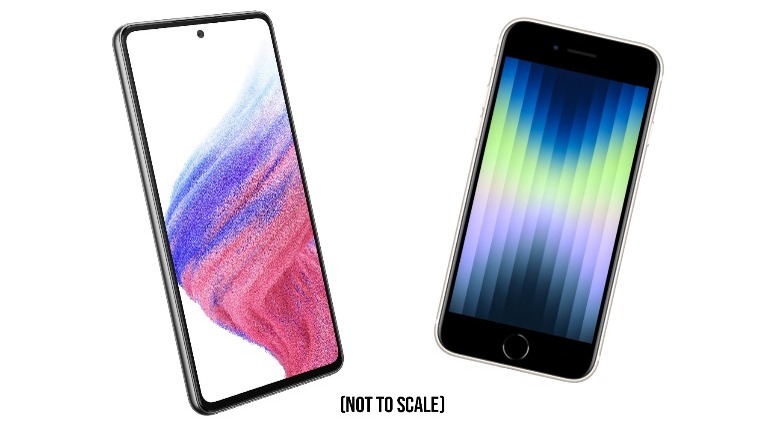 Samsung/Apple
But how does the Galaxy A53 5G stack up to the iPhone SE 3? The Galaxy A53 offers a larger 6.3-inch FHD+ Super AMOLED screen than the iPhone SE 3, which has a 4.7-inch Retina display. The Samsung smartphone's display covers nearly the entire front face of the phone, stretching to all corners, only interrupted by a single circular punch hole for its front-facing camera. The iPhone SE 3 has a rectangular display with sizeable bezels above and below, as well as a front-facing fingerprint sensor (Apple calls this Touch ID). The Samsung device has a fingerprint sensor as well, but while the iPhone's sensor is out in the open, the Samsung device's sensor is hidden in its screen.
At 7 ounces in weight, the A53 is a bit heavier than the 5.09 ounce iPhone SE 3. The Samsung phone measures in at 2.94 x 6.28 x 0.32 inches, making its entire body significantly larger than the iPhone SE 3 at 2.65 x 5.45 x 0.29 inches. The processors in the devices are quite different, too, but we won't know their relative performance levels until we get the pair in for review. 
Camera power is another thing that sets the two devices apart, with the iPhone SE 3 offering a 12MP rear wide-angle camera along with a 7MP front camera, while the Galaxy A53 uses a 64MP main camera, a 12MP ultra-wide-angle camera, a 5MP camera for depth and macro, and a 32MP front camera. Simple MP (megapixel) sizes alone don't tell the whole story of the abilities (or quality) of a smartphone, but it stands to reason that Samsung's wider video-capturing elements will offer more impressive options.
Galaxy A53 and iPhone SE 3 release dates and connectivity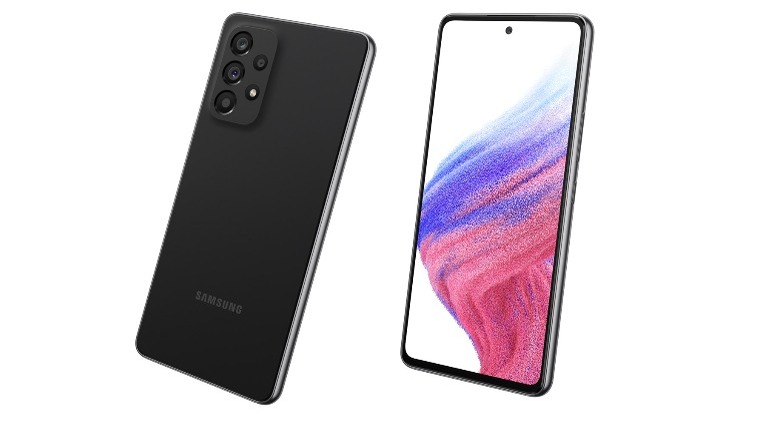 Samsung
Both phones tout 5G compatibility and have a similar starting price ($449 for the A53 and $429 for the iPhone), but the most basic version of the Samsung phone includes 128GB internal data storage space, while the iPhone SE 3's most basic model has just 64GB media storage space inside.
You'll find the iPhone SE 3 in Apple Store locations and arriving on doorsteps (for those that pre-ordered the device) starting on March 18, 2022. This is just a couple weeks earlier than Samsung's phone is expected to arrive in stores (on March 31 or April 1, 2022, depending on which store you're using).
Consumers will be able to pre-order the Galaxy A53 5G starting on March 17th, 2022. Those that order this phone between March 17 and March 31, 2022 will be eligible to receive a pair of Buds Live, depending on stock and region — so long as you pre-order the phone through Samsung.com. The Galaxy A53 will be made available with a starting price of approximately $449 through T-Mobile and Verizon on March 31, 2022, and smartphone sellers like AT&T and Samsung.com will release the phone on April 1st, 2022.