The Galaxy S22 Is Sharing Its Biggest Software Upgrades With Older Phones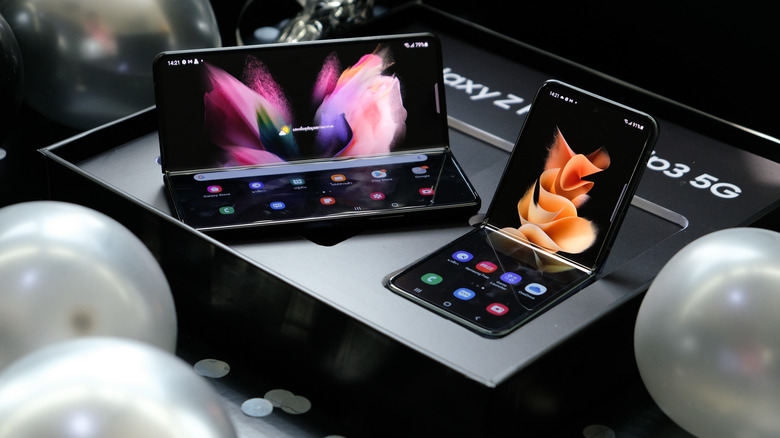 Framesira/Shutterstock
The launch of Samsung's flagship Galaxy S22 lineup earlier this year also marked the arrival of One UI 4.1 — the latest iteration of the company's custom Android skin. In addition, the updated software boasted several feature additions that were exclusive to the Galaxy S22 series. Until now, that is.
Samsung, today, confirmed that several of its older devices shall be updated to One UI 4.1 in the coming weeks. Apart from the standard One UI improvements, some of these devices are eligible to receive these aforementioned Galaxy S22-exclusive features — most of which are centered around the camera capabilities.
The first two Samsung devices that shall be updated to One UI 4.1 include the current flagship-grade foldable phones in the company's lineup: the Samsung Galaxy Z Fold 3 and the Galaxy Z Flip 3. In fact, Sammobile reports that Samsung has already started rolling out the One UI 4.1 update for Galaxy Z Flip customers in South Korea and Europe. Samsung Galaxy Z Fold users in South Korea have also started receiving this update.
People who use these devices in other parts of the globe should expect an update notification coming their way very soon.
Samsung One UI 4.1 Update: List of eligible devices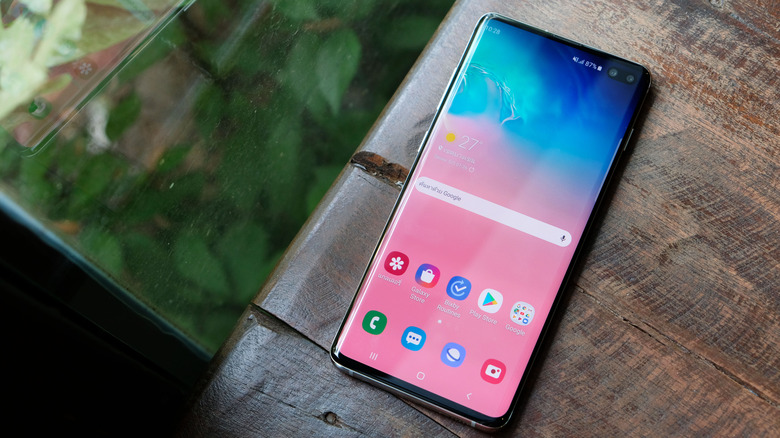 Framesira/Shutterstock
Apart from the two foldable smartphones discussed above, Samsung confirmed that the following smartphones should be officially getting the nod for One UI 4.1 in the coming weeks.
The first of these devices include all smartphones that are part of the Samsung Galaxy S21 series, newer devices from Samsung's Galaxy A series lineup, and the Galaxy Tab S7 FE.
This version of One UI shall also roll out to even older devices like the entire Samsung Galaxy S20 lineup, the older Samsung Galaxy Z Fold, and the Z Flip foldables. So if you have an even older smartphone — say one from the Galaxy S10 series — worry not as you're still covered, and these phones shall also receive the update in a few weeks from now.
Needless to say, even Samsung's now-defunct Galaxy Note series shall be eligible for this update, along with a bunch of older tablets from the company's Galaxy A and Galaxy Tab lineup.
What's new with One UI 4.1?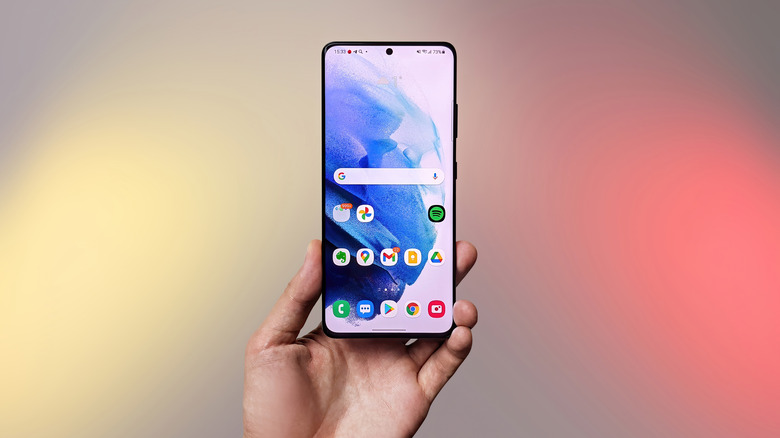 Mr.Mikla/Shutterstock
The latest iteration of Samsung's Android-based skin, One UI 4.1, is mostly an incremental update to One UI 4 that arrived on smartphones late last year. Some of the newer features on One UI 4.1 include the arrival of the Live sharing feature on Google Duo — Google's video calling and chatting app that seems to have few takers. This feature expands the app's capability to include a screen-sharing feature.
Another feature addition is the inclusion of Samsung's Expert RAW app that allows users to edit RAW images captured using Samsung smartphones on the phone itself, without actually needing a computer. Then there is the nifty object eraser feature that has received a few updates to make it even better. The updated tool not only erases unwanted objects (and people) from photos but also erases their shadows. One UI 4.1 also brings a streamlined photo-sharing experience that lets you apply minor edits to photos right before hitting the send button.
The default keyboard app with One UI 4.1 now has Grammarly integration which means users can now get advanced language correction tools right within the keyboard app.
The One UI 4.1 update for these Samsung devices will roll out alongside the March 2022 security patch on most of these devices. If you have one of the aforementioned smartphones and haven't received an update notification yet, you can manually check for an update by going into Settings > About Phone and tapping Software Update.