OnePlus Nord N20 5G Review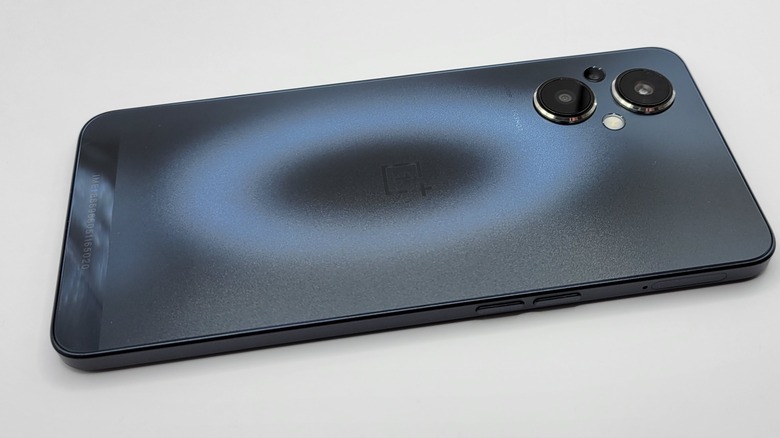 Dave McQuilling
We may receive a commission on purchases made from links.
The OnePlus Nord N20 is exclusive to T-Mobile, launching on their pre-paid Metro brand on April 28. The handset is priced at $282, putting it in the mid-range alongside Samsung's Galaxy A series and the Google Pixel 4a. Phones in this range tend to strike a balance between flagship features that debuted a few years ago, hardware specs, and an attractive price point.
OnePlus's sequel to the N10 slightly improves on its predecessor in the specifications department. They both have 6GB of RAM, but the N20 is sporting the slightly better Qualcomm SM6375 Snapdragon 695 processor instead of the N10's Qualcomm SM6350 Snapdragon 690. Both phones are also capable of 5G. Unlike many of OnePlus' phones, which focus on the Asian market, the "N" series is exclusive to North America. It is currently unclear if the Nord N20 will remain exclusive to T-Mobile indefinitely or if other carriers will offer the phone in the future.
It's a surprisingly functional phone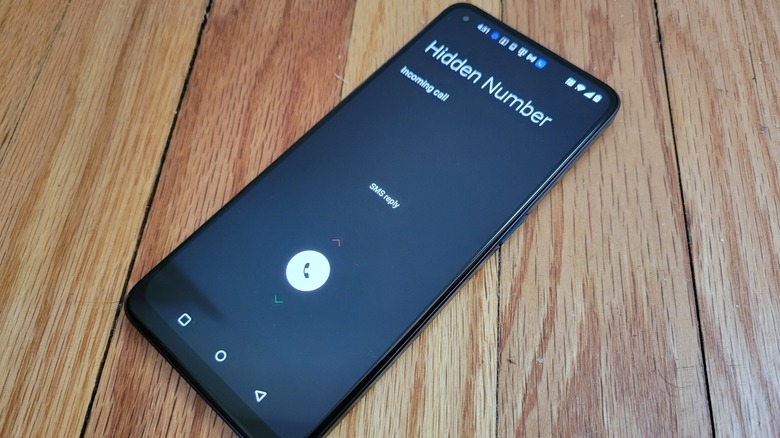 Dave McQuilling
It's quite shocking how good basic phones can be these days. Rewind a decade or so — picking a budget or even a mid-range option would leave you grappling with an awful touchscreen, slow speeds, and irritating software choices. The N20 has none of these issues. It's running Android 11 (with OnePlus Promising an Android 12 upgrade in the future). The touch screen feels every bit as responsive as something from the Samsung Galaxy S range, and the hardware is powerful enough to handle almost anything you can throw at it.
People have a habit of buying more phone than they need, and I can confidently say that the OnePlus Nord N20 will meet most users' daily needs comfortably. In terms of calls and texts, the cell coverage in your area has a far higher chance of ruining an experience than the N20 does. Texting issues don't extend beyond Android's messaging system being awful in general. 
For media consumption, 5G speeds are great for streaming; 128 GB of internal storage with up to 512 GB of expandable storage means there is plenty of room for pictures, videos, and music. All of this can be viewed on a 6.43-inch AMOLED display, which we'll go into detail on later. The phone's 4,500 mAh battery ensures the N20 has enough juice to get you through the average day, but if you need a top-up, the 33 Watt fast charging capability means you can get back to 100% in less than an hour.
The display has its ups and downs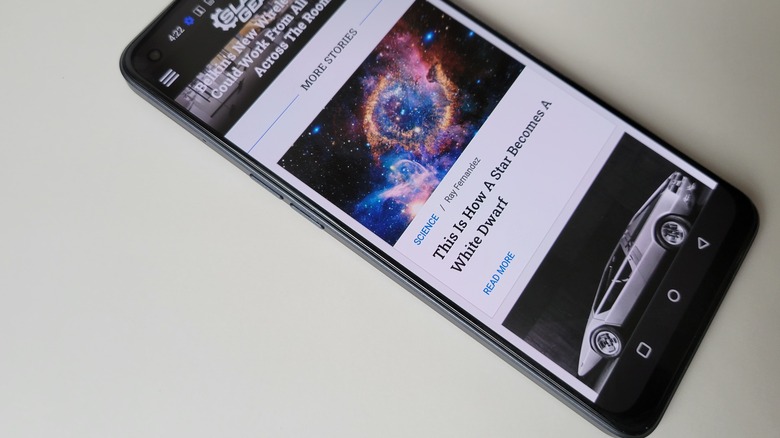 Dave McQuilling
A 6.43-inch AMOLED screen on a budget phone is big, and the display is indeed quite beautiful. However, as you may expect, some compromises have been made. OnePlus has capped the screen's refresh rate at 60hz instead of the 90hz offered by their previous $300 model, the Oneplus Nord 10. I believe OnePlus made the right choice here. I'd take a negligible amount of motion blur if it means I received a far better-looking display with a broader color palette in return.
There are also some significant smudging and glaring issues. I never thought of my fingertips as particularly oily, and other touch screens will back me up when I say my digit grease isn't the problem here. The N20 picks up grime very quickly and will reflect every bit of available light straight back into your eyeballs. The first issue comes with an easy fix, and you can buy liquid that will give your phone an anti-fingerprint coating for around $15. But you may expect the manufacturer to apply some kind of smudge prevention treatment before the phone ships.
Biometrics have gotten better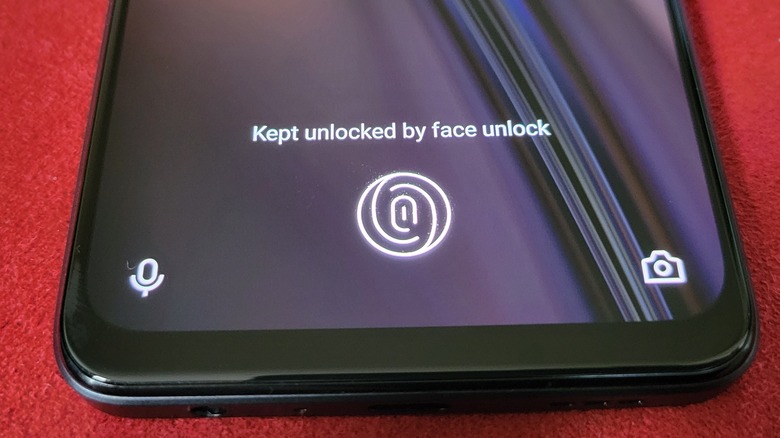 Dave McQuilling
OnePlus' previous $300 entry into the North American market, the Nord N10, featured facial recognition and a fingerprint scanner on the back. "Face unlock" is still there and still uses the selfie camera to skip any passcode requests when the phone finds itself staring at its owner. On the N20, face unlock is reliable and essentially instant. You can either set the phone to unlock with a swipe or just take you past the lock screen entirely any time you hold it up.
The most significant change has come with the fingerprint scanner. As with the more expensive OnePlus 10 Pro and 9RT, the fingerprint sensor is now on the front and under the screen. This is a surprisingly high-end feature for a sub-$300 phone. It's not something you see on Samsungs below their mid-range M series phones, and OnePlus' implementation seems to function every bit as well as the fingerprint sensors on the Galaxy S models.
The features you won't get at this price point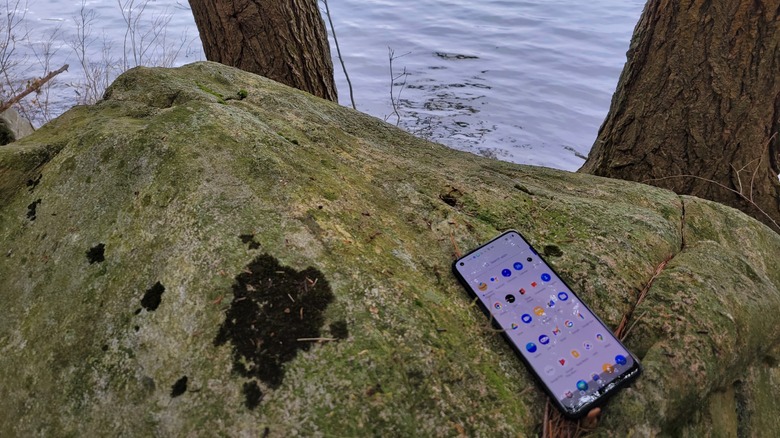 Dave McQuilling
Basic functionality aside, this is a lower-end to mid-range phone, and some common features are absent. None of these are deal-breakers, but each one would have been nice to have and could have set it apart from other sub-$300 phones like Samsung's A range. Ultimately, budget is the keyword in the phrase "budget model," and these features did not make the cut.
The OnePlus Nord N20 does not have an IP rating — so there is no guarantee of water or dust resistance. While you could argue the expense and engineering challenges waterproofing involves aren't worth increasing the price of a budget model, there is a definite sense of security that comes with knowing you can accidentally drop your device in a bath or a lavatory without destroying it. Similarly, there is no wireless charging capability like you see in Apple's upper-mid-range SE phones. While that becomes even less of an issue as USB type-C becomes more common, it is still a useful function if you end up stuck overnight in an Apple household with no charging cable. Once again, neither of these omissions should be deal-breakers, and maybe they aren't worth increasing the price — but they would have been nice to have and could have made the N20 standout.
The features you will get at this price point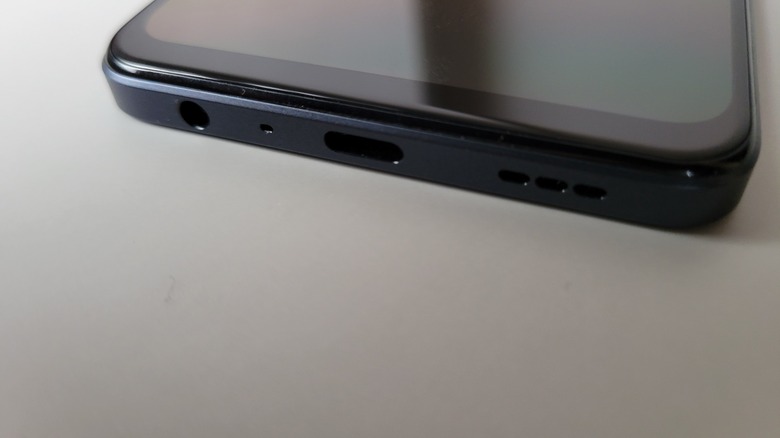 Dave McQuilling
Budget and mid-range phones can hold one thing over high-end phone owners — they still have access to expandable storage and a headphone jack. The N20 is no exception. After a couple of years of connecting an iPhone or S21 to the car's speaker system via Bluetooth, it's hard to describe the level of joy simply popping an Aux cable into the bottom of the N20 brought me. As I watch the remaining storage dwindle on my current phone, I turn to the N20 and dream of purchasing an extra 512 GB of room for less than $60. OnePlus also included a charging cable and brick, which companies like Samsung and apple have ditched. The lack of accessories may knock a few dollars off a phone, but knowing you have the equipment you need to make the most of the device's charging speeds is a bonus.
These features aren't unique to the N20, but they are something that may make downgrading from a higher-end phone a tempting option. They both work perfectly well, and a micro-SD card doubles as an extra method of side-loading things onto your phone. Although iPhones and Samsung's Galaxy S line are the most famous smartphones to have ditched the headphone jack, OnePlus themselves have been inconsistent with its implementation. Some of their models have it, and some don't. The N20 does, and it is a far better phone because of it. 
OnePlus Have put a lot of effort into the camera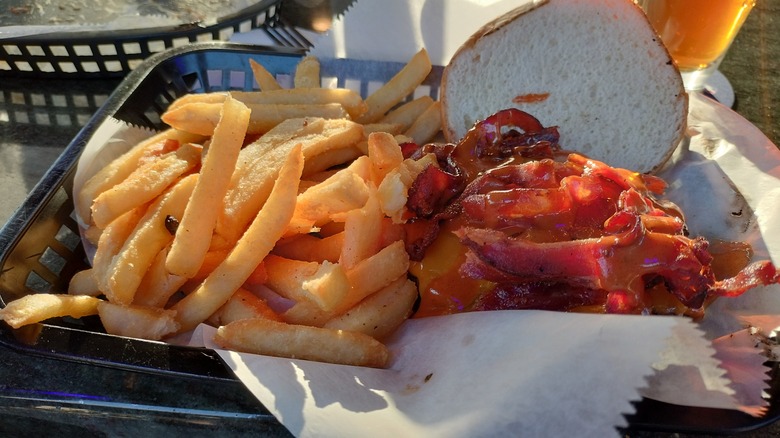 Dave McQuilling
The Oneplus Nord N20 boasts a 64MP "ultrashot" main camera, an 8MP ultrawide camera on the back, and a selfie camera built into the top left of the screen. As with many modern phone cameras, the N20 does a perfectly adequate job of photographing food on a sunny spring evening. The colors are vibrant, and the auto-focus picks up most details. You can produce Instagram-worthy pictures with minimal effort in daytime scenarios. But, the real test comes in low-light situations.
In the deep, dark confines of my pantry. Where sunlight never shines. The N20 still does a reasonable job. It doesn't do it alone, as with most "night-mode" pictures, you have to hold the phone as still as possible for a few seconds while your camera makes the most of the available light. A slight movement during this time can result in a blurred image. 
The low-light photos the N20 takes seem well balanced and have quite a pleasant atmosphere. You can make things even harder for your camera by taking pictures in a dark environment which includes far-off but bright light sources. Think parking lot with distant streetlights. And there are better phone cameras on the market, but I found the N20's camera impressive for a lower mid-range model.
Is the OnePlus Nord N20 worth the money?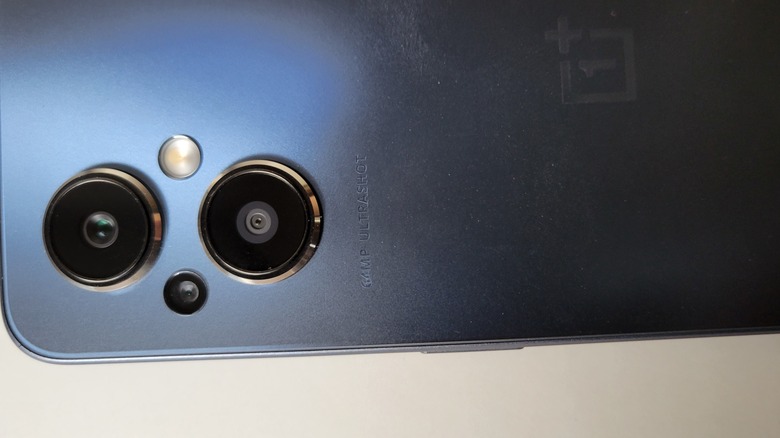 Dave McQuilling
The OnePlus Nord N20 offers users a lot of capability for the money. As a daily driver, it has everything most people will need, and its only faults are either fixable or just things that would have made life slightly easier. For your $282 you're getting an AMOLED display, functional camera, and enough firepower to handle everyday tasks with ease. The phone's camera and specifications will only limit serious users who aren't going to be browsing through the mid-range for a new phone anyway. Features like the under-screen thumbprint sensor may give it an edge over competitors like Samsung's Galaxy A series of phones.
There are, of course, better phones on the market. But they all cost more. If the current mid-range offerings, which I'd say the N20 is an excellent example of, are anything to go by then smartphone technology has hit a point where you see diminishing returns past the $300 mark. If you need a specific feature the N20 doesn't have, ask yourself if it's worth the additional cash — because if you just want a good smartphone you have one for $282.