OnePlus Confirms Its Foldable Smartphone Is Coming Later This Year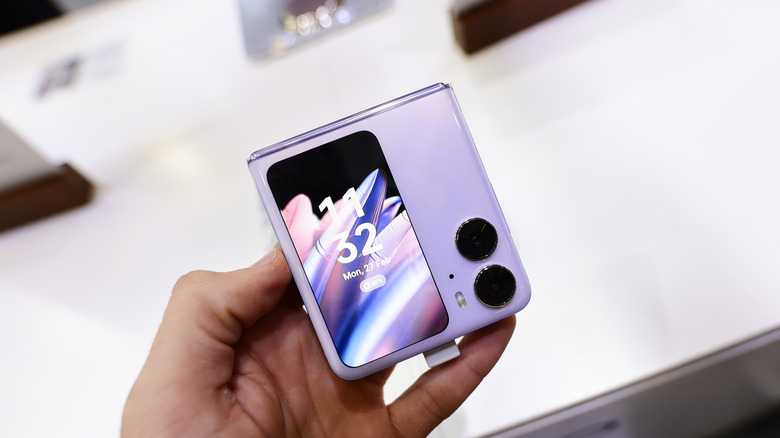 Joan Cros Garcia - Corbis/Getty Images
It's been a busy year for OnePlus so far, with most of the spotlight on the company's flagship smartphone, the OnePlus 11. At the company's most recent launch event, titled "Cloud 11", the company announced the OnePlus 11 and a plethora of new products, including another smartphone called the OnePlus 11R specifically for the Indian market. Other products from OnePlus' 2023 lineup include the new OnePlus Buds Pro 2 wireless earbuds and a new 65-inch TV called the OnePlus TV 65 Q2 Pro. The launch event also saw OnePlus announce its first-ever tablet — the rather aptly named OnePlus Tab.
Toward the end of the event, OnePlus also teased what appeared to be the company's first attempt at making foldable phones. However, the company did not make any official announcements at the time. Almost a month later, at the 2023 edition of the Mobile World Congress, a senior OnePlus official confirmed that the company is, indeed, planning on releasing its first foldable smartphone in 2023. The confirmation came from OnePlus COO Kinder Liu during an interview with our friends at TechCrunch. Liu was talking to the publication soon after the company unveiled its Liquid Cooled OnePlus 11 concept smartphone.
OnePlus is all-in on the foldable smartphone game
While Liu did not go into details or even talk about the hardware specifications of OnePlus' first foldable phone, he did confirm that it would be a proper flagship device that will compete against the best in business when it launches in the second half of 2023. According to Liu, OnePlus wanted to perfect the foldable smartphone game before it entered the segment currently dominated by Samsung's Galaxy Z Fold and Galaxy Z Flip devices — a reason he also cites for delaying the launch of its first foldable phone by a couple of years. Liu also indicated that the first OnePlus foldable phones will have several signature OnePlus features and will stand out for their fast and smooth user experience.
We have previously reported about OnePlus' foldable ambitions. Most of these initial reports centered around OnePlus' close relationship with its parent brand OPPO and the possibility of these handsets being called the "OnePlus V Flip" and the "OnePlus V Fold." Given that OPPO already sells two critically acclaimed foldable smartphones under the OPPO Find N lineup, the chances of OPPO taking these handsets and rebranding them as OnePlus devices were high. However, recent reports indicate that OnePlus' foldable phones could differ significantly from OPPO's existing offerings.
OnePlus is the newest Chinese smartphone brand that has confirmed its plans to enter the world of foldable phones. Given that Motorola, Honor, OPPO, and Xiaomi have already indicated their grand foldable ambitions, Samsung's unrivaled domination in this segment is under serious threat.